A quick and easy one pot pasta packed with nutritious greens and a thick, luxurious tomato & mascarpone sauce. One of our most popular recipes here at Happy Veggie Kitchen, it makes a perfect midweek dinner and is ideal for Meatless Monday.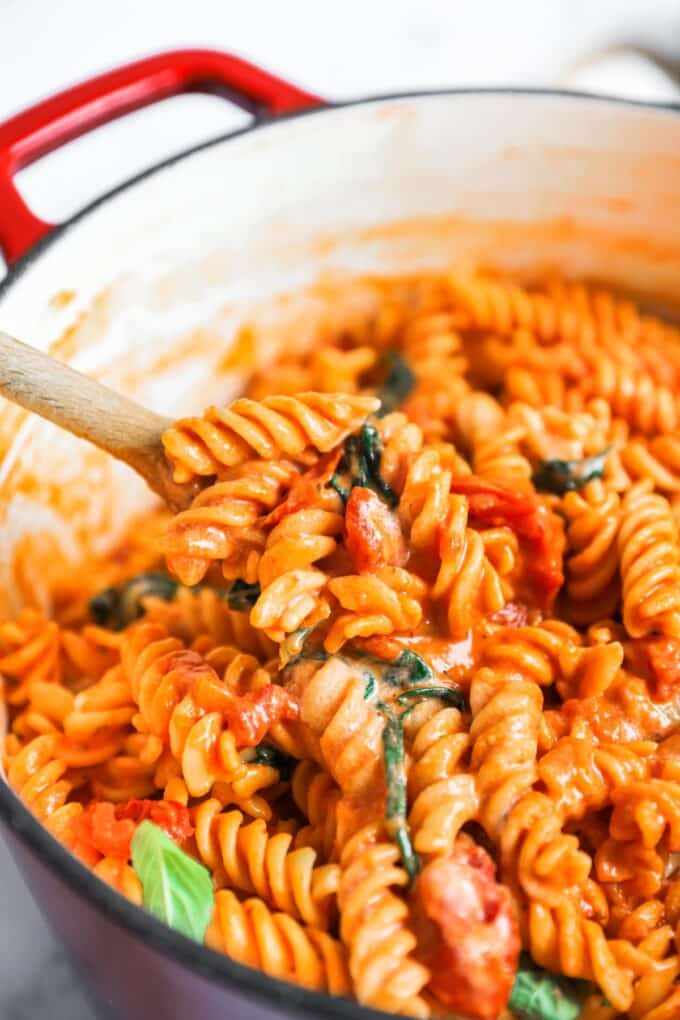 UPDATE : This post was updated in February 2023 with brand new photos including step by step instructional photos, and some updates to the introductory text. The recipe itself has not changed.
This one pot pasta is a winner! If you've never tried it before, cooking your pasta directly in its sauce can be quite the perfect situation. Less effort, better texture. The finishing touch that makes some simple pasta recipes just fall into place.
There was a time when I was skeptical about this idea. I mean, it's not exactly hard to make your pasta and sauce separately. But when I kept hearing how cooking the pasta in the sauce results in more starch hanging around, creating a thicker, creamier and silkier sauce, well… that did sound pretty good.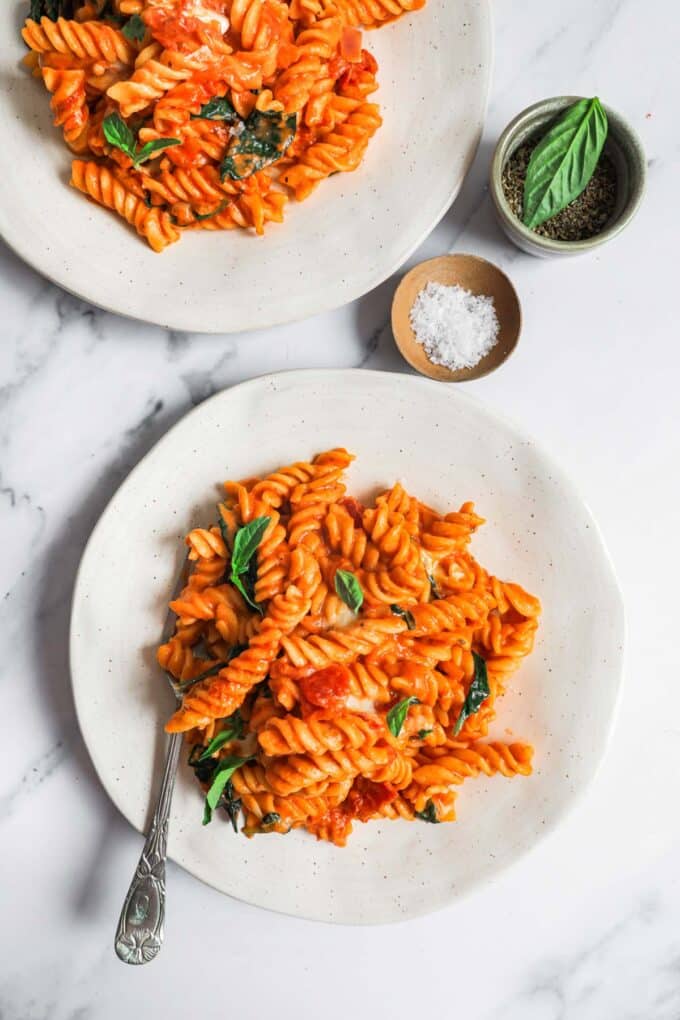 And yes, it's ALL TRUE.
Cooking pasta this way is definitely easier. No draining, only one pot to stir and wash. You do need to keep an eye on it, but when it's all contained into one pot it just feels so simple.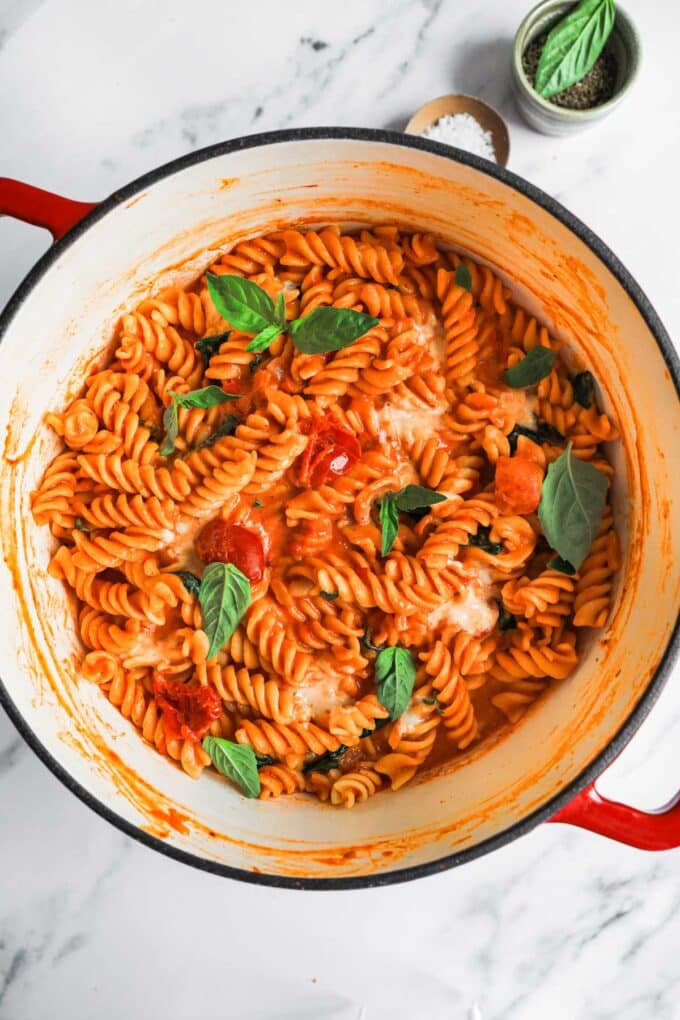 This is a budget friendly alternative to meal deals
This recipe was created to replace an old convenient friend, the freshly made tomato and mascarpone sauce that you can get in the supermarket. The sauce features in just about every UK supermarket's "fresh pasta + sauce" meal deals.
Those deals can be decent value but this recipe beats them hands down. You get a huge pot of pasta with lots more portions for a similar price, plus you'll have leftover mascarpone for another meal (I have some ideas for you coming up.)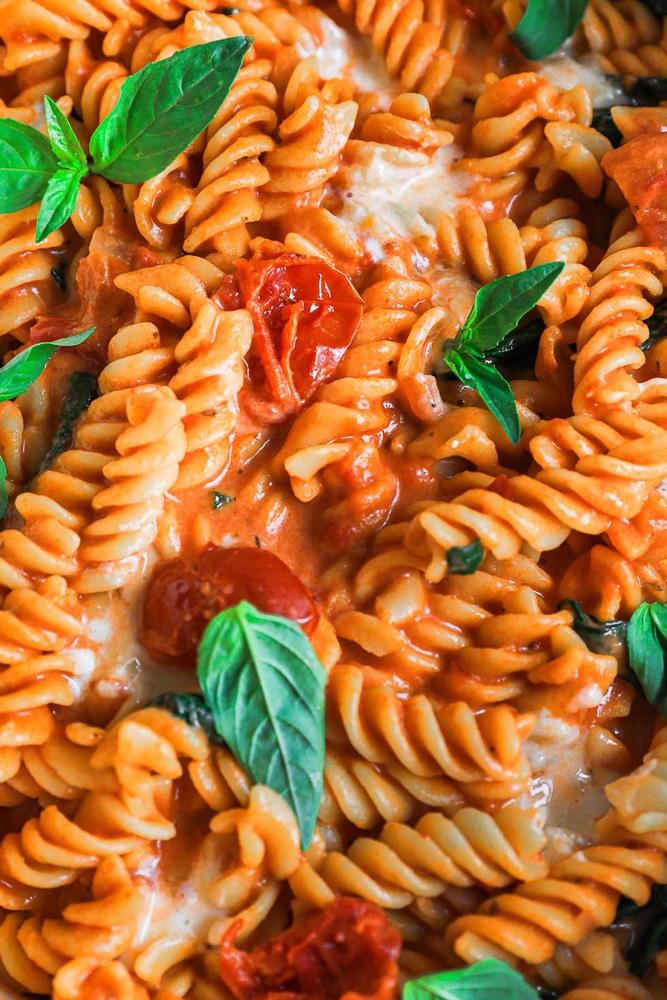 Also… ever notice that when you buy those meal deals, there is always enough sauce for the pasta, but not enough leftover to mop up with garlic bread? So I've tipped that balance for you here. This is incredibly saucy. So the garlic bread is not optional.
For those who haven't routinely fallen for the British supermarket meal deals, and have never experienced the sheer joy of tomato and mascarpone sauce, please allow me to win you over. It is the. best. sauce. Mascarpone is the perfect accompaniment to tomato sauce. It adds a rich, sweet and creamy texture that is so much better than normal cream.
(Sorry, normal cream.)
Ingredient & Shopping Notes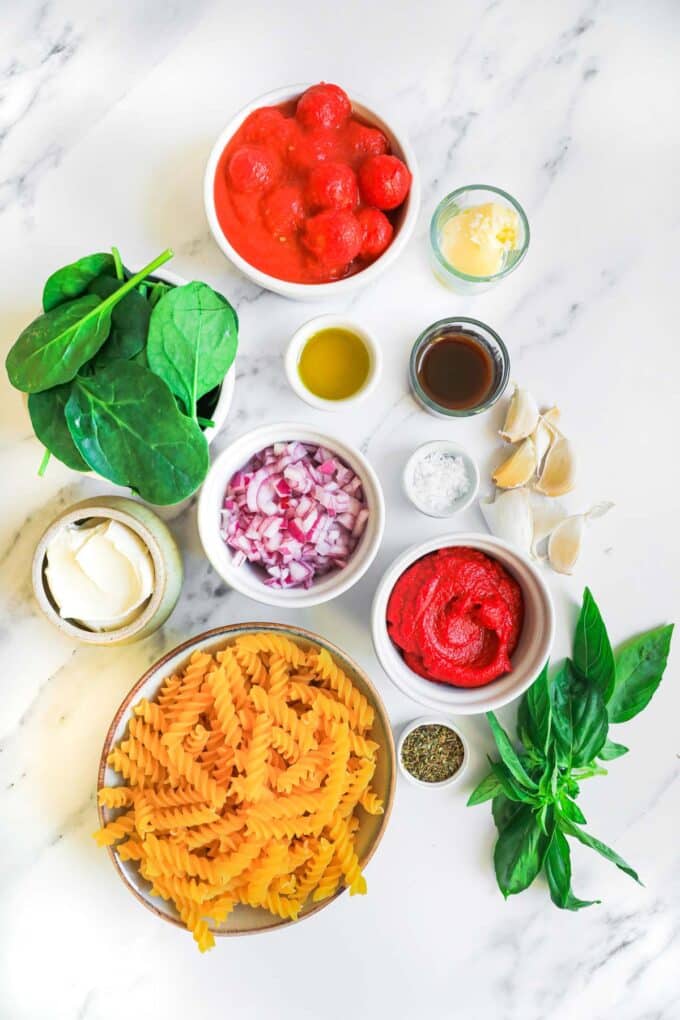 Mascarpone: The supermarket's own brand will do nicely here.
Fusilli: Or any other short pasta shape should work just fine.
Canned tomatoes: Two cans. My recommendation is to use one can of normal chopped tomatoes + one can of cherry tomatoes. It is fine to just use the normal tomatoes if needs be though.
Tomato paste (tomato puree): Definitely pushes the tomato vibes up, and helps make the sauce richer.
Balsamic vinegar: A great flavor enhancer.
Onions, garlic and dried herbs: Because of course. I use a red onion but any onion, or some shallots, will do nicely.
Fresh basil: Or swap in parsley if you need to.
Spinach and/or rocket (arugula): It's a pretty decadent sauce so, for a midweek meal, I like to add some more nutrients with a few handfuls of leaves. This is optional of course.
Butter: This is optional but it's nice to add a little salted butter for extra flavor at the end.
Other Ideas:
I've heard from a lot of readers who have made this pasta with additional veggies and loved the results. If this is what you wish to do, just sautee your veggies at the start alongside your onions and garlic, then proceed with the recipe as written. Keep an eye on liquid levels if you do this. You may need a little more.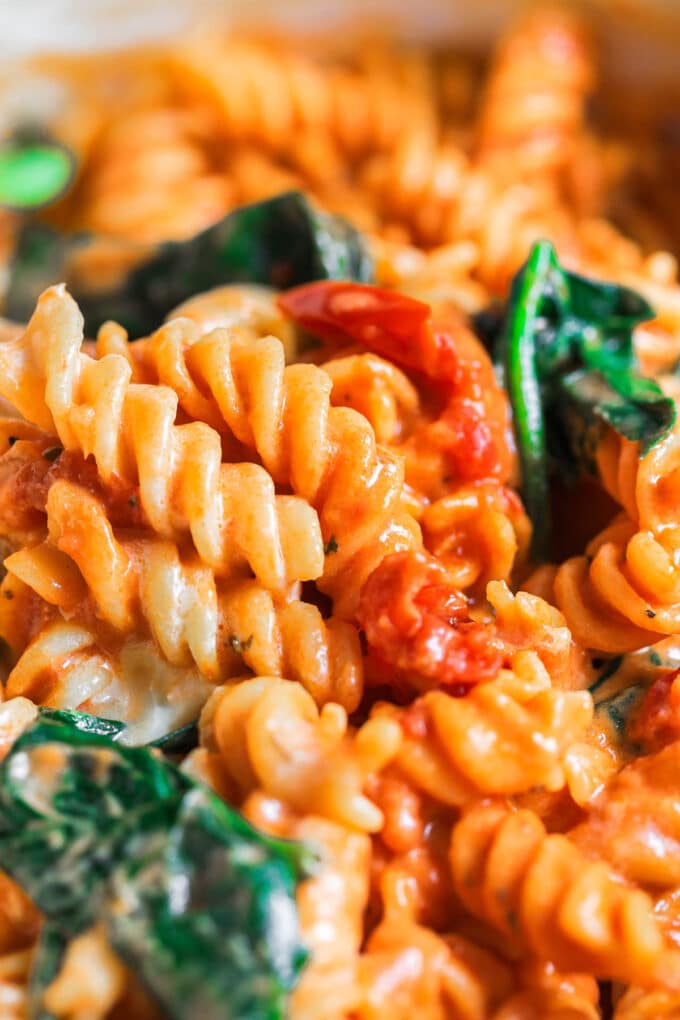 Pro Tips for Making One Pot Pasta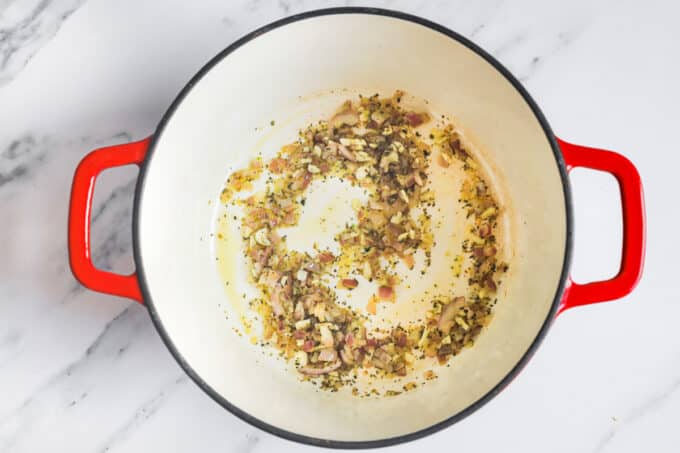 You want a something in the region of 5 litre / 5 quart sizes pot or saucepan for this recipe.
The number one thing to remember here is that you need to regularly keep an eye on the liquid levels while the pasta is cooking. Stir regularly, and check that it's not drying out before the pasta is al dente. Add more water as needed.
Your cook time will vary a little depending on your pasta. Thicker pastas with longer cook times will drink up more water than the more inexpensive, thinner pastas.
If your pasta is cooked through but your sauce still seems a little too runny, don't worry! Let it sit for a couple of minutes. You'll be surprised how quickly it thickens up off the heat.
On that note however, one pot pastas tend to be best eaten straight away. Don't let it sit around too long. At some point, all the starch that gives you a silky, creamy feel will start to turn more gloopy (for lack of a better word).
Leftovers of this recipe are still great, but you will want to add some water when reheating to restore the sauciness.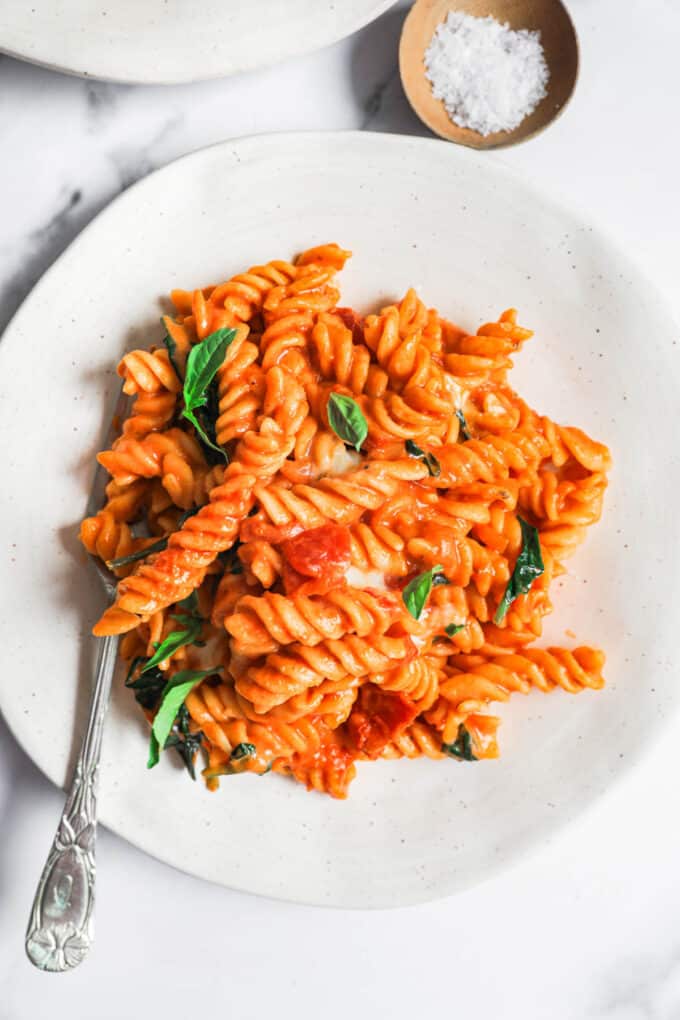 What to do with your leftover mascarpone
These recipes will help you use up that tub of mascarpone you're left with!
Love one pot pastas?
Since this recipe was such a success, I ended up making several more pasta recipes in this style!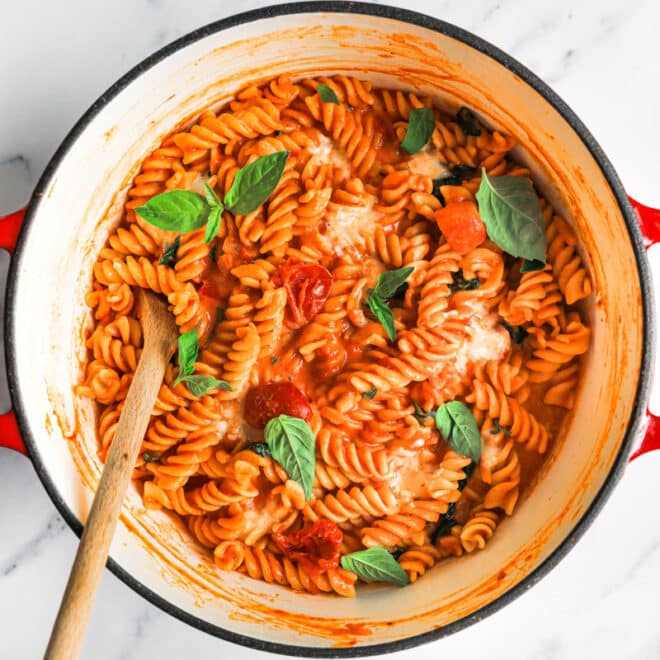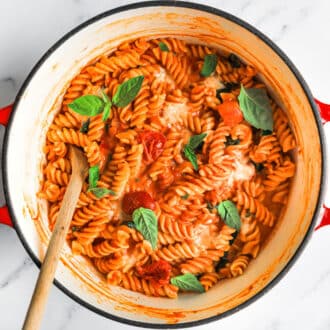 One Pot Pasta with Tomato & Mascarpone Sauce
A quick and easy one pot pasta packed with nutritious greens and a thick, luxurious tomato & mascarpone sauce. Excellent midweek dinner!
Ingredients
500 g (18 oz) dried fusilli
1 Tbsp Olive oil
1 medium red onion, chopped (you can also use 1/2 of a large one or a couple of shallots)
5 garlic cloves, crushed
1 Tbsp dried Italian herbs
2 tsp salt
2 cans chopped tomatoes, 400g / 14oz cans -I like to use one can of cherry tomatoes + one can of regular chopped tomatoes
140 g (5 oz) tomato paste/puree , you may want more or less depending on how watery your canned tomatoes are
1 Tbsp balsamic vinegar
950 ml (4 cups) boiling water , or vegetable stock – see notes
A few handfuls of fresh basil
250 g (9 oz) fresh spinach , try adding some rocket/arugula too!
30 g (2 tbsp) butter , you can use up to double this amount for extra richness if you like
3 heaping spoonfuls of mascarpone
Instructions
In a large pot, heat some olive oil and gently saute your onions until soft.

1 Tbsp Olive oil, 1 medium red onion

Add the garlic and herbs, and saute on a very low heat for a further 1-2 minutes until fragrant.

5 garlic cloves, 1 Tbsp dried Italian herbs

Add the canned tomatoes, tomato paste, salt and balsamic vinegar. Cook for 5 minutes, until bubbling.

2 tsp salt, 2 cans chopped tomatoes, 140 g tomato paste/puree, 1 Tbsp balsamic vinegar

Now add the fusilli along with the boiling water. The sauce will be very watery and runny but don't worry- the pasta will absorb all the excess water as it cooks.

500 g dried fusilli, 950 ml boiling water

Bring to the boil, and then simmer for 10 to 12 minutes, stirring often, until the pasta has cooked and the sauce has thickened back up. If it goes too dry, add some more water. It's hard to say how much you'll need because some pasta brands are thicker than others.

Now add the spinach, basil and butter, and stir over a low heat until it's cooked down.

A few handfuls of fresh basil, 250 g fresh spinach, 30 g butter

Finally, stir in the mascarpone until melted. You should have a deliciously thick, creamy sauce.

3 heaping spoonfuls of mascarpone

Serve immediately.
Notes
If you want to use vegetable stock instead of water, you can omit the salt. 
Calories: 582kcal, Carbohydrates: 87.4g, Protein: 27.6g, Fat: 15.1g, Saturated Fat: 6.3g, Cholesterol: 25.4mg, Sodium: 1059mg, Fiber: 7.1g, Sugar: 3.9g
Inspiration: The first one-pot pasta I tried was Kitchen Nostalgia's recipe for one pot spaghetti and I borrowed their proportions when developing this recipe.