A quick and easy one pot pasta packed with nutritious greens and a thick, luxurious tomato & mascarpone sauce. One of our most popular recipes here at Happy Veggie Kitchen, it makes a perfect midweek dinner and is ideal for Meatless Monday.
I'll confess that I was always a little skeptical about the one pot pasta trend, where the pasta cooks right there in the sauce. I mean, it's not exactly hard to make your pasta and sauce separately.
But then I looked into it a little more, and I kept reading about how cooking the pasta in the sauce results in a lot more starch hanging around, creating a thicker sauce. Mmm. That sounds kinda good.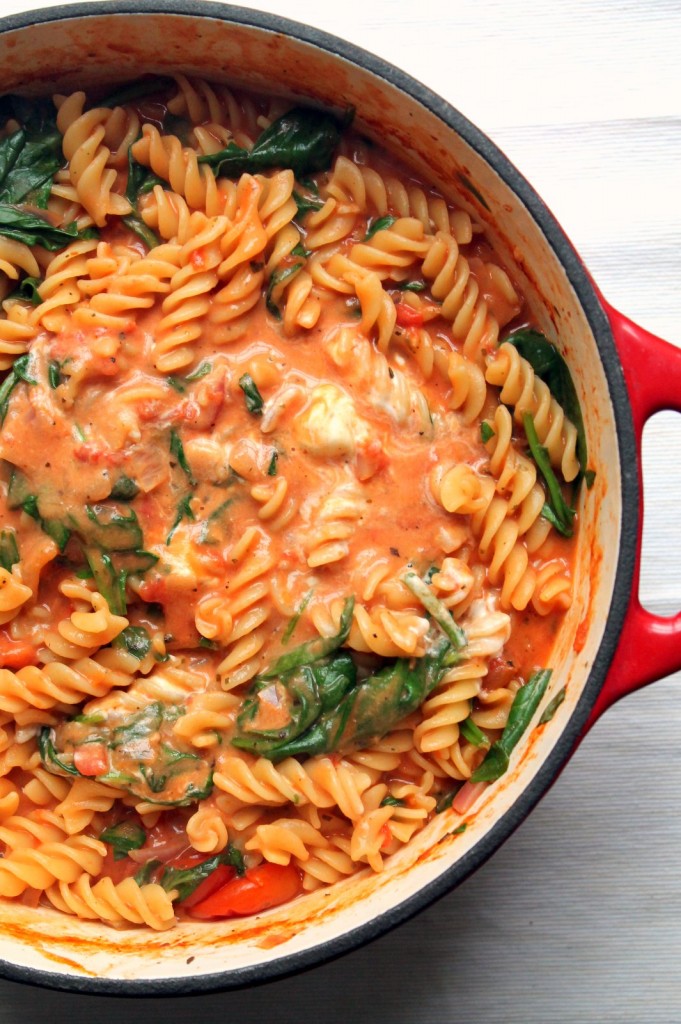 So when I thought about what a lazy (but yummy) pasta might look like, I thought of my old friend, the freshly made tomato and mascarpone sauce that you can get in the supermarket. Just about every supermarket's "fresh pasta + sauce for £3" meal deals.
And yep, that's pretty good value considering it's all fresh, but even so… Making this big pot of pasta will work out lot cheaper, so long as you buy an inexpensive mascarpone.
I use Waitrose essentials which is £1.65. (Yeah, I knooooow. The things that Waitrose consider essential are funny, and BuzzFeed makes fun of them, but laugh all you want, I agree with Waitrose about the mascarpone… And the ironing water. But we'll save that for another day.)
All in all, this big pot of pasta costs around £3 – the same amount as one of those supermarket deals. But look how much more there is! This is four huge portions right here, at least.
Whereas those supermarket meals are generally not quite enough for two, but too much for one, so just all round awkward to portion out.
And when you buy those meal deals, there is always enough sauce for the pasta, but not enough leftover to mop up with garlic bread. So I've tipped that balance for you here. This is incredibly saucy. And the garlic bread is not optional.
Now to those who haven't binged on the British supermarket meal deals, and have never experienced the sheer joy of tomato and mascarpone sauce, the time has come.
Mascarpone is the perfect accompaniment to tomato sauce. It adds a rich, sweet and creamy texture which really brings the sauce together. It is so much better than normal cream (sorry, normal cream).
And cooking it like this, well it is a little easier. I won't claim that it's life changing, but there are certainly benefits. Like, there's no draining, and only one pot to watch and stir. And wash.
Yep. I'm into it.
It's a pretty decadent sauce so, for midweek meal, we really need to have some more nutrients in here, don't ya think?
I've packed it with a bunch of green stuff for you- basil, spinach and rocket/arugula if you want it. They taste great, and will make you feel much less guilty about some extra mascarpone calories in this bowl.
This dish is best eaten on a busy weeknight, investing the time you save on cooking into a slightly longer than usual Netflix binge.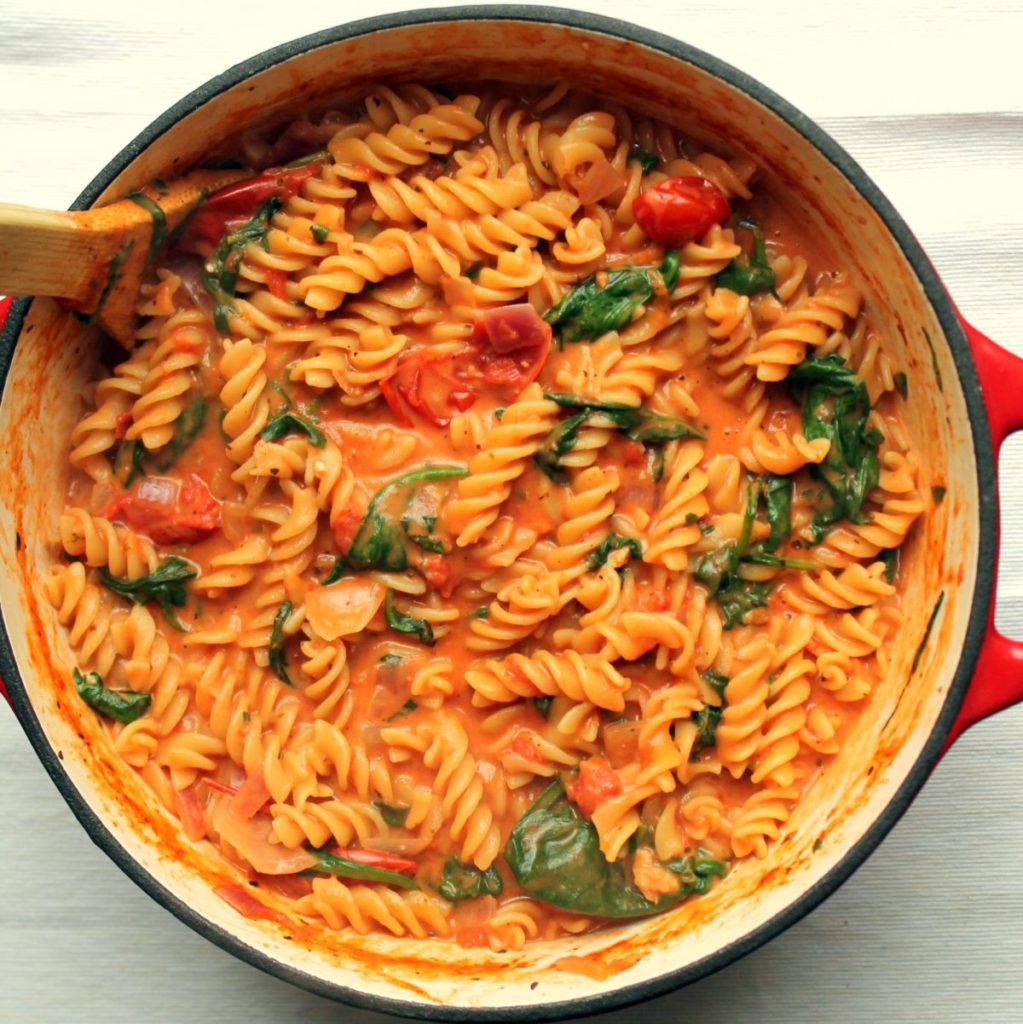 More Mascarpone Recipes: What to do with your leftover mascarpone
Add a scoop of mascarpone to a fruit salad, or top a brownie with it.
If you've got little ones in the house, I have a tomato mozzarella risotto for babies that calls for a bit of mascarpone.
Add a swirl of it on top of your soup.
Love one pot pastas?
Since this recipe has been so popular, I've made a couple more!
One Pot Pasta with Tomato & Mascarpone Sauce
A quick and easy one pot pasta packed with nutritious greens and a thick, luxurious tomato & mascarpone sauce. Excellent midweek dinner!
Ingredients
500 g (18 oz) dried fusilli
1 Tbsp Olive oil
1 medium red onion, chopped (you can also use 1/2 of a large one or a couple of shallots)
5 garlic cloves, crushed
1 Tbsp dried Italian herbs
2 tsp salt
2 cans chopped tomatoes, 400g / 14oz cans -I like to use one can of cherry tomatoes + one can of regular chopped tomatoes
140 g (5 oz) tomato paste/puree , you may want more or less depending on how watery your canned tomatoes are
1 Tbsp balsamic vinegar
950 ml (4 cups) boiling water , you may need more
A few handfuls of fresh basil
250 g (9 oz) fresh spinach , try adding some rocket/arugula too!
30 g (2 tbsp) butter , you can use up to double this amount for extra richness if you like
3 heaping spoonfuls of mascarpone
Instructions
In a large pot, heat some olive oil and gently saute your onions until soft.

Add the garlic and herbs, and saute on a very low heat for a further 1-2 minutes until fragrant.

Add tomatoes, tomato paste, salt and balsamic vinegar. Cook for 5 minutes, until bubbling.

Now add the fusilli along with the boiling water. The sauce will be very watery and runny but don't worry- the pasta will absorb all the excess water as it cooks.

Bring to the boil, and then simmer for 10 to 12 minutes, stirring often, until the pasta has cooked and the sauce has thickened back up. If it goes too dry, add some more water. It's hard to say how much you'll need because some pasta brands are thicker than others.

Now add the spinach, basil and butter, and stir over a low heat until it's cooked down.

Finally, stir in the mascarpone until melted. You should have a deliciously thick, creamy sauce.
Calories: 582kcal, Carbohydrates: 87.4g, Protein: 27.6g, Fat: 15.1g, Saturated Fat: 6.3g, Cholesterol: 25.4mg, Sodium: 1059mg, Fiber: 7.1g, Sugar: 3.9g
Inspiration: The first one-pot pasta I tried was Kitchen Nostalgia's recipe for one pot spaghetti and I borrowed their proportions when developing this recipe.