Dark Chocolate Mini Egg Cookies
Cadbury's Mini Eggs baked into dark chocolate cookies (made from scratch) with amazing results. Mini egg cookies are the perfect springtime or Easter dessert recipe for chocolate lovers!
You know those weirdos people who love to say that they are "not into sweets"?
Yeah. I married one.
But the truth is, they often have their weaknesses, if you know where to find them. And mini eggs is the secret weakness of Mr. Veggie. Whenever Cadbury decide to put out their spring range, you can be sure these yellow bags will be popping up frequently in our bin, empty and incriminating.
This is the the man who has gone a whole summer and a whole autumn and a whole winter being totally unfussed about chocolate.
In fact, I ordered some for the expressed purpose of testing this cookie recipe, and came home to find that he had chomped down on a whole bag*, with a guilty puppy dog face.
*That isn't strictly true. He saved me three mini eggs. Three.
Luckily I'd bought extra bags. So you still get your recipe, and he still got his bag of mini eggs, and all is well with the world.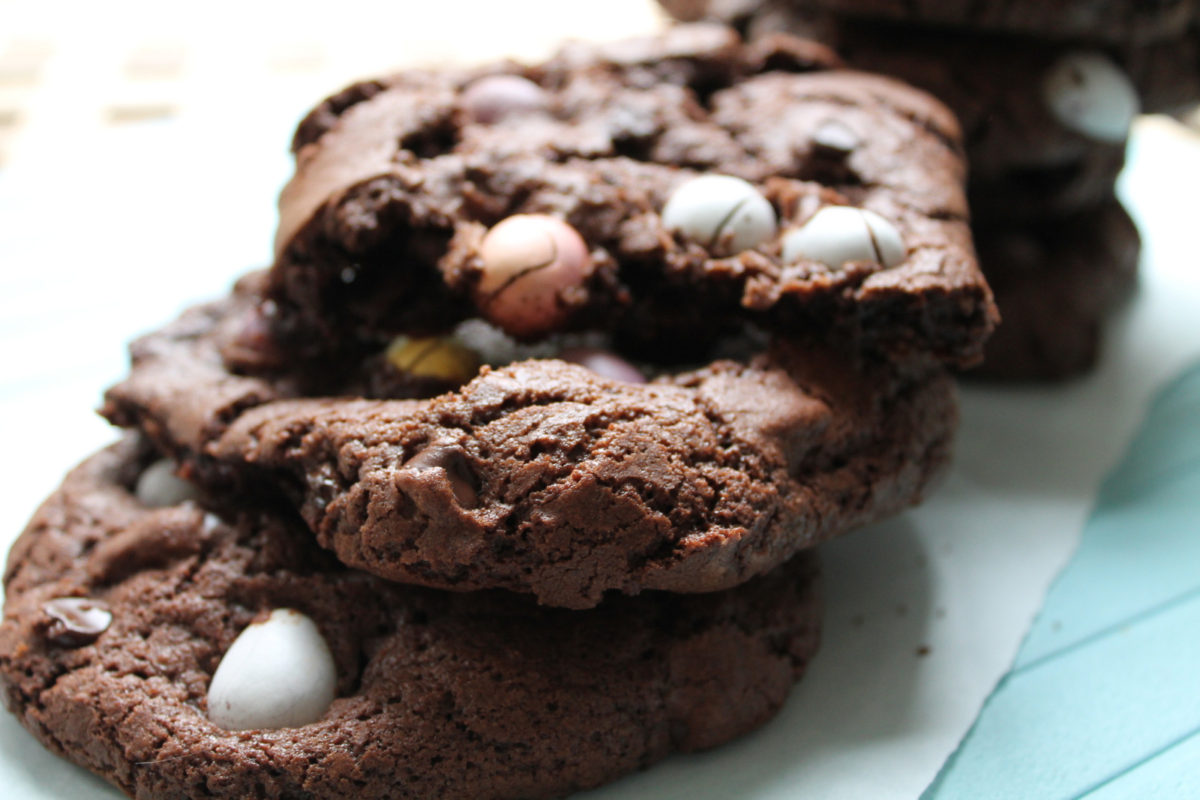 These cookies are perfect for the chocolate lover (me!) AND the only-if-it's-a-mini-egg type (him!). A soft chocolate base, stuffed with melty chocolate chips and some mini eggs to garnish. Mini eggs don't melt, but they go crackly. As do the texture of the cookies, for double crackle effect.
With a chocolate base, chocolate chips AND mini eggs… I guess these could also be called triple chocolate cookies. Triple. Chocolate. YESSSS.
Happy Easter!