Hummus can be a little over-rated.
Sorry. That's not a great way to lead into a hummus recipe.
Hear me out though.
I just find that the ready made stuff can be too dry, too gritty, lacking in depth and flavour, made without enough tahini (sooo important but super expensive) and did I mention DRY? I get bored easily and hummus can be… boring. Ground up chickpeas on bread? Meh.
So for much of my life I thought I just didn't like hummus all that much. But it turns out it can be sooooo delicious.
Basically, you need to make your own. I know. It sounds like a pain. But we'll do what we can to make the process go smoothly for you.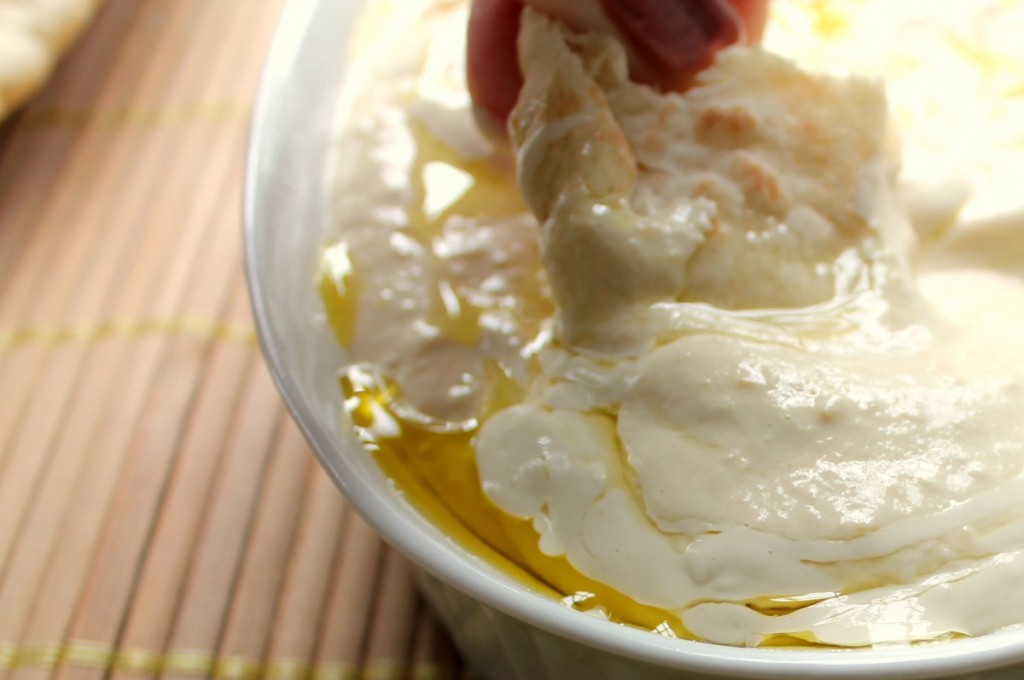 Smoooooth, like this hummus.
The base is super-soft with a fairly mild but toasty flavour, and in my desperate attempts to keep it from drying out, I make it creamy to the point where it will drip right off the bread. You can adjust this if you prefer it more sturdy. It's then drizzled with a super strong tahini / garlic / lemon blend to bring an extra layer of flavour for those who require it.
You will need a food processor to get this right, but even a mini one will do the job very nicely.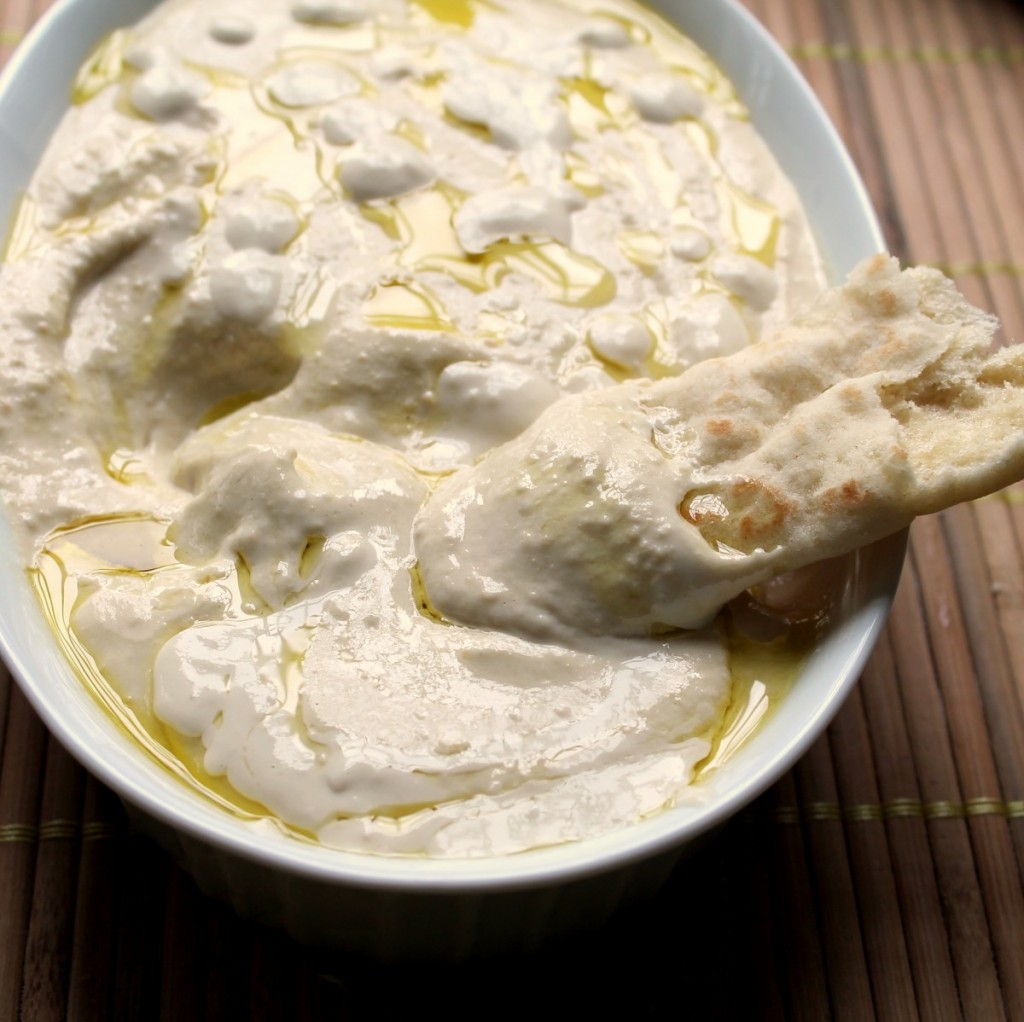 Are you ready to give it a try? Let's go!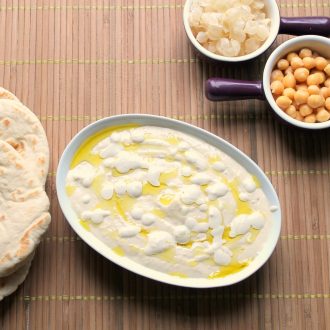 creamy hummus with lemon garlic sauce
Ingredients
Hummus
1 can chickpeas, also known as garbanzo beans
⅓ cup tahini
2 garlic cloves, sliced (make it 3 if you loooove garlic)
Juice of 1 lemon
Appx 1/4 cup of water, maybe more, maybe less
1 tsp toasted sesame oil
1 Tbsp extra virgin olive oil
Lemon Garlic Sauce
1 Tbsp tahini
1 Tbsp bottled lemon juice, you could use fresh- I just like the really tart, strong flavour for this
1 small clove garlic, minced
Instructions
Make the hummus

First, you need to skin your chickpeas. I'm sorry, but that's the way it is. Drain and rinse them, then put them in a big bowl. One by one, squeeze them gently until they detatch from the loose outer skin.

Put the skinned chickpeas into the food processor with the garlic and run until they are almost powdered.

Add the tahini, lemon juice and garlic, and run until incorporated.

Depending on how runny your tahini is (it can really vary), the hummus might be too dry. Gradually add water until you get the creamy texture you want.

Once you're happy with the texture, add that teaspoon of toasted sesame oil and blend until it's all mixed in and lovely.

Make the sauce

Now, make the sauce by whisking the ingredients together with a fork. It may take a while to get all the lumps out. You may need some water or extra lemon juice to thin it out, depending on how thick your tahini is. Just play it by ear. This doesn't need to be precise. It will taste really strong, but you're going to use it moderately, so it's all OK.

Serve

Spread your hummus into a serving dish. Drizzle extra virgin olive oil on top, and drizzle big drops of the lemon garlic sauce all over.

Serve with pita bread, carrots, or just go ahead and eat it with a spoon.
This recipe was inspired by the Hummus Bros restaurants in London, who always leave a big squeezy bottle of lemon garlic sauce on the table. Now, what I wouldn't give for their hummus recipe…