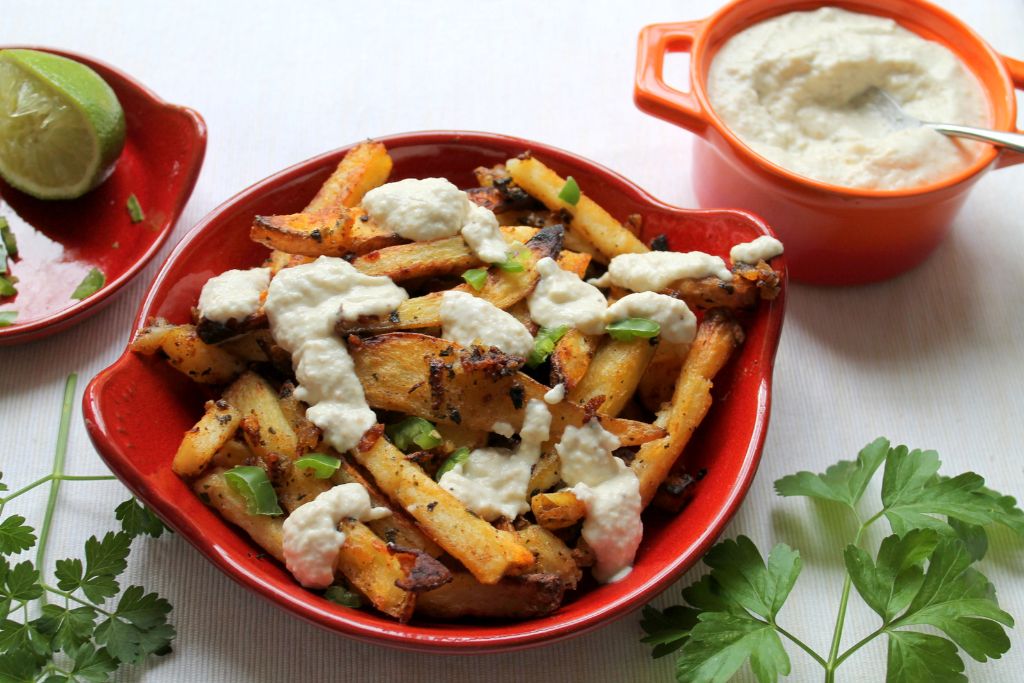 This is not an obvious recipe for my blog.
You see, I hate eggplant. I physically hate it. It's just so gross. And I hated cooking this recipe, because I had to touch it and smell it and it was awful.
But it tastes awesome! So there. Eggplant haters, you can feel comfortable here.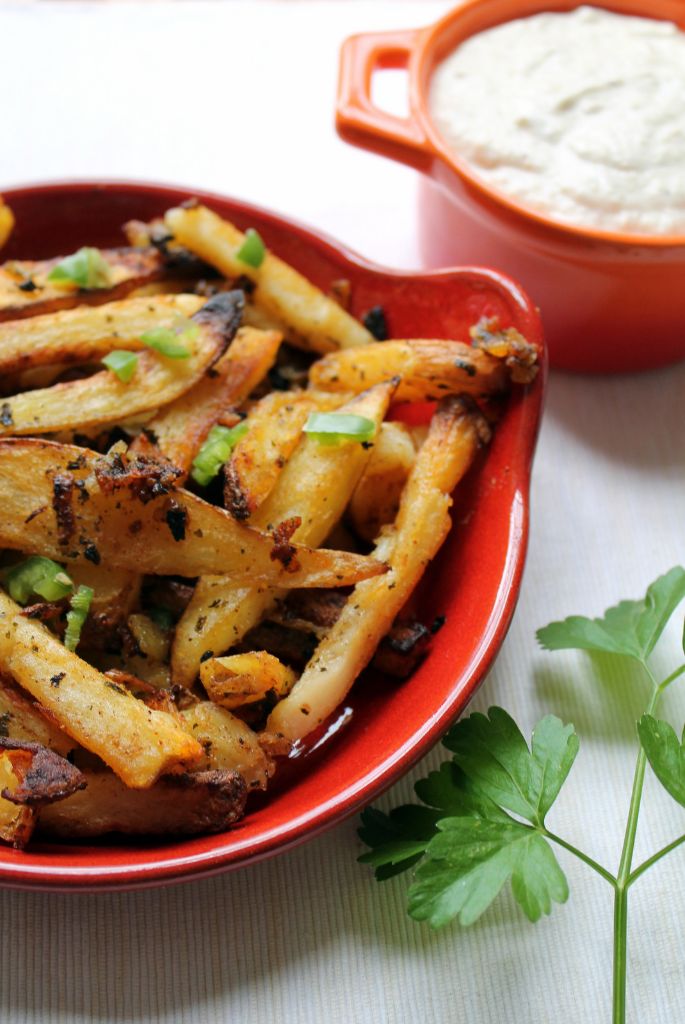 If you're wondering how I came to develop a recipe involving an ingredient I despise, well, I found myself trying baba ghanouj recently. It's one of the dishes on a vegetarian sharing platter at my local Lebanese restaurant, and I kinda liked it! Once the eggplant is all mixed up with tahini, the qualities I find so offensive (texture, bitterness) are dispersed. I still gravitate to the labneh yogurt dip more, so for this recipe I have taken the liberty of adding a bunch of lowfat greek yogurt. It gives it a really cooling contrast to the spicy fries, and adds some extra moisture.
Inspired by the batata harra on that same sharing platter, these fries are baked with spices and herbs to give them a crispy, spicy coating, and finished off with a twist of lime.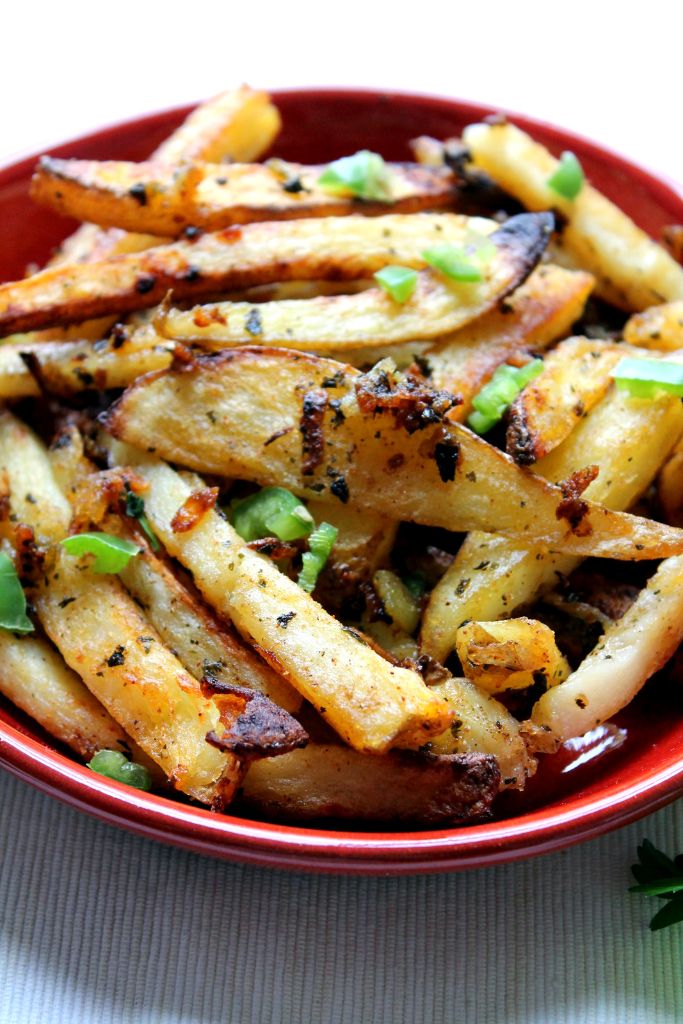 If you are torn between trying something new and exotic, and just making a big plate of fries… this is the perfect recipe for you.
Print
baked batata harra fries with eggplant dip
Author:

Prep Time:

15 minutes

Cook Time:

1 hours 1 minutes

Total Time:

1 hours 16 minutes
---
Ingredients
For the Fries
2 large potatoes
2-3 Tblsps Olive oil
2 Tblsps minced onion
2 cloves garlic
1 green chili, seeded and minced
1 Tblsp fresh coriander / cilantro
1/4 tsp chili powder
1/4 tsp dried coriander
1/2 a lime
For the dip
1 small eggplant
1/2 cup yogurt
1 small clove garlic
1 Tblsp tahini
Juice of 1 lemon
---
Instructions
To Make the Fries
Pre-heat the oven to 200C / 390F
Slice the potatoes into long, chunky fries. I suggest leaving the skins on for this recipe.
Boil a saucepan of water and then remove from heat. Soak the fries in the water for about 20 minutes. Do not add any more heat- you just want the fries to soak, not cook. Doing this will help them to get a soft inside.
Drain, and leave to completely dry out. (This a good time to make the dip)
Toss the potatoes in olive oil to coat, and then add to a baking tray.
After 20 minutes, remove from the oven. Flip the fries carefully (they are prone to breaking at this stage) and sprinkle the onion, garlic, green chili and dried spices on top.
Return to the oven and bake for another 20 minutes. They will at this point be fully cooked. But if they aren't quite crispy enough (it depends on the strength of your oven's fan and whether there are any cool spots in your oven) I suggest grilling them for another 5-10 minutes until you get your preferred crispiness.
Now pile them on a plate and add the cilantro/fresh coriander and a squeeze of lime juice.
To Make the DIp
Cut the eggplant in half and sprinkle salt on each side.
Roast in the oven at 200C / 390F for about half an hour.
Leave to cool off, until you can comfortably handle it.
Scoop the flesh out of the skin and put into a food processor.
Add the remaining ingredients and blend until soft and creamy.
---
Nutrition
Serving Size:

Serves 2, with plenty of leftover dip

Calories:

0

Sugar:

0 g

Sodium:

0 mg

Fat:

0 g

Saturated Fat:

0 g

Unsaturated Fat:

0 g

Trans Fat:

0 g

Carbohydrates:

0 g

Fiber:

0 g

Protein:

0 g

Cholesterol:

0 mg