Yeah, this photoshoot is a little bit staged.
I was feeling creative and goofy, so out came the wooden board and the 4 simple leaves, and the gravy boat, and the attempts at mid-pour shots, etc.
But do not worry, my friends, because nothing went to waste here. As soon as I was done, I shoveled those 4 simple leaves in my mouth, all in one go.
Such is the power of ranch dressing.
It makes leaves taste so, so good.
Even when they are really old leaves which have been in the fridge for 9 days. <--- True story.
I try not to get into the habit of buying pre-bottled ranch. It seems dangerous to have it so accessible. I would just eat it with everything.
The trouble is, now that I've discovered how easy it can be to make a good ranch… we maaaaay have a problem.
Although, maybe not too much of a problem because even though this calls for equal parts mayonnaise and fat free yogurt, you could play around with those proportions and even make it with 100% fat free yogurt. It is still totally yummy.
It's up to you!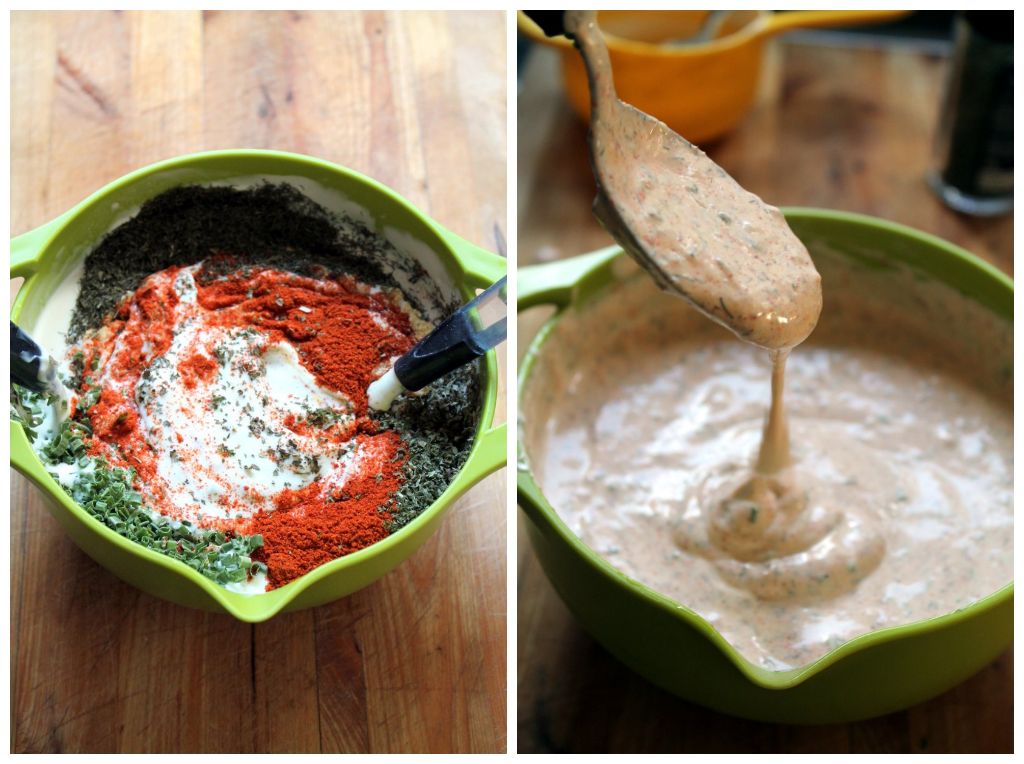 So, let's talk about this ranch, and why it is pink.
Smoked paprika!
It sits perfectly alongside the dill, chive and other herbs, lending a smoky edge to the dressing. So it would be perfect for a taco salad.
The recipe uses all dried herbs and spices, so hopefully will be really easy to pull together for a weeknight meal as long as you have some fresh yogurt, mayo (if using) and a lemon to hand.
This will give you enough ranch to eat some now, and then fill up a 1/2 litre mason jar with the rest.
Print
easy & smoky yogurt ranch dressing
Ingredients
1 cup of fat free greek yogurt
1 cup of mayonnaise (of another cup of fat free greek yogurt)
Juice of 1 large lemon
2 tsps dijon mustard
1 tsp white wine vinegar
1 tsp onion powder
1 tsp garlic powder
2 tsps smoked paprika
2 Tblsps dried dill
2 Tblsps dried chives
1 tsp dried parsley
1 tsp dried basil
Instructions
Combine all ingredients in a bowl.
Refrigerate for as long as you can before serving to allow the flavours to develop, at least 2 hours.
Notes
Substitute the mayonnaise for more greek yogurt if you would like a lower fat dressing.
I mentioned taco salad, but I actually served it with roasted chickpeas, tomatoes and a hard boiled egg. I made a big batch of dressing, then hard boiled lots of eggs and roasted lots of chickpeas and voila!– mason jar salads for the whole week!