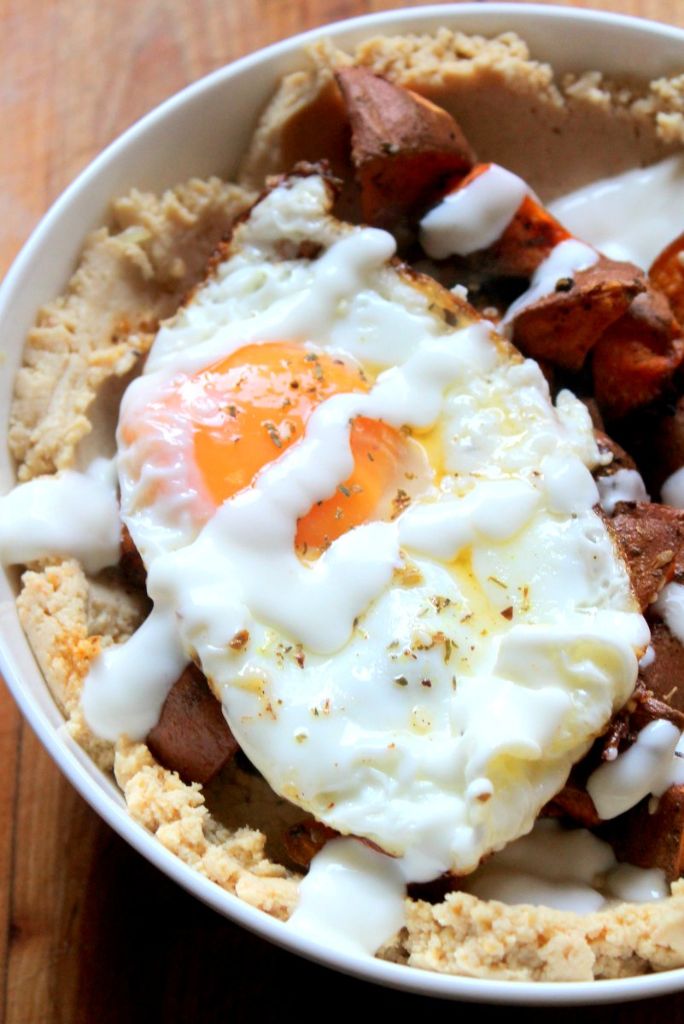 Are you in a breakfast rut?
If you're anything like me, first thing in the morning is not the most inspirational time to be trying new things. But, in my breakfast patatas bravas post I mentioned that Mr. Veggie's occasional night shifts have forced us into a routine where my dinner time = his breakfast time for a week at a time. So hearty breakfasts which can pass for dinner are my new obsession.
If you're in the category of non-morning people, and you keep defaulting to eggs on toast or plain cereal, I suggest you print this one out and put it on your fridge for your next lazy Sunday morning. It will be totally worth it.
This breakfast will start your weekend out just right, with all the carbs and protein you need to stay full for a good long time.
I like to imagine eating this for breakfast and then going out for a run in the park or something. It feels like that sort of breakfast.
But then I remember that I have never in my life gone for a run in the park, and I need to stay home all weekend with my cats.
(Yes, cats! Plural! We welcomed a new kitty into the home this week. She is a beautiful, sweet and friendly little girl… who still needs just a little bit of encouragement to come out from under the bed.)
So, let's discuss the anatomy of this breakfast bowl.
There's hummus.
There's zaatar spiced sweet potato home fries.
There's an egg fried in olive oil.
There's a garlic and lemon yogurt sauce.
… And there's an empty bowl!
Please note the bowl I used for this is pretty small, used for soups and side salads mostly. It's not a ginormous bowl food of food but it is so protein, carbohydrate and calorie dense that you will not want too much volume!
Hummus & Sweet Potato Breakfast Bowl
Ingredients
1 cup (250 g) hummus
1 sweet potato, chopped into small cubes
2 tsp zaatar
1 pinch smoked paprika
Salt and pepper
1 or 2 eggs
⅓ cup (80 ml) yogurt
1 garlic clove, crushed
Juice of 1/2 a lemon
Instructions
Heat your oven to 220C / 425 F.

Toss the cubed sweet potato in olive oil, and spread on a roasting tray. Put in the oven once it has reached the right temperature.

Meanwhile, prepare the yogurt sauce by whisking together the yogurt, lemon juice and garlic in a bowl. Refrigerate until use.

After 20 minutes in the oven, remove the sweet potatoes and sprinkle the smoked paprika and zaatar over them. Shake to distribute the seasonings, and put back in the oven for another 15 minutes.

When the potatoes are nearly finished, fry your egg(s) in a liberal amount of olive oil over a high heat. You want the edges of the eggs to get nice and crispy, so keep the heat high and ensure there is enough olive oil not to have any dry spots in the pan.

Assemble! Spread the hummus around the sides of the bowl. Fill with potatoes, top with fried egg and then drizzle the yogurt on top.
Notes
Amounts are very, very approximate. Use as much hummus, and as many sweet potatoes, as you fancy!