Blueberry burrata salad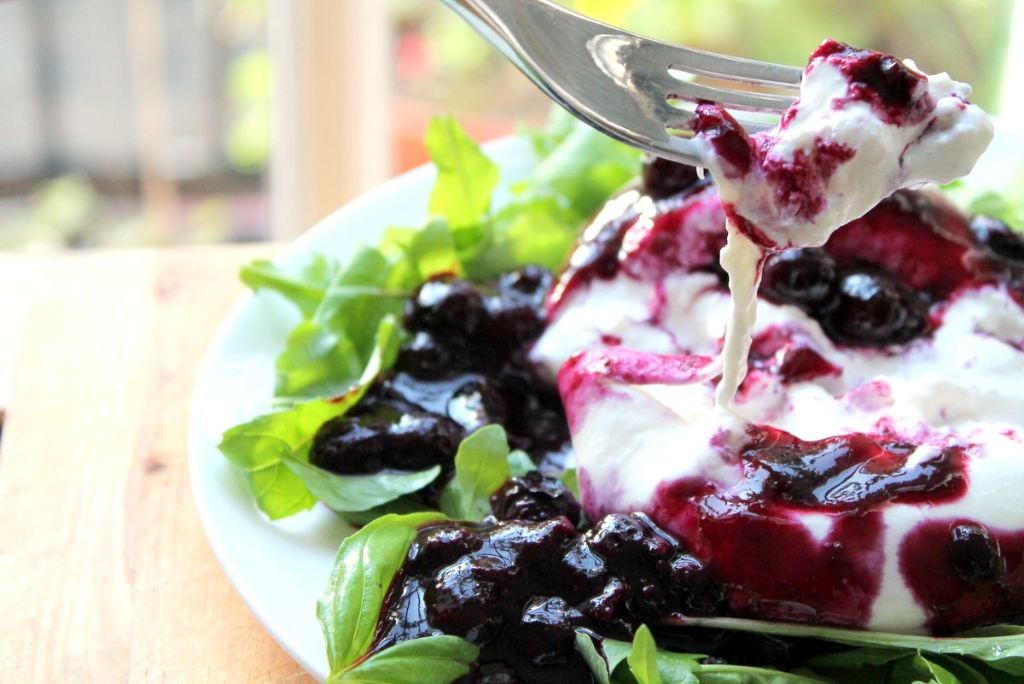 I love, love, loooooooove this blueberry burrata salad.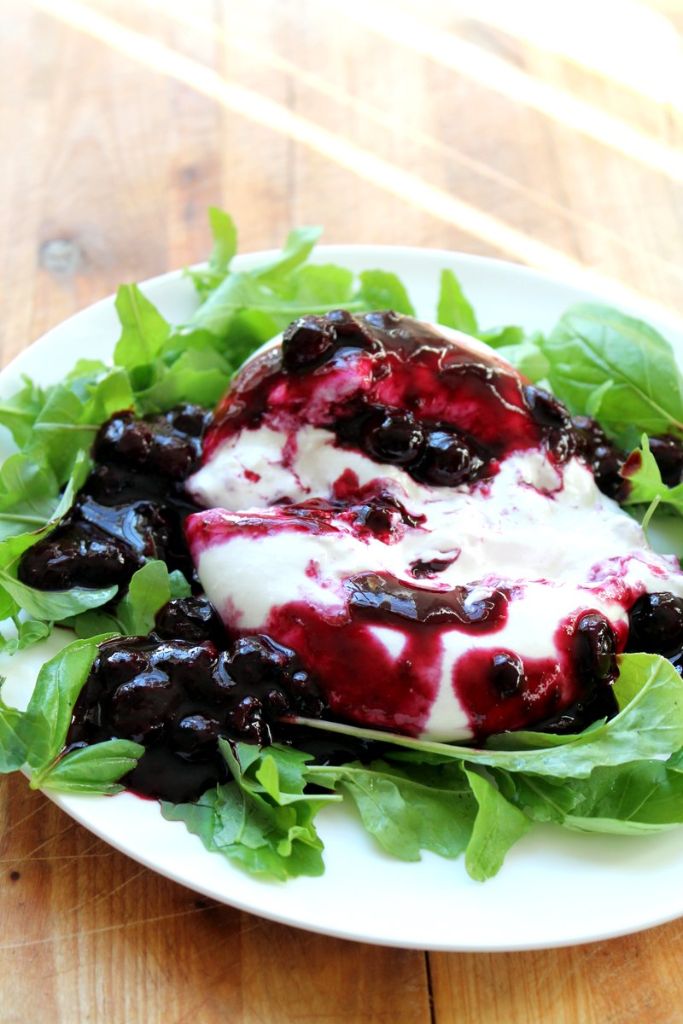 When I first started this blog, this is exactly the sort of thing I wanted to fill it with.
Realistically, you know that I secretly love vegetarian hot dogs and that I eat bowls of jazzed up mashed potatoes for dinner an awful lot, but my ideal version of myself eats nothing but lovely fresh vegetarian delicacies like this.
So why is this so great anyway?
Let's examine.
First of all, there is home grown rocket / arugula (whatever you call it in your neck of the woods). Thanks Mr. Veggie!!!
Then there are mega huge basil leaves.
Then… burrata. Oh, burrata. This cheese is epic. Have you tried it yet? You must. Think fresh mozzarella but super soft and stringy, with cream pouring out of it. See?
And then, the sauce.
Blueberries. Balsamic vinegar. Lemon juice. Honey. Black pepper.
And the result is even greater than the sum of its parts.
Just look at that mess of a salad.
It screams summer.
You know you want to get involved.
And I urge you to do so before summer gives way to autumn and blueberries and basil give way to squash. (Technically, that would be next week, but fight it as long as you can. Squash is overrated.)
If there is one thing this recipe isn't, it's cheap.
I used Waitrose own label burrata which at £3.35 is cheaper than most, and very delicious. (Yes, we have a supermarket in the UK with own-label burrata and I don't care what Buzzfeed says, I love it.)
But even so. Burrata, fresh blueberry and rocket are on the higher end of ingredient prices. I understand.
But this is worth the expense when you have cause to treat yourself.
And when you do, got all out. It would be even better washed down with some champagne.
Fresh, decadent, all natural but pure luxury. This recipe has it all.
Back off, cat. The salad is mine.