Creamy goat cheese and chewy, lemon-infused kale are absolutely dreamy in this healthy stuffed sweet potato. It's easy to make and a wonderful vegetarian meal or side dish!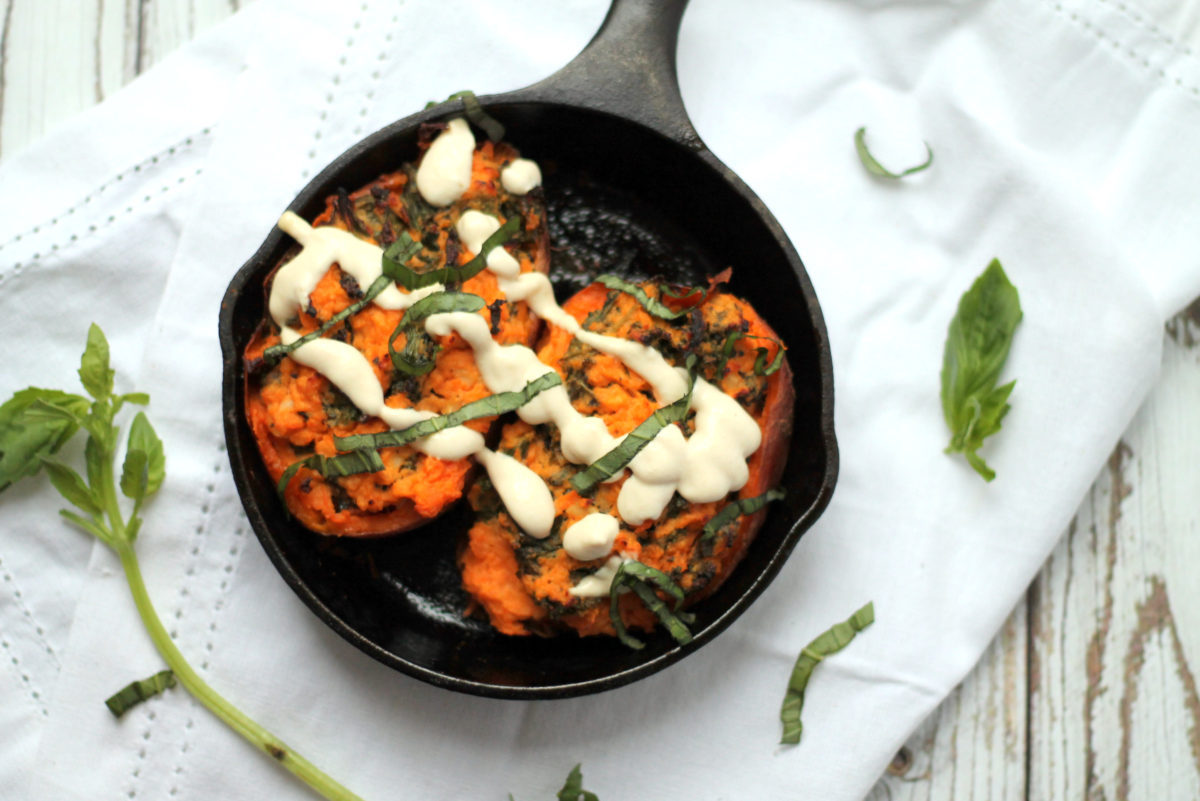 Sweet potatoes can be added to the very long list of "Vegetables I Thought I Hated Until My Thirties".
How, how, how did I think I hated something so wonderful? There is so much my younger self needs to answer for. These dreamy stuffed sweet potatoes could have been in my life so much sooner.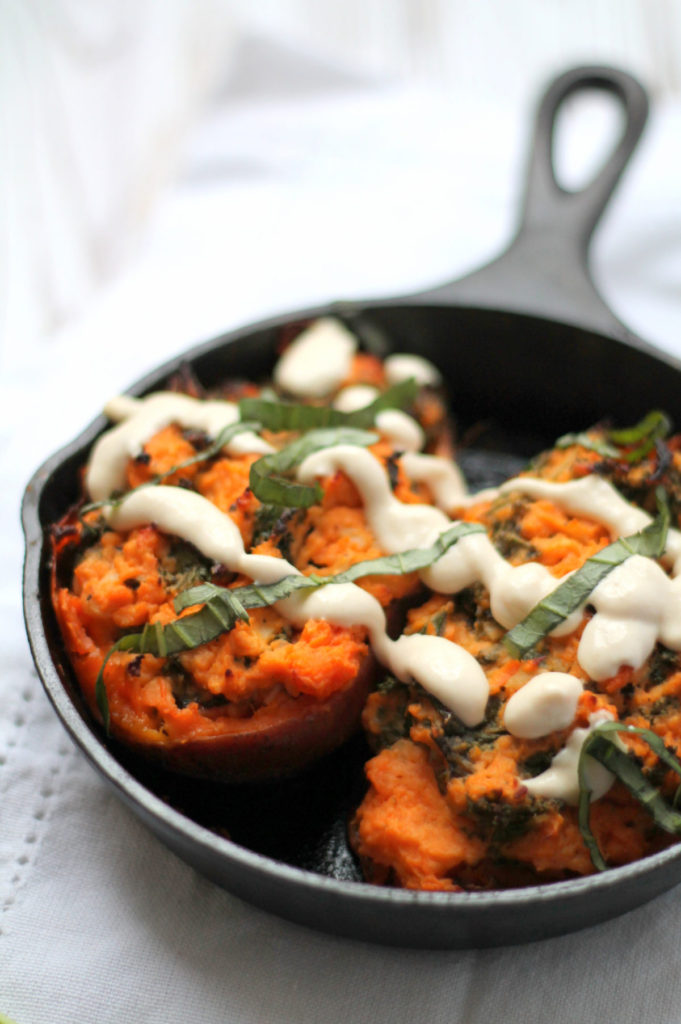 But we've been making up for lost time, me and the sweet potatoes. So much so, that they've been added to another list: "Things I Cooked So Much Over a Short Space of Time that Mr. Veggie Won't Eat Them Anymore".
Oooops!
So that is the reason this recipe only serves one. If you're making it for a fellow sweet potato fan, you can double it and consider me jealous that you have someone to share this with!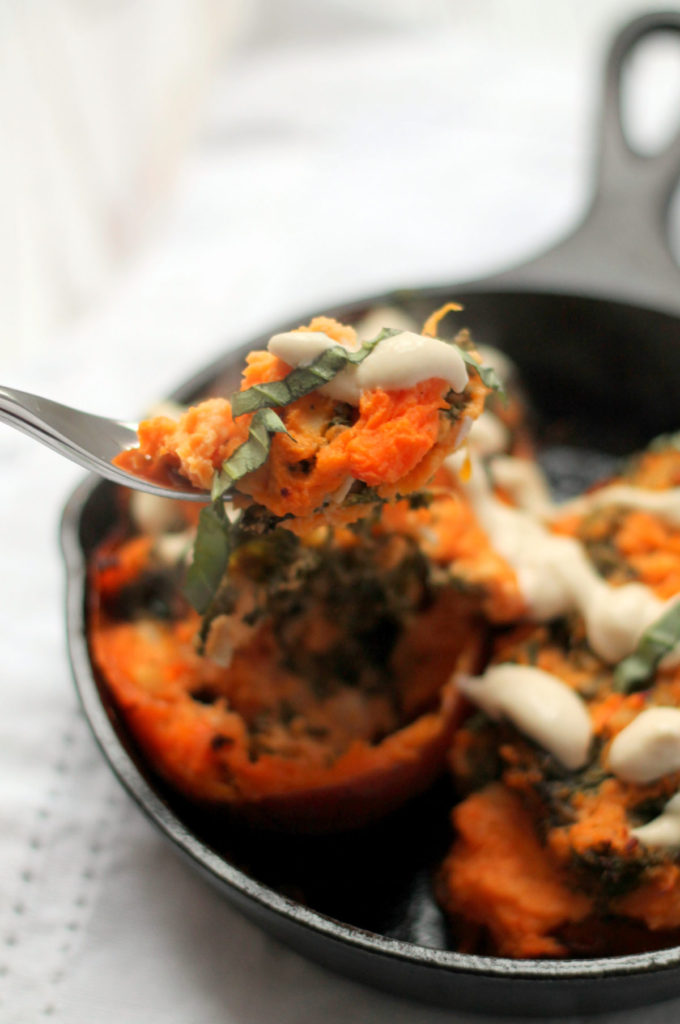 The method is as follows: You bake the sweet potato, remove the filling, mash it together with some goat's cheese and lemon-braised kale, and put it back. Then you re-bake it, and top with a tahini-yogurt sauce and some herbs. It takes a little while but it's really easy, no stress.
The tahini sauce is another one of my obsessions right now- I put it on everything. You'll soon understand.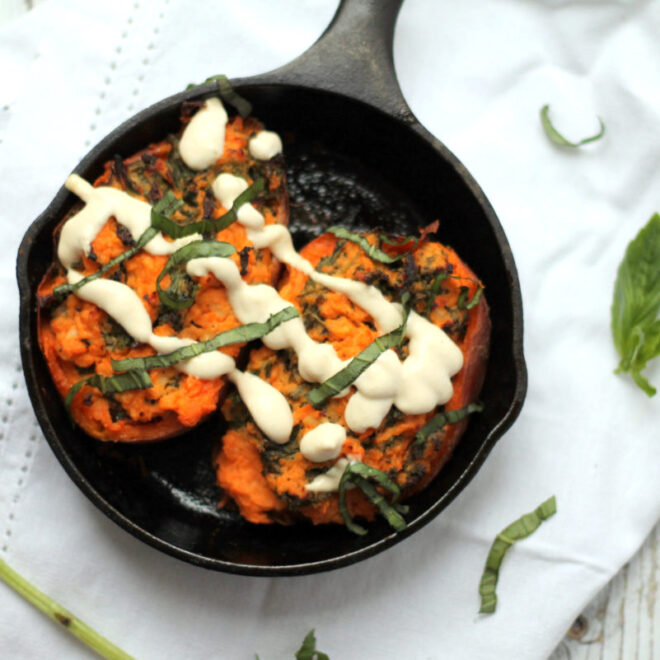 Stuffed Sweet Potatoes with Goat Cheese & Kale
Creamy goat cheese and chewy, lemon-infused kale are absolutely dreamy in this healthy stuffed sweet potato. It's easy to make and a wonderful vegetarian meal or side dish!
Ingredients
1 large sweet potato
100 g (3.5 oz) kale
1 clove of garlic, crushed
3 Tbsp white wine or lemon juice
50 g (1.75 oz) soft goats cheese
Salt and pepper to taste
Herbs, for garnish (Basil and/or parsley work well)
For the sauce
2 Tbsp tahini
4 Tbsp greek yogurt
1-2 Tbsp fresh lemon juice, or to taste
Instructions
Pre-heat the oven to 400F / 200 C.

Poke a couple of holes in your sweet potato and wrap in foil.

Bake for 45-60 minutes, until it is completely soft and cooked through. The cooking time can really vary based on the size and shape of the sweet potato so just check on it regularly.

Meanwhile, prepare the sauce and the kale.

Sauce: Whisk the ingredients together in a bowl until completely smooth. Refrigerate until it's time to serve..

Kale: Lightly sautee the garlic in olive oil until it's just releasing its fragrance. Add the kale and stir fry for a minute or two to get it softened before seasoning with salt and pepper. Then quickly pour in the lemon juice or wine. Turn the heat down to low, and cover the pan to allow the liquid to steam the kale. Keep a very close eye on it- the liquid will run out quickly and you don't want the kale to burn.

Leave the kale in the pan until you need- it doesn't matter if it cools down.

Once the sweet potatoes are cooked, remove from the oven and allow to cool down until they can be handled. (Don't turn off the oven though- they'll be going back in soon!)

Slice them in half and scoop the middle into a small bowl. Sweet potato skins are a little thinner than normal potato skins, so we can't scrape the filling out entirely- leave some around the sides to ensure they keep their shape.

Add the kale and goat's cheese to the filling. Mix and mash together, ensuring the goats cheese is evenly distributed and starts to melt. Season with additional salt and pepper if desired.

Now scoop the filling back in to the skins. Place on a baking tray and return to the oven, uncovered, for 20 minutes.

They're done! Drizzle with the tahini yogurt sauce and some herbs to serve.
Notes
Recipe is for one potato. This will serve two as a side dish or one as a main meal. Scale up if you want to feed more people!
Serving: 1g, Calories: 549kcal, Carbohydrates: 48g, Protein: 25g, Fat: 28g, Saturated Fat: 10g, Polyunsaturated Fat: 16g, Cholesterol: 26mg, Sodium: 645mg, Fiber: 9g, Sugar: 13g