Lemon & Broccoli Pesto Pasta
We'll use an entire broccoli in this recipe by turning the stems into a fresh, lemony basil and broccoli pesto! A light, healthy, vegetarian + vegan pesto pasta dinner, ready in 25 minutes.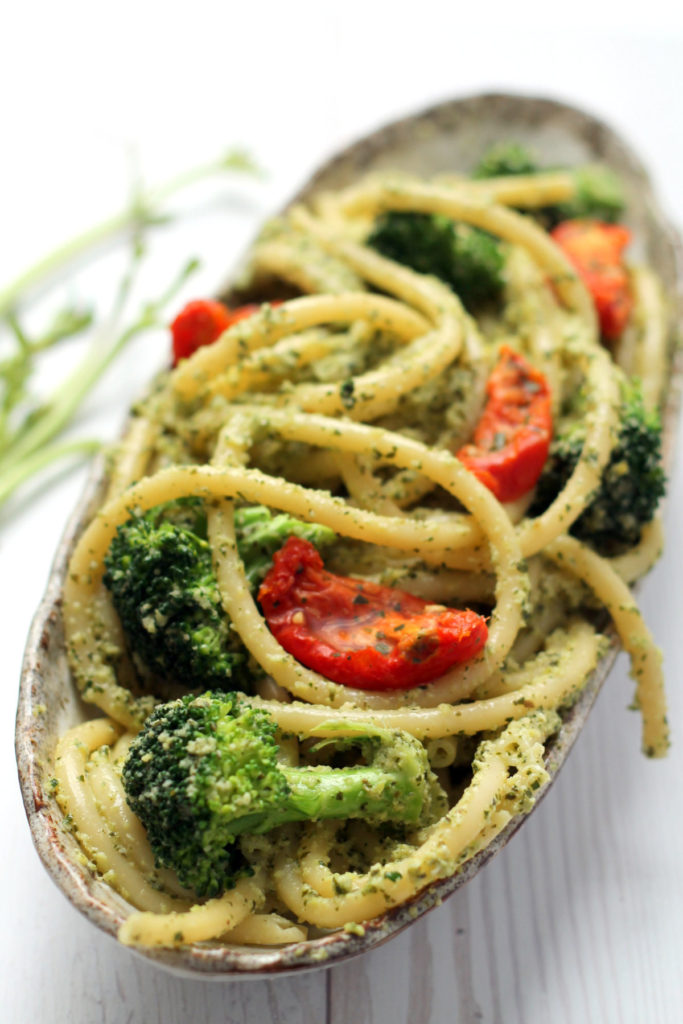 Pretty much anything green can be comfortably pesto-ed, don't ya think? In this case, an amazing broccoli pesto pasta is born from the awkward broccoli stems that so often get thrown away or composted.
As it happens, they have a great chunky texture for pesto! And the taste sits really nicely alongside loads of lemon juice and lemon zest, fresh herbs and garlic.
No cheese, folks! This one's totally vegan.
Broccoli pesto is an amazing way to get lots of green veggies into a hearty, comforting dinner. I may be a vegetarian, but I'd almost always rather eat a big bowl of pesto pasta than a bowl of straight up veggies.
Sometimes you can have both.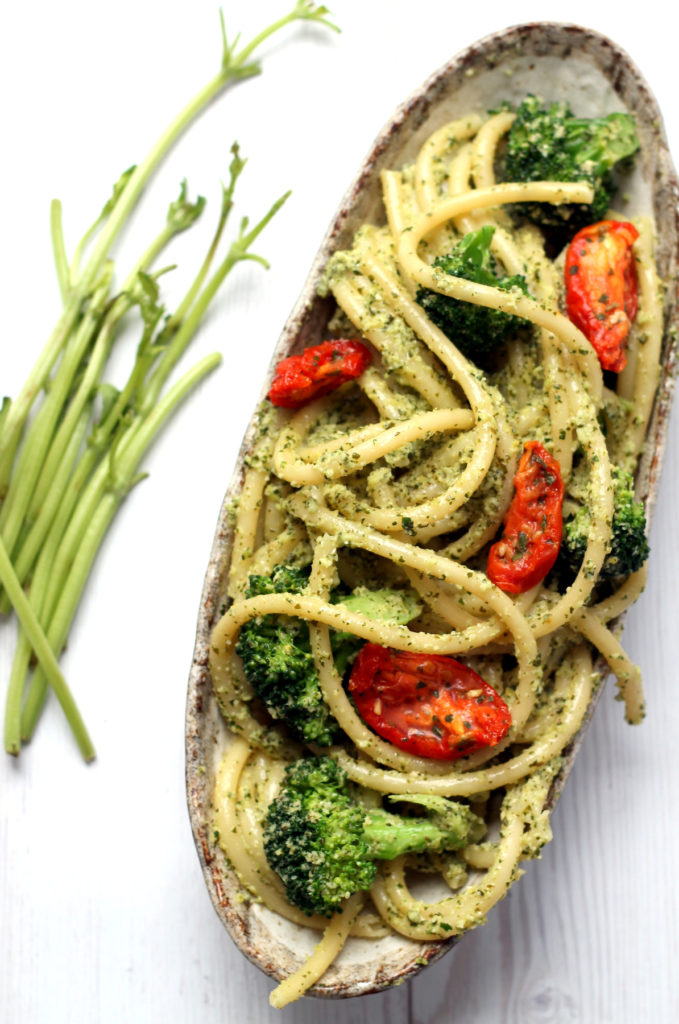 The Best Herbs for Broccoli Pesto Pasta
I've tried this with basil, and then again with both basil and cilantro (aka fresh coriander) and I definitely prefer the combination. I think a basil and parsley combo would work well too.
You might even want to throw in a little spinach for extra green goodness.
See what you've got available, throw in a good few handfuls of green herbs and it can't go too wrong.
Do I need to use Pine Nuts in my Broccoli Pesto? They're Expensive!
I know, right? What's up with that? I do love the roasty toasty flavor of pine nuts, but you can substitute cashews or almonds. I haven't tried either but I am sure it will taste great.
Walnuts are also delicious in pesto but have a stronger flavor so if you wish to use them, maybe reduce the amount a little.
How to make Broccoli Pesto Pasta
This takes less than half an hour to put together which is pretty good going. The broccoli stems go into a food processor raw, with the other pesto ingredients, pulse and it's done.
Just mix it in with your pasta and the broccoli florets (which you can cook in with the pasta for the last 2-3 minutes of cook time, to save on dishes).
Garnish with some sundried tomatoes, or roast some fresh cherry tomatoes, if you want a pop of color.
Love Vegetarian Pesto Pasta Dinners?
I have so many more! Check out my pesto archives! There's roasted garlic pesto, kale pesto, red pepper brie pesto, and more! I've also compiled a roundup of 65 Veggie Pesto Recipes including all of mine + other blogger's creative recipes.