This Mediterranean inspired Halloumi Caesar Salad is a complete meal! Croutons and crisp lettuce are coated in a creamy and cooling vegetarian (no anchovy) Greek Yogurt Caesar dressing. Filling and intensely flavorful, this is not your average halloumi salad!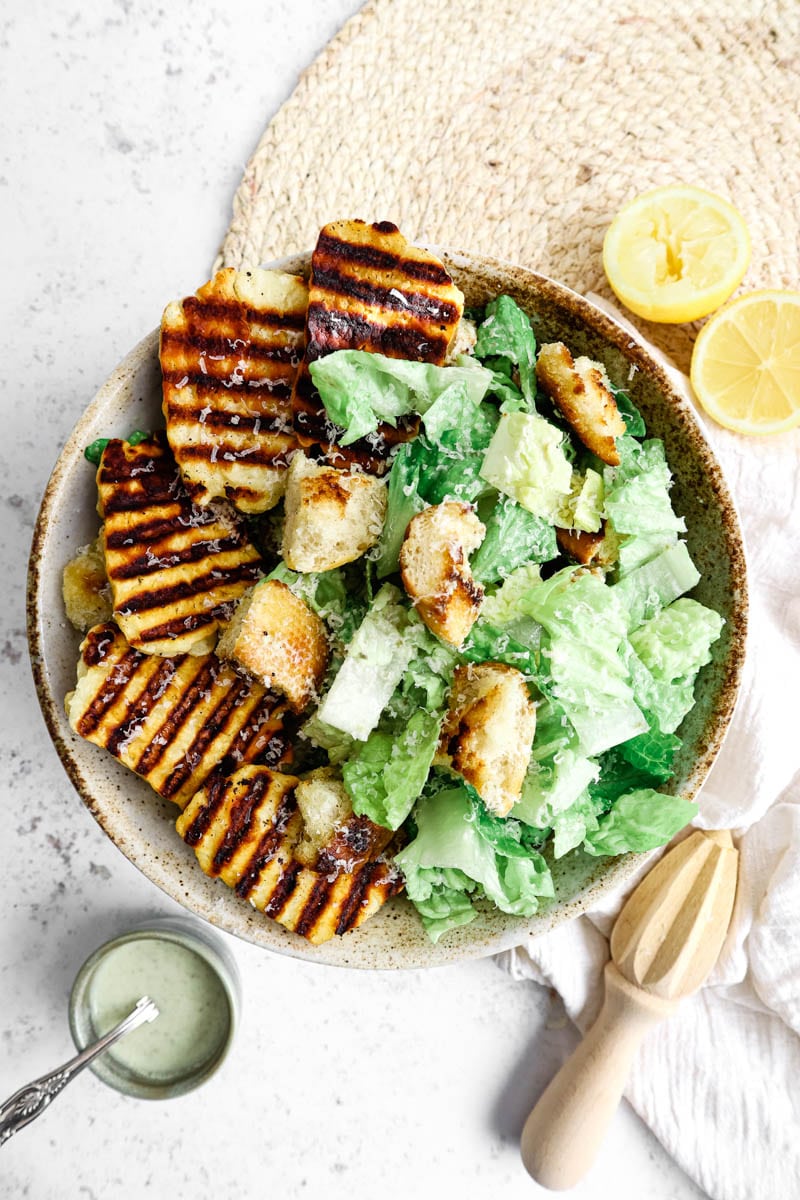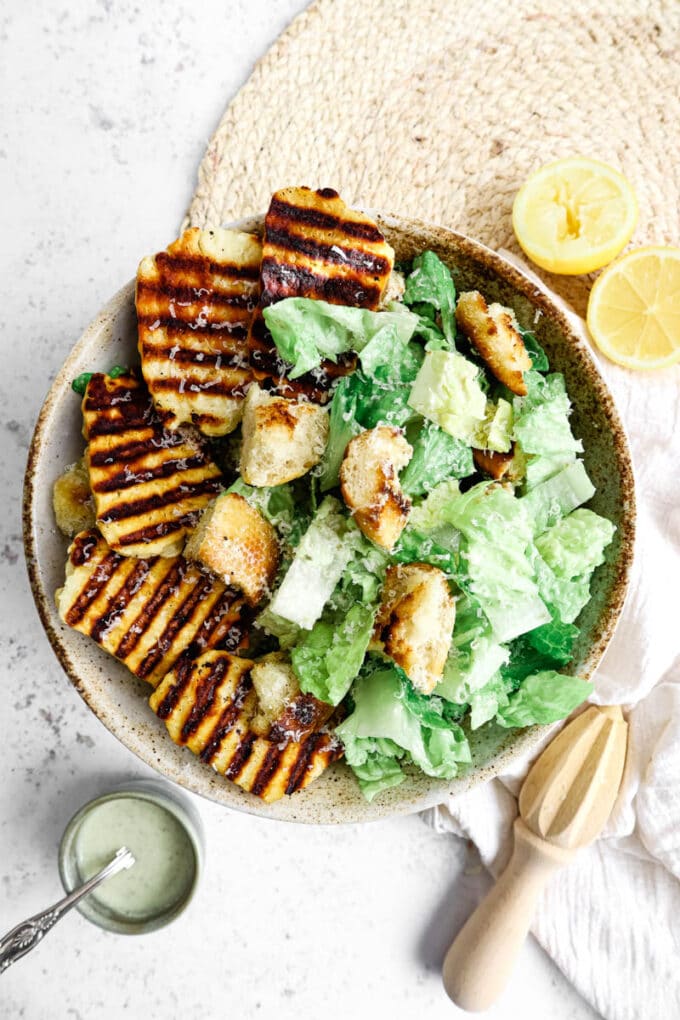 This recipe was originally published in 2014 but has been updated in February 2022 with new photos and couple small changes to the recipe. So if you're re-visiting this recipe, yes you are in the right place!
Have you tried halloumi cheese yet?
If you live in London, the answer is probably a resounding "DUH!" because it is on almost every gastropub's menu in some form here. Halloumi burgers, halloumi salad, deep fried halloumi and chips, halloumi everything.
It hails from Cyprus but is also popular in Turkish and Lebanese cuisine, and, more recently, the aforementioned British pubs. It's a super salty non-melting cheese made from goats and/or sheep's milk, commonly described as "squeaky".
A very strange adjective to describe food, but sort of accurate.
I understand it's a little harder to track down in some parts of the world; however, since I originally published this recipe in 2014, it has become much more widespread, so I am no longer the trendsetter I thought I was when I first put this salad out there.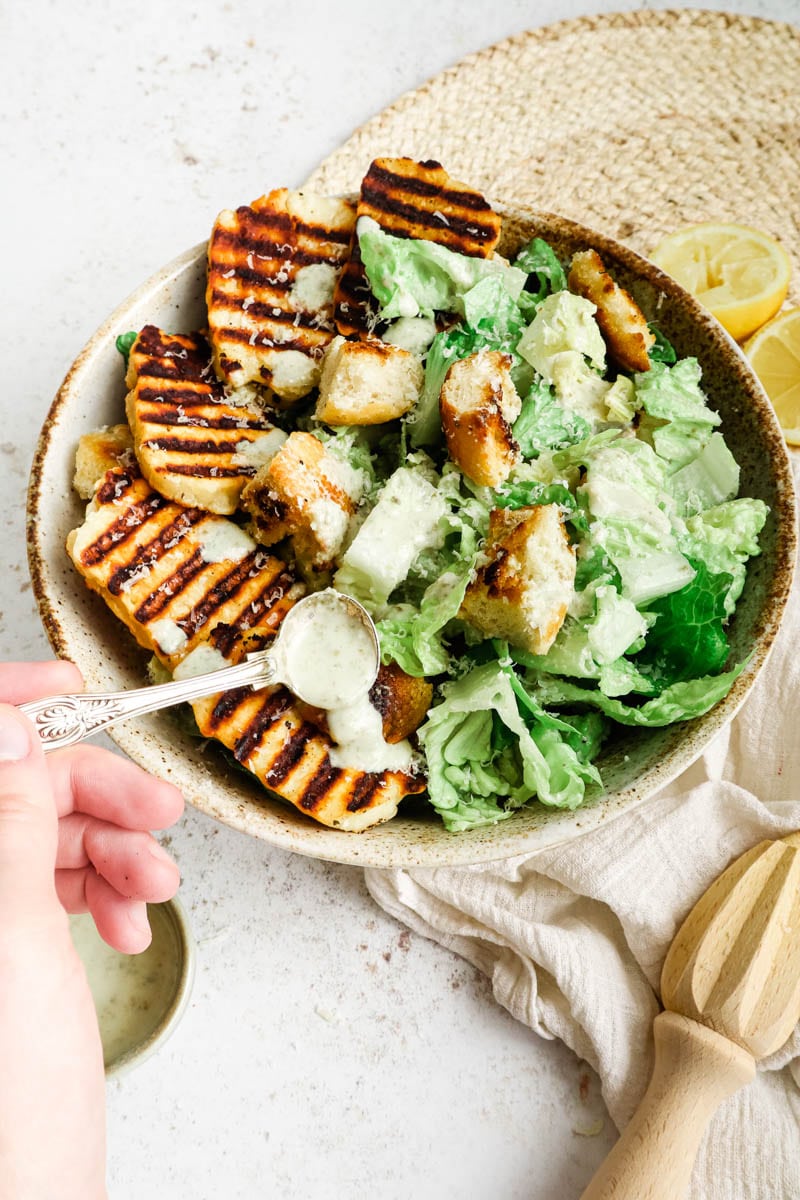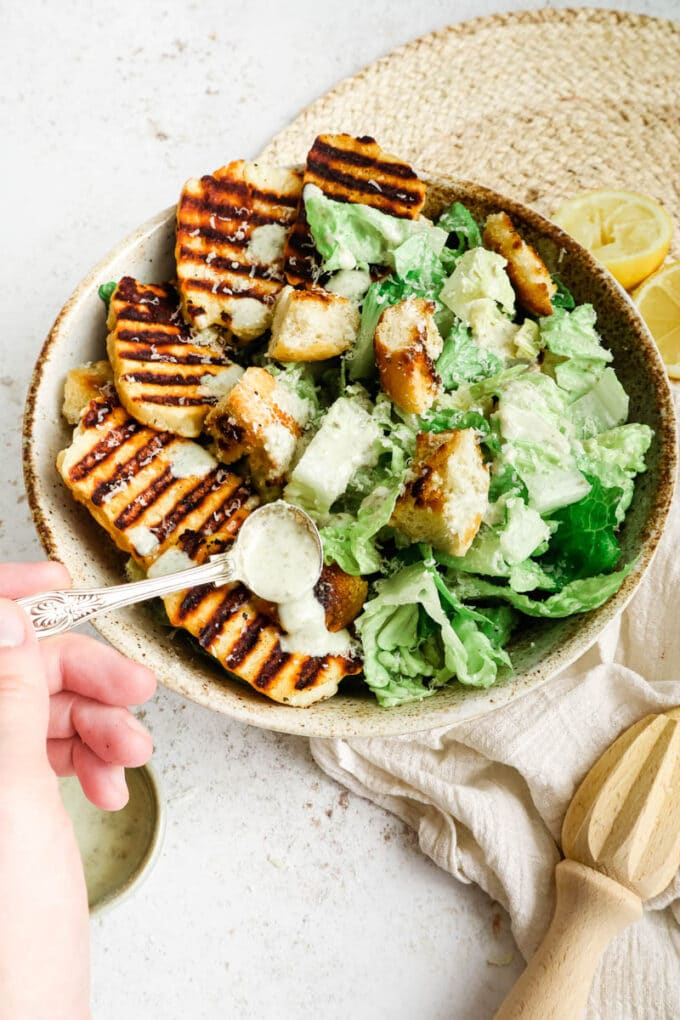 Halloumi is brilliant for vegetarian cooking. It sits beautifully in places where chicken otherwise might have, so halloumi salads are common. But sometimes, let's be honest, restaurants and pubs do not do justice to salads. Treating them as a light option, or just a side dish.
Well, I've remedied that. This halloumi salad is a whooole meal. I'd consider it healthy and nutritious, but it's not light – I think "hearty" is the word I am looking for.
Adding a very salty cheese to a very salty, briny dressing like caesar could be overkill if you're not careful. So by using a nice cool Greek yogurt as a base, we're keeping things in check.
The dressing is anchovy-free (because, hi! vegetarian blog right here!) so to make up for the lack of salty, briny anchovy, I've used capers. And also… surprise!… green olives! They add a little olive-y kick for extra Greek-ness in this bowl. I think it works, but if you're skeptical, no problemo! Leave them out.
How to Make It
Let's do this then. Here is your cast of characters. Nothing crazy here.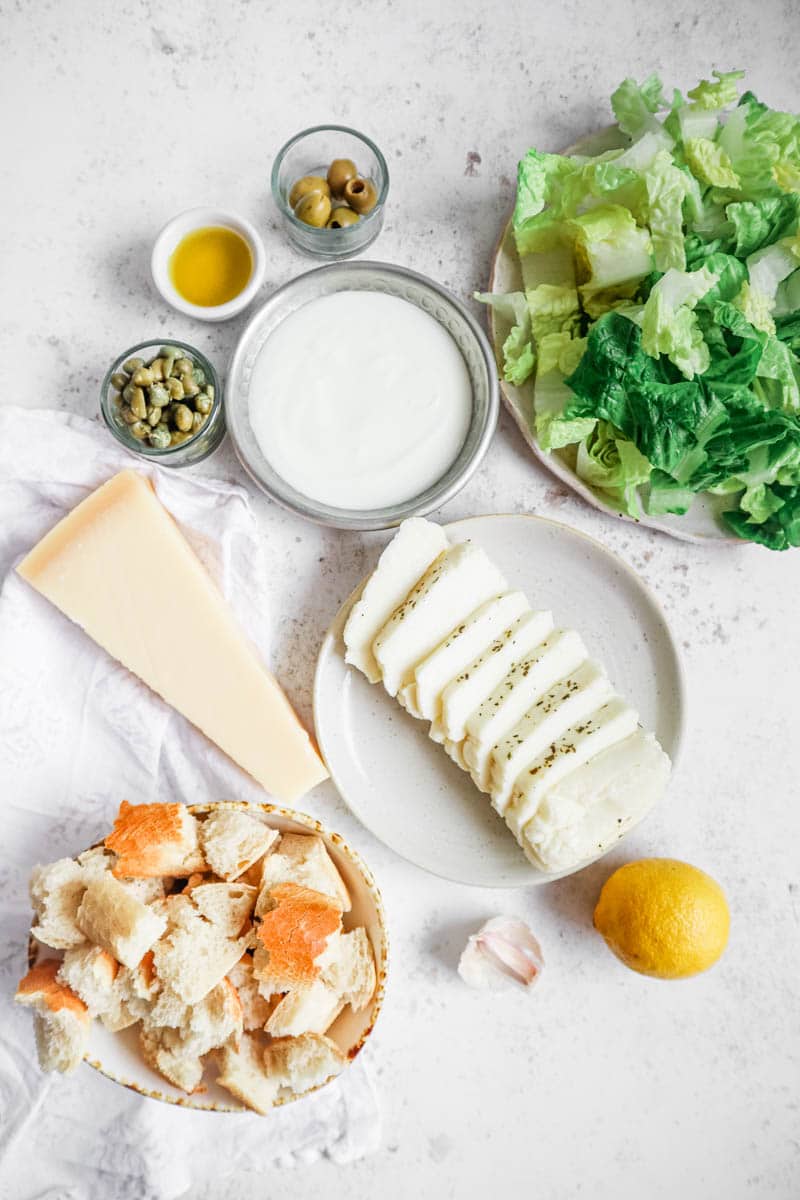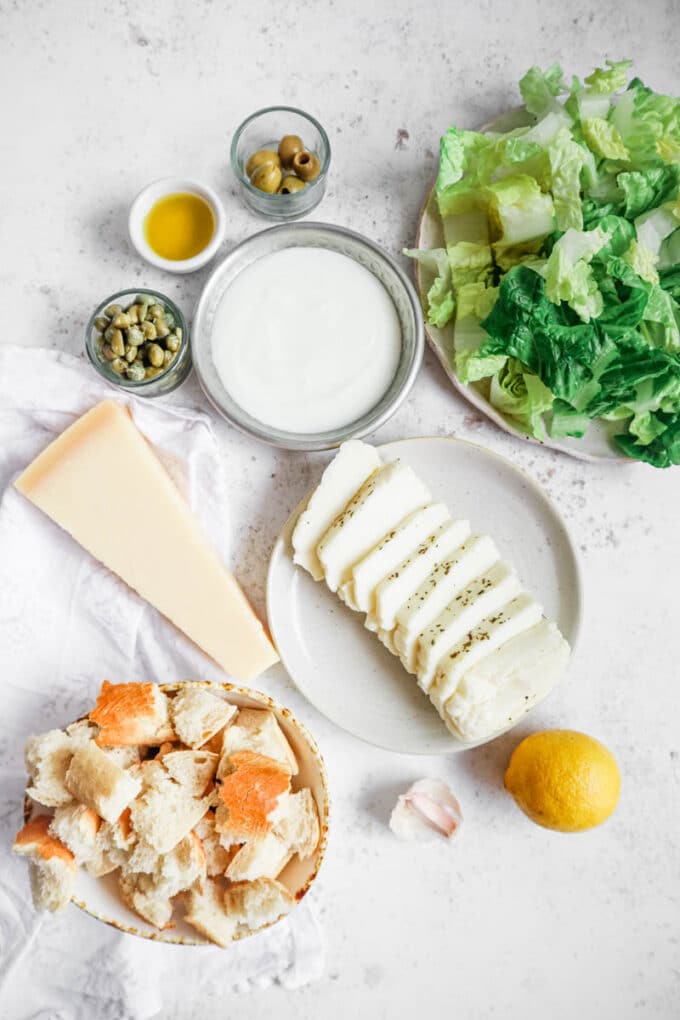 Make the Greek Yogurt Dressing
Since you're going to go to the effort of making some croutons and cooking halloumi, the dressing is very easy to make. Everything goes in a food processor. Blend. You're done!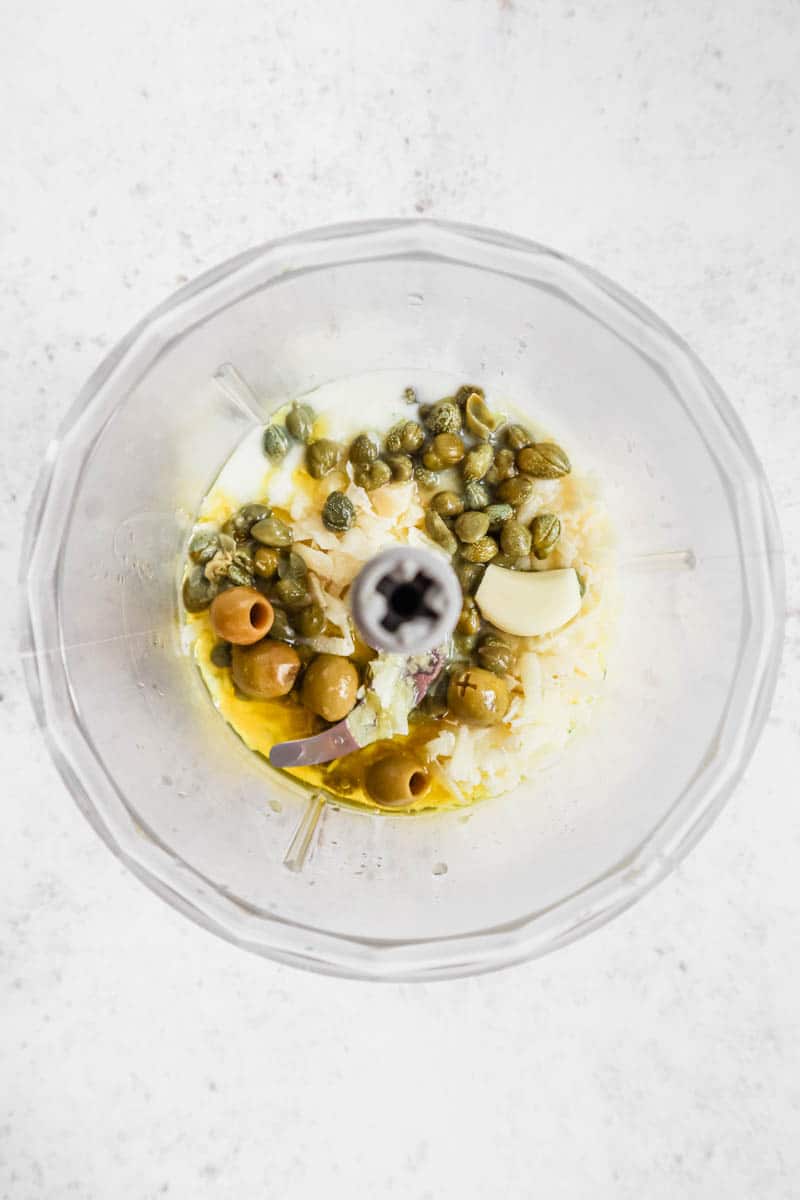 Fry the Croutons
I make the croutons fresh for this recipe – they're so much more filling and tasty this way! Tearing up a baguette and pan frying in a little oil is the name of the game here.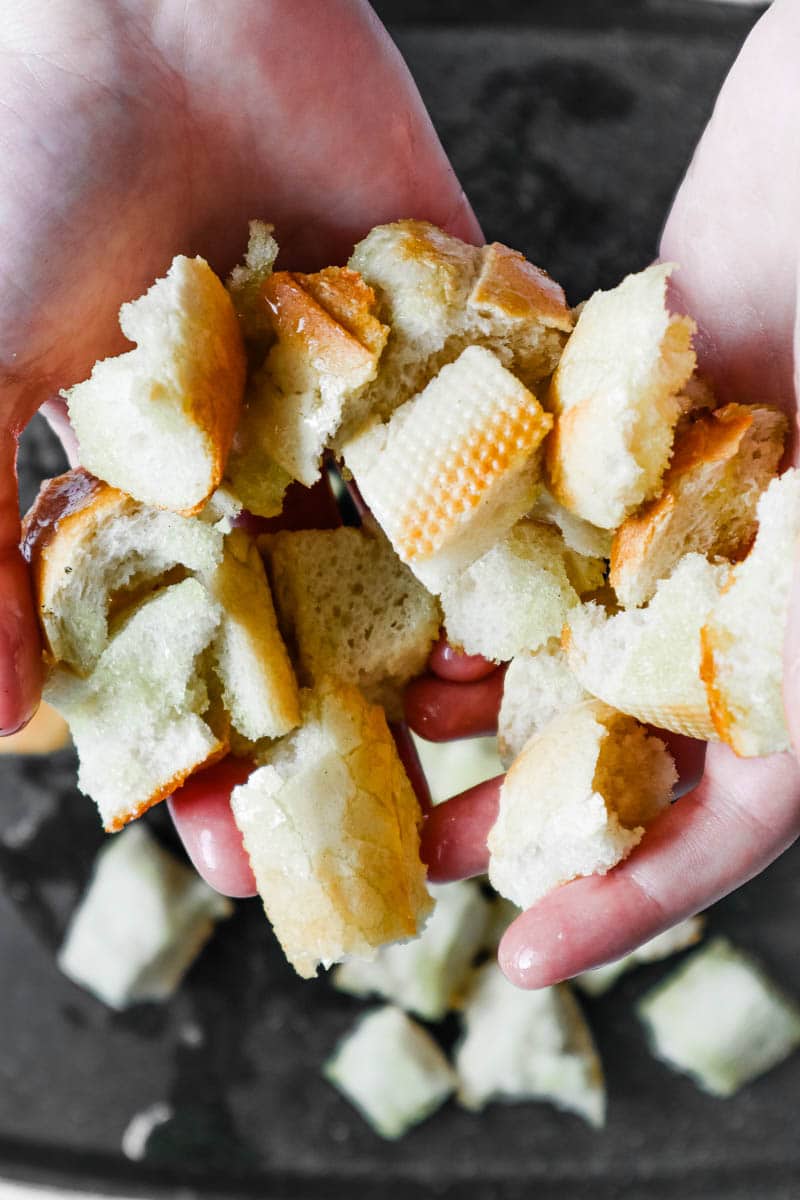 Toss it together
This is where the magic happens.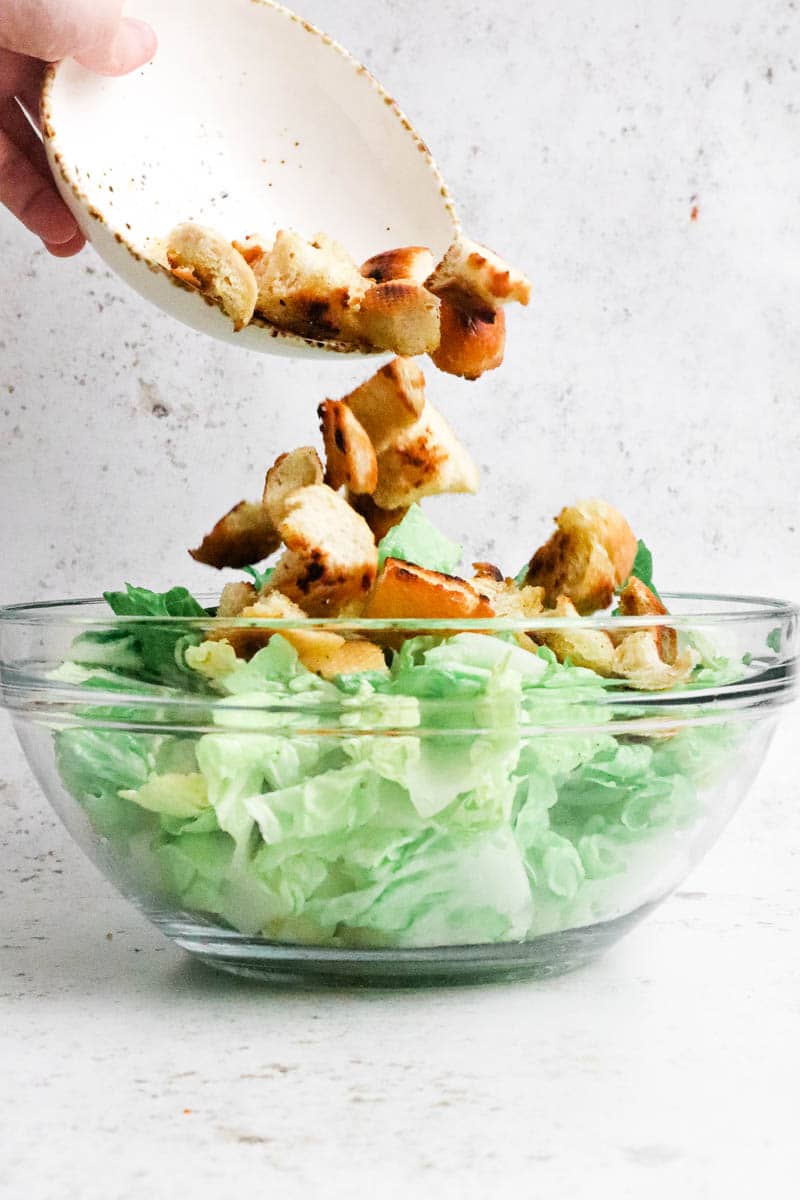 Add the Halloumi
Cooking halloumi in a grill pan, with a light coating of olive oil, gives you the most crispy and delicious result with the amazing looking grill lines too. But you can pan fry it if you prefer.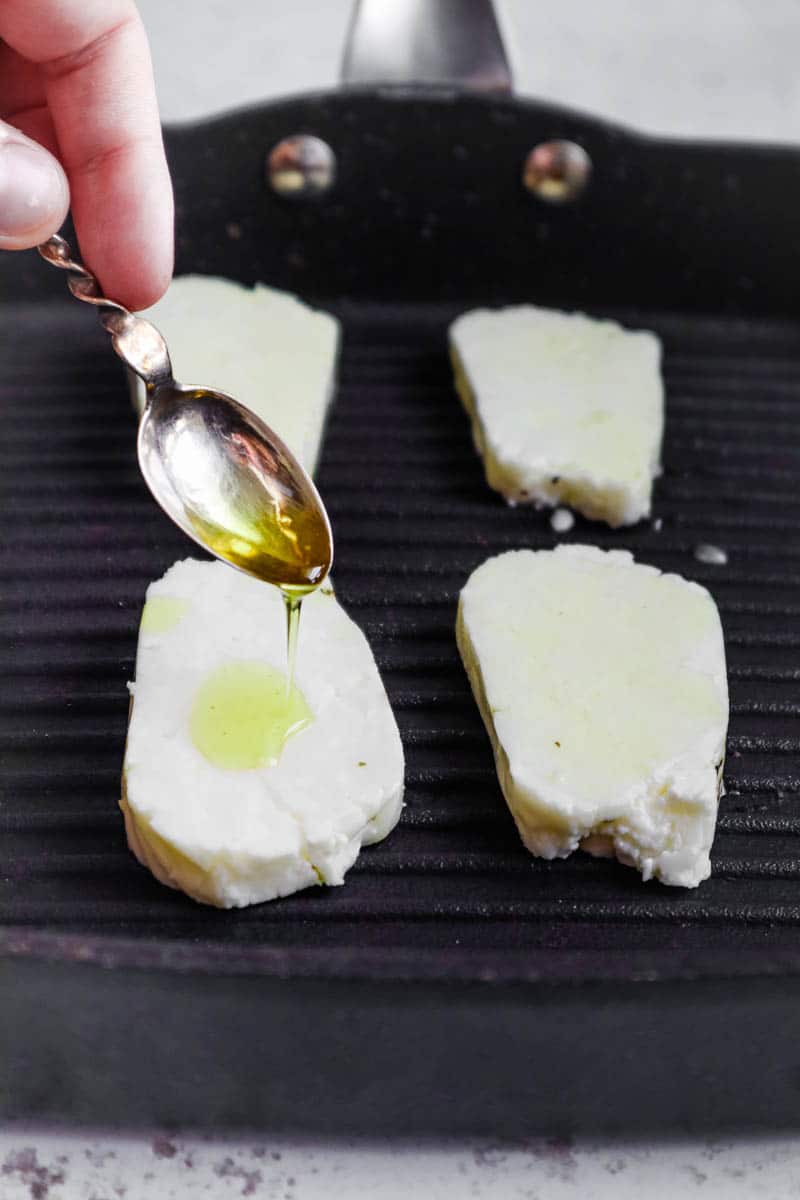 Aaaand you're done! Ta da!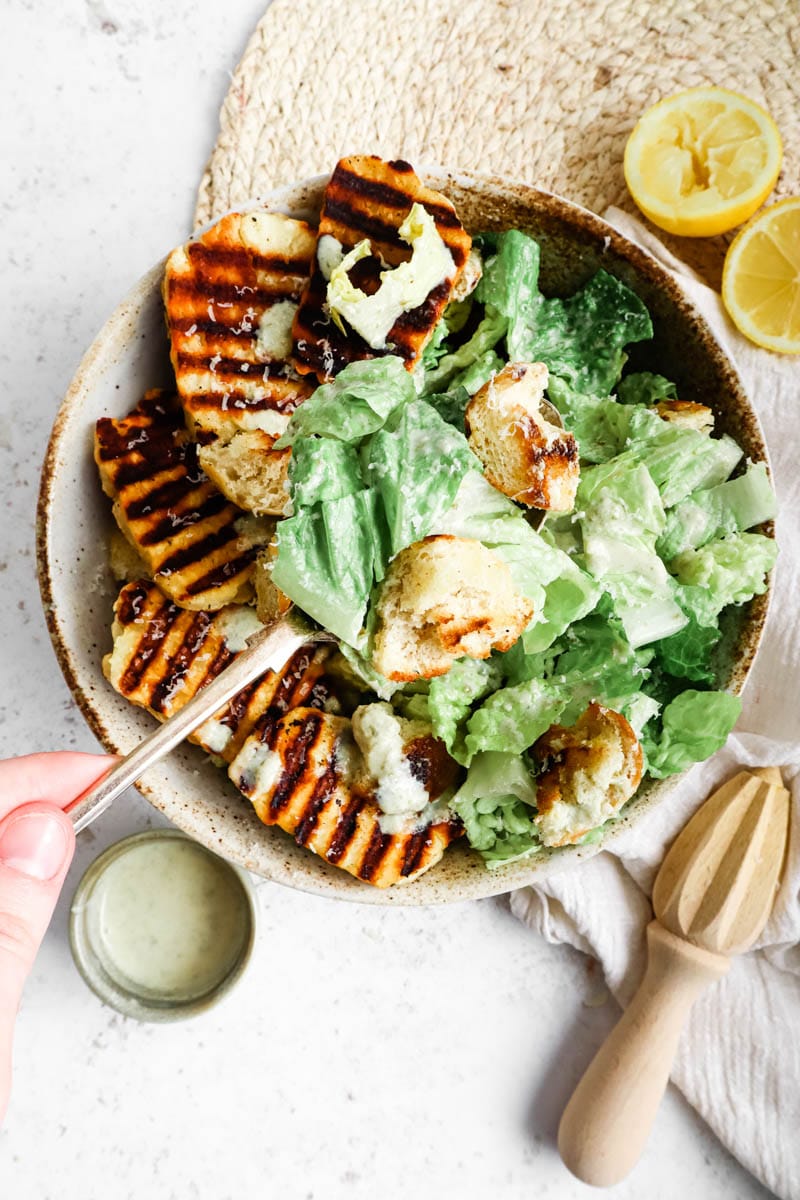 Variations on this Caesar Salad
No Halloumi? If tomorrow you go out looking for this mysterious squeaky cheese, and find that halloumi is in short supply where you live, here's what you can do. Either make your own (why not!), or use whatever non-melting cheese you have available to you, like Farmers Cheese or paneer. And add a little salt and seasoning when it's roasting!
Try adding cucumbers! The 2014 version of this recipe added sprialized cucumbers to the bowl. I decided to remove them from the recipe when it was re-shot, because in 2022 half of the world's spiralizers are sitting in storage / going unclaimed on Buy Nothing Groups. But it was a fun addition.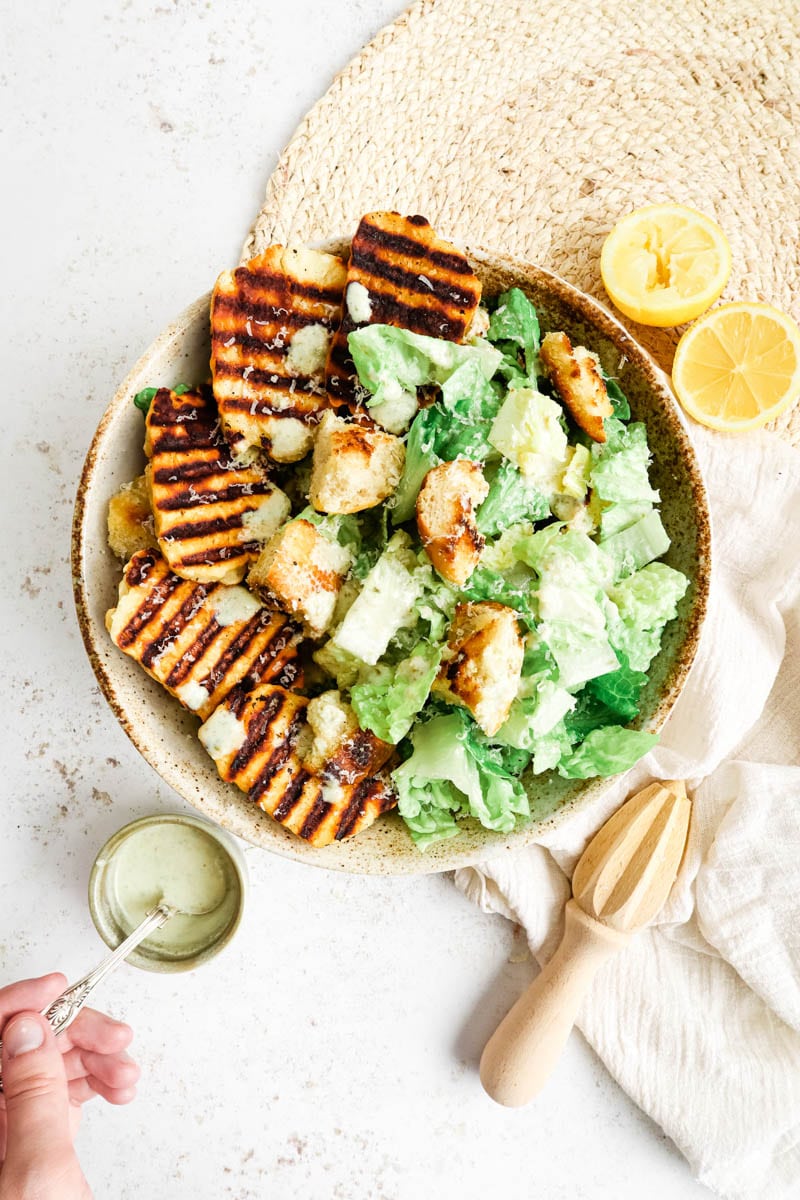 Add an avocado if you have one. Avocado is welcome in every salad, in every circumstance, so it would be a nice addition.
Make it with Kale. This would be even heartier. Just massage the kale leaves and swap them in for the Romaine.
Gluten free? Try roasting some chickpeas in place of the croutons.
More Halloumi Salad Recipes
This was the OG halloumi salad recipe on this blog, but since then, more have popped up!
Our Top Halloumi Salad Picks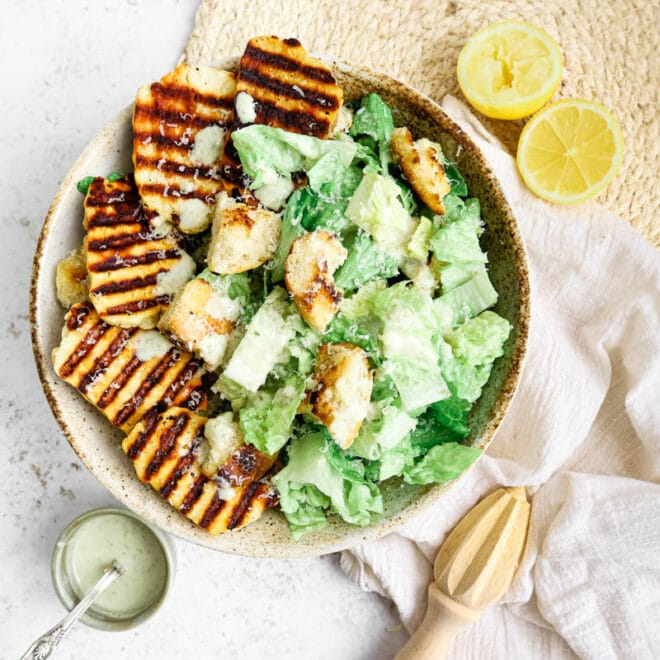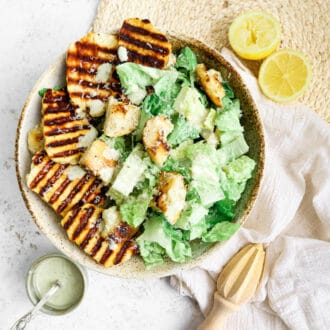 Halloumi Caesar Salad with Yogurt Dressing
This Mediterranean inspired Halloumi Caesar Salad is a complete meal! Croutons and crisp lettuce are coated in a creamy and cooling vegetarian (no anchovy) Greek Yogurt Caesar dressing. Filling and intensely flavorful, this is not your average halloumi salad!
Ingredients
2 heads romaine lettuce, chopped, rinsed and patted dry
½ large baguette, chopped into small chunks (you can also use a whole small / single serving sized baguette)
2 Tbsp grated parmesan, or a vegetarian Italian hard cheese
400 g (14 oz) halloumi cheese, cut into 8 slices
Dressing
80 ml (⅓ cup) greek yogurt
1 lemon, juiced
2 Tbsp extra virgin olive oil
2 Tbsp capers
5 green olives, pitted
1 clove garlic
4 Tbsp parmesan, or vegetarian Italian hard cheese
Instructions
First, make your dressing by blending all ingredients in a food processor, or using an immersion blender in a tall jug. Refrigerate until you're ready to use it.

Tear your baguette into chunks, whatever size you'd like your croutons to be.

Pan fry in olive oil until golden and crisp, tossing regularly in the pan to cook on each side.

Cut your halloumi into slices, width ways. Brush each side with olive oil and pan fry in a frying pan or grill pan until golden on each side.

Toss the lettuce, croutons and dressing in a large bowl and toss to distribute the dressing.

Scoop out the salad into bowls. Top with halloumi and grated parmesan cheese.
Notes
2014 version: The old version added spiralized cucumbers to the bowl, which is a fun addition if you can or want to add them in. I also changed the cooking method for the halloumi to be made in a grill pan, though that is optional.
Serving: 1g, Calories: 574kcal, Carbohydrates: 37g, Protein: 34g, Fat: 34g, Saturated Fat: 16g, Polyunsaturated Fat: 15g, Cholesterol: 86mg, Sodium: 1188mg, Fiber: 8g, Sugar: 8g
If you love Caesar salads, you should also try my vegan caesar salad with avocado and garlic croutons!