Crispy, smoky chickpeas and halloumi croutons elevate this salad to a filling, super satisfying meal! With a creamy pesto dressing, this is packed with amazing flavors and textures. It can be customized to your own preferences and served to almost anyone – who doesn't love halloumi after all?
Oh, this salad. I really love this kind of salad. Deceptive – so leafy! Looks like it might be on the lighter side? But NOPE.
This is totally packed with goodies, super filling and meal worthy. Those crisp leaves are loaded up with creamy dressing, and there are a range of warm and cold fillings hiding beneath the surface. It is greater than the sum of its parts, for sure.
The Ingredients
At the party today we have:
Our warm component, our headline ingredients: Chickpeas and halloumi which are roasted in smoked paprika and fennel seeds for a flavor that works quite perfectly alongside the basil-heavy dressing.
The dressing is an old friend around here, a super simple pesto salad dressing that takes no time at all to whisk together.
In the leaf department there is sweet gem lettuce (so crispy!) and rocket / arugula (so peppery!)
We add more green stuff in the form of spring / green onions and chives which give us some nice allium flavor too.
Cherry tomatoes add the sweetness and the juiciness we need.
For creamy factor there is an avocado, because no salad is complete without a touch of avo.
It all rounds out to a brilliant meal.
This is a 30 Minute Meal
It really is an easy one! We overlap our prep with this recipe, so we start by getting our chickpeas and halloumi into the oven…
… then use the 20 minutes it takes them to cook to chop and prepare everything else.
First time you make this I'd recommend gathering all your ingredients in advance, but if it becomes a regular meal for you, with the benefit of familiarity you'll be able to gather AND prep while the chickpeas and halloumi are in the oven no problem.
Can I make a recommendation here? A pair of kitchen scissors can chop through your lettuce, spring onions and chives so fast that you'll be much more likely to get everything done in that 20 minute window without any stress. All you need to chop by hand is the avocado and tomato, and then you mix the dressing.
The Pesto Dressing
I highly recommend making the pesto dressing! It is not hard work at all – you simply whisk together some mayonnaise, ready made pesto, dijon mustard, cider vinegar and sugar. No chopping, mincing, or otherwise fiddly tasks.
But if you just can't be dealing with mixing this dressing up, that is OK! Find a bottle of creamy herby dressing and you are good to go. I tried the Pizza Express house dressing (which you can buy in the supermarkets) with this and liked it a lot.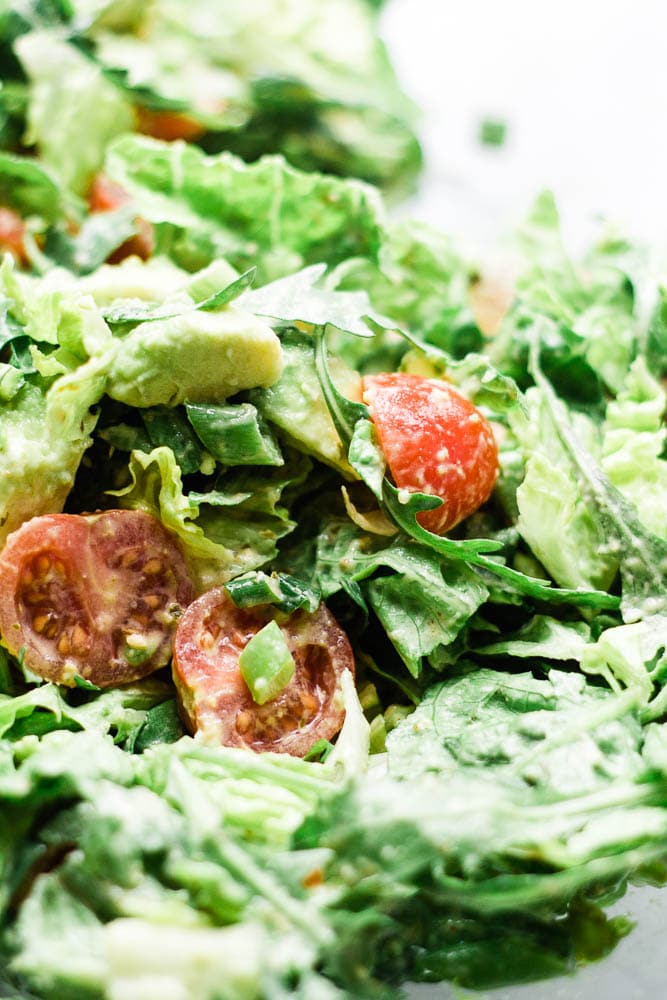 Make it your own!
This is very customizable and you can just kinda do what you like with it.
Note how I don't include any carrot or cucumber even though they're pretty standard salad ingredients. Not because they won't work, but because I eat all the food the moment I photograph it and those ingredients just aren't our faves. So I don't include them but you totally could. Other welcome additions would be bell peppers, sweetcorn, some different herbs (basil? parsley? all sounds good).
If you add a bunch of additional stuff, without taking anything away, think about scaling up the dressing though.
How many servings?
I've put this down as 3 meal sized servings which is the fairest estimation I could come to. It is possible for two people to finish it off – Mr. Veggie and I have done so! – but it was a LOT and we had some regrets. And once the salad is assembled and dressed, it won't keep well. So if you're making it for two, you may want to put some ingredients aside as you go for a lunch portion the following day (but don't save any halloumi – it just won't reheat well).
If you want to stretch it to serve four people, I'd recommend adding some fresh bread to the side and an extra avocado into the salad to bulk it out. If you start to add much more to the salad, just make a little extra pesto dressing to ensure it isn't stretched too thin.
If this salad is right up your street, do take a look at this Fried Halloumi & Black Bean Salad or this Easy Smoky Roasted Corn Salad with Avocado & Mozzarella – both big hearty meal salads that will leave you satisfied. And if halloumi is your BFF, because how could it not be, I have a whole bunch of halloumi recipes that I think you'll enjoy.
Roasted Chickpea & Halloumi Salad
Crispy, smoky chickpeas and halloumi croutons elevate this salad to a filling, super satisfying meal! With a creamy pesto dressing, this is packed with amazing flavors and textures. It can be customized to your own preferences and served to almost anyone – who doesn't love halloumi after all?
Ingredients
225 g (8 oz) pack of halloumi
1 can chickpeas
2 Tbsp olive oil
1.5 tsp smoked paprika
1 tsp fennel seeds
2 heads gem lettuce, you can also use Romaine
1 handful rocket / arugula
1 ripe avocado, cubed
200 g (7 oz) cherry tomatoes
4 spring onions, sliced
1 small bunch chives, chopped
Pesto Salad Dressing
1.5 Tbsp mayonnaise
1 Tbsp prepared green pesto
1 tsp dijon mustard
2 tsp cider vinegar
⅛ tsp sugar
Instructions
Preheat the oven to 200C / 390F. The first priority is to get the halloumi and chickpeas roasting – because you can prep everything else in the 20 minutes they are in the oven.

Put the halloumi cubes and chickpeas into a bowl with the smoked paprika, fennel seeds and olive oil. Toss to coat the halloumi and chickpeas with the oil and spices, then spread them on a baking sheet, and put in the oven, uncovered, for 20 minutes.

Now prep all of your other ingredients (lettuce, rocket, tomatoes, spring onions, avocado, chives) and throw them all in a salad bowl. (This is quickest when you use kitchen scissors for the leaves, chives and spring onion!)

Prep the dressing by whisking all of the ingredients together in a small bowl.

Pour the dressing over the salad and toss the salad to mix the dressing through.

Once the halloumi and chickpeas are ready, add them to the top, mix through and serve immediately.
Calories: 591kcal, Carbohydrates: 26g, Protein: 25g, Fat: 46g, Saturated Fat: 17g, Polyunsaturated Fat: 7g, Monounsaturated Fat: 19g, Trans Fat: 1g, Cholesterol: 3mg, Sodium: 1062mg, Potassium: 1615mg, Fiber: 15g, Sugar: 9g, Vitamin A: 37749IU, Vitamin C: 44mg, Calcium: 947mg, Iron: 6mg