To be honest, I have never actually tried green goddess dressing, and I don't really know if this name is appropriate. It just felt like the right name, because it has herbs and lemon juice and capers. I guess a more literal name would be "garlic, basil and caper avocado mac and cheese" which was just too long and boring.
And I really do feel like this deserves a majestic name. Because it's yummy.
This is a cross between mac and cheese and a creamy avocado pasta. It has way less cheese than a mac and cheese would have, replacing much of that fat with our good friend the avocado.
The avocado lets us eat luxurious and creamy foods and feel good doing it.
We love you avocado. We really, really do.
With the inclusion of avocado, this feels a little lighter than normal macaroni and cheese, and the basil and capers give it a much more grown up flavor profile. It won't leave you feeling quite so sick and bloated if you OD on it! (And you might. Let's be honest with ourselves here.)
This probably is not child friendly, but I could be wrong. If you have a sophisticated little person in your home who can handle the caper… this could be a crowd pleaser!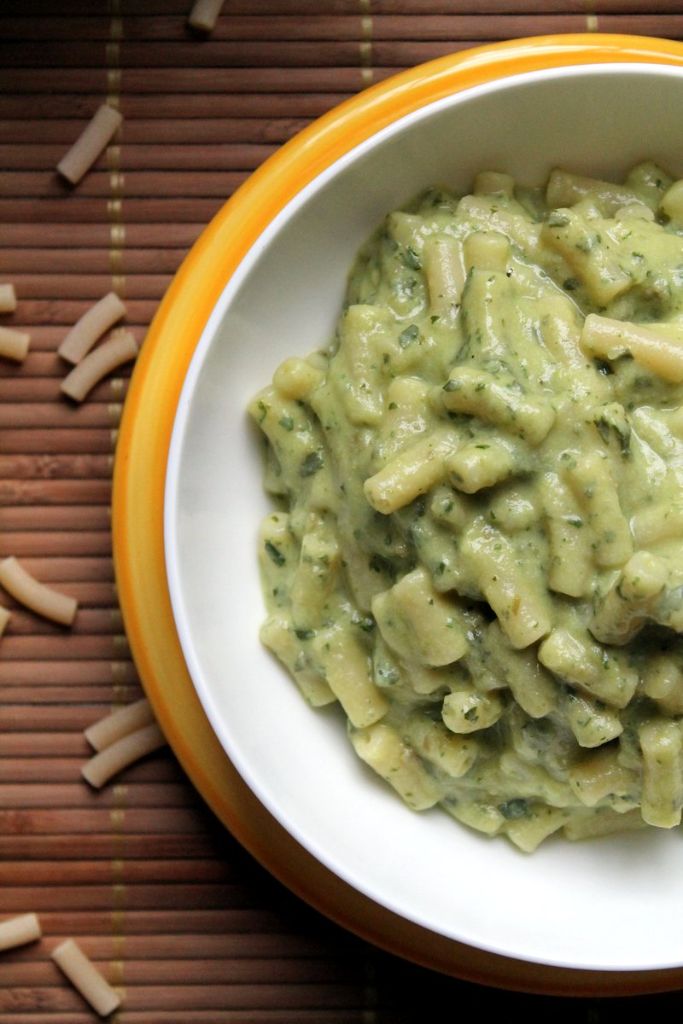 This is a one pot stovetop recipe- easy peasy. To be totally fair, you will use another bowl or a food processor or something to prepare the avocado mixture in, but it's still easier than it otherwise might have been. It's a great midweek dinner.
If you've never tried one-pot macaroni and cheese, it basically involves cooking the macaroni in milk instead of making a bechamel base. When you cook it in milk, the starch from the pasta leaches out and makes the milk creamy and thick. Then you add in your cheese (and in this case your avocado too) and it's just perfect. So, so easy!

But there is a knack to this process. You do need to stir a lot, as the milk starts to heat up with the macaroni. And depending on how thick your macaroni is, you may need more or less milk to cook it in than I do. So- we'll figure it out together. Let's get started.
one Pot Green Goddess Avocado Mac and Cheese
A deliciously creamy but light macaroni and cheese, with a grown up flavor profile inspired by Green Goddess dressing. Cooks in one pot for an easy, fun and nutritious dinner!
Ingredients
2 cups (250 g) macaroni
2 cups milk
2 medium avocados
2-3 small garlic cloves, chopped
1 tsp lemon juice
¼ tsp of salt
1 Tbsp capers
½ cup (12 g) packed fresh basil
¼ tsp of dijon mustard
1 Tbsp extra virgin olive oil
1 cup (115 g) grated cheddar cheese, or another cheese, but make it a strong one
Instructions
Pour the macaroni and milk into a saucepan. Heat, stirring very frequently, until the milk begins to bubble. Turn the heat down and simmer for 10 minutes. Continue to stir at regular intervals. You may need to add more milk depending on how thick your macaroni is. If your macaroni isn't cooked by the time your milk has cooked down, you'll need to add more and turn the heat back up to bring it back to a boil.

Meanwhile, use a handblender or small food processor to blitz the avocado, garlic, lemon juice, salt, and capers until smooth and combined.

Add basil to the avocado mixture and pulse until well distributed.

When the macaroni has fully cooked, add the dijon mustard, cheese and olive oil to the saucepan and stir until the cheese has melted.

Add the avocado mixture and stir through until heated.

Slurp it up!
Notes
This recipe will keep in the fridge, but it does go a little brown. Adding extra lemon juice to the leftovers will help keep them greener for longer!