Healthy and nourishing, this quick and easy vegetarian ramen packs in a variety of flavors and textures with shiitake mushrooms, crispy kale and avocado! Taking only 20 minutes to prepare and can be made vegan or gluten free when using the appropriate noodles.
In January 2022 this recipe was updated with fresh new photos – if you're a returning visitor, don't worry, you're in the right place!
This veggie ramen was the first recipe I created after the arrival of my first baby, and it pretty much sums up that phase of life. I needed to eat something filling and comforting and I needed it to be quick. And I liked food again after 9 months of not liking a whole lot, so it needed to be delicious.
Authenticity points? Oh, zero. We're just hacking our way to tasty ramen today.
A 20 Minute Ramen. How can it be?
Yeah, this is a really quick and easy ramen thanks to our willingness to break from tradition. A lot of time and care is traditionally put into ramen broths and that is amazing and this is a compromise – but I have a middle ground here which isn't time consuming, but also isn't just plain old vegetable broth.
Dried shiitake mushrooms are the ticket
We simmer our vegetable broth with garlic, soy sauce and dried shiitake mushrooms. The shiitakes work brilliantly for adding deep umami to the broth very very quickly, and they're a tasty, meaty addition to the bowl. I also like to use stock cubes to make the vegetable broth, and rehydrate them at 1.5x strength, though that's not advised if you're watching your sodium levels.
If you have more time, simmer the broth longer of course – it will taste better for it. You just don't have to if you're rushed / tired / lazy / aware that you have exactly 42 minutes until your baby's sleep cycle ends.
While the broth is simmering, you can prepare your kale and chop your avocado. The noodles will cook in the broth, then you'll plate it up and slurp away.
The Crispy Sesame Kale
A big handful of greens on top of your ramen? Yes please. I love the texture this adds!
We cook the kale seperately here, rather than letting it simmer and wilt in the soup, because it just brings a lovely crunchy texture to the dish – and has a great flavor of it's own thanks to the toasted sesame oil.
Avocado in your ramen – yes really!
Avocado is not the most usual ingredient for ramen but I seriously love it. The creaminess and softness it adds is so welcome. Nutritionally, it's also a useful source of fat in an otherwise very light recipe, so it keeps it more filling and balanced.
Trust me on this one and don't skip it!
You have questions, I have answers
How can I make this vegan?
You want to avoid noodles with eggs in them. Rice vermicelli noodles would be great, I've even seen ramen and noodle soup recipes which use dried spaghetti, so there's that.
How can I make this gluten free?
Gluten free noodles are your friend! Rice, buckwheat soba, you have some great noodle options going on there.
Can I use fresh shiitake mushrooms?
You certainly can add some fresh roasted or pan fried shiitakes in here, but the main purpose they serve is to infuse a ton of flavor into the broth so I wouldn't use those instead of the dried ones, rather in addition. And any mushrooms would be great in that case.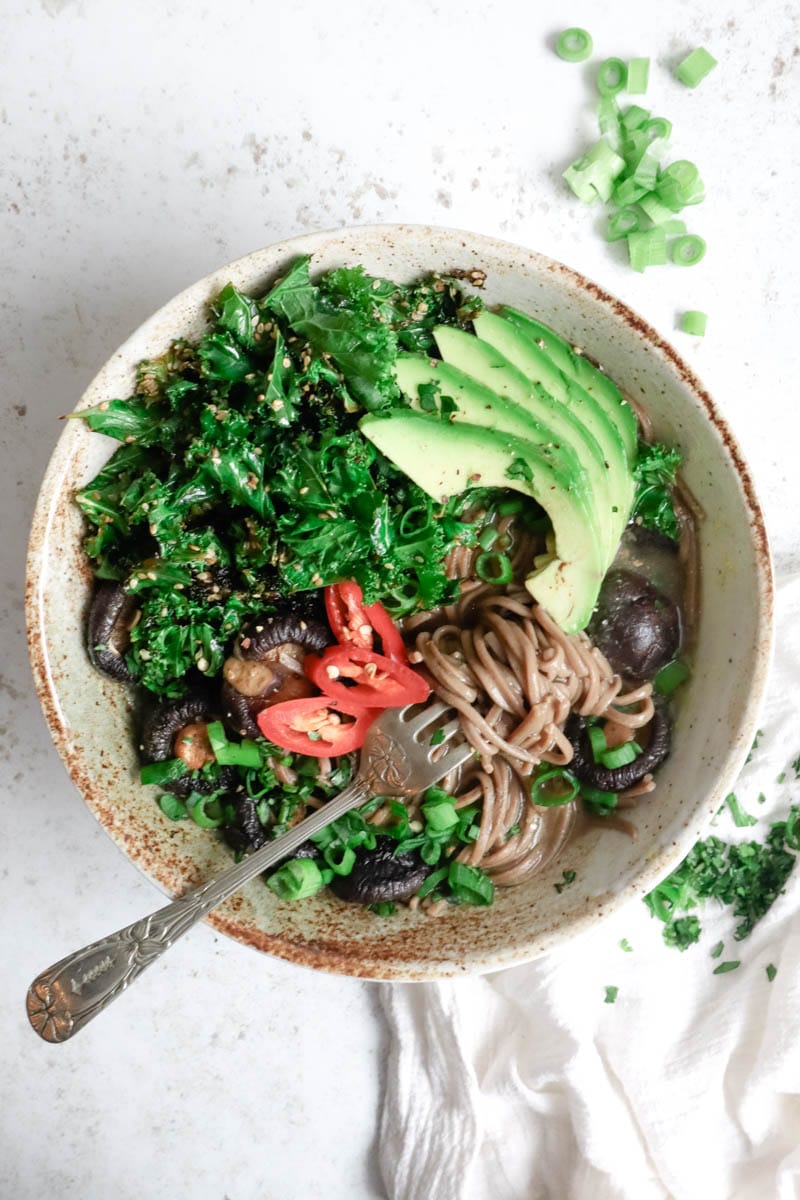 Can I use frozen avocado?
This is a new concept for me, but I recently experimented with chopped frozen avocado and YES this is one of the places it can work. Let it sit out to defrost, submerge it in the broth when you add it to the soup (no one likes super cold freshly defrosted avo chunks do they?) and you're good to go. I don't like it as much as fresh, but it's just fine!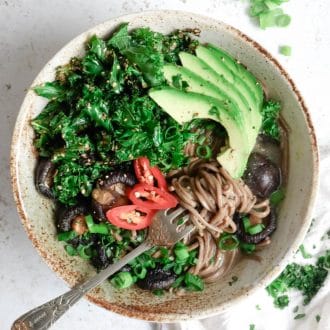 Crispy Kale, Shiitake & Avocado Ramen
Healthy and nourishing, this quick vegetarian ramen packs in a variety of flavors and textures with shiitake mushrooms, kale and avocado! Taking only 20 minutes to prepare, it's an easy and healthy dinner. Can be made vegan or gluten free when using the appropriate noodles.
Ingredients
2 portions noodles , see notes
1 avocado, sliced or cubed
Optional garnishes – chili, coriander (cilantro)
Broth
3 cloves or garlic, sliced
15-20 dried shiitake mushrooms, rinsed in cold water
2 Tbsp soy sauce
3 cups (710 ml) vegetable stock
Kale
2 big handfuls of chopped kale
Squeeze of lemon juice
2 Tbsp sesame seeds
1 tsp toasted sesame oil
Instructions
Prepare the broth. Add all ingredients to a saucepan and simmer.

Prepare the kale. In a saucepan or wok, stir fry the kale in vegetable oil on a high heat until wilted and crispy. Add a squeeze of lemon juice, and toasted sesame seeds. Cook until the lemon has been absorbed and then remove from the heat, and drizzle in the toasted sesame oil for flavor.

Check the broth. Add additional soy sauce if required.

Add noodles to the broth and allow to cook for the amount of time required.

Plate up! Add the noodles to the bowl, then pour over the broth. Add the kale and chopped avocado on top.

Garnish with some black pepper, and chives or green / spring onions if you like.
Notes
This recipe serves two – scale up if you're feeding a family! Noodles – You can use egg, soba or rice noodles. For portioning, it's hard to give a weight because some are heavier than others but they usually come portioned – so just use two individual portions. One thing to be mindful of is that some noodles will be "starchier" and make the broth a little creamy. If you don't want that to happen, prepare the noodles separately and add them in at the end. 
Serving: 1g, Calories: 390kcal, Carbohydrates: 51.5g, Protein: 10.9g, Fat: 19.1g, Saturated Fat: 2.7g, Sodium: 731mg, Fiber: 10.6g, Sugar: 3.6g