Nora Ephron's take on the beautifully simple Italian classic recipe Pasta alla Checca. Linguine is mixed with a fresh, cold tomato sauce, with a light and flavorful result. This pasta is simple to put together and a wonderful way to use up fresh seasonal tomatoes.
This post is part of Pinch Me, I'm Eating's 2018 Novel Recipes series, a collaborative collection of posts from food bloggers highlighting recipes that are featured in fiction. Each post includes a book review and a recipe from the novel.
This recipe is from Nora Ephron's Heartburn, published in 1983.
I'll let Nora introduce this one.
As for linguine alla cecca, it's a hot pasta with a cold tomato and basil sauce, and it's so light and delicate that it's almost like eating a salad.

—Nora Ephron
Well that's my kind of salad!
Linguine alla Cecca is Ephron's take on Pasta alla Checca. "Checca" sauce translates to uncooked tomato sauce.
Pasta alla Checca has been a revelation in simple summer eating, and it's reminded me just how far a delicious juicy tomato can carry a dish.
And it's renewed my determination to have my own tomato patch one day.
So when that dream tomato patch comes to life, this is the first thing I will make with our harvest. It is just so, so good. And perfect for summer. I made this in the midst of a major heatwave in London, and it was a dream. The cold sauce + freshly cooked pasta results in a warm but refreshing meal.
I had to really hold back on my urge to add ALL THE THINGS. The ingredients list is only 6 items long, and I wasn't sure there would be enough garlic, but I trusted in the recipe and it delivered. The simplicity really works here, as long as your tomatoes are good enough.
Now let's discuss the novel that introduced me to it…
Heartburn by Nora Ephron
Heartburn tells the story of Rachel Samstat, a food writer who discovers that her husband is in love with another woman while she is seven months pregnant with their child.
Eeeek. Not an easy subject matter! But ultimately this was actually a really fun read, bursting with witty observational comedy. As the book progresses she weaves in some genuinely touching moments and musings on love and marriage.
Much has been made of the fact that this novel so closely resembles Nora Ephron's own life, with her second marriage ending this very same way. Again, that could have made it a hard read. But that is the last thing Ephron wanted when she wrote this novel.
One of the things I'm proudest of is that I managed to convert an event that seemed to me hideously tragic at the time to a comedy – and if that's not fiction, I don't know what is.

Nora Ephron, August 2004
I loved the tone of this novel. It's written in the first person, as a dialogue between Rachel and the reader, and a lot of time has passed. So we are not in crisis mode with her, we are along for her journey of reflection. This space is what gives her the ability to switch so seamlessly between comedy and poignancy.
The narrative can be a little disjointed, with the occasional veering off topic and getting distracted. All of which gives the novel an authentic feel, like you are in a real conversation.
So where do recipes come into it?
With the main character, Rachel Samstat, being a food writer, the topic of food is woven into elements of the story. At first the food references were scattered and a little random, but as we get to know Rachel better and start to understand the role that food, and her career, plays in her life, it becomes a closer and more consistent topic.
I loved to cook, so I cooked. And then the cooking became a way of saying I love you. And then the cooking became the easy way of saying I love you. And then the cooking became the only way of saying I love you. I was so busy perfecting the peach pie that I wasn't paying attention. I have never even been able to imagine an alternative.

– Rachel Samstat, Heartburn by Nora Ephron
There's not a recipe section. Recipes are simply woven through the novel, written in a conversational tone within the prose of the book, which I just loved.
Rachel's mind starts to drift to a recipe and the instructions come tumbling out, right then and there, before the story resumes. This is recipe sharing at it's most natural, and made for such enjoyable reading.
How to make Nora Ephron's Linguine alla Cecca
Step one. Get some excellent fresh tomatoes. This dish is one big celebration of the tomato, so they need to be the best. Since we don't have any homegrown, we just buy the best ones we can find – this dish is frugal in every other way so I figure we can splurge on this one thing.
Rachel / Nora suggests 5 large tomatoes, and that's what I used, but I think you could use more. The definition of "large" is a little hard to pin down after all. I have a feeling she meant them to be larger than the ones I sourced at the supermarket and so I'll probably add a few more next time because I like a high sauce to pasta ratio.
The juices of the tomato and the olive oil do form a beautiful sauce that coats every bit of pasta, so 5 is enough for a tasty dish, but a little more tomato flesh would have been super awesome too.
So.
First you'll blanch and peel your tomatoes.
And then you'll deseed the tomatos, tear them up and add them to a dish with some basil, olive oil, chili or red pepper flakes and garlic.
This sauce will sit in the fridge for at least a few hours.
And when it's time to serve, you'll toss it together with some pasta. Then you'll serve it at the temperature it's at, with the cold sauce and hot pasta averaging out to a nice warm dish.
Other Variations on Pasta alla Checca
Pasta alla Checca (pasta with uncooked tomato sauce) is a flexible recipe concept! It lends itself to many different pasta shapes, different types of tomatoes, and different preparation methods too. Discovering Linguine alla Cecca made me super curious to try other fresh tomato sauces.
Here are some ideas.
I made this No-Cook Fresh Tomato Sauce from Rhubarbarians with multicolored cherry tomatoes at the height of our heatwave. I served it with penne and a hard cheese and it was epic. The cherry tomato juices were amazing and you just do not need much else.
I am also loving the look of this Fettucine with Tomatoes and Burrata over at The Organic Kitchen. Burrata is an amazing addition to Pasta alla Checca!
My own Caprese Pasta with Goat Cheese is a take on Pasta alla Checca, served with fresh cherry tomatoes, mozzarella and goat cheese. (It's designed to be a lighting fast dinner so skips the marinating though. If you have time, you definitely want to let the tomatoes marinate with oil and garlic!)
Other Nora Ephron Recipes
Heartburn also contains recipes for some seriously tempting American comfort food classics such as Peach Pie, Lima Beans with Pears, and Bread Pudding.
Like me, Rachel is not a "serious food person" so I found all the recipes really accessible and do-able.
She loves her potatoes, and the novel includes three potato recipes including mashed potatoes for one (she and I are the same, it would appear.)
Safe to say, reading this made me all kinds of hungry!
If you're interested in reading Heartburn, you can grab a copy of this gorgeous Modern Classics Edition on Amazon UK or Amazon.com.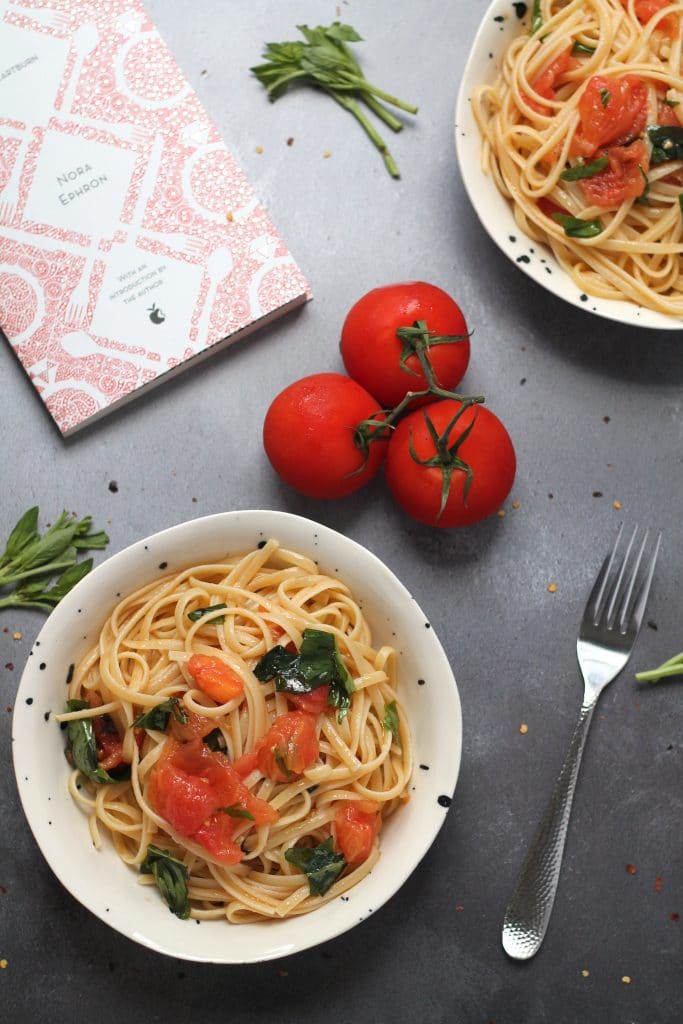 Pasta alla Checca
Nora Ephron's take on the beautifully simple Italian classic recipe Pasta alla Checca. Linguine is mixed with a fresh, cold tomato sauce, with a light and flavorful result. This pasta is simple to put together and a wonderful way to use up fresh seasonal tomatoes.
Ingredients
5 large tomatoes, 400-500g
1 clove of garlic, sliced in two.
1 cup a couple handfuls of torn fresh basil
½ cup (120 mls) extra virgin olive oil
Salt, to taste
Chili flakes, to taste
14 oz (400 g) linguine
Instructions
First, blanch your tomatoes. Bring a pot of water to the boil and put your tomatoes in, whole, for about a minute. You aren't trying to cook them, just get the skin loosened.

Remove the water and set aside until they are cool enough to handle.

Remove the skins, and then chop roughly and remove the seeds (whilst trying to keep as much of the juice as possible!)

Put the chopped tomatoes in a bowl with the olive oil, chili flakes, basil and garlic.

Set aside for a few hours, to let the flavors mingle.

When it's time to serve, cook your linguine according to package instructions. Drain and return to the pan.

Remove the garlic from the tomato sauce.

Mix the tomato sauce in with the linguine. (Do not have any heat on the pan at this stage – the tomatoes will warm up a little just by contact with the linguine but we don't want the end result to be piping hot).

Serve!
Notes
For a lower fat and calorie count, you can easily cut the olive oil in half. Add a couple extra tomatoes if you do – the extra juice from those will stop the sauce from becoming too dry.
Serving: 1g, Calories: 440kcal, Carbohydrates: 40g, Protein: 8g, Fat: 28g, Saturated Fat: 4g, Polyunsaturated Fat: 23g, Sodium: 160mg, Fiber: 5g, Sugar: 7g
More Recipes From Novels
For more recipes from novels, check out Pinch Me, I'm Eating's 2018 Novel Recipes. There are lots of other great veggie recipes in the series too. Here are a few that have already been posted: