Balsamic baked halloumi cheese with a bruschetta topping. A fresh, summery and quick vegetarian dinner that tastes amazing! It's ready in 20 minutes, including side dishes; a variety of serving suggestions are provided below. This is a delicious vegetarian alternative to Bruschetta Chicken.

Well I've found a new favorite summer meal right here.
Bruschetta halloumi! It's an easy 20 minute meal, but it's got a special vibe too, which is, as I always say, my holy grail of recipes.
A vegetarian alternative to bruschetta chicken
This dish was totally inspired by seeing pins on Pinterest for Bruschetta Chicken. I loved the concept, but wanted something to stand in for chicken that wasn't fake meat. Enter halloumi cheese!
And it works perfectly. The super fresh bruschetta topping offsets the rich saltiness of the halloumi for delicious results.
Unlike many vegetarian swaps, it does NOT make the dish healthier. NOPE. It's a slab of cheese folks! It makes the dish more of a treat.
I think we vegetarians win this one.

Why oven bake the halloumi?
This isn't the typical way to prepare halloumi. I usually like to take advantage of its ability to crisp up when roasted, grilled or fried. But I loved baking it with a splash of balsamic vinegar for this recipe.
When oven baking a large slab of halloumi, it retains more moisture. It's more mellow with a juicy texture, and really quite chicken-y. You still get some crisped edges.
For this dish, I really loved it baked, but if you're not convinced, you could absolutely cut it into smaller pieces, roast it at a higher heat, pan fry or grill it instead.
A high protein / low carb vegetarian meal
I bet you never thought you'd see one of those around here! It turns out I can do low carb, when there is cheese involved.
My photos lie, because I usually serve this with couscous. But you don't have to do that. I have some serving suggestions below and many of them keep things carb free.
Either way, thanks to the halloumi cheese, this dish contains around 65% of your daily protein requirements. Not bad!
Ready in 20 minutes
First, I'll say that if you can prepare the bruschetta topping in advance, and let it sit in the fridge for a few hours, it will taste even better.
But if you want to keep it as a 20 minute dinner, cool! It is a very easy workflow. You can easily prepare the bruschetta topping while the halloumi is baking, or even while the oven pre heats.
The halloumi bakes for 15 minutes, which should be enough time to prepare side dishes too. See my serving suggestions below, all of which will keep this dish at 20 minutes preparation time.
Please note that this recipe serves two – double it if you're cooking for more people!

Serving Suggestions
Low Carb
As pictured, serve over crunchy romaine lettuce or other leaves for a low carb lunch. Add a balsamic glaze or dressing if you like.
Bake some asparagus spears in the oven with the halloumi – it will take about the same amount of time. Place them on a baking tray, drizzle with oil, salt, and balsamic vinegar and place in the oven at the same time as the halloumi. (Be sure to use a separate pan from the halloumi, because the halloumi will leach moisture out into the dish it is baked in).
While the halloumi is baking, you have time to quickly pan fry or steam some green veggies for a side dish.
Add some avocado slices to bulk out the meal a bit more.
Not so Low Carb
Serve over lemon and herb couscous. To prepare this, cook your couscous and then add the juice of 1 lemon and chopped fresh herbs (whatever you've got! I used basil and chives).
Serve over a bowl of angel hair pasta tossed in olive oil. If you make it this way, you may wish to double the amount of bruschetta topping you make so that you can toss some into the pasta.

Love Halloumi Recipes? Try these!
And you can see my full collection of Halloumi Recipes right here!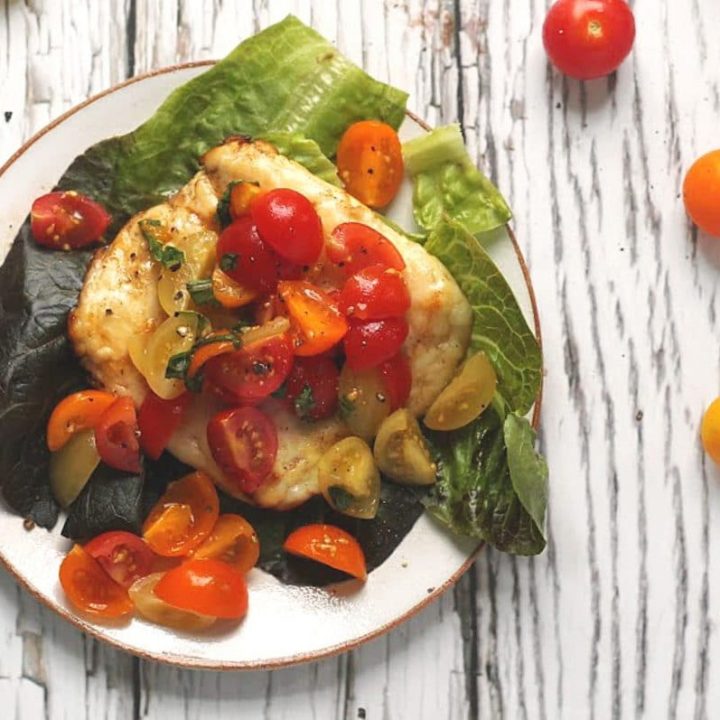 Bruschetta Baked Halloumi
Balsamic baked halloumi cheese with a bruschetta topping. A fresh, summery and quick vegetarian dinner that tastes amazing! It's ready in 20 minutes, including side dishes. This is a delicious meatless alternative to the popular dish Bruschetta Chicken.
Ingredients
250 g (8.8 oz) block of halloumi
Olive oil
Balsamic vinegar, for drizzling
Bruschetta Topping:
15 cherry tomatoes, quartered
½ clove garlic, minced
1 tsp extra virgin olive oil
¼ tsp of balsamic vinegar
Salt and pepper, to taste
Instructions
Pre-heat the oven to 200C/390F.

Prepare halloumi. Slice it widthways so that you get two large slabs. Place on a baking sheet brushed with oil. Drizzle or spritz with balsamic vinegar.

Bake for 10-15 minutes, until the halloumi is browned at the edges. Some moisture will leach out onto the pan – this is OK.

Meanwhile, prepare your bruschetta topping by combining all other ingredients in a bowl.

When it's ready, remove the halloumi from the oven and top with the bruschetta topping.
Serving: 1g, Calories: 489kcal, Carbohydrates: 10g, Protein: 29g, Fat: 37g, Saturated Fat: 18g, Polyunsaturated Fat: 17g, Cholesterol: 99mg, Sodium: 942mg, Fiber: 2g, Sugar: 6g