A tasty, simple vegetarian pasta dinner packed with white beans, fresh tomatoes, cheeses, herbs and arugula / rocket! Perfect for a weeknight dinner, you will love the mix of flavors and textures. With fresh tomatoes and greens, this is a fresh and healthy meatless meal with lots of protein in the mix.
I'm doing it again, calling something "Mediterranean" because I don't really know what else to call it! And it has olives so that generally seals the deal.
But what we lack in exciting recipe naming strategies I believe we make up for in the tastiness of this dish.
We've got our juicy fresh tomatoes, and we're taking our need for umami flavors seriously by adding some white wine, olives and capers as well as two of the Mediterranean's finest cheeses, feta and parmesan.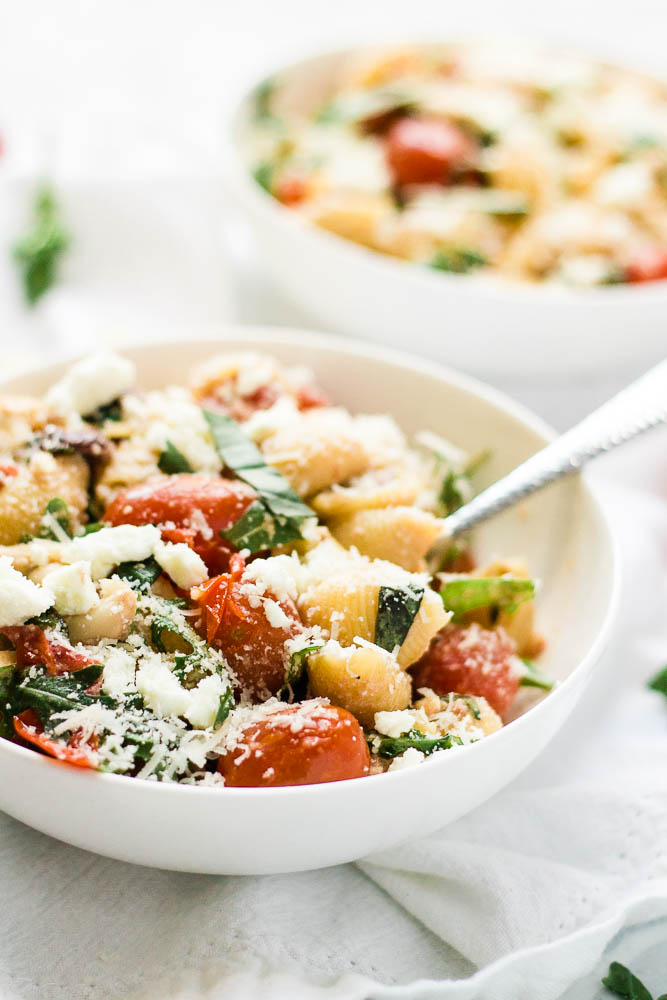 Creamy white beans are a delicious but healthy addition to this meal. They're a way to add some extra protein to round things out. I am a huge fan of beans, but since pasta is my default meal I don't eat enough of them. Problem solved here.
Adding things to pasta dishes is pretty much the ideal way to ensure their inclusion into my diet after all.
We're also throwing in fresh herbs (I like a mix of basil and mint here) and arugula / rocket (the Anglicised name varies from country to country but the actual legit name is eruca vesicaria.) The rocket is saved for very last so that it's only just wilting when you serve it and still has some of it's peppery flavor and crunch.
The end result is rather creamy from all the cheeses which melt together with the juices from the tomatoes and the wine, so the texture from the rocket is a nice contrast. It's half comfort food / half "tastes like summer" food.
Choosing your ingredients
This recipe uses things I tend to have lying around, and it's flexible enough to handle some discrepancy in quantities.
But to get ahead of any questions you may have, these are the things I have particular opinions on: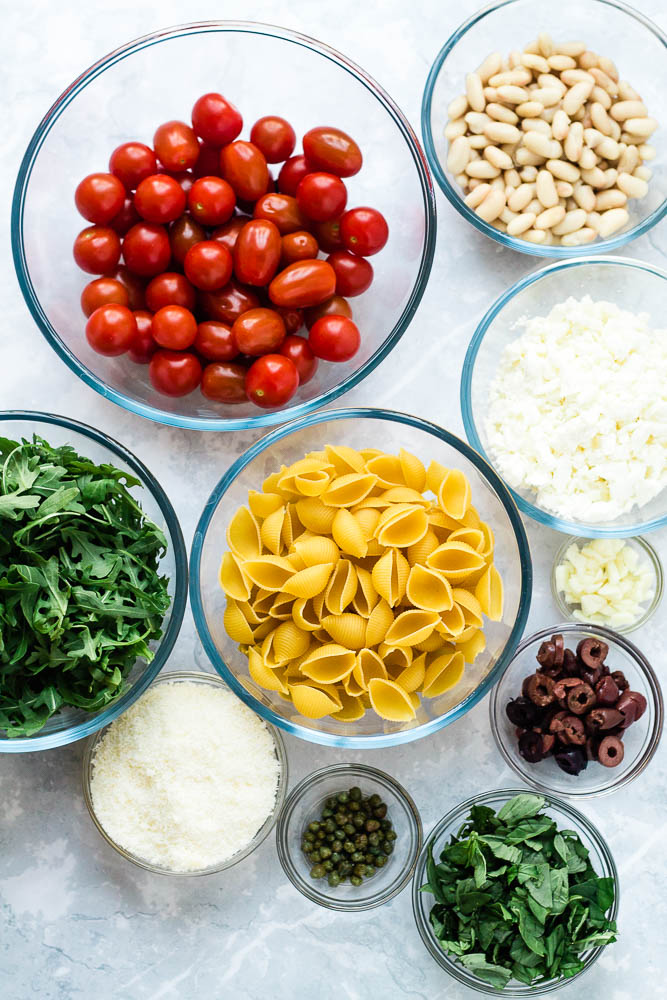 I think a short pasta shape like conchiglie works best here, especially if you opt to cook your tomatoes down into more of a sauce, because the shells will grab all the juices and stop it from getting too soupy.
For herbs, I really like the combo of basil and mint, although if you're studying the photos hard enough you'll note that there was no mint in the shops on the day I photographed this *facepalm*. And it's fine without mint, and I know that many of you won't share my love of this herb and will want to leave it out so yes you can and it's still delicious. But I just love how mint goes with Mediterranean style dishes so I will never not want it around. If you want to add more basil, go for it. If you want to swap parsley in, I can see that working well too.
Parmesan cheese. Nope, it's not technically vegetarian if it's called parmesan due to the inclusion of calf rennet. Calf rennet has to be included for it to be allowed to be called parmesan within the EU. So I use knock off "Italian hard cheese" or "Italian pasta cheese" which are made by several brands in the UK, taste just the same, but have vegetarian rennet in them. I still use the term parmesan because I need you to understand the type of cheese you're going for.
The tomatoes can be cherry tomatoes, baby plum / grape tomatoes, whatever little tomatoes tickle your fancy… but they have to be decent quality or the tastiness of the dish will go down a few notches.
I use either butter beans or cannelini beans and both work beautifully.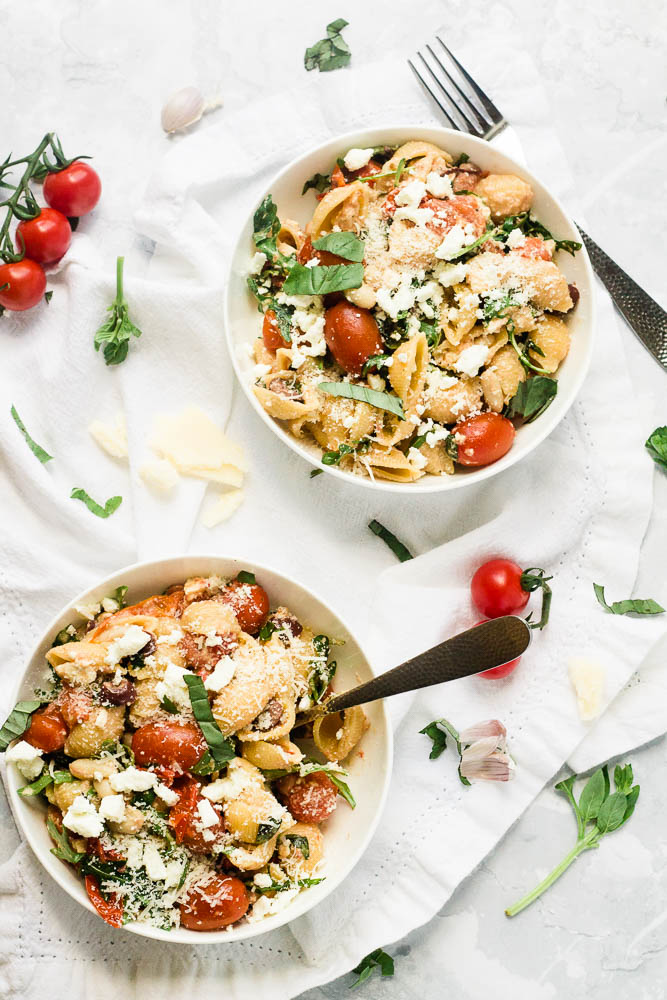 How to Make it (in 30 Minutes!)
This is a true 30 minute meal. There's just a little bit of chopping and prep to do and then the tomatoes and beans cook alongside the pasta before coming together at the end.
As ever, there is a full printable recipe coming up but here's a handy lil' collage to show you what it's going to look like.