31 Vegetarian Potato Recipes to Make a Meal Out of
Need some inspiration for what to do with potatoes? Want to make them the star of the show and not just a side dish? We've got you covered! This collection of vegetarian potato based meals has something for everyone. From hearty comfort foods, smaller plates, soups and curries, tacos and even pasta dishes, the humble potato can be made to shine in a variety of different cuisines.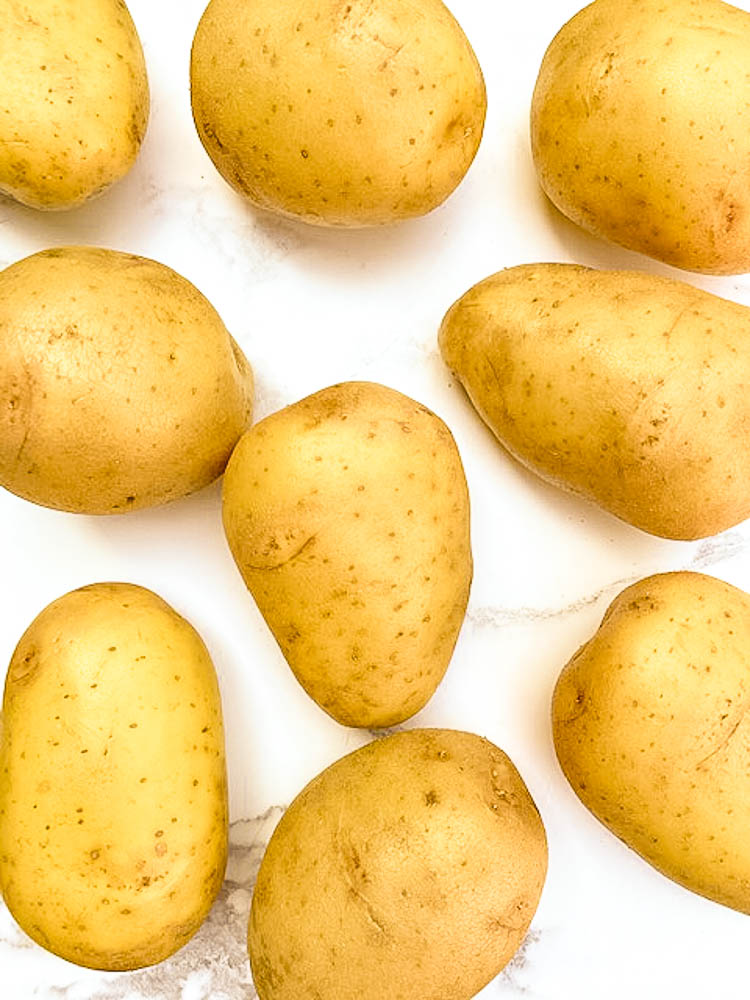 This is a carb lovers dream, right here. I compiled this list after receiving a gigantic order of farm fresh potatoes which I am hoping will help see me through this fateful summer of 2020.
Potatoes keep well, they are filling and reasonably nutritious, they are versatile and I love them. They are gluten free, so goodness knows if I woke up one day with a gluten intolerance, they'd be my new go-to comfort food staple once I mourned the loss of pasta.
Like my other favorite humble staple, the lentil, potatoes can work themselves into many different types of cuisine. We have tacos, curries, bakes and casseroles. We have baked potatoes with topping ideas for every mood.
So dive in, get bookmarking and pinning, and enjoy!
Vegetarian Potato Recipes
Need some inspiration for what to do with potatoes? We've got you covered! This collection of vegetarian potato based meals has something for everyone. From hearty comfort foods, smaller plates, soups and curries, tacos and even pasta dishes, the humble potato can be made to shine in a variety of different cuisines.
Hearty Bakes and Bowls
Taters doing what they do best... hearty comfort food! These dinners are filling, economical and warming.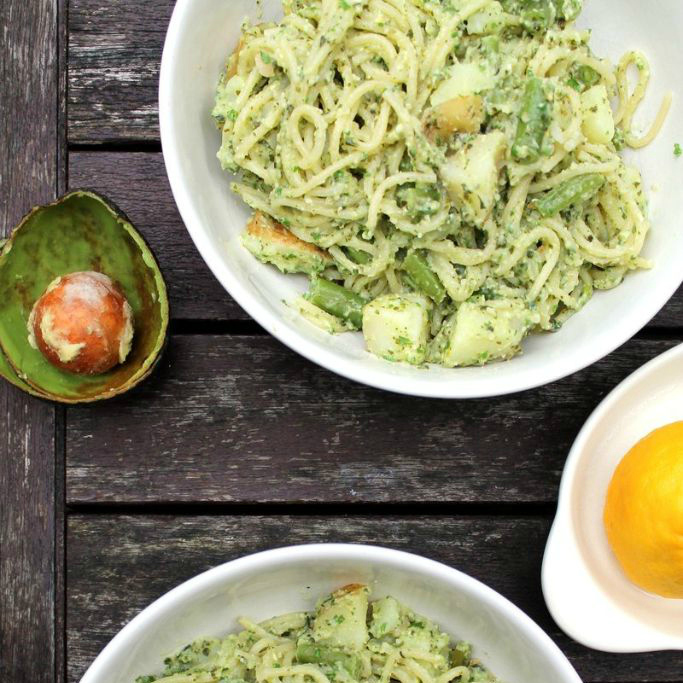 Potatoes with pasta? Yes, yes and yes again! If you love carbs, you will adore this recipe for Spaghetti Genovese with a superfood twist - avocado pesto adds an amazing creaminess and richness to this Italian classic!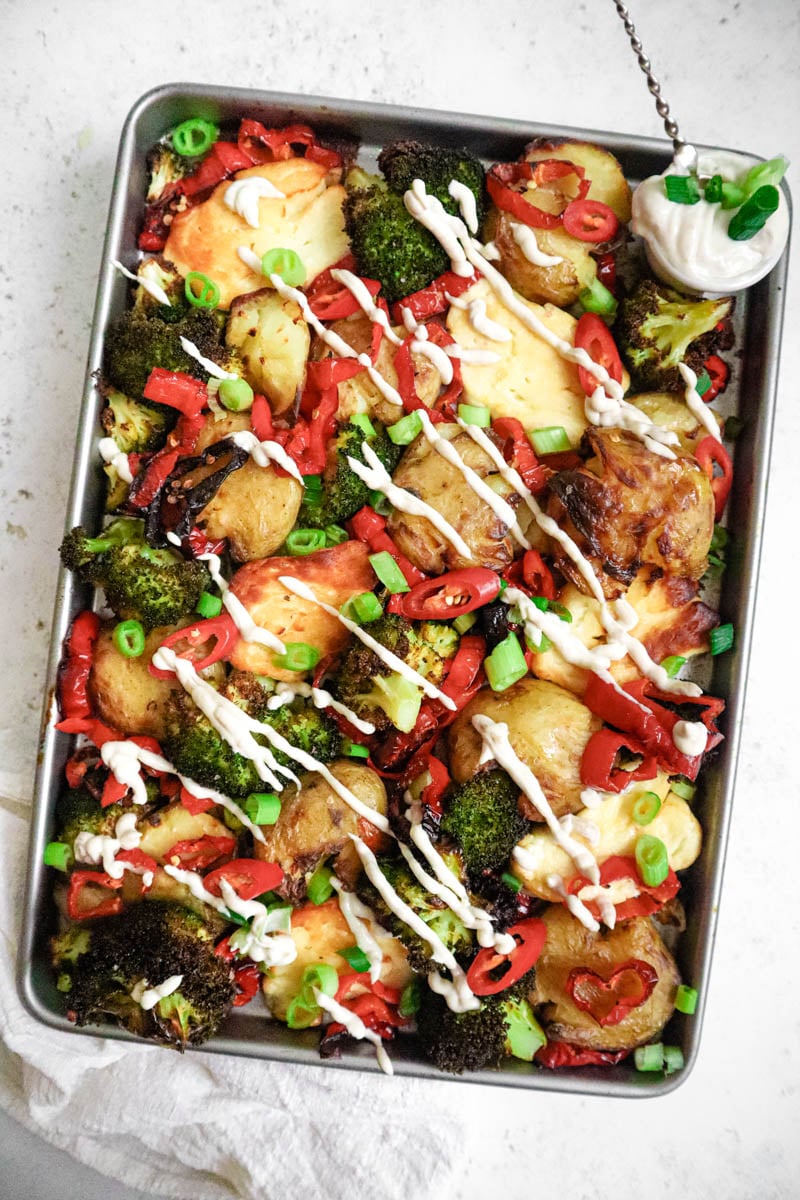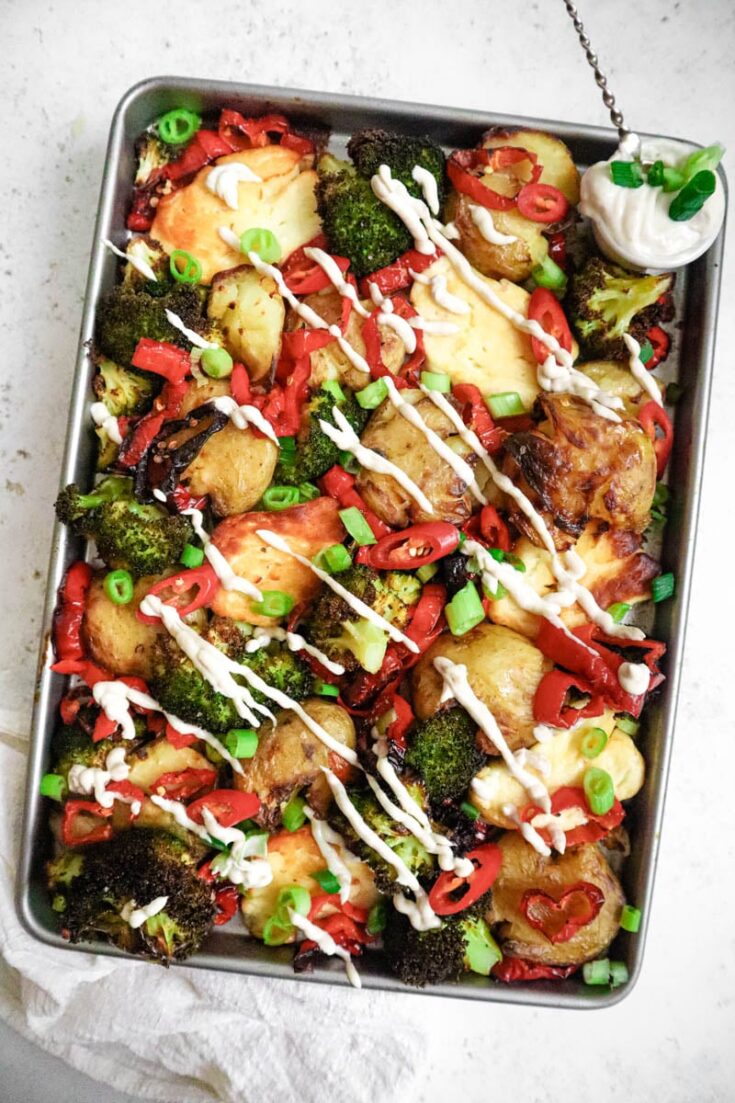 A simple sheet pan / roasting tin dinner that is sure to be a crowd pleaser, with crispy smashed potatoes, lemony roasted broccoli and deliciously browned halloumi cheese! With the right garnishes and a dreamy yogurt tahini sauce, these simple ingredients are transformed into an incredible dinner.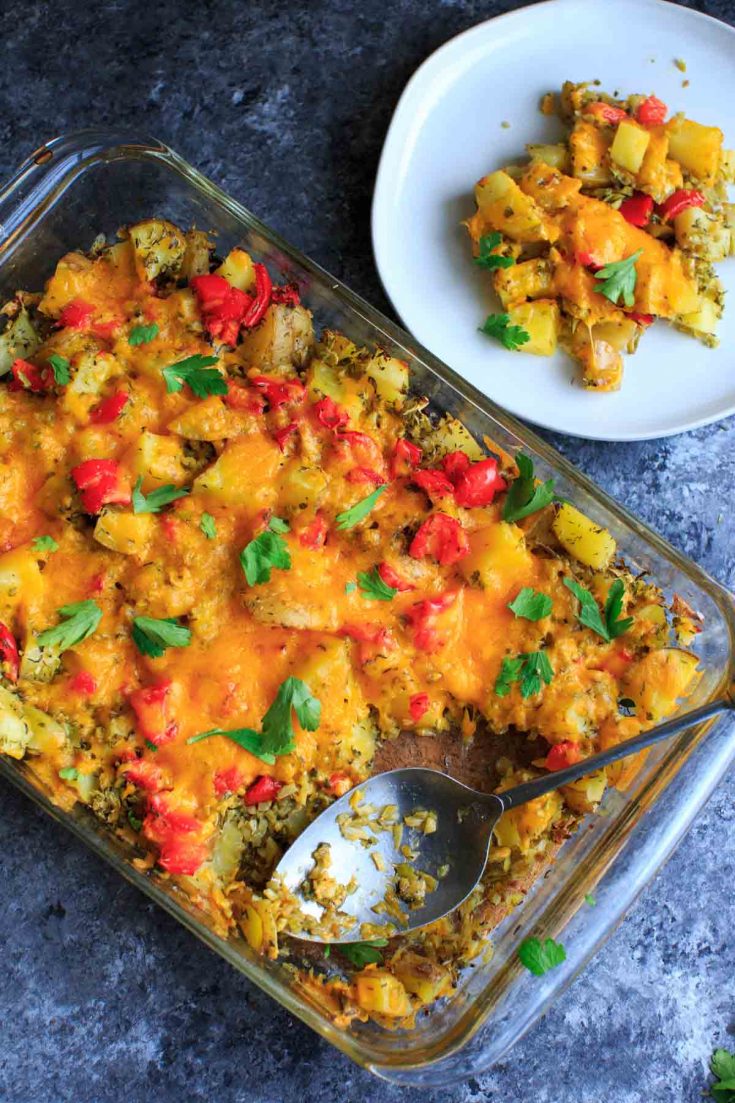 Photo Credit: www.trialandeater.com
From Kelly at Trial and Eater.
You know what's even easier than a baked potato? A baked potato casserole! This broccoli and cheese baked potato casserole is a super easy dinner with just 5 ingredients plus spices!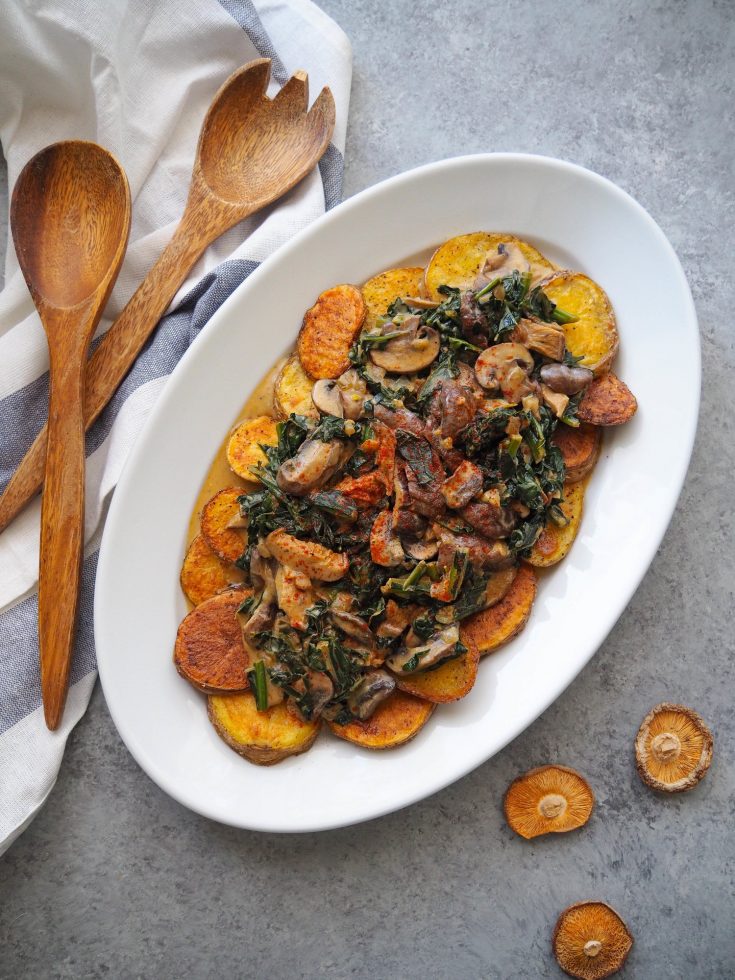 Photo Credit: www.rachaelhartleynutrition.com
From Rachel Hartley Nutrition.
Traditionally, stroganoff is served over egg noodles, but Rachel thought it would be fun to serve it over crispy roasted potatoes. We could not agree more!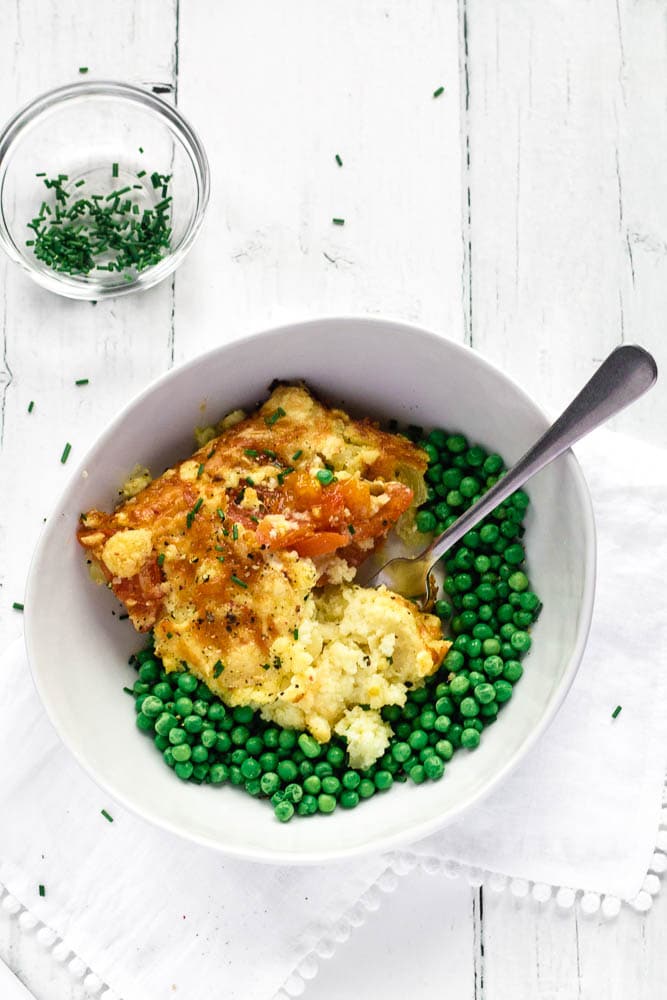 Simple, filling, cheap and so comforting… this cheese and potato pie recipe is my spin on the humble British classic, using three British cheeses for maximum flavor and texture. Your whole family will love having this for dinner with just a few simple side dishes.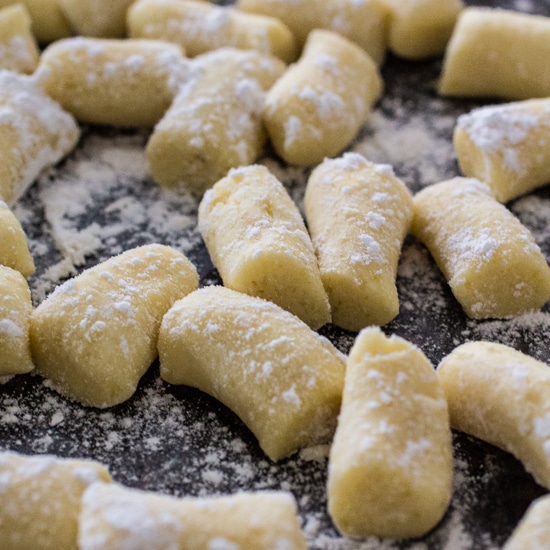 Photo Credit: www.oliviascuisine.com
From Olivia's Cuisine.
Do you love gnocchi, but are terrified to try to make your own? Take a deep breath and keep reading 'cause Olivia is gonna show you that making gnocchi is easy.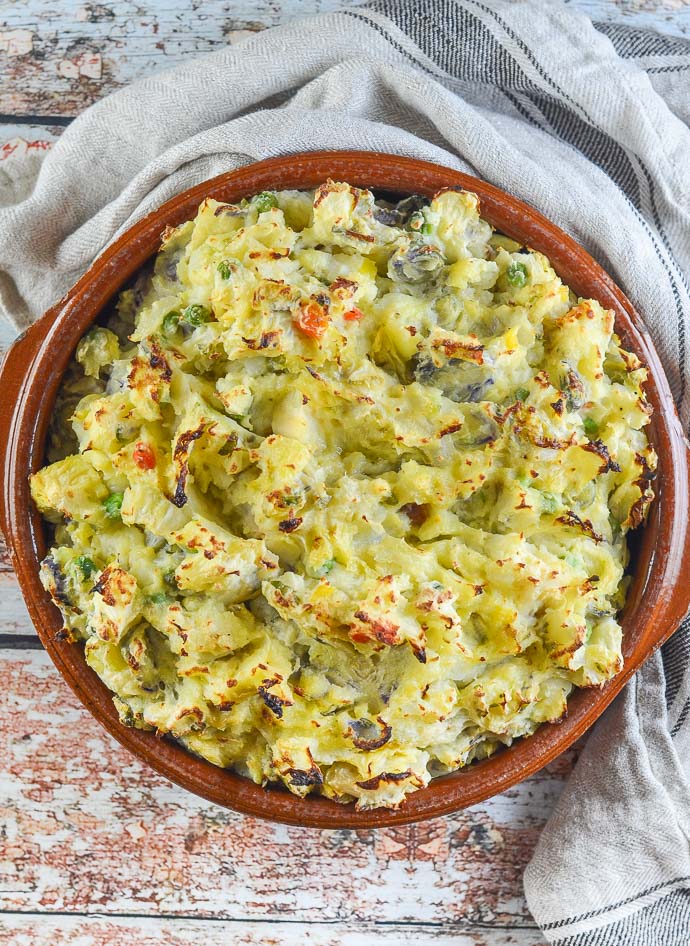 Photo Credit: avirtualvegan.com
From Melanie at A Virtual Vegan.
Oven baked and oil-free Bubble & Squeak. Cook it from scratch with only 4 healthy ingredients, or just make the mashed potatoes & add any leftover veggies that you happen to have instead. Cook it in a casserole or shape it into patties. It's so flexible, super quick & easy!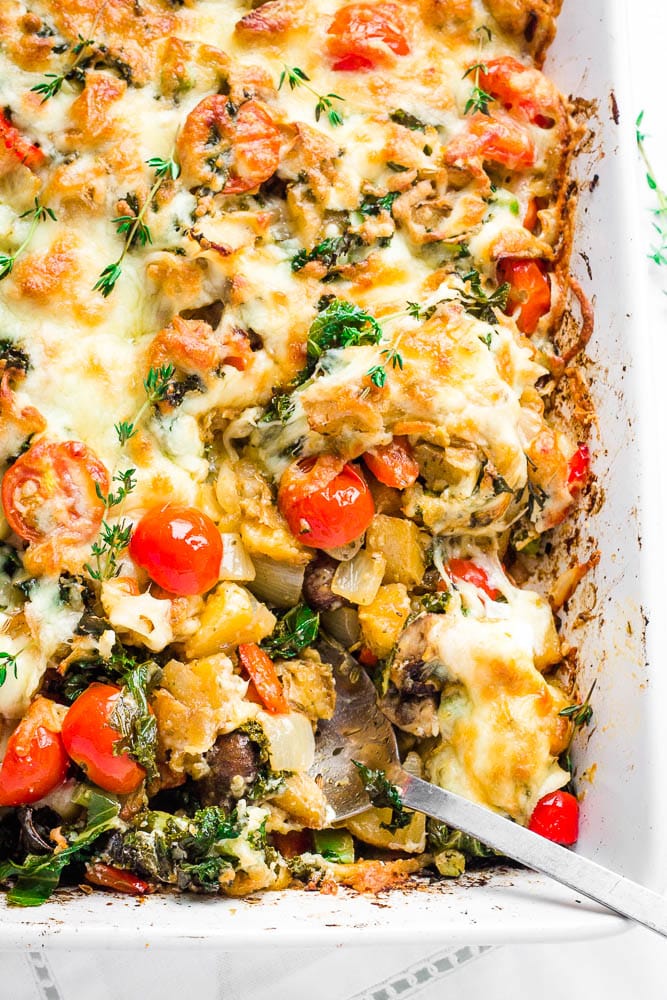 A tasty, flexible casserole filled with potatoes, cheese and vegetables. You can make this your own with your favorite veggies and use it to clear out the fridge! Mixed herbs and spices, plus a few different types of cheese make sure it's as tasty as can be, and it works as a main or side dish.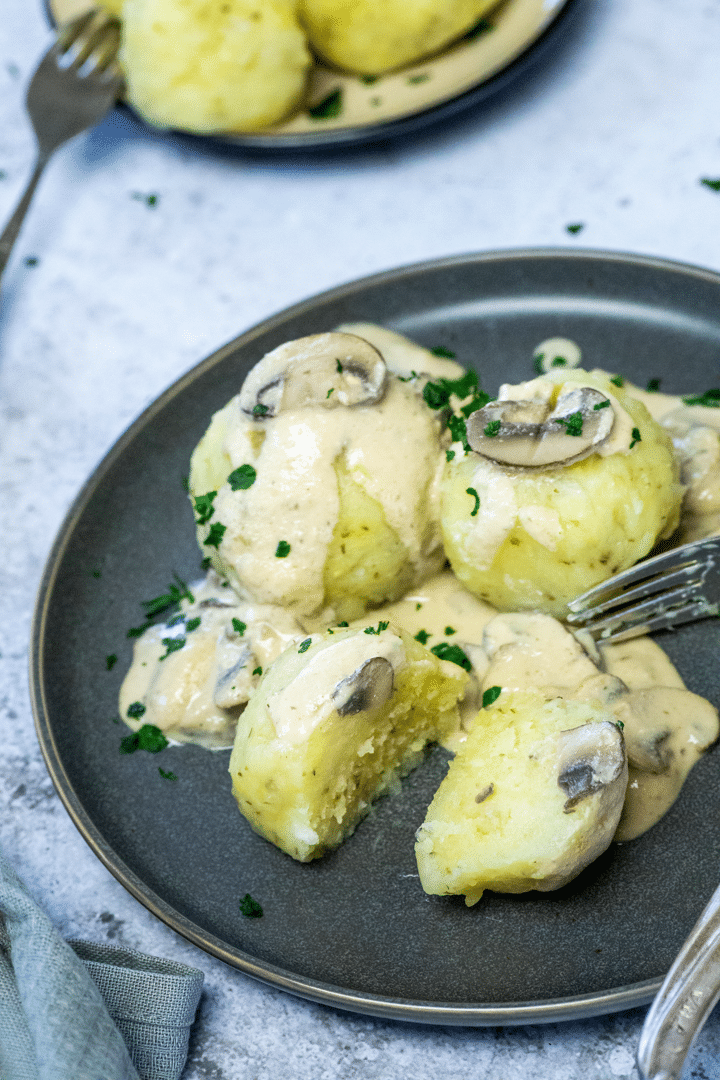 Photo Credit: veeatcookbake.com
From Jasmin at VeEatBake.
Vegan potato dumplings with marjoram and a creamy herbal mushroom sauce. A healthy meal that's perfect for a quick and healthy dinner or as a delicious side dish for Christmas, Thanksgiving or other holidays.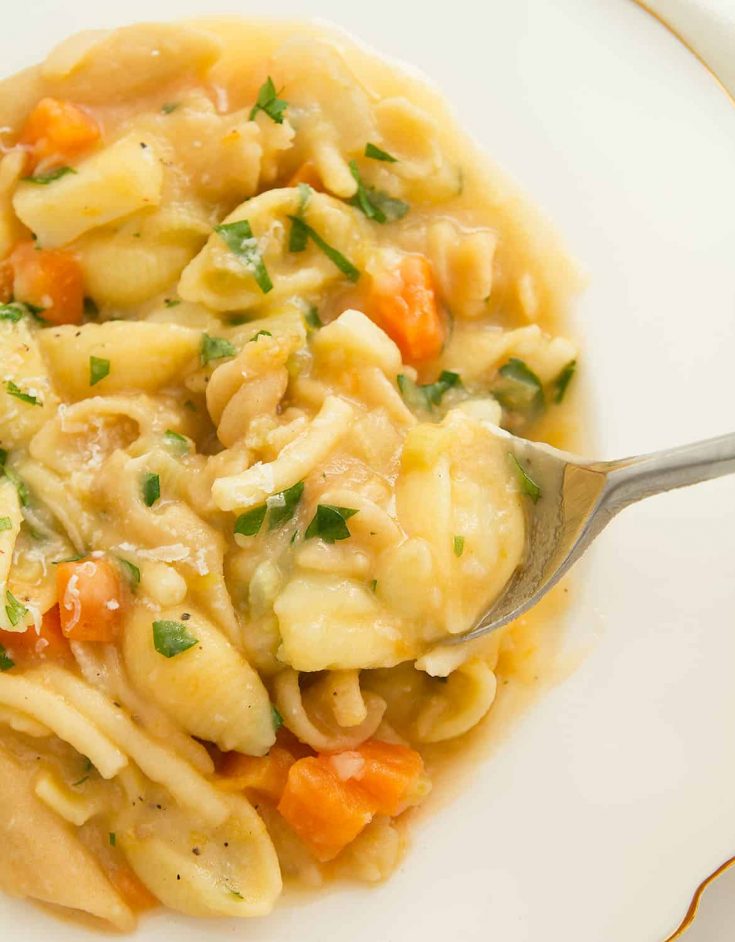 Photo Credit: theclevermeal.com
From Katia at The Clever Meal.
What to make when you've got nothing in the fridge? This creamy and utterly delicious potato pasta is your go-to recipe. It calls for a few humble and budget-friendly ingredients, it takes less than 20 minutes of prep time and $1 per serving.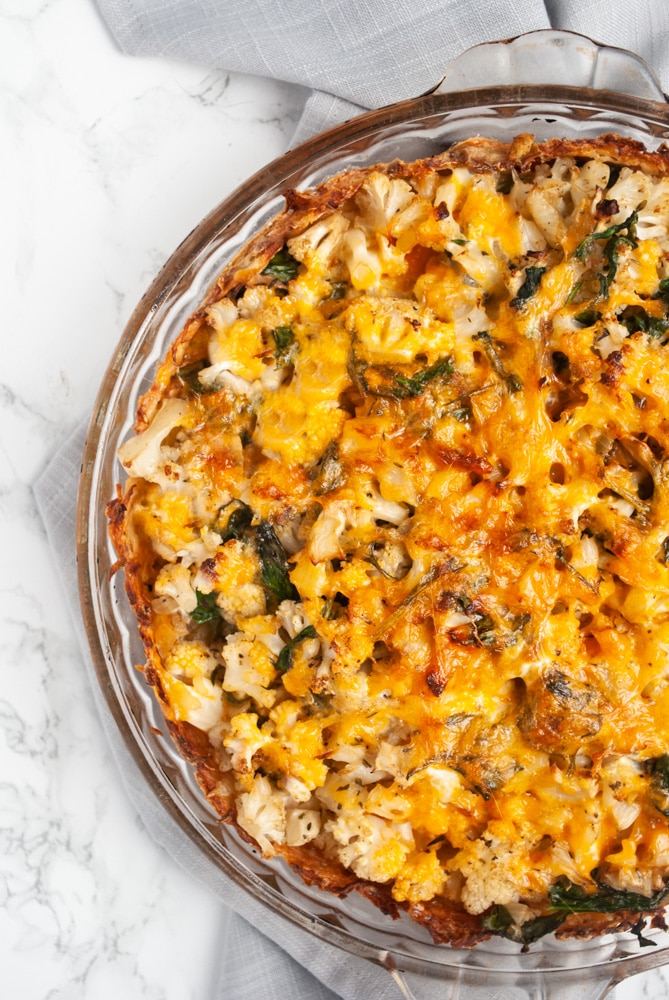 Photo Credit: loveandgoodstuff.com
From Courtney at Love & Good Stuff:
Crispy hashbrown potato crust filled with a comforting mix of cauliflower, spinach, and warm melted cheese – cauliflower cheese pie is vegetarian comfort food at its finest.
Finger Foods & Smaller Bites
These recipes work great as lighter lunches or dinners, including some ideas for grab-and-go eating for a bigger group.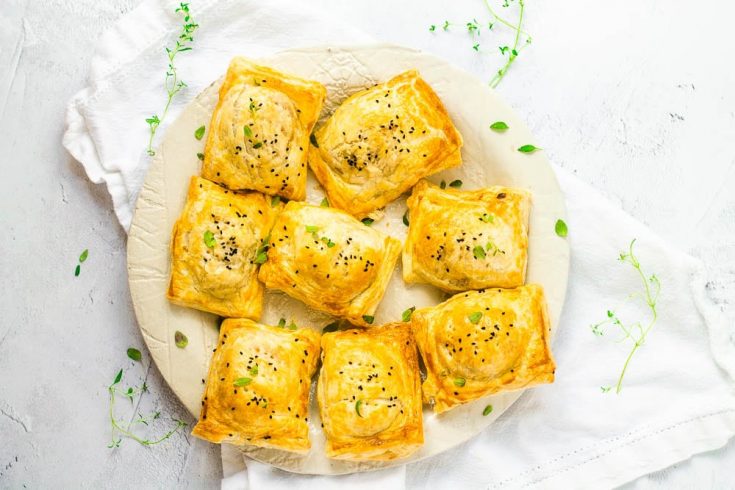 Puff pastry squares or rectangles that are filled with a potato, cheese and onion filling. Yes, you read that right. We stuff cheesy mashed potatoes into pastry. Double carbs for the win!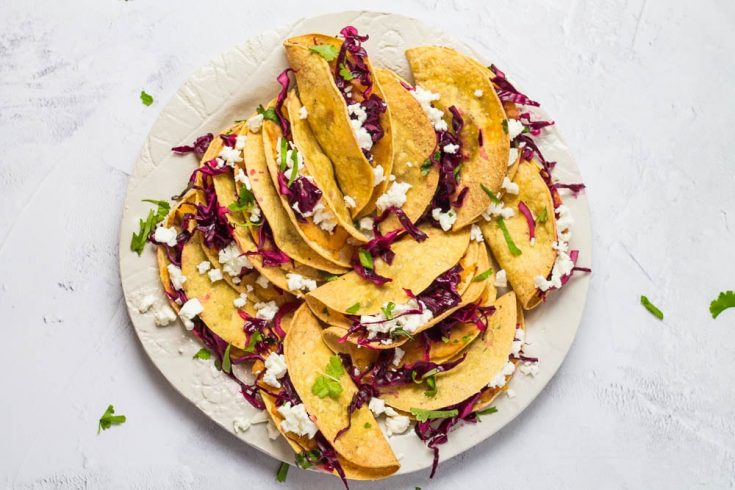 A homemade, oven baked spin on Tacos de Papa! Spiced mashed potatoes make a flavorful, economical taco filling alongside crispy fresh red cabbage slaw and tangy feta cheese. Oven baked instead of fried, these crispy mashed potato tacos are a fun and easy dinner that the whole family will agree on for Taco Tuesday.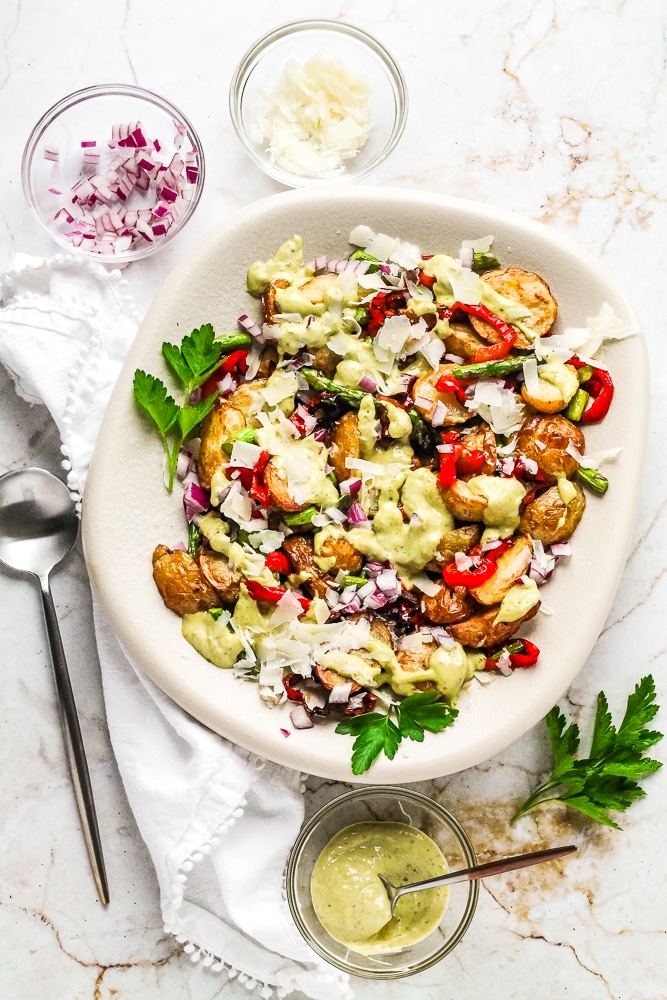 A warm roasted potato salad made easily in the air fryer! With the optional addition of pesto and asparagus, drizzled with a flavorful pesto mayonnaise sauce! This is easy to put together in the air fryer and a makes for a tasty and versatile side dish.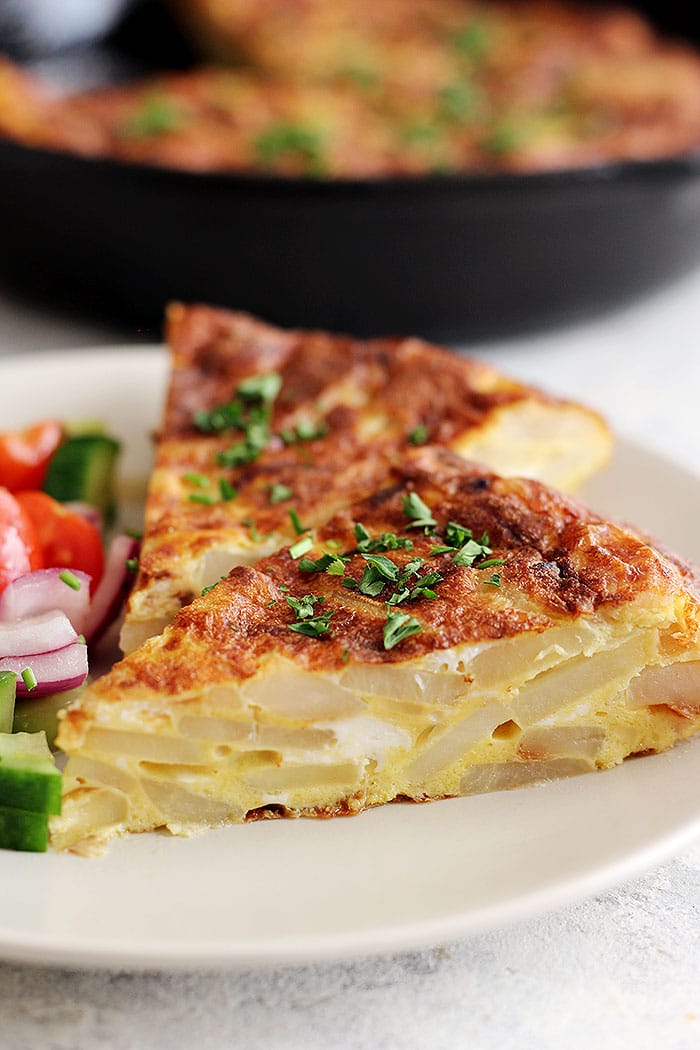 Photo Credit: www.unicornsinthekitchen.com
From Shadi at Unicorns in the Kitchen.
This Spanish tortilla recipe is a classic. Also known as tortilla Española, this easy Spanish potato omelette is so easy yet very satisfying. You're only four ingredients and a skillet away from one of the most popular Spanish dishes!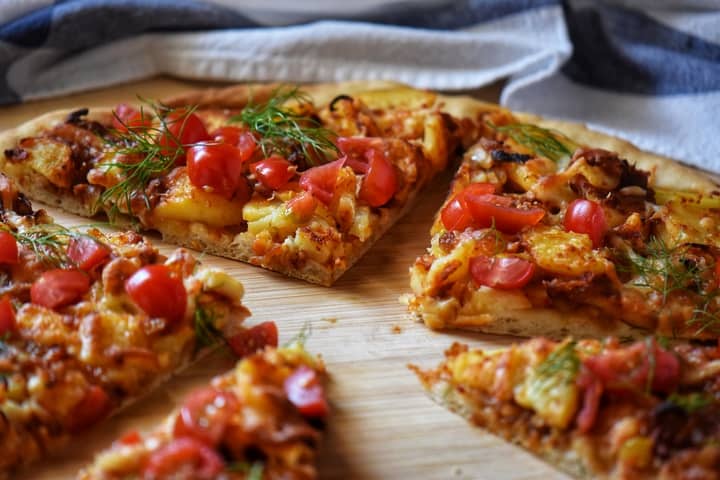 Photo Credit: www.shelovesbiscotti.com
From Maria at She Loves Biscotti.
This Potato Pizza recipe is a modern twist of Rome's Pizza con Patate. Parboiled potatoes are combined with sauteed onions, mozzarella cheese and topped with fresh tomatoes. You've never tasted anything so delicious!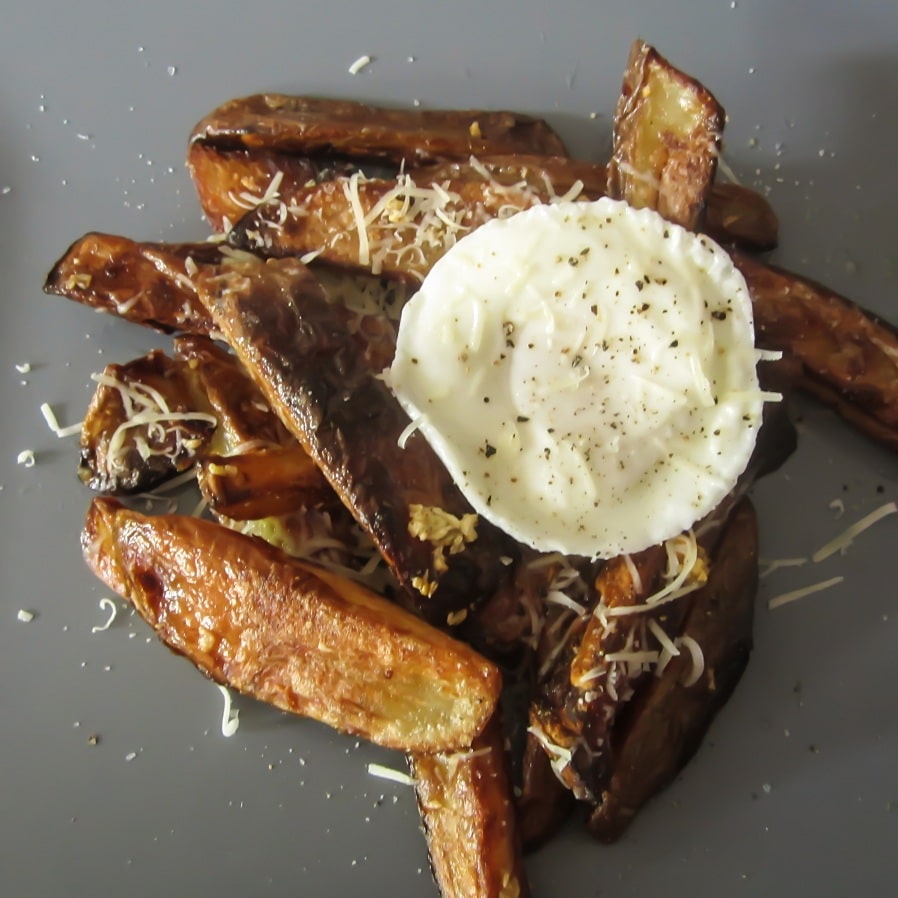 Poached eggs atop homemade parmesan garlic fries. A fancy twist on a British cafe classic, and one of my first ever posts on the blog. (Cringe!)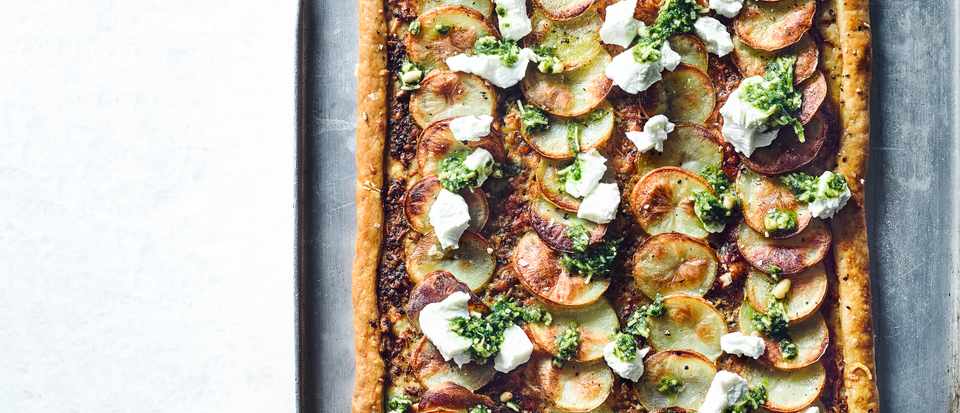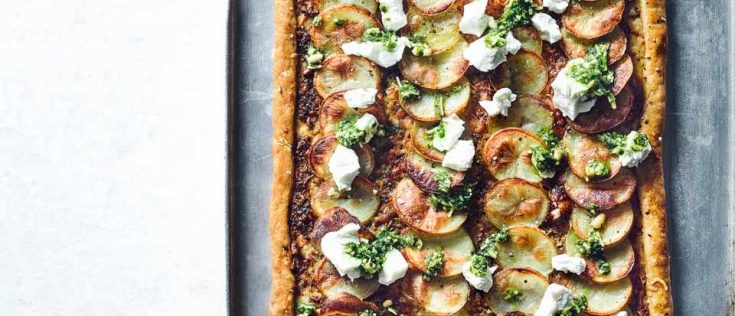 Photo Credit: www.olivemagazine.com
From Olive Magazine.
Super simple vegetarian pesto and potato tart. This family-friendly recipe uses ready-rolled pastry, so you'll have dinner on the table in no time.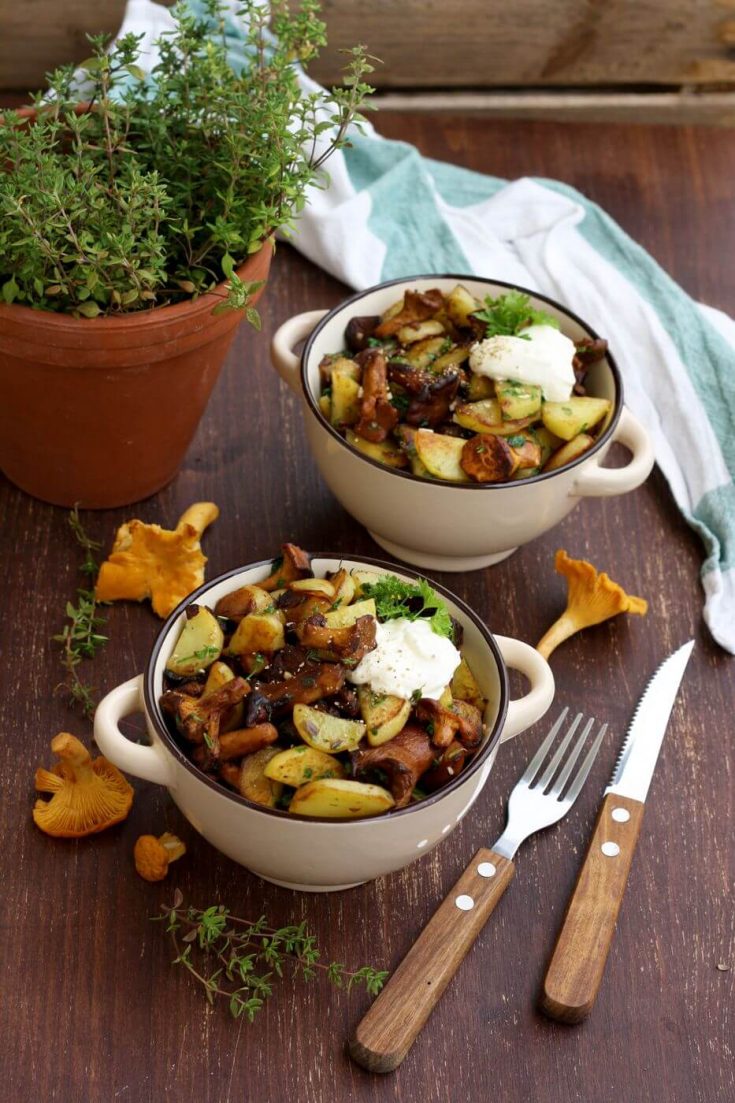 Photo Credit: happykitchen.rocks
From Elena at Happy Kitchen Rocks.
Russian pan-fried potatoes with wild mushrooms, onions, garlic and herbs are super flavorful, hearty and comforting. This easy step-by-step recipe only takes 30 minutes to make!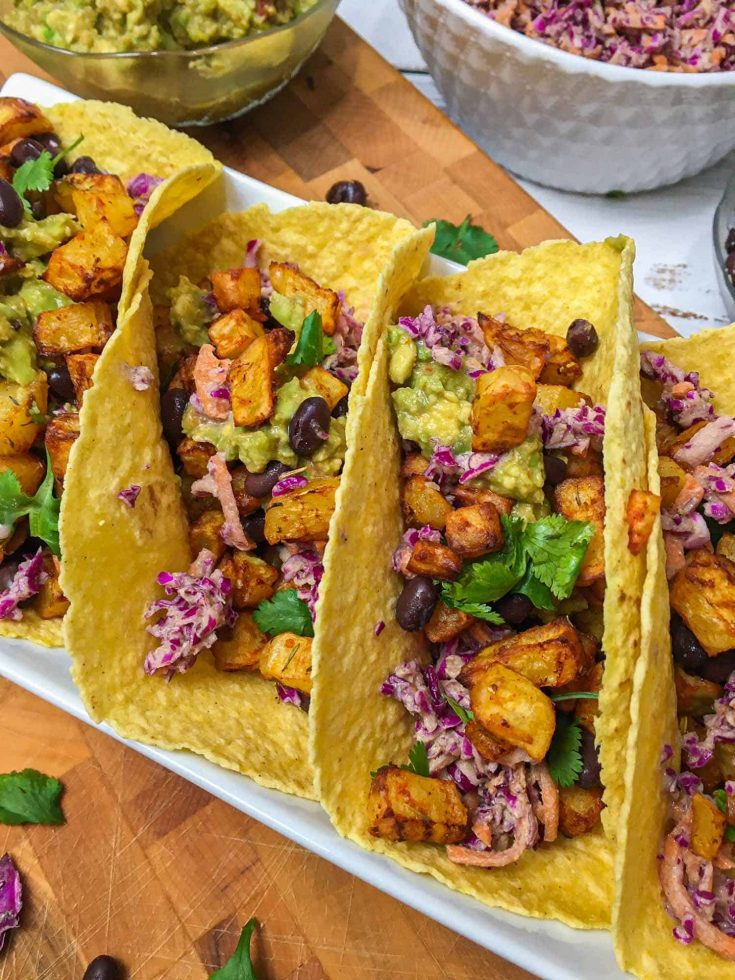 Photo Credit: thishealthykitchen.com
From Rosa at This Healthy Kitchen
Feast your eyes on these gorgeous, flavourful, seriously mouth watering potato tacos! Crispy, delicious potatoes, combined with hearty black beans and a fresh, creamy slaw equals taco perfection!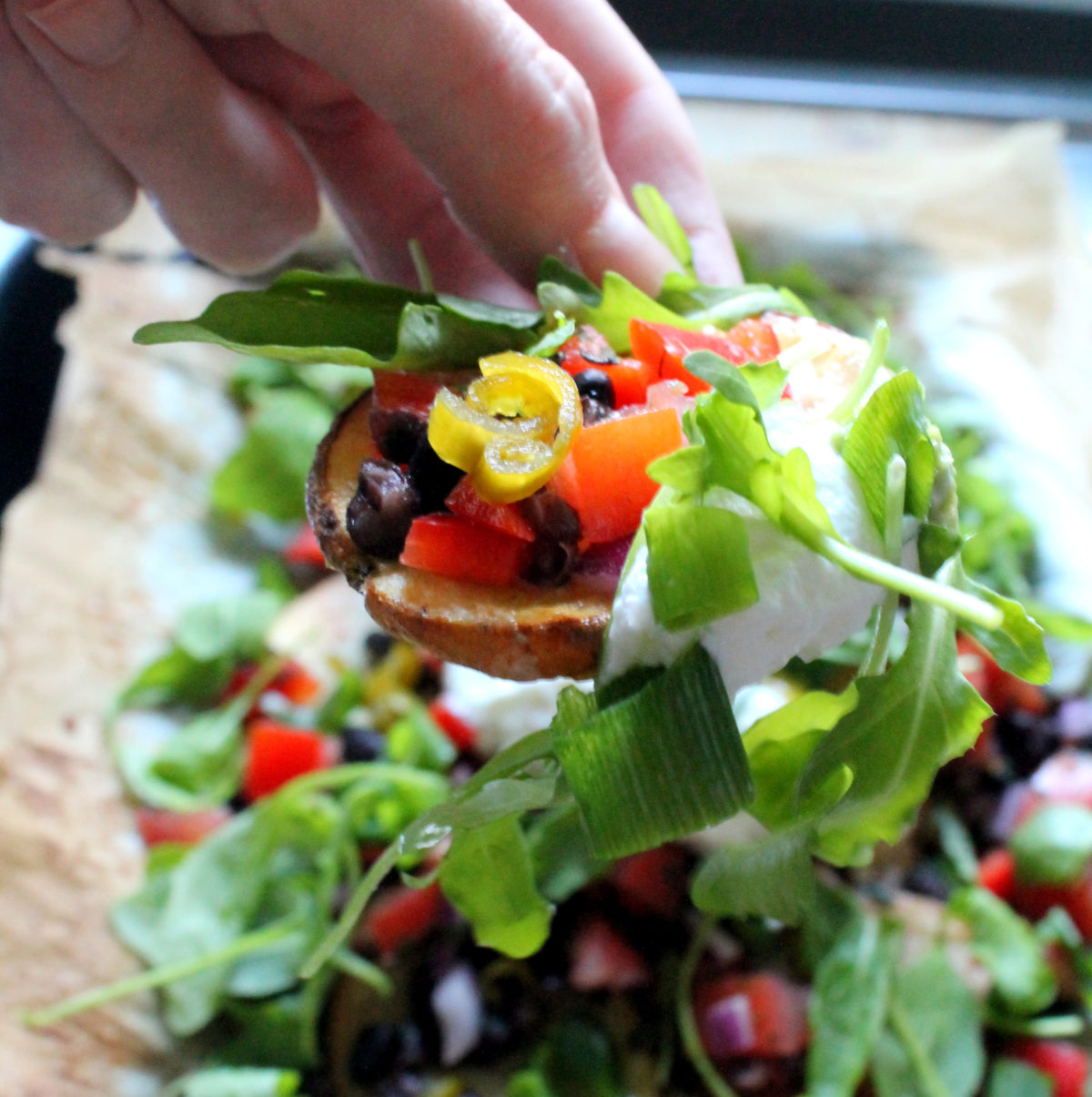 These healthy potato nachos are incredibly tasty. Packed with veggies, beans and arugula on top, they are filling and nutritious enough to make a meal out of.
Epic Baked Potatoes
Baked potatoes are one of my favorite lunches or small dinners. Bake them, microwave them if you must, or even air fry them - and then top them to perfection. Here are some ideas...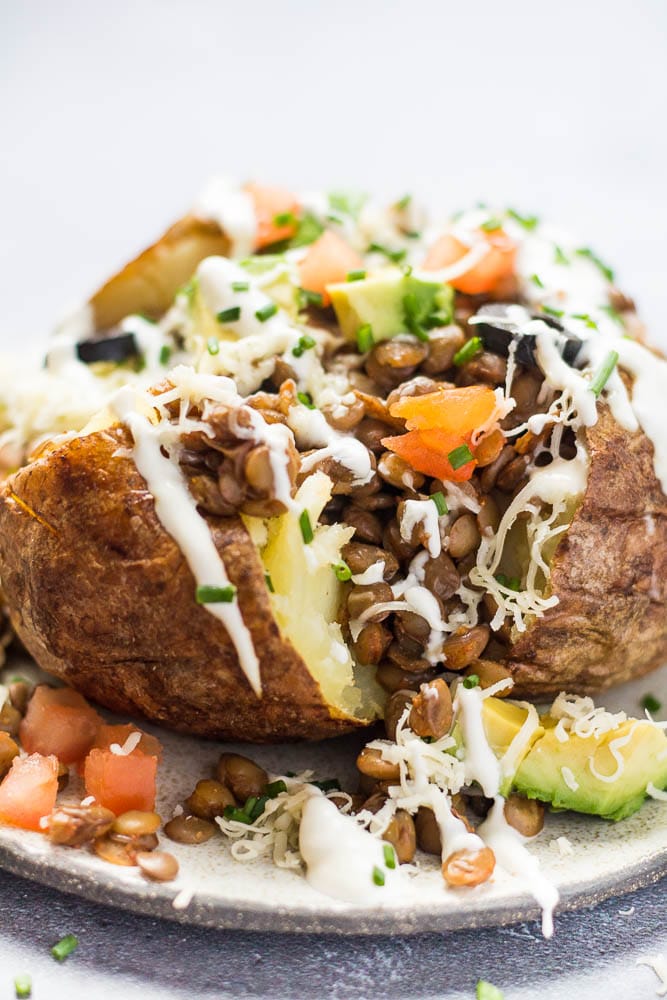 Baked potatoes stuffed with a vegetarian lentil taco filling and all your favorite toppings! A healthy, fun meal that the entire family will love. Canned lentils make for a fast and easy vegetarian baked potato filling which brings lots of protein to the table.
Photo Credit: www.healthygffamily.com
From Karen at Healthy Gluten Free Family.
An easy and unbelievably delicious Gluten-Free, Grain-Free and Vegetarian meal or side dish. So creamy and decadent tasting without any butter, heavy cream or milk! Perfect dish to make ahead and heat up for dinner on a busy day.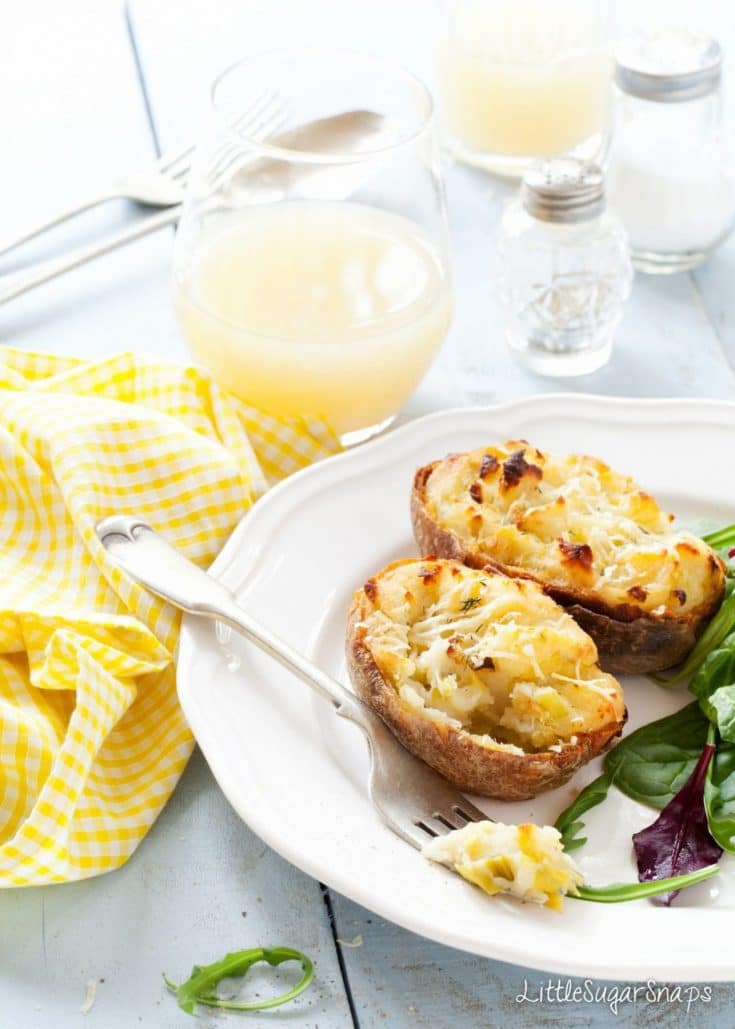 Photo Credit: www.littlesugarsnaps.com
From Jane at Little Sugar Snaps.
These Rarebit Style Cheesy Leek Baked Potatoes are ultimate comfort food. They are easy to make, full of punchy flavors, and freezable.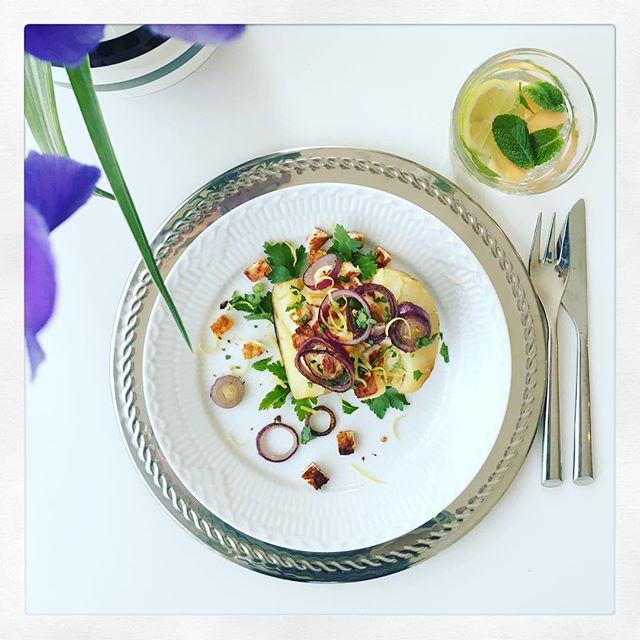 Photo Credit: thefeedfeed.com
From @Foodbites via The Feed Feed
Baked potatoes are the perfect base for pretty much any topping… Veggie HQ's all-time favorite cheese is no exception!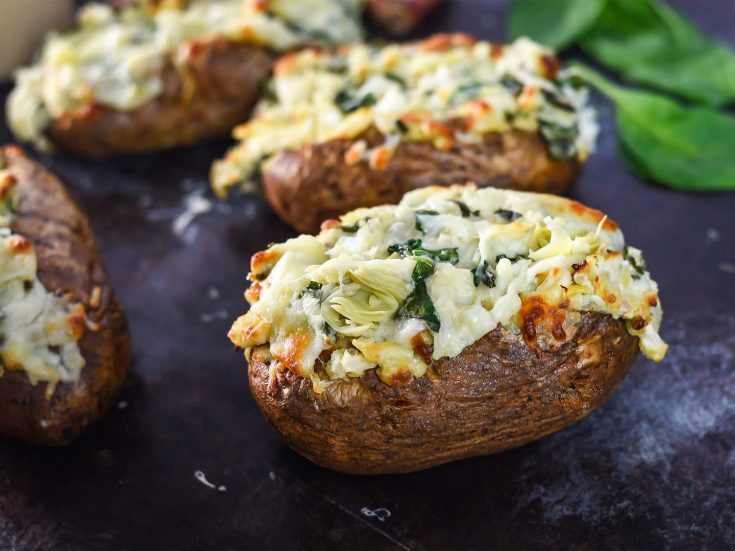 Photo Credit: www.seriouseats.com
By Morgan Eisenberg on Serious Eats.
Potato chips with spinach and artichoke dip is quintessential party food, but swap out the chips for baked potatoes, and suddenly the combination is perfect for a weekday dinner.
Curries, Soups & Stews
Potatoes pop up often in curries, where they pair up beautifully in rich, spiced sauces. They're also the perfect base for naturally creamy, velvety soup. If you need a bowl of warming goodness, potatoes are your friend.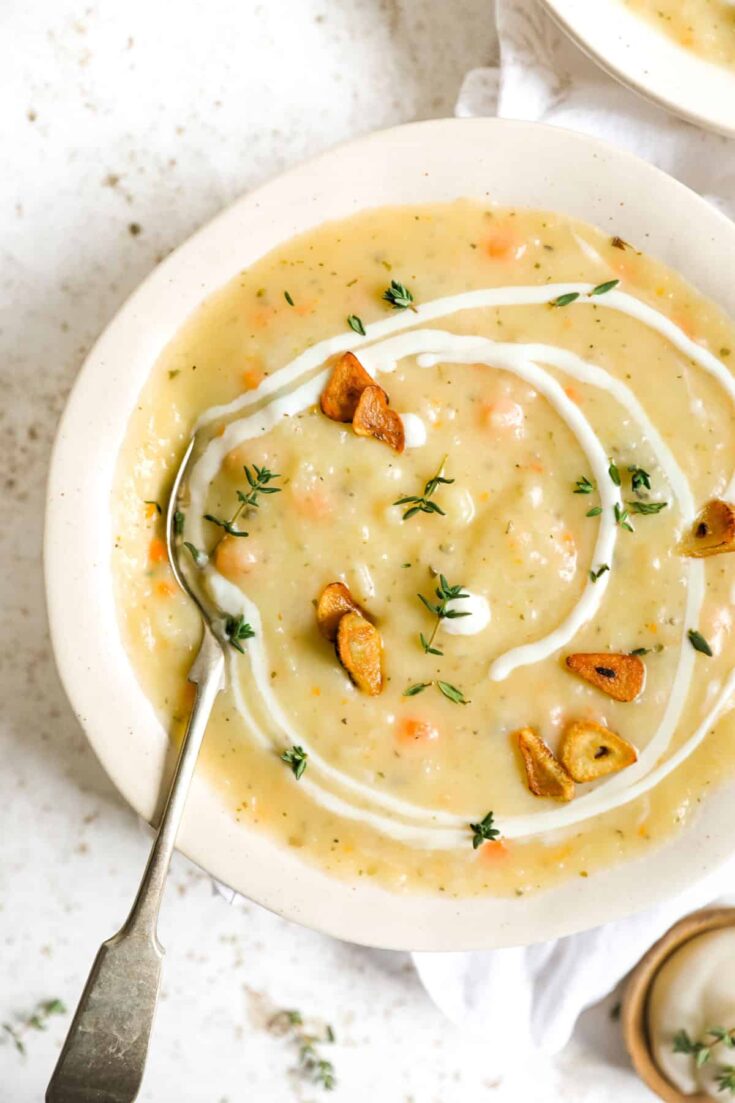 This is THE most flavorful potato soup recipe without bacon! We have a couple of tricks up our sleeve to infuse it with some smoky umami flavor while keeping it vegetarian, and you will love the result. This is creamy, comforting, easy and cheap to make - everything you want from a potato soup!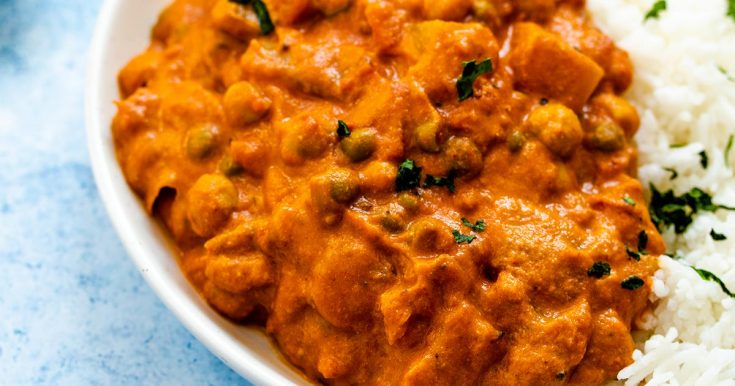 Photo Credit: therecipewell.com
From Laura at The Recipe Well.
This is a comforting vegan dish to enjoy as the weather gets cooler. Potato, chickpeas, green peas and bell peppers slow cook in a tomato-based sauce along with a warming spice mix. Blended cashews give the sauce a dreamy creamy texture. This vegan tikka masala is an easy, healthy meal that you'll want to make again and again.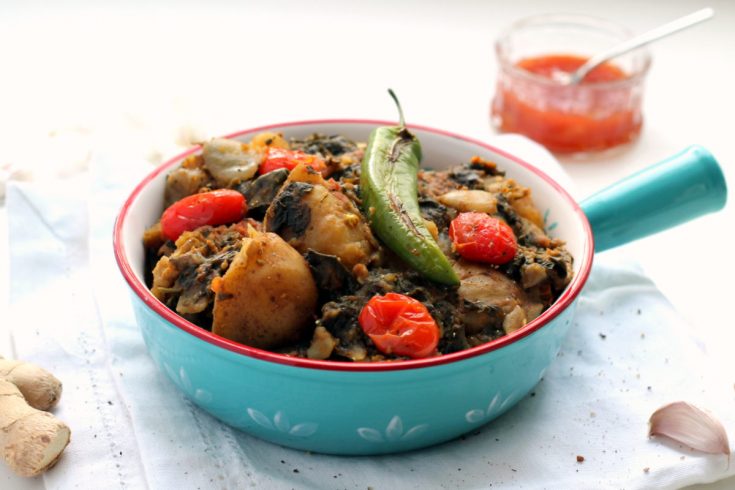 This homemade saag aloo is super easy to make in the slow cooker, and this recipe uses a special method to add extra depth of flavor with no additional effort. Saag aloo is a healthy and economical vegan dish, and an essential part of any Indian meal!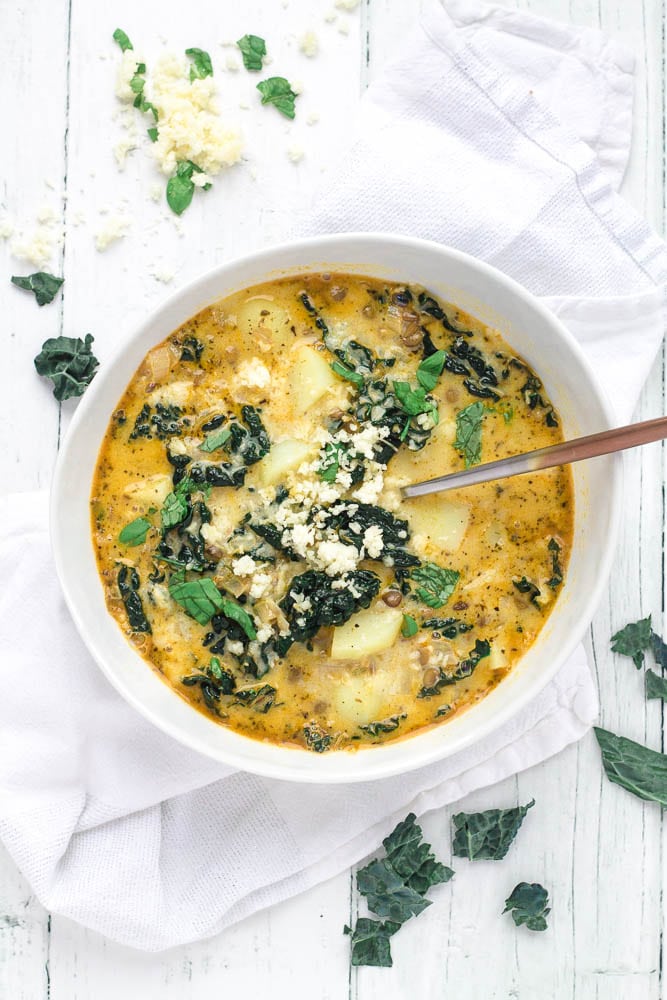 Deliciously spiced lentils take the place of sausage in this vegetarian version of Zuppa Toscana! A creamy, filling and extra tasty soup - no one will miss the meat!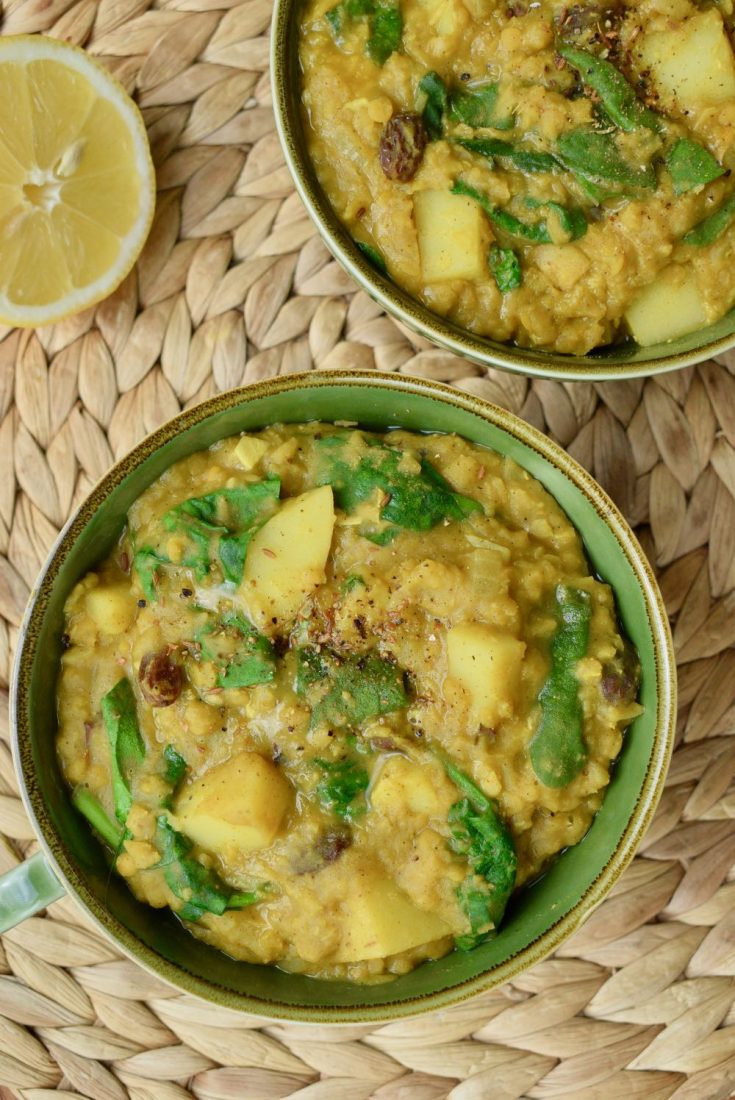 Photo Credit: veganonboard.com
From Sophie & Paul at Vegan on Board.
This potato and lentil dahl is a quick one pot meal. Ready in 25 mins on the stove or just 15 mins if you use a pressure cooker. It's simple, spicy and nourishing!