This plant based veggie korma uses pureed butternut squash and coconut milk to create a luscious cream sauce full of fragrant spices. No one will miss the dairy! Make this korma your own by including all of your favorite vegetables and beans or legumes; I use a mix of roasted cauliflower, broccoli and mushrooms with chickpeas.
My goal for 2020 is to eat more plant based meals. When things get busy around here (and I think we can all agree the transition from one to two kids is a busy phase) I revert to my old habits of eating all the carbs and cheese I can get my hands on.
So here is an offering for everyone who wants to eat more plant based foods but struggles to tear themselves away from the decadent creamy stuff… a legit creamy, luxurious vegan korma.
This is a hot favorite around here, and honestly you'd never know it wasn't packed with butter and cream. Where does the magic come from?
A Butternut Squash & Coconut Milk based Sauce
Two of the best vegan cream sauce bases, pureed butternut squash and coconut milk, join forces here to make a really smooth, thick, how else can I say creamy? sauce. The base is pretty sweet, but we use a lot of whole spices to stop it from being overly sweet.
Lots of whole spices are used here, briefly sauteed with the onions and garlic and then cracked open when we blend the sauce smooth.
I use the term "korma" here because it's a thick, creamy sauce without chili. But it's not bland like some kormas are known to be. The spices are very present.
You could add some heat too, with the addition of chili powder (you would add this with the tumeric) or fresh chili in the sauce (you would add this at the same time as the garlic).
Roasted Vegetable & Chickpea Filling
I opted to roast the vegetables I was using in this curry, because it makes them a little more tasty and a little more robust, less likely to go mushy in the sauce. The oven's already on from roasting your squash, after all.
I chose broccoli, cauliflower and white mushrooms because they're my fave veggies and they all need the same cook time / temperature so it just works. But you really can do your own thing here. Bell peppers, or parboiled potatoes, could work their way into this curry very nicely.
Quantities are pretty loose here. I used one pack of mushrooms and a small head each of broccoli and cauliflower. You basically just want to fill a large sheetpan / baking tray with veggies.
Some peas stirred in at the end would be a nice addition too.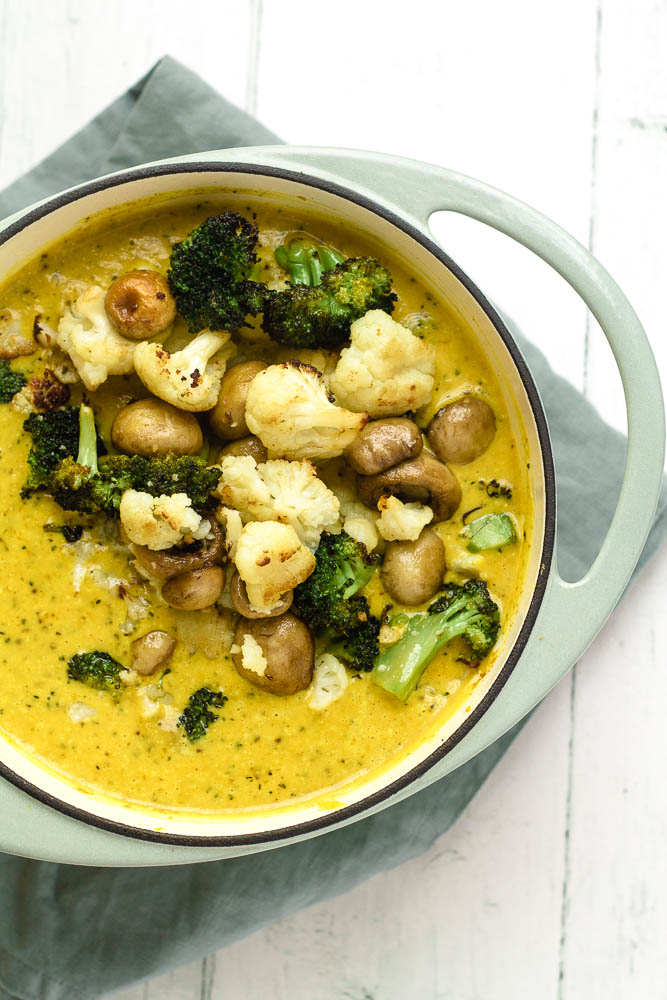 For protein, I enjoy this with a can of chickpeas. Their nuttiness works well but you could go with a can of any beans though, or some lentils or tofu.
You get a pretty big portion of this curry, four to six servings as a main dish if you're serving with rice and/or nan.
And yes, you definitely want some nan to mop up every bit of this delicious sauce.
The sauce is based on one full butternut squash and one can of coconut milk so it's hard to cut in half, but if you don't want that much today you could freeze half the sauce for another night before adding veggies.
Scaling up is easy enough if you have a big crowd to feed.
The curry freezes well, and if you're hot on meal prep you could double the sauce and freeze some extra portions for some quick and easy curry nights in the future. Future you would love you for that.
I hope you enjoy this one as much as we did – let me know in the comments if you give it a try!