An easy baked gnocchi recipe with slow roasted cherry tomatoes and mozzarella. A comfort food classic made simple – everything bakes together in one pan! This dish features the classic caprese combo of fresh tomato, mozzarella and basil, but it can be customized in a number of ways.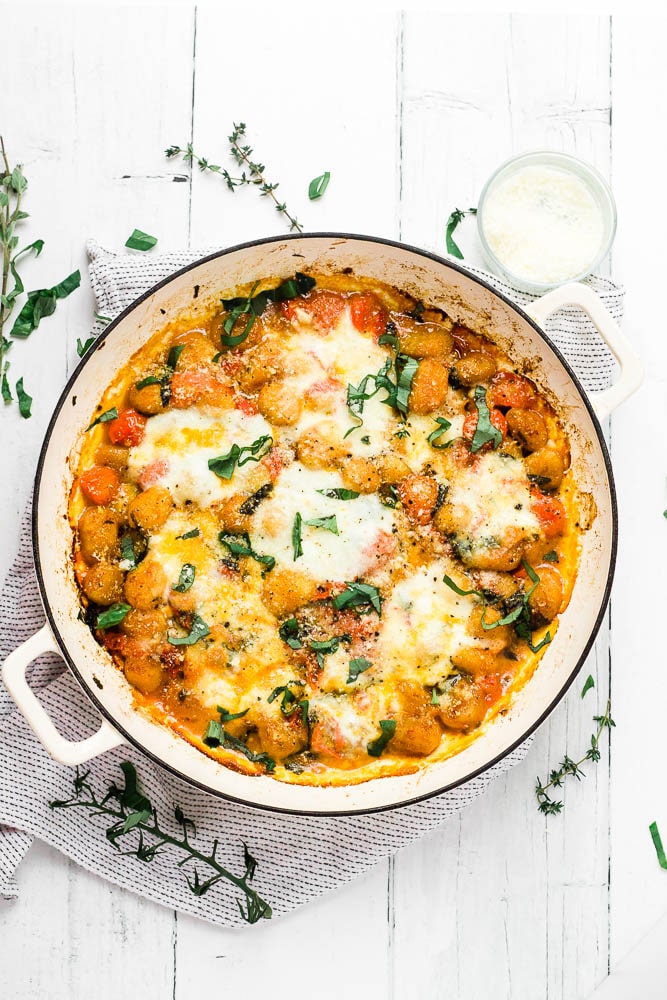 Baked gnocchi with tomatoes, basil and gooey mozzarella cheese. A classic. Serve this to anyone and they'll shut up and eat. You can't ask for much more out of a dinner recipe.
Oh but you can, because I have also found the most perfectly easy way of making it.
The One Pot Gnocchi Revolution
It turns out… you don't have to precook packaged gnocchi. You can just throw it in the pot with a bunch of other stuff, put it in the oven and go.
A "dump dinner", if you will. I don't love that term, but it is what it is.
So in this case, we throw the gnocchi right in there with some cherry tomatoes, garlic, herbs and balsamic vinegar. Mix it all together and throw it in the oven.
The cherry tomatoes roast slowly in the oven and the gnocchi cooks alongside. The result is soft pillowy gnocchi that's absorbed lots of delicious cherry tomato juices.
Halfway through we add in some basil and toss some cheese on top.
And this is what comes out:
Perfection.
You have bubbling, brown cheese, you have some crispy bits of gnocchi around the edges, and you have an amazing sweet tomato flavor.
It does take a while, because we're going for the long slow roast with the tomatoes, but it's so low in effort. So if you're home early enough to start dinner an hour before it's time to eat, but you need to be doing some other things while it cooks, this works brilliantly.
VariAtions and Additions
This is a simple, minimal ingredient situation and I have kept it classic for you today with just the tomato, mozzarella and basil combo.
But you know I like to have more fun with my dinner when I can. Some simple additions that won't cost you much time would be:
Play with your cheeses. Brie and blue cheese would be delicious here. A little sprinkling of smoked mozzarella or smoked cheddar would be right at home too.
Add veggies alongside the tomatoes. Zucchini, mushrooms, eggplant, peppers… whatever you feel is right and will fit with the cooking times.
Vary the herbs. Basil is the obvious choice to pair with mozzarella and tomato, but winter herbs would play nicely here. Add rosemary and sage into the mix (add at the beginning, with the tomatoes).