A simple but luxurious crustless cheese & onion quiche recipe with a mix of three delicious cheeses for maximum flavour. This makes the perfect vegetarian picnic or party option! The recipe has no traditional pastry crust, but we use a clever technique to help it form its own crust. Intrigued? Read on…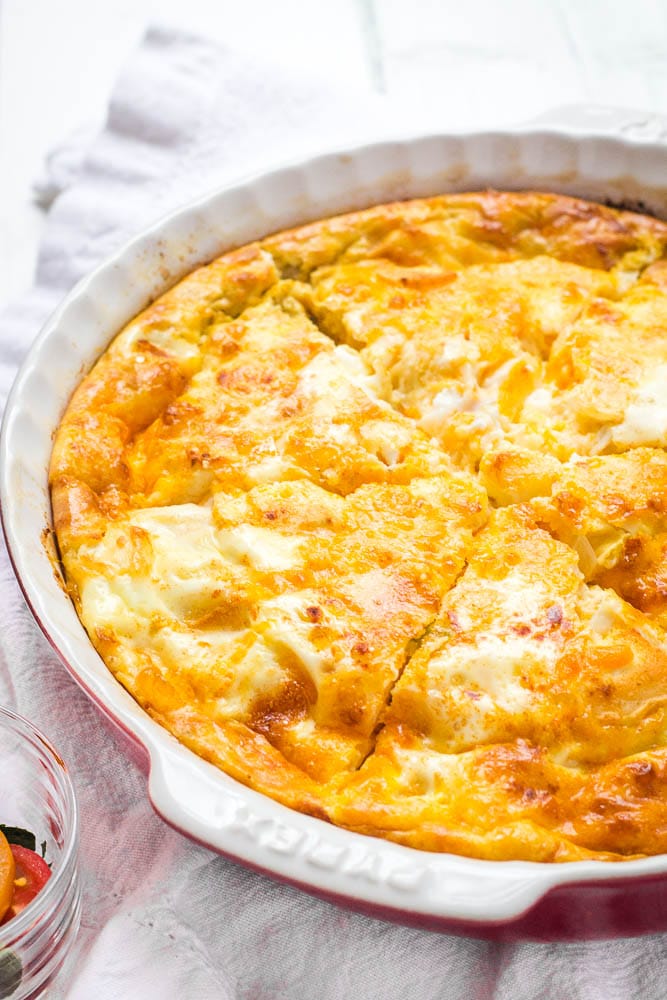 We have been eating a LOT of quiche around here this autumn, and I'm thinking soon you might be too.
I recently discovered the art of the "impossible quiche," aka "self crusting quiche". It seems to be a popular concept in Australia (thanks guys!) and is a similar concept to the retro American Bisquick quiche.
The idea is that you mix self raising flour in with the quiche filling, which sinks to the bottom to form a crust while the quiche bakes. So easy!
This is ideal for me because I LOVE quiche but cannot cook with shortcrust pastry to save my life. And a crustless quiche, however easy and practical, can sometimes feel too light, too uniform, like something is missing.
So this technique makes me ridiculously happy.
Tell me more about the crust Situation
Right, so are we talking about a legitimate pastry style crust? Well, no, not really. It's always going to be a little softer, less distinct, and somewhat patchy. It comes out a little differently every time. That's part of the fun!
In some cases it's amazing how much of a pastry style crust you get at the bottom but it's generally patchy – some areas where it's reasonably thick and others where it's nonexistent.
Sometimes you don't really see it, but you just notice that certain bites have that contrasting thicker stodgy layer.
And sometimes you get more of a top crust, where the top of the quiche goes crispy and delish. See like this up there? A defined, crispy layer at the top (with some gooey melting goat's cheese just breaking through).
It somewhat depends on how you incorporate the flour. Some of the recipes I was learning from recommended whisking the flour in with the eggs and milk. This would always give me a super thick and crispy top crust and maybe a few pancakey bits at the bottom.
The way I am doing it in this recipe, we toss the flour with the fillings before pouring the egg/milk mix on top, which I find gives you more of a bottom crust.
the perfect Cheeses
Cheese and onion is the quintessential vegetarian quiche flavour in the UK, and for good reason. It's easy, cheap and makes the most of British cheddar cheese, which I think we can all agree is a strength of the national cuisine.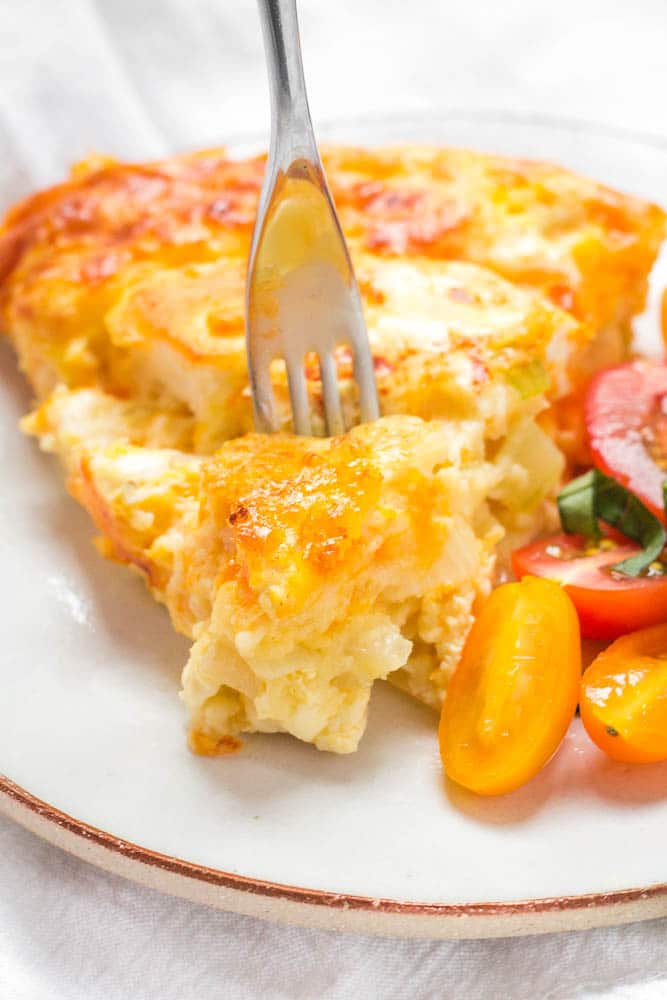 For me, it really soars when we add a combo of cheeses instead of just the cheddar. So we're going to throw in some Red Leicester and goats cheese too. These are optional, but I like the contrast Red Leicester gives and the gooeyness of the goats cheese.
I use an aged goats cheese, the kind with a rind. But you can use the fresh, soft kind. It doesn't get gooey, but it gives you pockets of soft creamy loveliness instead. I've enjoyed it both ways.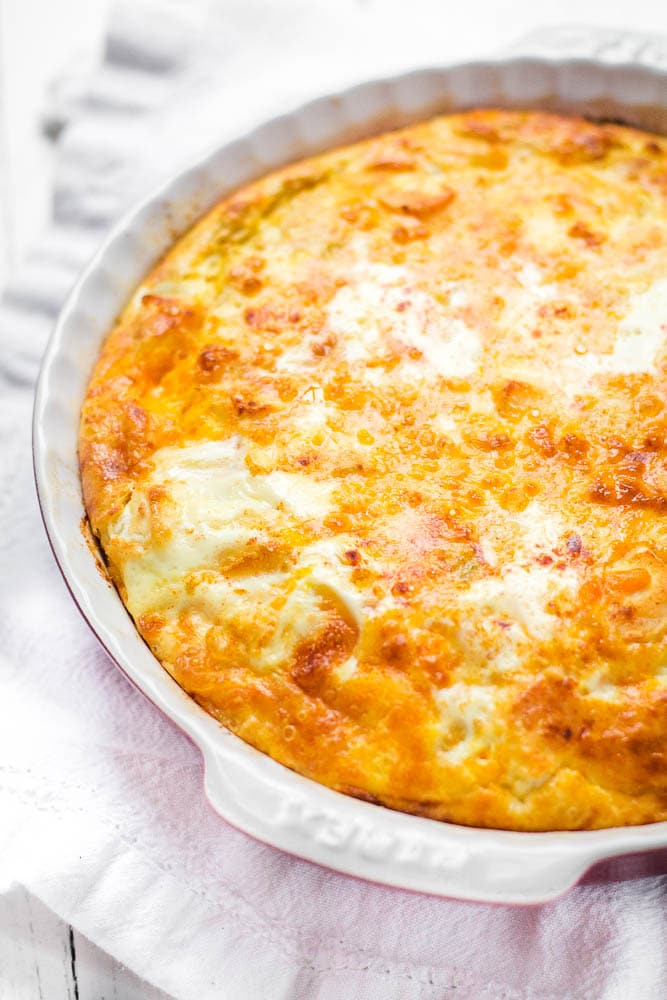 Other cheeses would be great too. British or otherwise. I'm thinking Lancashire cheese, feta, brie… go wild!
How to serve it
Let's face it, this is a classic case of a vegetarian recipe with very little in the way of vegetables. It's a protein and fat bomb, and boy is it good – but… I guess we should be rounding this out with some veg, right?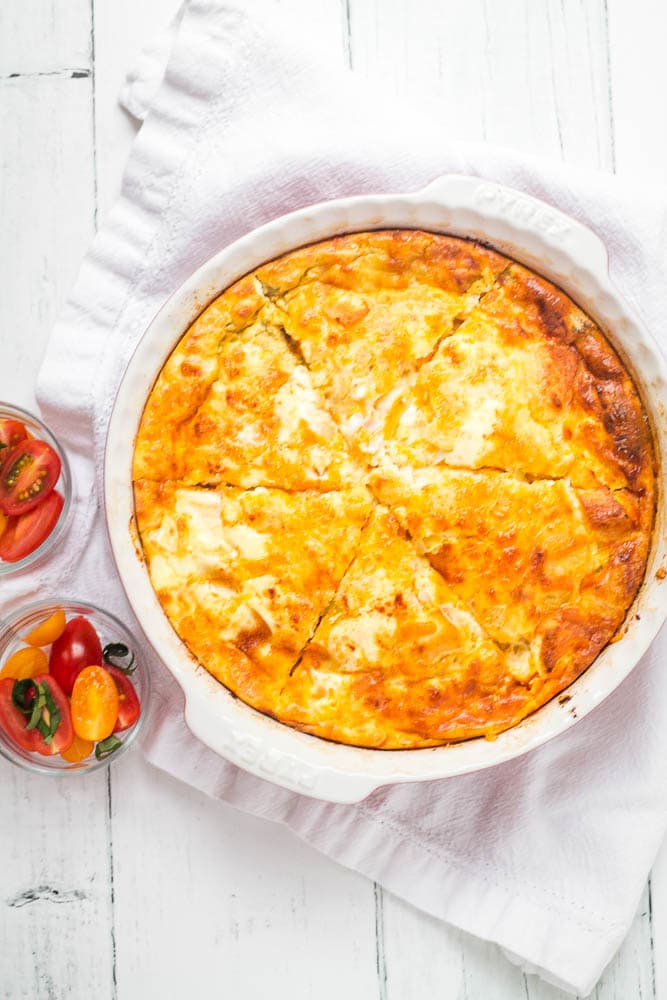 This is how I enjoy it
With a fresh cherry tomato and basil salad.
With air fried broccoli (I'd hold the cheese on the broccoli though).
With a warm kale salad.
With slow roasted, herby cherry tomatoes and mushrooms (something like this – if you lack a double oven like I do, just start it off at the stated temperature while you prepare the quiche and then move it to the bottom of the oven when you need to bump up the temperature for the quiche).
The Process in Photos
There's a printable recipe card just after these photos, but here is the visual run through…