Parmesan Kale Noodles
Tasty parmesan garlic noodles with finely chopped kale for a nutritional upgrade on a comfort food classic. An excellent way for kale skeptics to try this nutritious green. Keep dinner simple with a big bowl of these kale noodles, or add some cherry tomatoes and a protein source for a well rounded meal.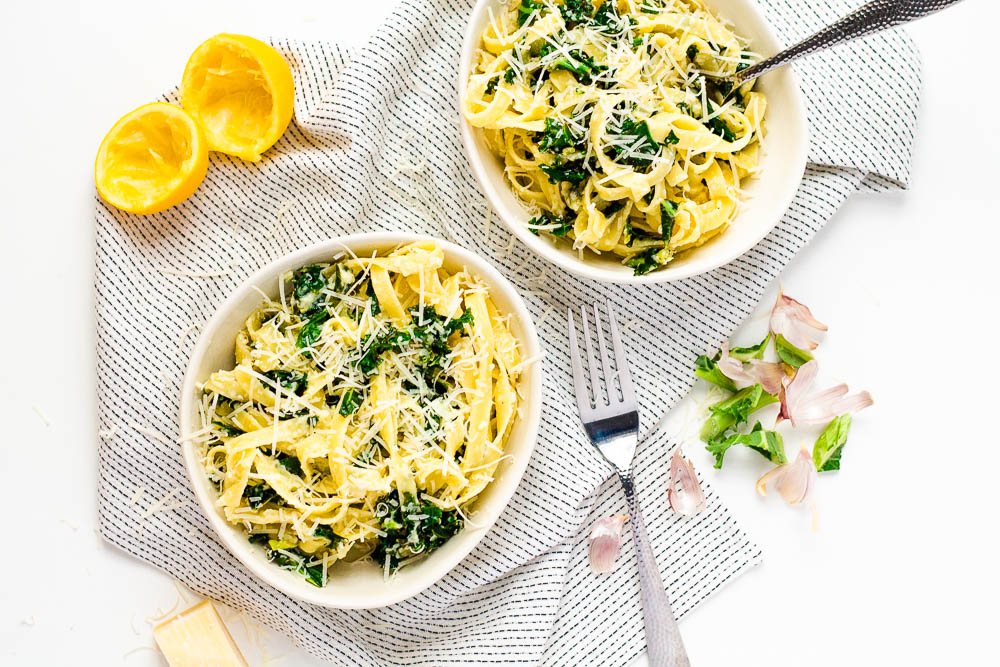 This one's a little nostalgic for me. Do you remember those packets of creamy parmesan garlic pasta noodles with the powdered sauce? OMG did I love those. Alongside some broccoli, they made a fine meal for a vegetarian kiddo like me.
But today we are reinventing it as a homemade version, with a healthier upgrade thanks to the addition of kale.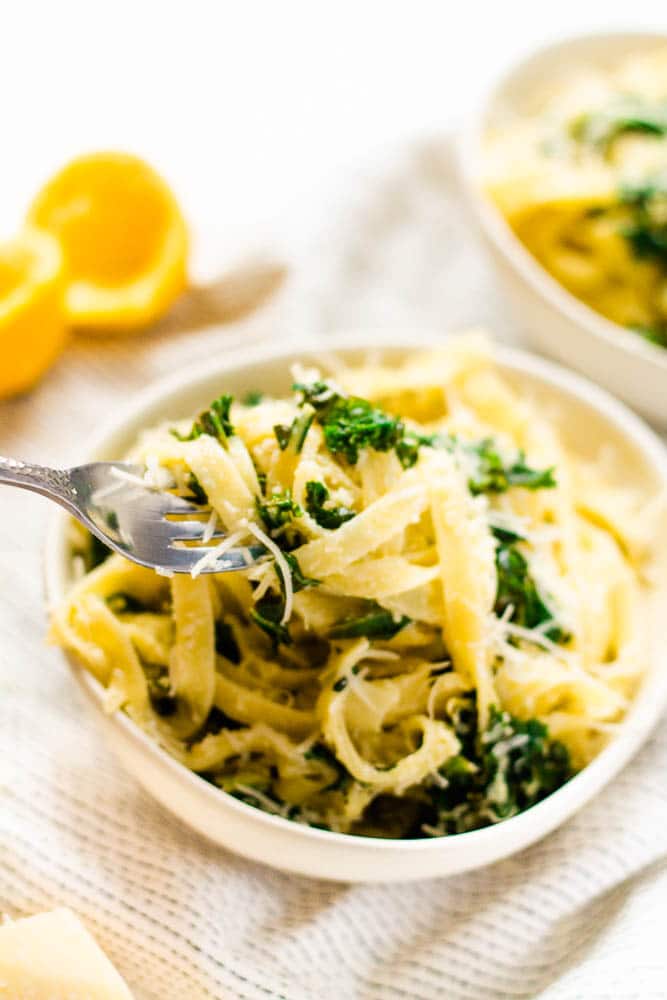 For the record here, I am using the term "noodles" the American way – which incorporates pasta into the term "noodle" – unlike in the UK where it only generally indicates Asian noodles like soba, ramen or egg noodles.
I've never been one to call pasta noodles, but for some reason the base recipe of this dish (pasta with butter, garlic and parmesan) is just ingrained in my mind as "parmesan noodles" so there we go.
The dish might usually incorporate a bunch of parsley for its speckles of green, but finely chopped sauteed kale is a great way to add some nutritional punch… while keeping the rest of the recipe classic and indulgent.
Important to say that this is not a healthy or lightened version of parmesan noodles, there is still lots of butter and cheese! It's just that we've added kale to add another dimension, for the sake of balance.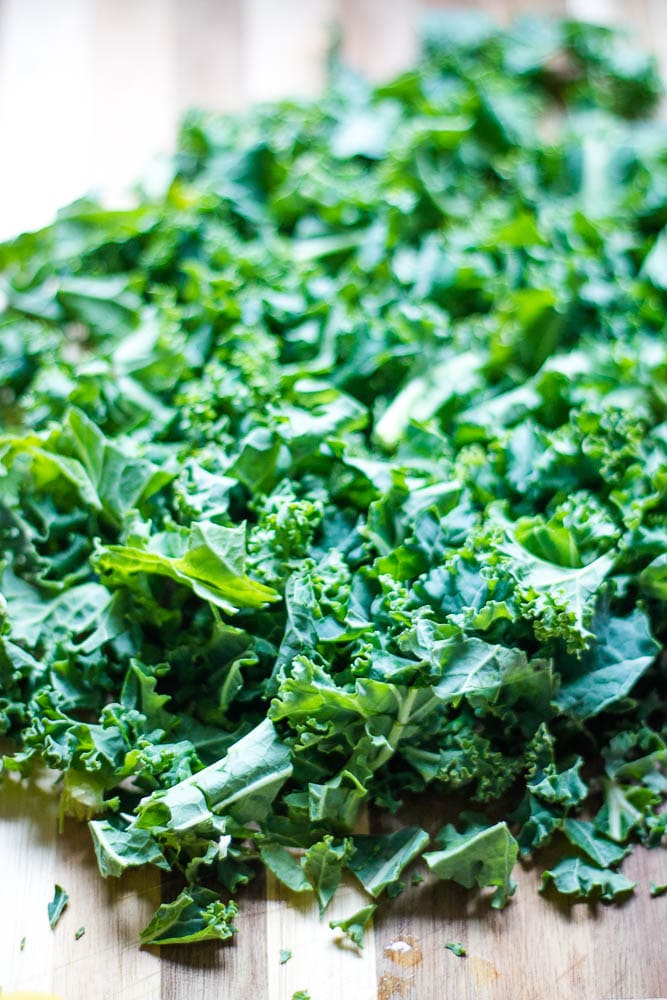 How to make parmesan kale noodles in just 20 minutes!
So this is how it works.
You get the pasta cooking. While it cooks, the kale is sauteed in lots of garlic and lemon juice. You grate the cheese.
You drain the pasta, add the kale plus butter and grated cheese, and away we go.
It will take longer if you need to spend some time prepping and chopping your kale. I used bagged kale, which was already very finely chopped, and just gave it a few more chops with the knife. You can also do a very quick pulse in the food processor. Or you can let the kale be bigger? There's really no problem with that.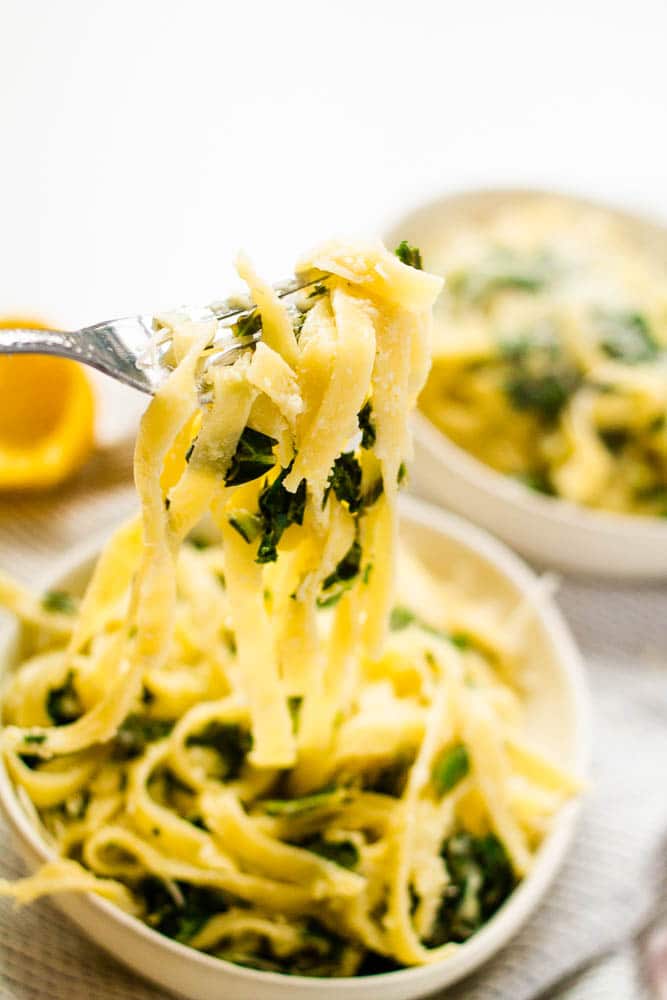 What are the best noodles / pasta shapes to use?
Classic parmesan noodles are made with long, thin pasta shapes like tagliatelle (which is pictured).
I've enjoyed making this dish with all sorts of different pasta shapes like Mafalde and Fusilli Lunghi Bucati. It's super flexible.
You'd have no problems transferring the recipe to a short pasta too. Something like orchiette or normal fusilli would be deeeelicious.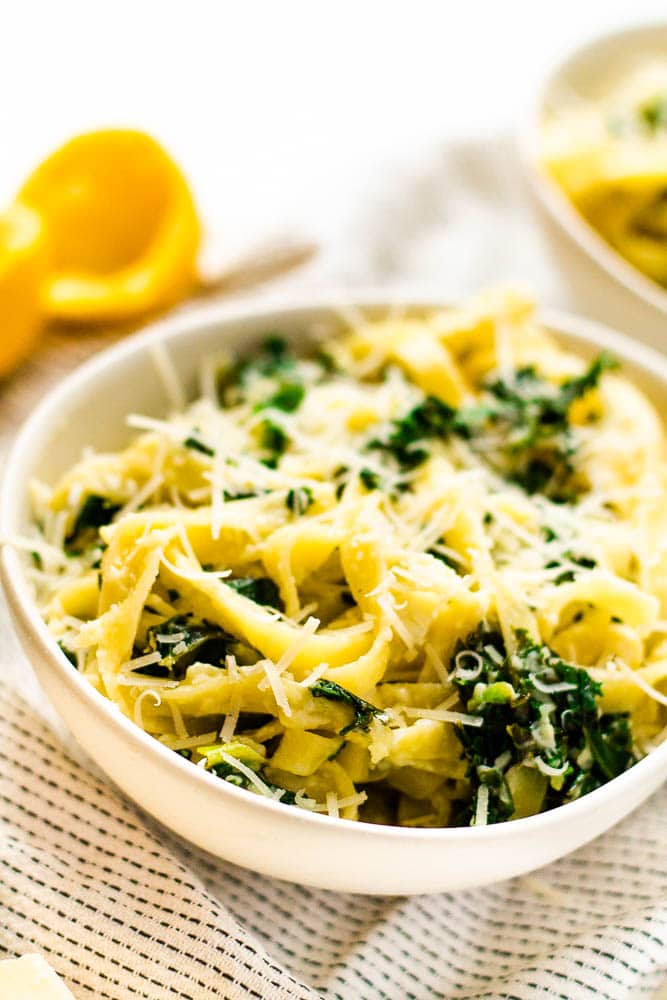 Serving Suggestions for your Kale Noodles
This is easily a satisfying comforting meal in itself – but you can build on it if you have more time.
Add some roasted cherry tomatoes or roasted mushrooms on top. Roasted anything, probably.
Use it as a side dish for a more protein heavy meal
Add some peas or other green vegetables to increase it's nutritional creds.