A decadent twist on the classic pasta alla vodka sauce. The addition of blue cheese adds a whole new dimension of richness and flavour. Save this one for date night!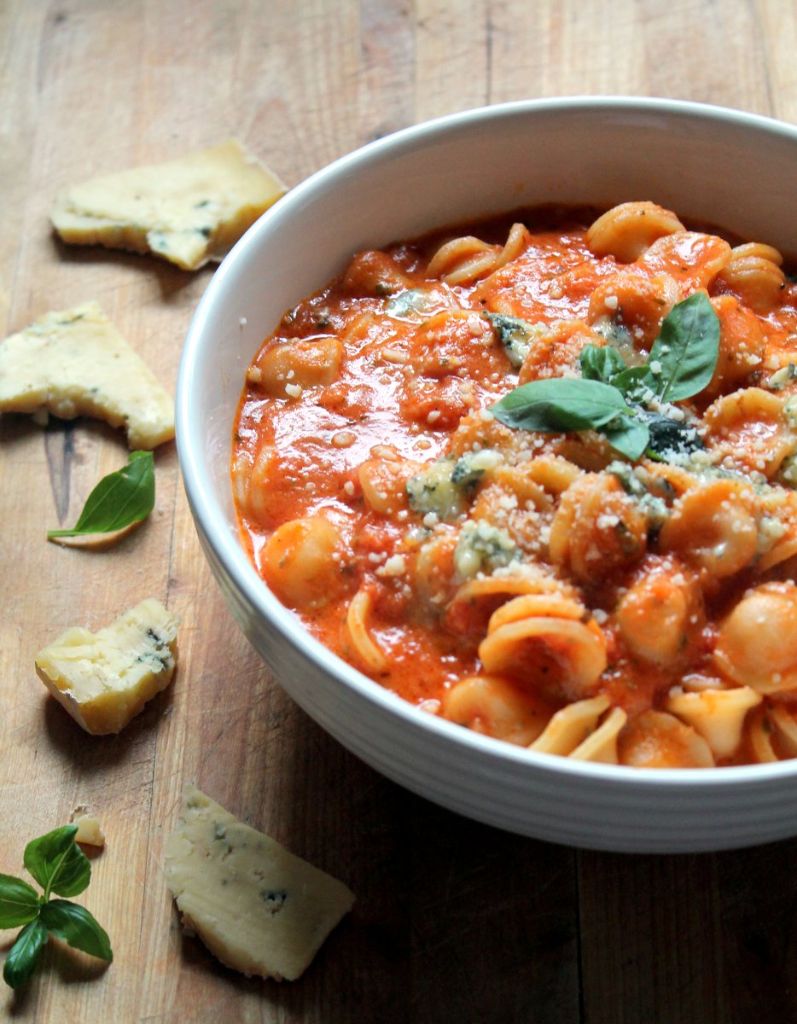 I am a real believer that a great tomato sauce needs no cheese or cream or fatty stuff added to it, and that the tomato and herbs can be an intoxicating combination all on their own.
But that is not where we are headed today.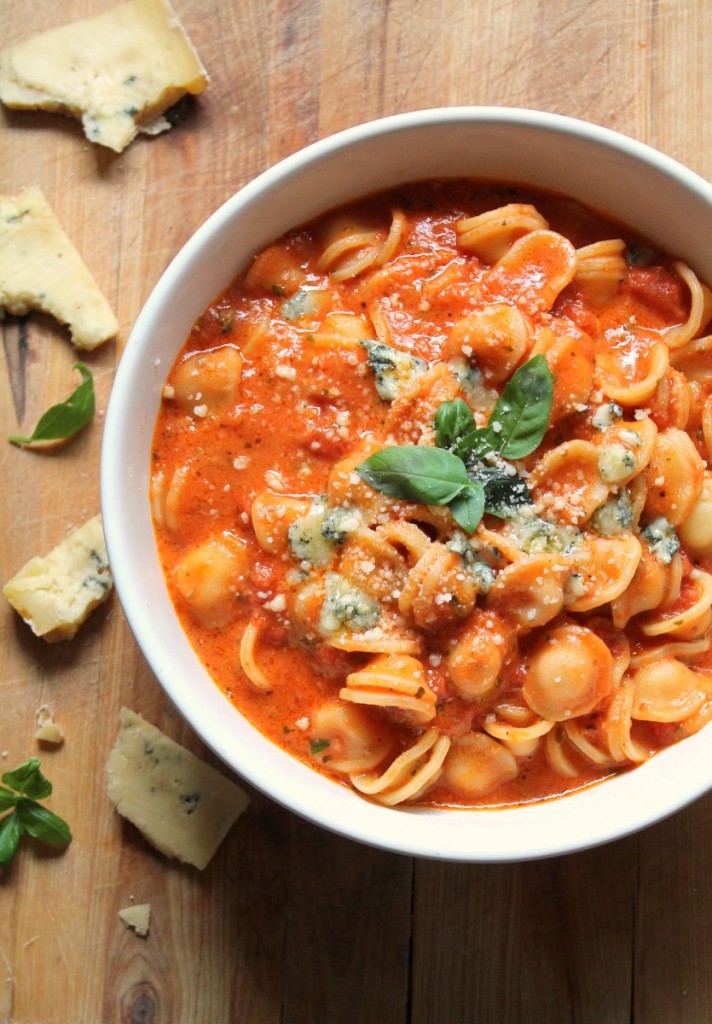 Today we have tomato sauce with a little cream and two different cheeses.
I'm not even sorry.
Because another one of my beliefs is that a lot of good cheese is wasted in dishes that don't really need it, and you should only add cheese when it will have a chance to shine. Otherwise it's just a waste of fat and calories, right?
But in this twisted pasta alla vodka, it absolutely earns its place.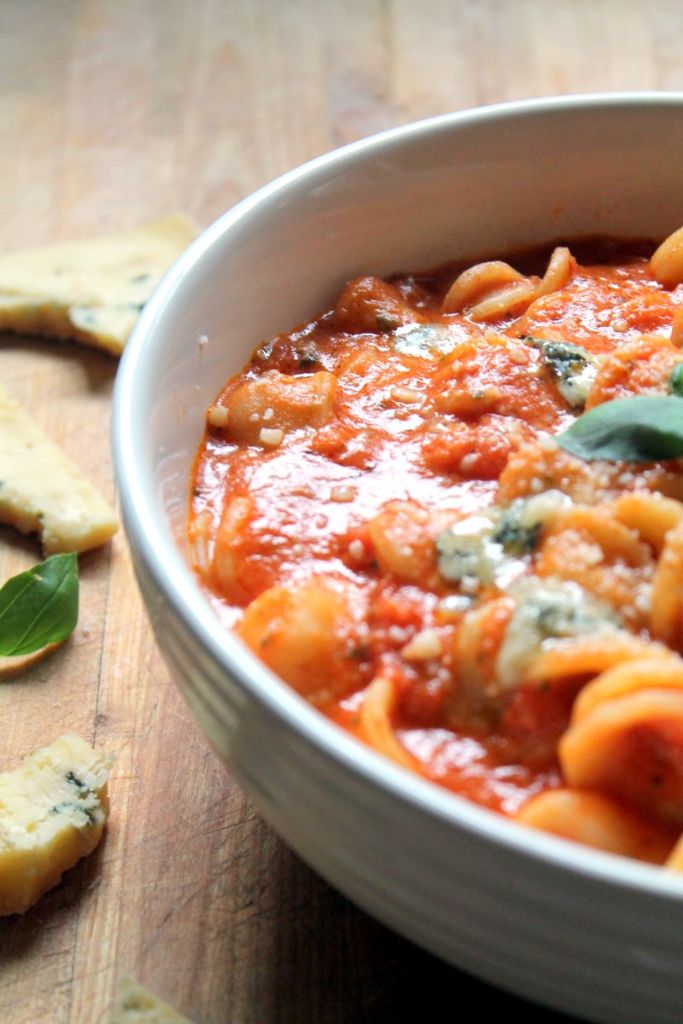 The blue cheese and parmesan really bring something special here, and if you have never tried a tomato sauce with blue cheese, you will be wondering where this combination has been all your life.
If you're on a diet, you could hold the cream. We usually do, to be honest- and it's still awesome.
And/or eat a small bowl, and have a big side salad. We usually try to do that. But oh, how we fail.
The evolution of this recipe is pretty straightforward. I tried and loved pasta alla vodka many years ago, and it's been a staple in our home for a while (though we usually make the vegan version from Veganomican with almonds instead of cheese and cream, which I'd highly recommend for a day when you've decided not to indulge in the dairy!)
Then one day I tried the Pinoeer Woman's Pasta with Tomato-Blue Cheese pasta. Also good.
Combining the two concepts? Perfection.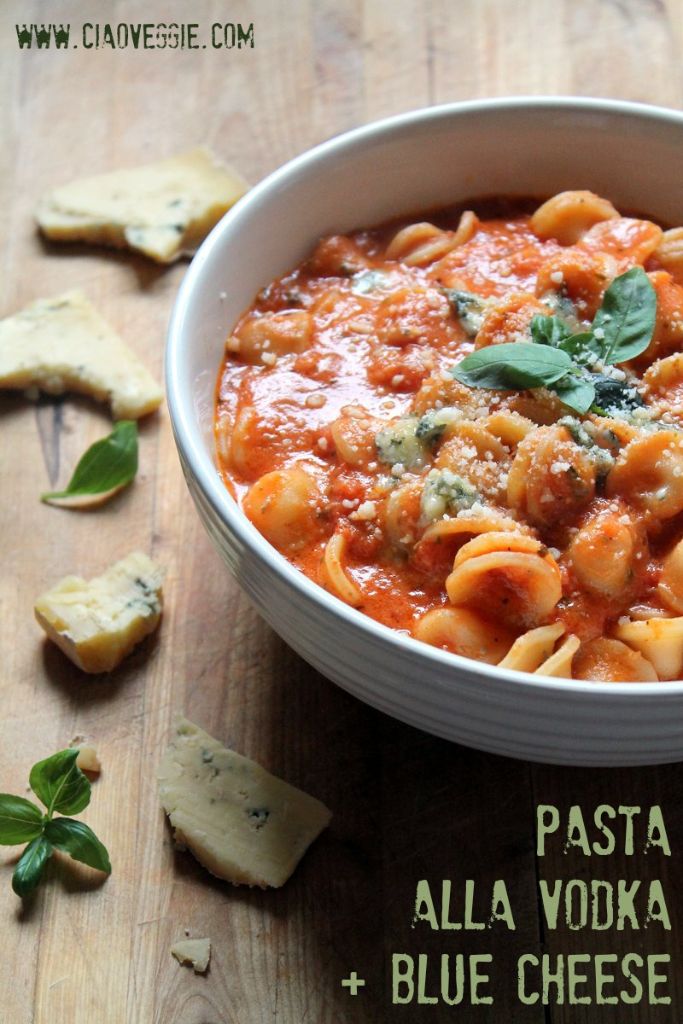 You can make this a spicy sauce by increasing the chili flakes to a full teaspoon, if you are into that. I've tried this with a full teaspoon of smoked chili flakes and it was yummy, but generally I'm a fan of a milder sauce, so 1/4 teaspoon is about right.
Traditionally vodka sauce is paired with penne, but it works well with any pasta- I especially love orecchiette. Cooked al dente, it has a great bite and the little ears pick up pockets of sauce.
So- you may need to seek it out- but its definitely out there, and you should give it a try if you can!
pasta alla vodka and blue cheese
Ingredients
500g of dried pasta- I used orecchiette
For the sauce
6 garlic cloves
1 tsp dried basil
1 tsp dried oregano
1/4 tsp red pepper flakes (more if you want some spice in it!)
1/2 cup of vodka
2 400g (14oz) cans of crushed tomatoes
1 cup of plain passata / tomato sauce
225g / 8oz blue cheese (I used Stilton)
1/4 cup of cream
1/4 cup of grated parmesan cheese (I used Aldo Zilli's hard Italian cheese)
A couple handfuls of chopped fresh basil
Instructions
Gently fry the garlic, dried herbs and chili flakes over a low heat until fragrant, 1-2 minutes. Be careful not to let the garlic brown or burn.
Add the 2 cans of crushed tomatoes, tomato sauce and vodka.
Simmer on low heat for around 1 hour. If you don't have time, it's OK to skip this part, but give it as long as you can.
Add the blue cheese and stir in until fully melted.
Add the cream and parmesan.
Now is a good time to start cooking your pasta
Keeping the heat low, simmer for another 10-15 minutes, or as long as it takes your pasta to cook to al dente.
Add the fresh basil and salt and pepper to taste, before mixing into the pasta.
Some bonus pics now, just for fun…