A quick and easy meatless bolognese recipe that uses nothing more than minced roasted vegetables as its base. You won't believe how flavorful and luxurious this sauce is with minimal ingredients required! It's so cheap and easy to make, plus it's vegan and soy free.
Whatever your diet, I consider spaghetti bolognese to be one of life's essential recipes. Which is why this is my third take on meatless bolognese. We've done it with lentils and we've done it with roasted chickpeas.
And every time I think I've nailed the best approach to vegetarian bolognese, I surprise myself by finding something just as great. Seriously guys, the world is positively blessed with veggie bolognese options.
So today we make our bolognese with nothing but the vegetables.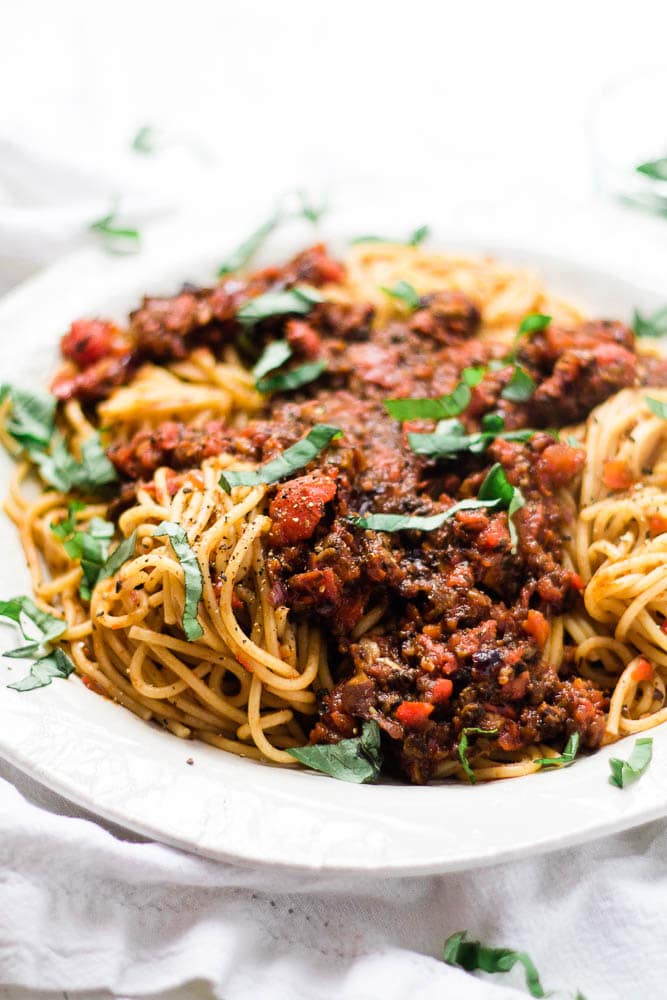 Seriously though. I've seen this concept a few times before – pulsing vegetables in the food processor to create a "minced" texture. And it's a great idea. It keeps things lighter and it packs in more vegetables without being too, I dunno, vegetabley? Some people don't love big chunks of veggies in their sauce — creating a veggie mince will neutralize that and create the thick and consistent texture that everyone appreciates in a bolognese.
So I like this idea and all, but it was never my favorite… until I decided to try roasting the veggies first. And now I am here to inform you that it works a zillion times better this way.
When you make mince from uncooked veg, it's tasty, but it's definitely a light veggie based sauce. When you make mince from roasted veg, some magic happens.
We all know roasted vegetables have a lot more flavor. Especially here, roasted with a generous amount of seasoning and a balsamic drizzle.
And some veggies, when roasted, get tougher so will retain more texture once they're minced up, which helps keep that sauce feeling substantial and meaty.
But I think the real kicker is that roasting your veg means lots of olive oil is joining the party. So those minced veggies actually bring their own richness, which mimics the way that meat fat would enrich the sauce in a traditional bolognese. For me, this is the something special that was needed.
It's pretty close to perfect in my books.
If you are on a budget, this recipe is a great choice. Your ingredients list isn't long, isn't expensive, and doesn't need to be top of the range.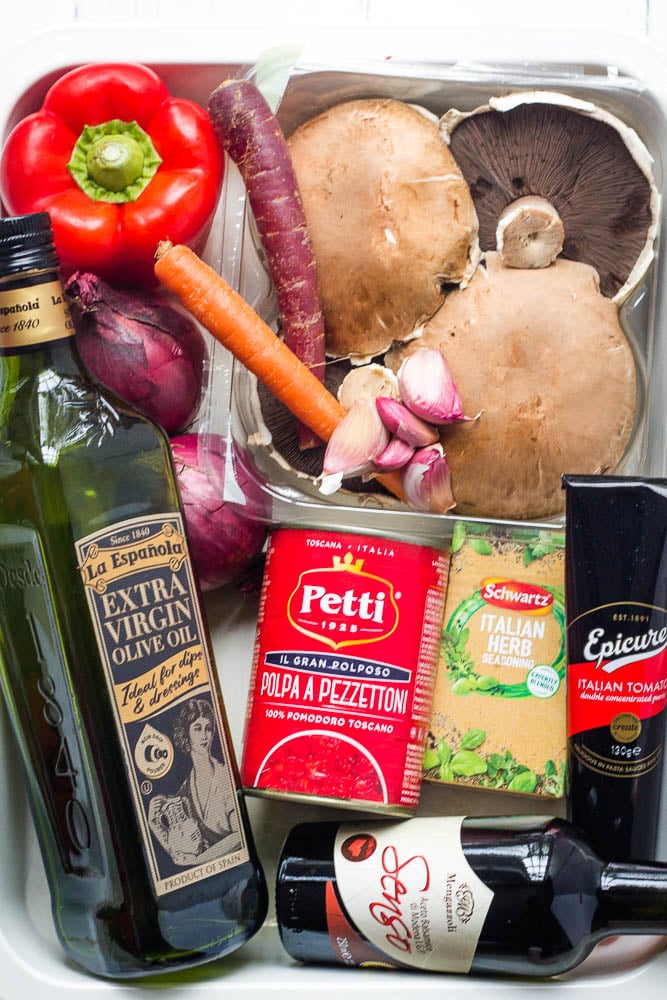 Your vegetables don't need to be organic or super fresh. So much flavor is brought out through roasting them, it's really no biggie if your starting point is the economy range, the back of your fridge past its best, or both. S'all good.
We also don't really need the "extras" my other bolognese recipes call for (such as wine or sundried tomatoes) because the roasted vegetables just do it all. They're enough. We quit while we're ahead with this one.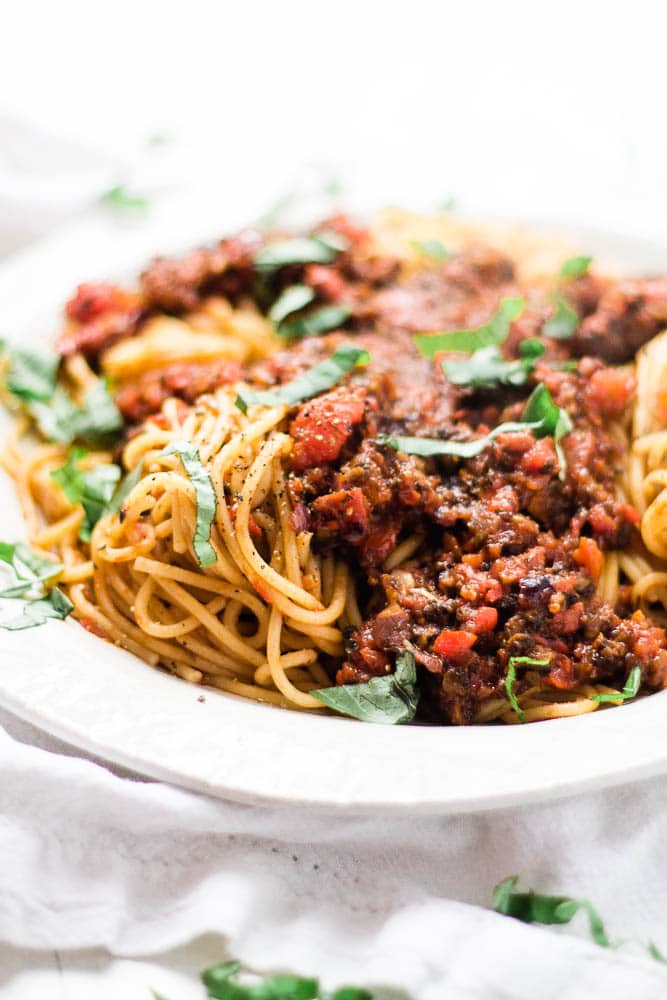 Granted, I like to use my more expensive canned tomatoes for this, but it wouldn't be essential. If your tomatoes are budget versions you will be fine. You could add a little sugar, and be generous with salt and cooking time if you're worried. I am still confident it will be delicious for you.
How to make it – A visual run through
The full printable recipe card is just below, but here it is in pictures: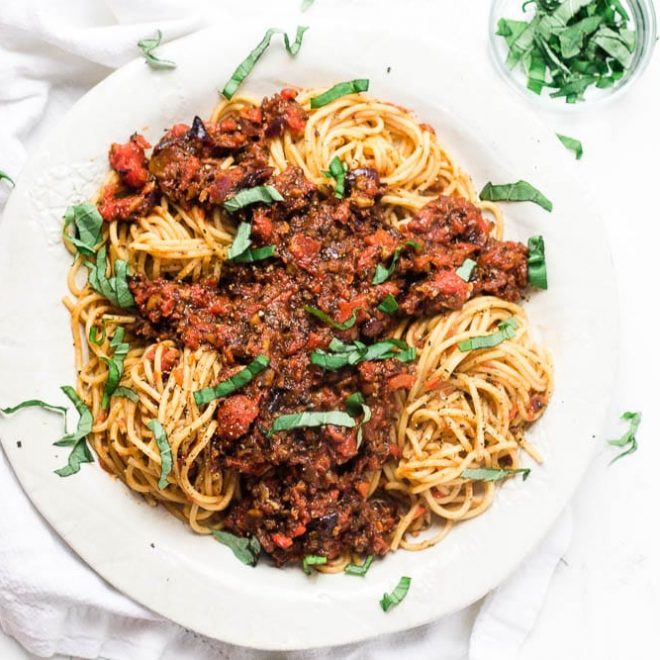 Roasted Vegetable Bolognese
A quick and easy meatless bolognese recipe that uses nothing more than minced roasted vegetables as its base. You won't believe how flavorful and luxurious this sauce is with minimal ingredients required! It's vegan, soy free and economical.
Ingredients
4 portobello mushrooms, sliced
1 red pepper, sliced
1 large red onion, sliced
2 small or 1 large carrot, halved lengthways
3 Tbsp Olive oil
1 Tbsp Balsamic vinegar
4 cloves garlic, minced
2 tsps Dried Italian herbs
2 Tbsp Tomato puree
400 g (14 oz) Tinned tomatoes
300 g (10.5 oz) dried spaghetti, to serve
Instructions
Preheat your oven to 200C / 390F. On a large baking sheet, lay out your mushrooms, peppers, onions and carrots. Drizzle with olive oil and balsamic vinegar, then season with salt and pepper. Roast for 35 mins.

Once finished, allow the roasted vegetables to cool for about 5 minutes. They don't need to be cold, but we don't want them to let steam out in the blender which would encourage the mixture to puree.

Now add the vegetables to the food processor and pulse until finely minced. Do not leave the motor running – just use the pulse button for short durations and make sure the mixture is churning properly so that it doesn't start to puree at the bottom.

In a large saucepan (or a shallow casserole dish that can be used on the hob / burner), heat another glug of olive oil and sauté your garlic for a few moments until soft and fragrant. Add the vegetable "mince" and the dried herbs. Sauté constantly, being careful not to let any stick to the bottom, until the garlic and herbs are well mixed in.

Add the tomato puree and continue to sauté and stir until it's all mixed together before adding the canned tomatoes.

Allow to simmer on a very low heat while you prepare your spaghetti according to package instructions.

Serve!
Notes
This makes a fairly small quantity, just about enough for 3 adults or 2 adults and 2 children, but if you want to scale it up go ahead! I would just suggest in that case that you mince the roasted vegetables in batches (depending on your food processor – mine wouldn't cope with a double batch at once but some might?) As is usually the case, this tastes even better the next day so is suitable for making ahead. It also freezes well – just use within 6 months.
Serving: 1g, Calories: 357kcal, Carbohydrates: 49g, Protein: 10g, Fat: 15g, Saturated Fat: 2g, Polyunsaturated Fat: 12g, Sodium: 181mg, Fiber: 7g, Sugar: 11g