This tasty vegetarian and vegan green lentil bolognese is the perfect weeknight dinner, packed with veggies and green lentils in a rich tomato sauce. This bolognese sauce is kid friendly and sure to win over anyone who tries it.
I've made this lentil bolognese, like, a bajillion times in the last year. What is not to love about a big heaping bowl of spaghetti bolognese?
Step away from the meat subs though, because a can of green lentils is every bit as easy to pull out of the cupboard as a bag of faux meat crumbles.
And with so many more nutritional benefits.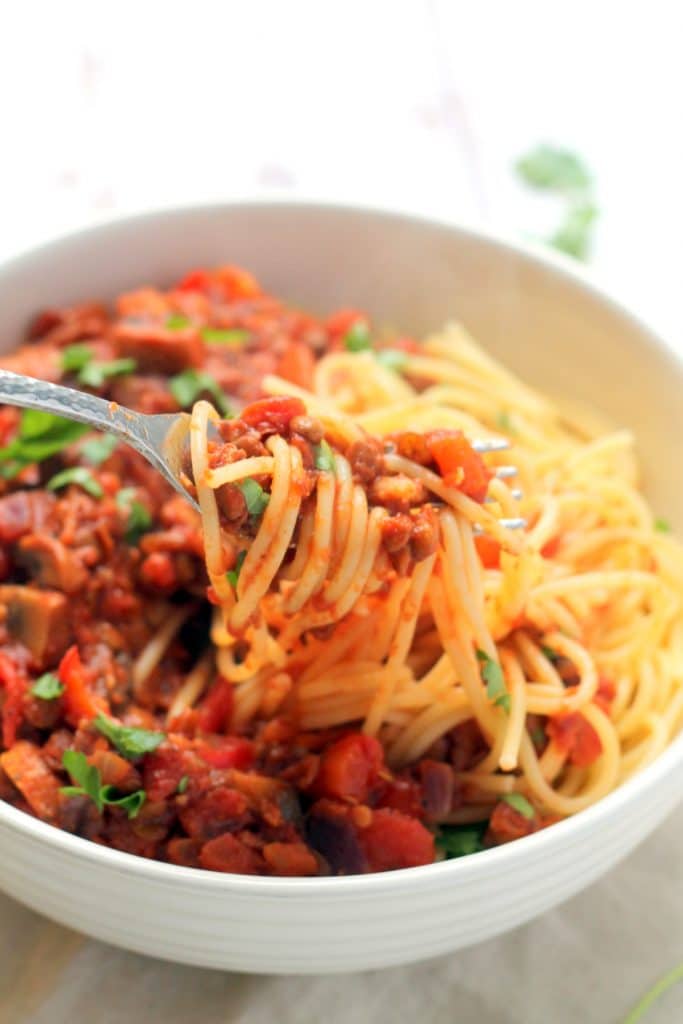 A quick and easy tomato sauce can be hard to get right, and I've made several iterations that were just OK. Lentils are relatively flavorless and so you do need a lot of flavor boosters to make this super tasty.
That's where the red wine, vegan Worcestershire sauce, cherry tomatoes and sundried tomato paste all come into play. They all help to create a nice flavorful ragu in just around an hour.
An hour is really the quickest I could manage for a really great tasting sauce.
You're going to take your time cooking the veggies first, getting them a little bit browned and caramelized, to get as much sweetness as possible from those onions, peppers and carrots.
You'll then add your tomato paste and wine, and let that cook down for a few minutes before stirring in the canned tomatoes and letting it all simmer for a while longer.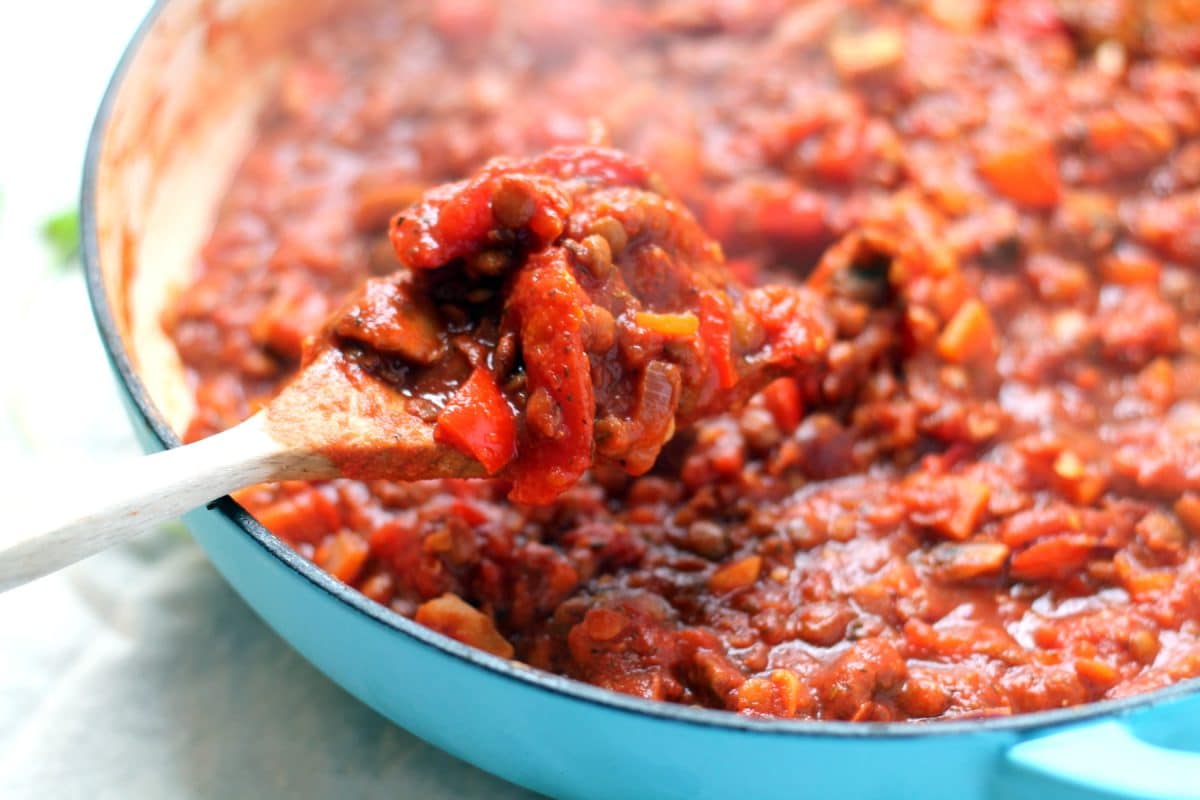 If you don't have all of these fancy schmancy ingredients…
So you want to make a tasty lentil bolognese but you don't want to go buying sundried tomato paste or canned cherry tomatoes or vegan Worceshire sauce, and you came to me because you wanted something simple, dammit.
Yep. Gotcha.
I use all these things to make sure the bolognese comes out super yummy in the hour or so it takes to cook it. But another way to achieve great flavor is to simply make your lentil bolognese the day before.
Because like all tomato based sauce, this tastes so much better the next day. A night in the fridge really helps the flavor to develop.
So if this is your plan, go ahead and leave out anything you don't have / swap in normal tomatoes / tomato paste, and don't worry too much.
It's going to be great.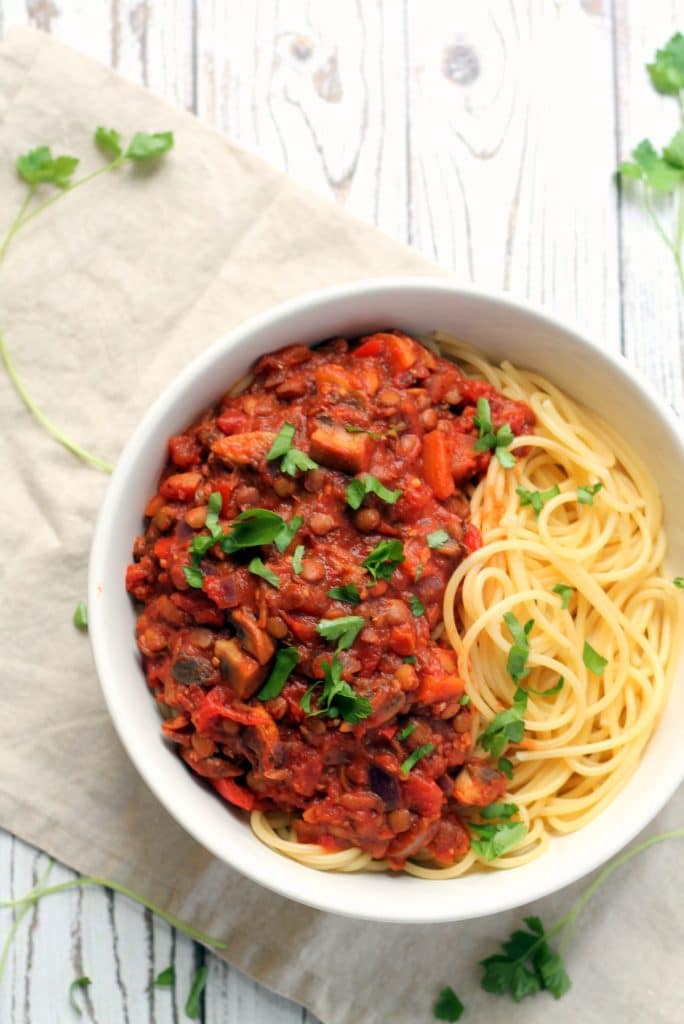 Do I need to add wine to my bolognese?
The wine is a huge source of flavor in this recipe. And after many tests, I have to conclude that it definitely tastes better with the wine.
If you're making this for kids, you may be wondering whether it's safe to include. That is an entirely personal decision, but with just 1/4 cup of wine in here, and 6 portions per batch, there are only 2 teaspoons of wine in each serving.
And one precaution is to let it simmer for at least an hour to maximize how much alcohol is cooked out.
If that doesn't sound like enough wine, well go right ahead and double it! This is a decision you will not regret.
(If you love cooking with booze, can I also point you towards my Baileys chocolate pots for dessert?)
There's more where this came from!
Love family friendly pasta recipes? Of course you do! These might float your boat too – I've got a couple other takes on spaghetti bolognese, and a couple other lentil pasta ideas too.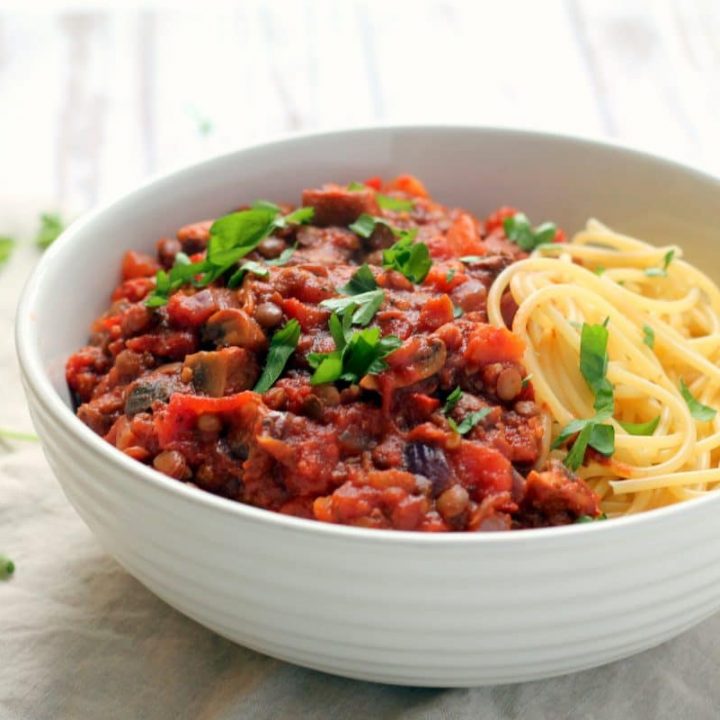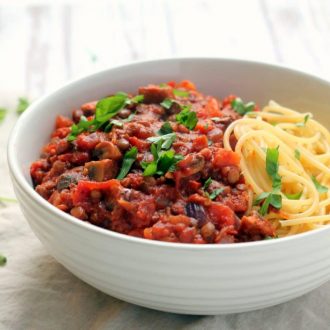 Green Lentil Spaghetti Bolognese
This tasty vegetarian and vegan green lentil bolognese is the perfect weeknight dinner, packed with veggies and green lentils in a rich tomato sauce. This bolognese sauce is kid friendly and sure to win over anyone who tries it.
Ingredients
1 small carrot, chopped into small pieces
½ medium red onion, minced
1 red bell pepper, chopped into small pieces
250 g (9 oz) portobello mushrooms, sliced
5-6 cloves garlic, minced
1 Tbsp mixed Italian dried herbs
60 ml (0.25 cups) red wine, (or a splash of balsamic vinegar)
2-3 tsp vegan Worcestershire sauce, or 1 Tbsp of something like mushroom ketchup / brown sauce
400 g (14 oz) can of green lentils, drained and rinsed (if you're not using canned, it's about 1 and 1/2 cups of cooked lentils)
4 Tbsp of tomato paste
2 Tbsp of sundried tomato paste
400 g (14 oz) can of whole plum tomatoes
400 g (14 oz) can of cherry tomatoes
500 g (18 oz) package of dried spaghetti
Instructions
In a large skillet or pan, heat some olive oil and saute your carrots, onion and peppers until soft.

Add the mushrooms and continue to saute all of the vegetables until they are starting to brown, and the liquid from the mushrooms has mostly cooked off.

Add the garlic and herbs and and cook for another minute until fragrant.

Add the tomato paste and Worcestershire sauce. Mix into the vegetables, then pour in the wine and let the mixture bubble and reduce for a few minutes.

Add the lentils and stir through.

Add both cans of tomatoes. Bring to bubbling, and then simmer for about 30 minutes more.

Cook your spaghetti according to package instruction.

Serve. Spoon spaghetti into each bowl and top with a few ladles full of bolognese sauce.
Notes
If you aren't making this recipe vegan, add some butter while simmering – it will also help to bring out the flavors. If you're not using the wine, add a splash of balsamic vinegar and a bit of water if the mixture is too sticky in Step 4.
Serving: 1g, Calories: 636kcal, Carbohydrates: 115g, Protein: 35.5g, Fat: 3.8g, Saturated Fat: 1g, Sodium: 524mg, Fiber: 9.2g, Sugar: 14g