Roasted Veggie Soba Noodle Bowl
A vegan noodle bowl without any stir frying! Simple peanut soba noodles topped with smoky oven roasted vegetables. This method of preparing your noodle bowls is so simple, stress free and flexible… perfect for a weeknight dinner catching up with your family.
Soooo I love oven baking my dinners. I love the flexibility it gives me on timescales, and the fact that I get downtime within the cooking process.
Much like my oven baked tacos recipe, this noodle bowl doesn't save any time versus making stir fried noodles. In fact it takes a bit longer, but it's so much more chill.
For me, preparing a stir fry alongside noodles is a logistical pain. I don't multi-task well! So this recipe is a new favorite.
I made these noodle bowls a couple of times recently, just for Mr. Veggie and I after the toddler was in bed.
We usually eat with her but sometimes we wait and, well, it's kinda nice to be able to cook the way I used to, with a glass of wine in hand and the ability to hold down a conversation while chopping and pottering about.
So I really appreciated the chill factor here. It took a while to make, but I did everything slowly, taking time to sip my wine and chat. And at the end, a perfectly turned out dinner.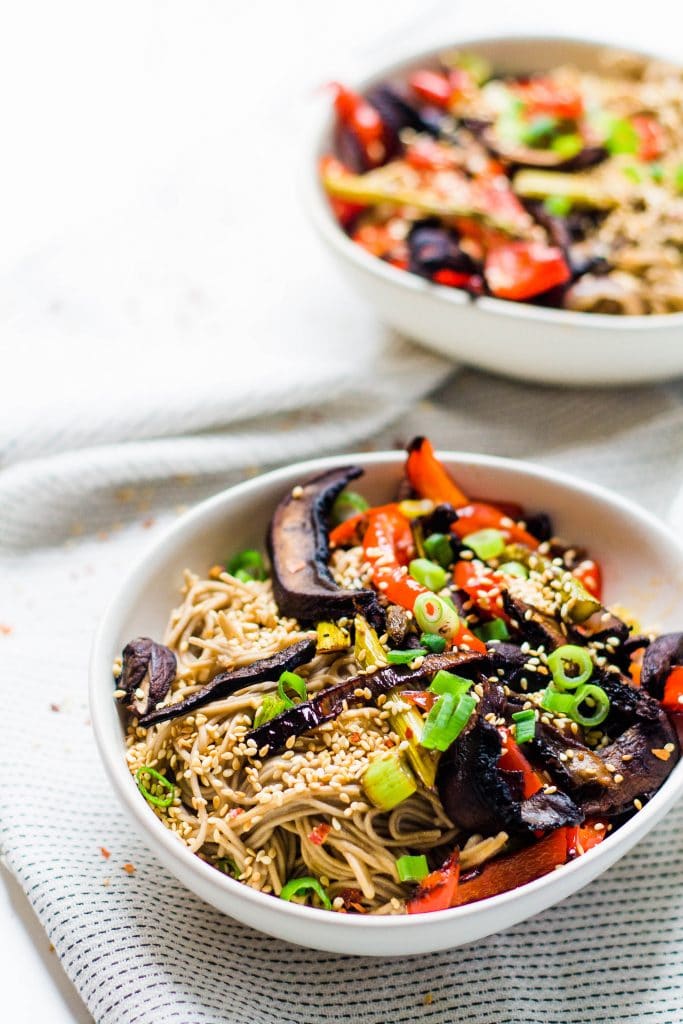 But it isn't just the workflow that benefits from the use of oven roasted veggies. The flavor is amazing!
The veggies are covered in smoked salt and toasted sesame oil, left in the oven long enough to slightly caramelize, and then deglazed with a little wine.
So you know that's gonna taste good.
How to make these Roasted Veggie Noodle Bowls
Let's take a quick look.
You'll put all your sliced veggies on a baking tray, drizzle with smoked salt and toasted sesame oil.
Meanwhile you'll prepare your soba noodles and a simple sauce, and toast your sesame seeds.
When your veggies come out of the oven all caramelized, you will pour a little wine over the pan to moisten everything up again and unstick anything that stuck to the bottom.
Then you'll plate up! Noodles, veggies, sesame seeds and green onions. And dive right in.
Variations on your noodle bowl
I used mushrooms, peppers and asparagus for my veggies. But don't worry too much about following the recipe. Just put a bunch of veggies on a sheet pan and you can't go too wrong. Eggplant would be great in this.
I used soba noodles, which keeps the dish nice and vegan, but egg noodles or udon noodles or any noodles are welcome here!
Want to add some protein? Throw some tofu or faux chicken on that pan, or add some toasted cashews.