Cheesy Vegetable and Brown Rice Pot for Babies
A healthy and warming brown rice meal for babies that cooks easily in one pot! This has an amazing flavor and a soft but sticky texture that baby can manage from a spoon, or fork, or their hands. {Textured baby food + Baby led weaning.}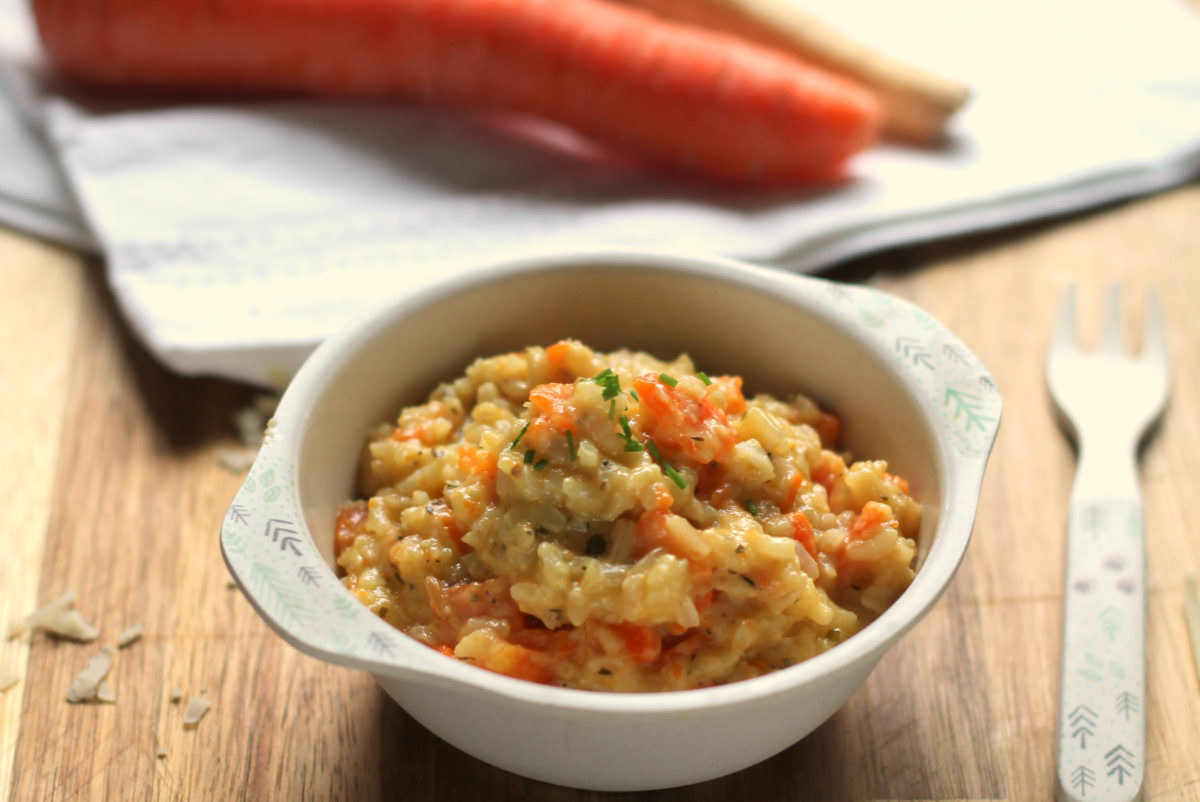 Rice has been a wonderful food to introduce to our baby Odette. She absolutely loves it's fairly soft texture, and the control it gives her; she can decide exactly how much she picks up with her hands or bites off her fork.
She eats rice often and I like to give her a mix of brown rice, white rice and arborio, depending on the dish, so that she can experience all of the different textures and benefits of each.
How to make this rice pot…
This meal is super easy. You'll sauté some veggies and herbs and then cook the brown rice right in the same pan. Since brown rice takes a while to cook, those veggies boil for a long time so they turn super soft.
You'll mix it all together so the veggies break up, and melt cheese in so that it becomes moist and a little sticky.
Since the vegetables cook in the same pan as the rice, all of the flavor (and nutrition) stays in. It's as if the rice were cooked in vegetable stock, but with no salt.
I was shocked by how flavorful this dish was considering how few ingredients are present.
The texture of this dish is very flexible and works for a range of babies.
You can also spoon feed this to your baby as a Stage 2 / Textured baby food.
It's perfect for babies who like to self feed with their hands or follow baby led weaning. A baby with a pincer grasp can easily pick up small bites to feed themselves. A baby without a pincer grasp can grab a sticky handful and shovel it in.
It is also great for older babies or toddlers who are learning to use utensils because it sticks so easily to them.
If you have an extremely good blender or baby food maker, you could puree it as an early baby food. (Mine would never get rice smooth enough, so only do this if your blender has proven itself!)
This is one of the baby food recipes that I couldn't stop eating myself, in fact it would make a great side dish for the whole family if you want to double the recipe!
Some variations on this rice pot for babies
Try with other veggies! Squashes, sweet potato or broccoli would work well here.
Add some chopped garlic along with the mixed herbs for added flavor.
Substitute a little bit of the brown rice for red lentils. The lentils will puree and add some extra creaminess to the sauce.
Once your baby can handle more texture, add some beans or peas at the end of the cooking time.
Storing your leftover brown rice meals
These freeze well for up to 6 months in baby food containers. They will continue to serve you well as your baby gets older.
For a toddler, try 1-2 cubes of this rice pot with some of their favorite veggies and fruit on the side.