Simple Spaghetti Caprese
A 15 minute spaghetti caprese recipe, perfect for weeknight meals! If you love the combination of fresh juicy tomatoes, mozzarella and basil, this will become your new favorite simple spaghetti recipe and a go-to for your busy evenings. Everything can be prepared while the spaghetti cooks, making it quick and easy to get a fresh and healthy dinner on the table.
Summer. Is. Coming! And I am jumping the gun a little with this recipe, but I just needed to break up the comfort food and roasted stuff with a little look ahead at summertime eating.
Oh yes. It's going to happen. The days will get long, cherry tomatoes will be back in season, and we will be eating dinner outdoors again. And when that happens, this ridiculously simple Spaghetti Caprese will be on the menu. A lot.
It is well established that I love the combination of fresh juicy tomatoes, fresh mozzarella and basil. The simple caprese salad is one of the best things you can eat in the summer.
This recipe is a warmed up version of caprese salad, but with pasta! The perfect mix of refreshing and carby.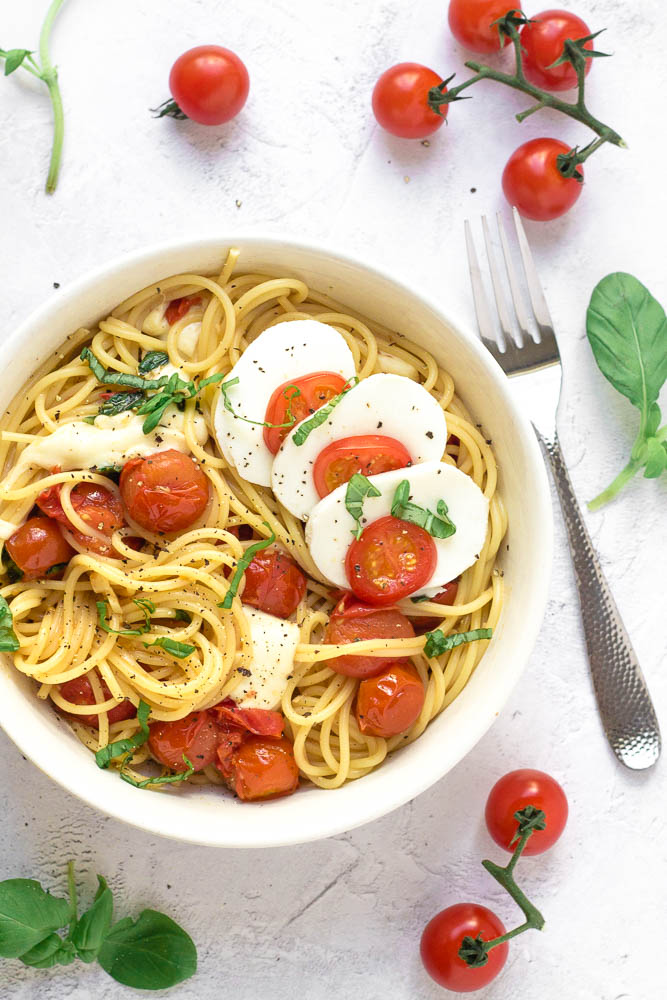 Now, don't be fooled by appearances. There isn't a sauce, per se, but the spaghetti strands are all coated in a delicious mix of olive oil, cherry tomato juices, garlic and white wine. Every bite is packed with flavor.
Now I'll give you my usual reminder: when it comes to cherry tomatoes, if they aren't in season, just get the best ones you can find.
I first tried this dish in early March, it wasn't exactly peak cherry tomato season and some of the cheaper options were just tart and yucky at that time of year. So I paid a little more for legit vine ripened cherry tomatoes and all was well.
And mozzarella? You need the fresh stuff. The kind that's stored in water. If you're feeling fancy, treat yo'self to buffalo mozzarella.
I lecture you about ingredients because this recipe only has 7! So they all need to pull their weight to bring out the maximum levels of deliciousness. I just want you to love this spaghetti like I do!
How to make this Simple Spaghetti Caprese in 15 Minutes
This is a magical recipe where everything can come together while the pasta cooks.
So here's a little run down (and I'll repeat everything in the printable card at the bottom of the post, but this is just to give you a quick visual).
While the pasta water boils, rinse your tomatoes, tear up some basil, chop some garlic and mozzarella.
(The water may be ready before you're done prepping. Go ahead and set the pasta cooking, and then carry on. You have time.)
While the pasta cooks, heat some olive oil in a pan and toss in your tomatoes.
Get them to start softening and bursting, then add lots of salt and pepper and garlic.
Once they're all jammy and opening up, pour in some wine. Let it bubble, unstick anything that was sticking to the pan, and mingle with the tomato juices to create a light sauce.
You can turn off the heat now.
Once the spaghetti is done, drain it and set it aside.
Now add the basil and mozzarella to the pan with the tomatoes and mix in. But don't mix for too long. We don't want the mozzarella to melt too much.
Add the spaghetti, toss until everything is just combined and the mozzarella pieces are starting to melt a little.
Done! Plate it up and slurp away.
See how easy that was?
Adaptations to this Spaghetti Caprese recipe:
If you don't want to cook with wine, you can substitute some broth for wine. Add a little balsamic to your tomatoes while they cook if you do this.
You can use baby plum tomatoes (grape tomatoes) instead of cherry tomatoes, no problemo.
If you're watching your carb intake, I see no reason this wouldn't work with zoodles / courgetti instead of pasta. That would be mighty healthy, in fact.
No fresh mozzarella? Just make the pasta with tomatoes and then spoon some ricotta on top.