Spiced lentils, beans and rice make for a hearty and filling vegetarian burrito! Smothered in avocado sauce and baked, this healthy and protein packed lentil burrito will be a definite crowd pleaser.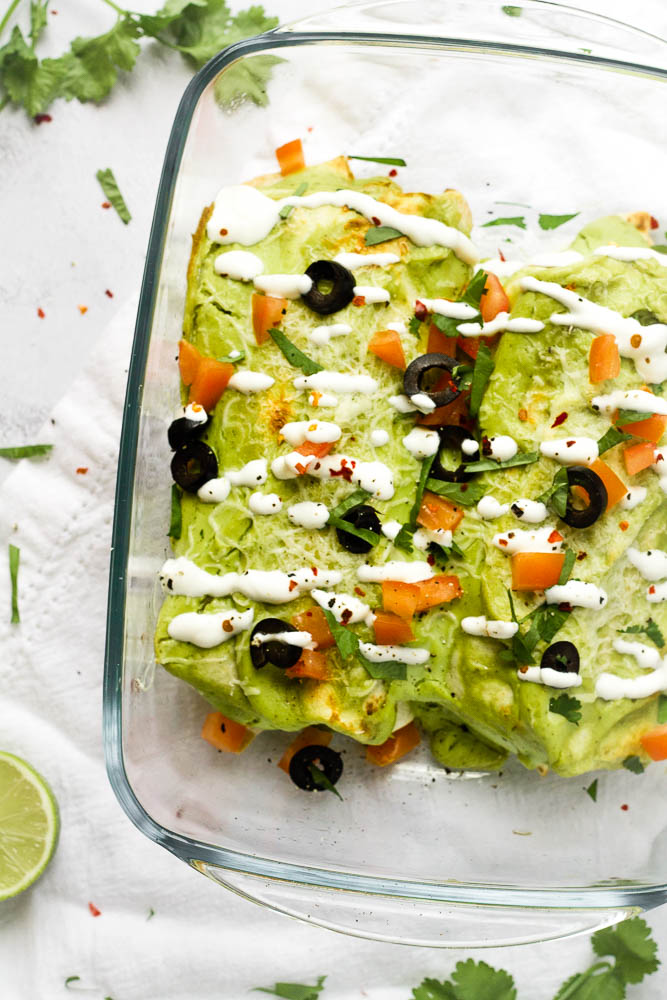 Ooooh, I think I am in LOVE.
These lentil burritos are the stuff of vegetarian dreams. Rice, lentils, black beans and cheese stuffed into burritos and then baked with a rich, silky avocado sauce.
They are full of healthy and affordable ingredients, and they are not too taxing to make (and I will talk you through some possible shortcuts), so there's no reason not to be enjoying smothered burrito goodness at home tonight.
Let's break this down further.
The Lentil Burrito
You know I LOVE to Mex up my lentils. Lentil tacos, lentil nachos, lentil quesadillas… it was just a matter of time before a lentil burrito showed its face around here.
Anything ground meat can do, lentils can do just as well, and that includes making a protein packed burrito filling.
If you'd told me ten years ago I'd talk about lentils this way, you'd have got some serious side eye.
But here we are. For the lentil burrito filling, I sauteed some canned green lentils with spices, beans and mushrooms. It's ready in no time at all and gives you enough for four burritos.
There are a bazillion ways you could customise the filling, too. Just take my recipe as a suggestion.
The Smothered Burrito
Sometime known as a "wet burrito", smothered burritos are generally covered in some sort of sauce and then baked for a little while. So it's like a burrito / enchilada hybrid in a way? Burrito sized, burrito-esque fillings, but baked in sauce.
For these lentil burritos, I opted for a creamy, tangy avocado sour cream sauce. It's thick and rich, and adds a little touch of luxury.
And a little extra cheese on top too, naturally.
Could it be any more perfect?
How to make Smothered Lentil Burritos
I've ordered many a smothered burrito in restaurants, but as it turns out, making them at home is incredibly easy. Once I got over my general fear of even trying to roll burritos.
In fact, those who shy away from the art of burrito rolling are especially encouraged to try smothered burritos at home. The sauce hides a multitude of sins. The two burritos in this pan are neither perfectly rolled nor even in size. WHATEVS.
So. You'll prepare your lentil and bean filling, cook up some rice, and grate some cheese.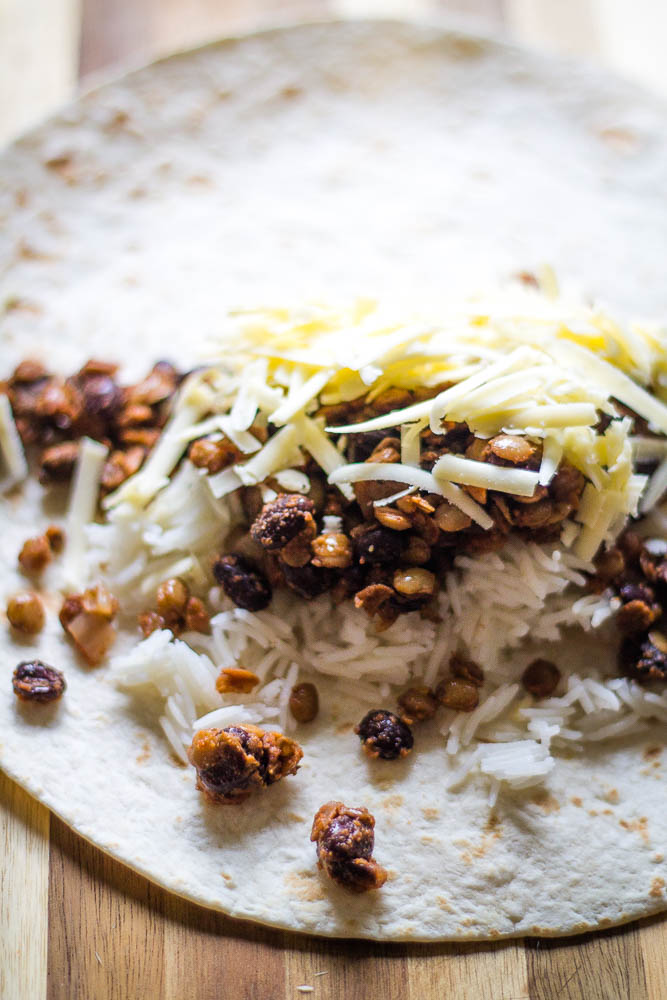 You'll scoop some of each onto a tortilla, then roll them into burritos as best you know how.
Today I am only making two, but remember, the recipe is for FOUR.
Prepare your avocado sauce in a hand blender or food processor. Use a spatula to cover the burritos in the sauce. You'll have a generous amount.
And then add some extra cheese on top for good measure.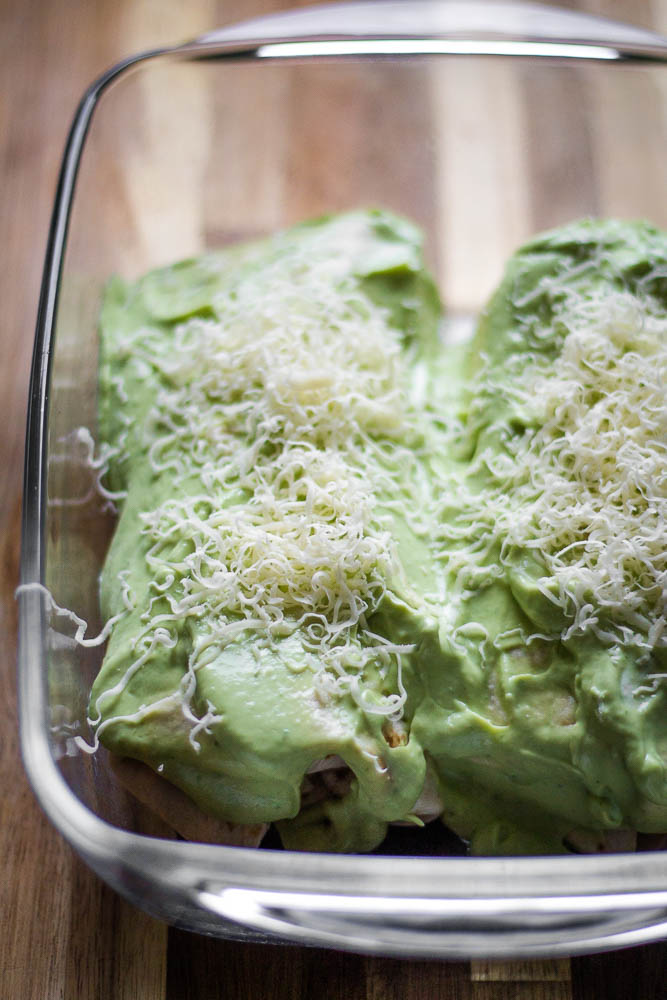 Bake for 20 minutes!
Some Shortcuts to Get These Burritos on the Table Quicker
As it stands, the burritos will take around 45 minutes to get on the table because you have to cook your rice (10-15 minutes) before you can assemble your burritos (5 minutes) and then still bake the assembled burritos for 20 minutes.
You could cut this down to closer to 30 minutes but you'd need to make these two adjustments to the recipe
You would buy a bag of microwave rice so it cooks in, like, two minutes.
You would simplify the lentil filling and prepare it cold. Dump your drained lentils and beans into a bowl and mix in a few teaspoons of packaged taco or fajita seasoning + 1 or 2 spoonfuls of either salsa or BBQ sauce (to give it all a little moisture). Now just spoon it into the burritos cold. It will cook nicely in the oven.
You could then have the rice, lentil filling and avocado sauce prepared in the time the oven pre cooks. And use the time it's cooking to prep all your toppings.
How Many Burritos are you Making?
Please note that the recipe is for FOUR burritos, even though my photos only show two. Sorry to confuse matters!
Halving the sauce recipe is easy, but it's not very practical to scale down the filling ingredients, using partial cans and trying to cook a teeny batch of rice.
So if you only want two, I suggest you just freeze half the rice and half the lentil mix for another day. In fact, I used my defrosted ingredients in the burritos pictured. They reheat very nicely.
Smothered Lentil Burritos
Spiced lentils, beans and rice make for a hearty and filling vegetarian burrito! Smothered in avocado sauce and baked, this healthy and protein packed lentil burrito will be a definite crowd pleaser.
Ingredients
4 large tortilla wraps
1.5 cups (300 g) cooked white rice, (If you are making from dried, you will be cooking 1/2 a cup – 90g)
½ cup (60 g) grated cheddar cheese, (this is conservative – use more if you like!)
Burrito Filling
1 can green lentils, rinsed and drained
½ can black beans, rinsed and drained
1 shallot, finely minced
3 oz (100 g) mushrooms, chopped very small
1 Tbsp tomato paste
Juice of 1/2 a lime
1 tsp smoked paprika
1 tsp garlic salt
½ tsp coriander
½ tsp cumin
Avocado Sauce
2 avocados
Juice of 1 lime
¼ cup (60 ml) sour cream
¼ cup (60 ml) water
2 cloves of garlic
10-15 cilantro leaves
Toppings
1-2 small tomatoes, deseeded and finely chopped
6 olives, sliced
Additional sour cream, to taste
Salt, pepper, chili flakes
Chopped cilantro
Instructions
First, prepare your burrito fillings. Set your rice to cook according to package instructions, and then move on to the lentil filling while that cooks.

In a frying pan or skillet, saute your shallot and mushrooms until soft. Add the spices, and then the lentils, beans, tomato paste and lime juice. Saute until everything is nicely combined. Remove from the heat.

Prepare your avocado sauce. Puree all ingredients in a blender, hand blender or food processor.

Once the rice has finished cooking, you can assemble your burritos. Spoon 1/4 of the rice, 1/4 of the lentil filling and 1/4 of the cheese into each burrito and roll them up.

Oil a casserole dish and place all of the rolled burritos in it. Pour the avocado sauce on top, and use a spatula if needed to smother the sauce all over the top and sides of each burrito.

Scatter some extra cheese on top if you wish – this is optional.

Bake in the oven for 20 minutes at 180C / 360F.

Serve with toppings of your choice!
Serving: 1g, Calories: 831kcal, Carbohydrates: 93g, Protein: 33g, Fat: 39g, Saturated Fat: 13g, Polyunsaturated Fat: 20g, Cholesterol: 63mg, Sodium: 1789mg, Fiber: 17g, Sugar: 14g