Quick and easy oven roasted paneer tacos! The Indian cheese paneer makes for an amazing meatless taco filling, roasting beautifully in the oven in a BBQ taco glaze, then topped with an avocado mango salsa. This delicious and unusual fusion meal comes together in just 30 minutes.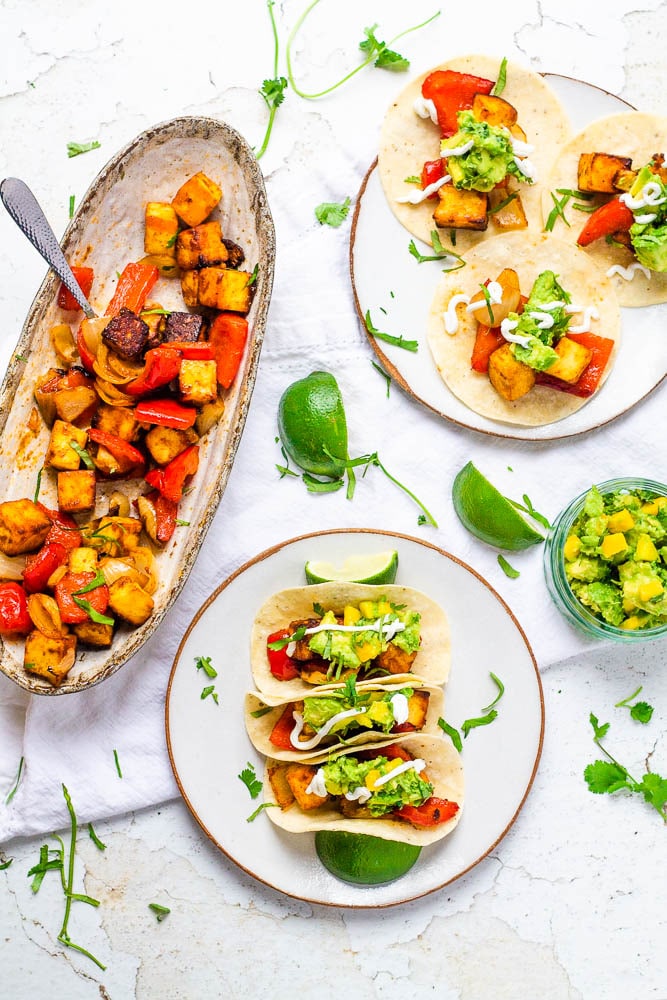 Paneer tacos! Who'd have thought of such a thing?
A vegetarian who wants to try, like, every. single. thing in taco form, that's who!
I just love this Indian cheese so much. And I have several paneer recipes on my blog already, mostly using more traditional Indian or Asian fusion flavors, but it's such a versatile cheese that there's no reason it can't stray over to other cuisines.
Like my fave halloumi, paneer is grill-able, and doesn't melt. But where halloumi is rich and salty, paneer tastes fresh and milky. Like ricotta but solid. And when roasted or grilled, it will be crisp on the outside and soft in the inside.
Paneer pairs nicely with strong flavors, and this combo of barbecue sauce and taco seasoning (which you may remember from my Portabella & Chickpea Fajitas recipe) is just right.
How to Make Paneer Tacos
In this recipe, we're going to oven roast our paneer taco filling. This is a nice, hands off way to do it which gives you time to prepare your topping and warm your tortilla while the paneer cooks.
You'll coat your paneer, pepper and onion in barbecue sauce and taco or fajita seasoning. Then spread it over a pan and put in the oven for 20 minutes.
You'll get nice crispy, charred chunks of paneer and sweet roasted peppers and onions. Yum!
Meanwhile you'll prep your avocado mango salsa.
And warm your tortillas.
Once the paneer filling is out of the oven, you are good to go! You can add some yogurt and extra chopped cilantro to the tacos too, if your heart desires.
How many BBQ Paneer Tacos does this recipe make?
With larger tortillas, it's around 6. In the photos I have used street food sized tortillas (10cm / 4inch) which is why you can see 6 tacos fully made up and still more filling in the bowl.
So you can use this to make street food / appetizer sized portions for 4-6 people, or if it's your entire meal I'd say it serves two. Mr. Veggie and I are always able to demolish the whole amount.
Where to find paneer
Paneer is not available in all supermarkets so I suggest trying a local Indian food market if you're unable to track it down in yours.
As usual though, the internet makes a good fallback. In the US, you can order paneer from Amazon. In the UK, it's stocked by Ocado and Amazon Fresh.
You can also make it yourself! It's probably the easiest cheese to make, and really delicious. It is more crumbly and less firm homemade, so if you go down this route, make sure to treat it more delicately when you're prepping and seasoning it.
Love vegetarian tacos?
If, like me, you're fond of new and different vegetarian taco combos, check out my collection of Mexican Inspired Recipes for some other ideas like lentil tacos and halloumi tacos.
And consider subscribing to my newsletter to keep up with my latest recipes! Because I have been seriously craving tacos this pregnancy, I have quite a few more taco recipes in my queue for the coming months too.
Love paneer recipes?
I'm always looking for new ways of cooking with my fave cheese! Some of my other paneer recipes include Singapore Noodles with Paneer, Kale Paneer Curry, Chili Paneer Lettuce Wraps and Easy Paneer & Kidney Bean Coconut Curry.