Vegetarian Singapore Noodles with Paneer
You will love this stir fried Vegetarian Singapore Noodles recipe! Paneer makes a delicious alternative to tofu or faux meat in these vegetarian rice noodles. This is a healthy 30 minute recipe that is packed with veggies, protein and amazing flavor!
Step away from the takeout menu, and let me show you how to make a delicious bowl of vegetarian stir fried noodles at home this weekend.
What are Singapore Noodles?
Fun fact: Singapore Noodles are, apparently, not really from Singapore. Instead, they're thought to be Cantonese. No one is entirely sure how they earned their name.
In any case, this popular noodle dish is made with vermicelli noodles (extra skinny rice noodles), flavored with curry powder alongside the classic Asian flavors of soy sauce and rice wine, and packed with protein and veggies.
Are Singapore Noodles Vegetarian?
They can be but they're often packed with meat or seafood, and may use meat stocks in the sauce. But they are easily transformed into a vegetarian dish when using vegetable stock and a vegetarian protein source, usually tofu.
This recipe is fairly classic, but when it comes to the protein, we're we're bucking all traditions and using… paneer cheese!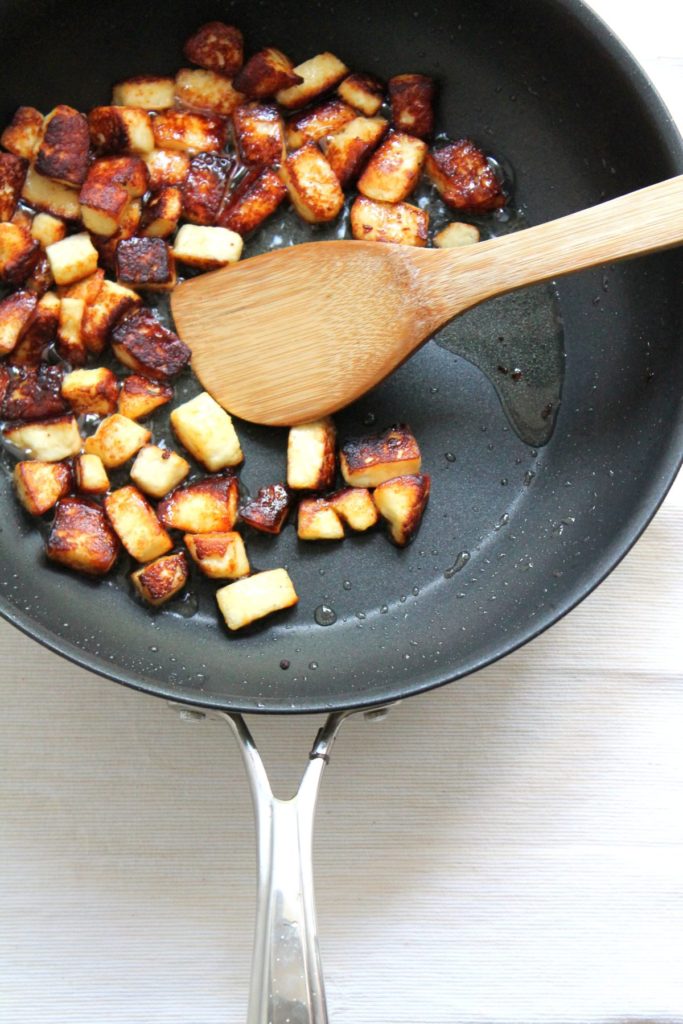 Using Paneer in your Noodles
I know adding cheese to Singapore noodles seems weird, and it is weird, and it is not traditional, but what the heck, maybe it should be.
I never feel like I can cook Asian tofu as well at home as it tastes in restaurants, and this dish wouldn't feel like such a full meal without a protein. Adding a package of store bought paneer is perfect. It's mellow creaminess sits beautifully against the sweet peas and the strong flavors of the sauce.
Anyway when something has curry powder in it, it is always OK for paneer to join the party. That is just good manners, right?
How to Make Vegetarian Singapore Noodles
The fact that I've made these photos all white and minimalist is kind of ironic. The reality was just so messy. Basically, any time I stir fry something, especially noodles, the kitchen will end up looking like a tornado hit it.
There are bottles, bowls, onion peel, chili seeds, everywhere. Any inch of surface space is covered in mess.
It's not like the stir fries I make use that many ingredients, but it's all the bottles I have to pull out to find the bottles that are hiding at the back of the cupboard, when I am in a frantic rush because I realised that I already started stir frying my veggies before I made the sauce, gaaaah!
So let's just reiterate golden rule of stir fries: Do all of your prep before you start to heat that wok. All of it. No exceptions.
As long as you do that, this will come together very easily.
These noodles are delicious reheated too, with the added benefit of making your house smell like a Chinese restaurant when you microwave them.
Do you love paneer as much as me? You should try out my chili paneer lettuce wraps!
Source: I based this on the Guardian's recipe for perfect singapore noodles.