You will love these stir fried singapore style noodles with paneer cheese! Paneer makes a delicious alternative to tofu or faux meat in these vegetarian rice noodles. Ready in 30 minutes.
The fact that I've made these photos all white and minimalist is kind of ironic. The reality was just so messy. Basically, any time I stir fry something, especially noodles, the kitchen will end up looking like a tornado hit it.
There are bottles, bowls, onion peel, chili seeds, everywhere. Any inch of surface space is covered in mess. It's not like the stir fries I make use that many ingredients, but it's all the bottles I have to pull out to find the bottles that are hiding at the back of the cupboard, when I am in a frantic rush because I realised that I already started stir frying my veggies before I made the sauce, gaaaah!
Is it just me or is this a Thing for anyone else?
I mean, l know the golden rule of stir fries: Do all of your prep before you start to heat that wok.
And I always mean to follow the rules. I just sort of don't. I start frying the veggies and then realise I haven't crushed the garlic, I pour in the soy sauce and then realise I have no idea where the mirin is, and then I am running around all panicked.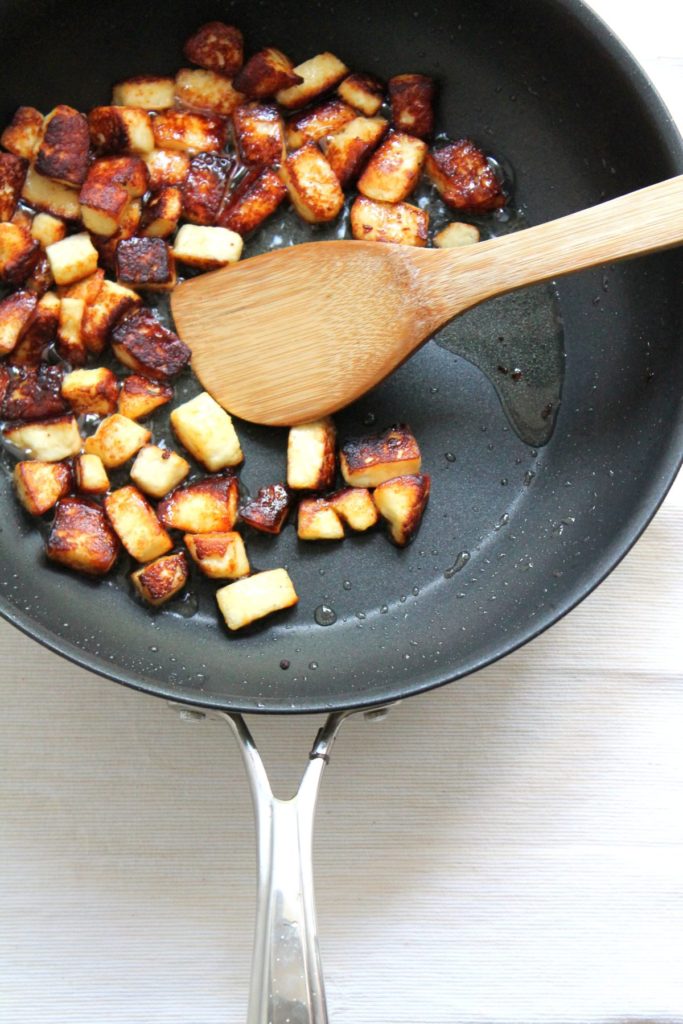 When I made these noodles on a Sunday afternoon for the photoshoot, I actually pulled it off. All the prep was done before I started to stir fry. It was so, so smooth. It took forever, because I was being so careful and had to keep checking that I really had done everything.
I then spent a long time taking photos, which was super fun and all but I was starting to get light headed because I was sooo hungry. So when I was done with the photos, I dished up a big huge bowl of it. It was like 3PM and I hadn't eaten lunch. <—- This was supposed to be my lunch. But like I said, it took forever.
And that's when I saw it… The spring onions. Still on the chopping board. Not in my bowl. Not in the wok I just spent 15 minutes taking photos of.
So, correction. I almost pulled it off.
Luckily, these noodles can just sit pretty in the pan, even through two photoshoots, without getting cold or sticky or limp or anything bad. So that's good to know, I guess.
And after all that, I still classified this is a 30 minute dinner in my recipe categories?
Yeah… About that.
Even though it is clearly not a 30 minute dinner for me, it will be a 30 minute dinner for you if you are better at this particular process than I am. And I think you probably are. I believe in you!
And for me, despite the mess, time, woe-is-me grief it caused, these noodles were soooo worth it.
Because paneer. It's the best. And I know adding cheese to Singapore noodles seems weird, and it is weird, and it is not traditional, but what the heck, maybe it should be. I am not a tofu lover, and this dish wouldn't feel like such a full meal without a protein. Adding paneer is perfect. It's mellow creaminess sits beautifully against the sweet peas and the strong flavors of curry powder, soy sauce and mirin.
Anyway when something has curry powder in it, it is always OK for paneer to join the party. That is just good manners.
These noodles are delicious reheated too, with the added benefit of making your house smell like a Chinese restaurant when you microwave them. 🙂
(Do you love paneer as much as me? You should try out my chili paneer lettuce wraps!)
Print
Vegetarian singapore style noodles with paneer
Author:

Prep Time:

15 minutes

Cook Time:

12 minutes

Total Time:

27 minutes

Yield:

Makes 4 portions
---
Description
You will love these stir fried singapore style noodles with paneer cheese! Paneer makes a delicious alternative to tofu or faux meat in these vegetarian rice noodles. Ready in 30 minutes.
---
Ingredients
150g of vermicelli rice noodles
A couple teaspoons of toasted sesame oil
225g / 8oz block of paneer, chopped into small squares
1 large onion, thinly sliced
1 carrot, chopped into matchstick pieces
1 green pepper, thinly sliced
2 cups of frozen peas (metric folk, if you don't have measuring cups, use around one and half mugs full)
3 cloves of garlic, crushed
1 Tblsp crushed ginger
A small bunch of spring onions (aka green onions, salad onions), sliced
2 teaspoons of curry powder
4 Tblsps soy sauce
3 Tblsps mirin or rice wine (I use a generic Chinese cooking wine)
2 eggs, whisked in a mug (optional- this dish would traditionally contain eggs but I sometimes prefer it without)
---
Instructions
In a large bowl, cover the vermicelli noodles in boiling water. Let sit for 1-2 minutes, and then drain. Return to the bowl and add the toasted sesame oil. Toss through. While preparing everything else, make sure to go back to the noodles at regular intervals and toss them around a little with the fork to stop them sticking.
Put your frozen peas into the colander you just used to drain the noodles. Run some boiling water over them, just to take the edge off the frost. Set aside. (They will finish defrosting in the wok)
Now complete your prep by chopping all of your vegetables and paneer.
Heat a glug of oil in your wok to a high temperature and throw in the paneer. Cook until golden and crisped on all sides. You will need to toss and mix the paneer regularly to get it cooked as evenly as possible.
Once the paneer is nicely browned, remove from the wok and set aside.
Drain the oil from the wok and refresh with a new glug of oil. Heat to a high temperature and add the pepper, onion, and carrot to the wok. Stir fry until they are starting to brown before adding the peas, ginger, garlic, and the white ends of the spring onions.
Once fragrant (after a couple of minutes), add the curry powder and cook for another minute.
Add the eggs on top of the mixture and allow to sit for a moment while the egg starts to harden. Then stir fry through to mix the egg in with the vegetables.
Add the soy sauce and rice wine, and mix through until the vegetables are nicely coated in sauce (about 30 seconds).
Add the paneer, and stir through until it's coated in the sauce.
Finally, add the noodles and toss through for about 3 minutes, ensuring that everything is well mixed before quickly adding the spring onions and removing from the heat.
---
Nutrition
Serving Size:

4 servings

Calories:

402

Sugar:

13.4 g

Sodium:

691.8 mg

Fat:

11.6 g

Saturated Fat:

1.2 g

Unsaturated Fat:

0 g

Trans Fat:

0 g

Carbohydrates:

56.5 g

Fiber:

0 g

Protein:

16.5 g

Cholesterol:

81.8 mg
Source: I based this on the Guardian's recipe for perfect singapore noodles.
The only disappointment with this recipe? Shelley's disappointment. Poor cat has no idea how she ended up living with a couple of vegetarians. The lack of appropriate table scraps in the household is just unacceptable, isn't it Shelley?