Gruyere and Caramelized Onion Mashed Potatoes
These sticky, gooey, cheesy mashed potatoes will be the highlight of your meal! With just 4 ingredients, they are easy to put together and are packed with delicious gruyere and caramelized onions for an amazing luxurious flavor.
This is my 61st recipe, and the 4th mashed potato one.
I guess it's clear where I stand on the eternal question of how one likes their potatoes.
Mashed, with lots of butter and gruyere cheese for me.
It's October and this feels right for the coming months.
Cooler days, darker nights, lots of comfort food. Thanksgiving (not celebrated here in the UK but impossible to ignore in the food world, also being half American), and basically a lot of reasons to eat carbs.
I am totally ready for this to start.
The beauty of this blog is that there is a printable recipe card coming up in a minute that will tell you how to make this and then this will be YOUR fork.
Soon.
About these gruyere mashed potatoes
These potatoes will kick carb season off right. They are super soft, gooey and sticky, the mash is transformed by the amazing texture of melted gruyere.
Between the nutty, intense gruyere and melty caramelized onions, the flavor is deep and rich. I believe umami is the word of the day here.
I don't feel the need to add gravy, but some extra onions on top will add moisture to this mash. They would be delicious with a pie or as part of a roast dinner.
I ate them all on their own, because I do that.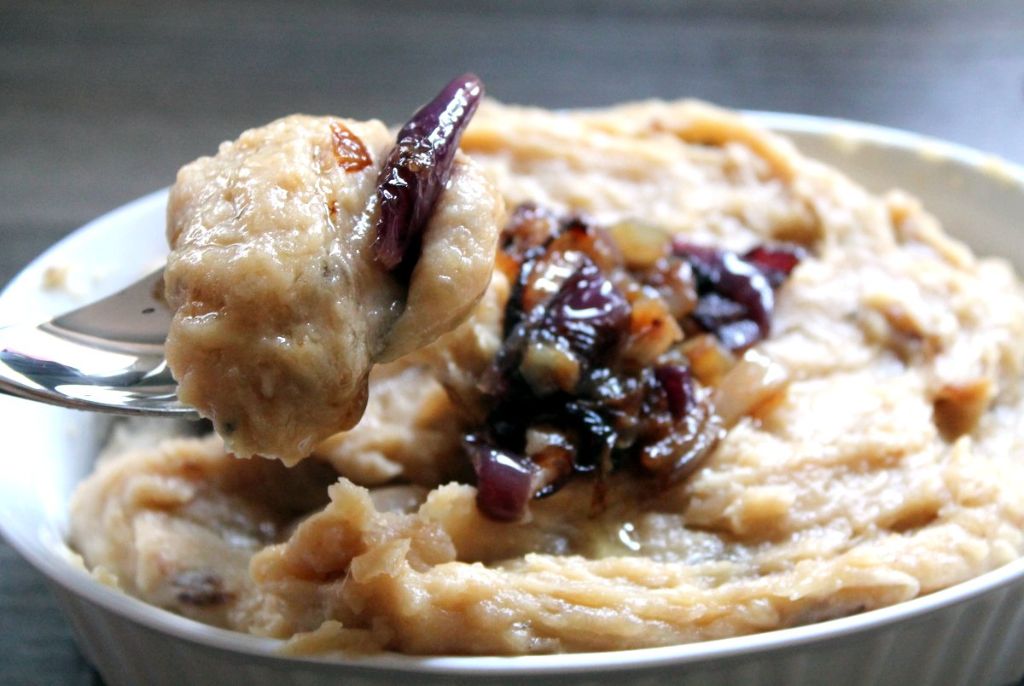 How to make these mashed potatoes
You will caramelize your onions, then add riced potatoes, butter and cheese. Stir, let the cheese melt and transform into this mass of carby, cheesy goodness you see above. It's really quite simple.
Do I need a potato ricer?
I think you do, yes! To get this super smooth, luxurious texture, you will need a ricer. It is a sage investment.
Which onions to use?
I love using red onions for this. When caramelized, they are a little bit sweeter and more jammy. But white or brown onions will do the job nicely too, is that is all you have. Or a mix of the two.