Easy Baked Feta & Artichoke Dip
A simple and delicious recipe for baked artichoke and feta cheese dip. Only 5 ingredients, no chopping, very little prep, an hour in the oven, and it's done! This is a healthy, light, fresh tasting dip which really lets the artichoke and feta tastes come through.
As many good recipes are, this feta and artichoke dip was inspired by something we tried at a restaurant. I took a camera phone photo of the menu listing so I'd remember to go home and try it.
I do this often, and now my iphone's phone photo stream is kind of just a weird mixture of menus, cats and London landmarks.
So. The restaurant in question was in Tarpon Springs, Florida, which Mr. Veggie and I took a day trip to while visiting my mom. Tarpon Springs is a hub for the sponge diving industry and attracted a huge amount of Greek immigration in the late 1800's, so the Greek influence is very strong.
This is somewhere I had visited many, many times as a kid (growing up in Orlando, it was a great weekend destination). Only, as a kid, I never realised that it was full of amazing food. I was pretty much like, give me mac and cheese or give me death, when I was that age.
But OMG, what a wasted opportunity.
I know that greek food is not usually associated with vegetarian-friendliness but it soooo is, because feta cheese. And halloumi. And greek salad. And moussaka.
There was feta cheese everywhere in Tarpon Springs, and when we went for a cocktail at a nice bar on the river, one of the appetizers was feta and artichoke dip. An American classic with a little nod to Greek. It was yum.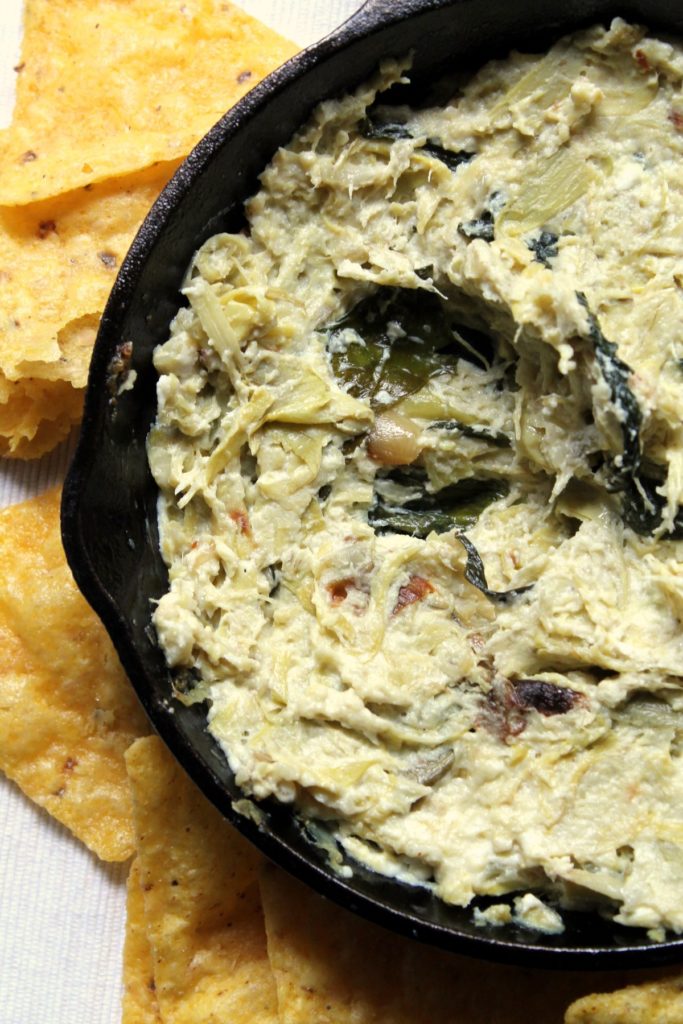 But I had a sense that it could be stripped back a little, and that's what we're going to do today.
How to Make Feta & Artichoke Dip
Simple, simple, simple. 5 ingredients. One mini skillet. We're not even going to chop anything.
We're going to first bake the artichokes along with some whole garlic cloves, so that the garlic roasts and gets all melty, and the artichokes get all garlicky and roasty and delicious.


Then we're going to mash it all up, crumble some feta cheese in there, and tear off some basil leaves to join the party.
Then we're going to bake it for a while longer.
Then we're just going to dip stuff in it. I'm going with tortilla chips but you could use bread or pita or whatever you like.
I really, really love this recipe and I think you will too.
Feta adds a softness and creaminess without mellowing the flavour out like mayo or cream cheese would. It's salty, creamy, intensely artichokey, with a little hit of roasted garlic, and totally healthier than the usual artichoke dip.
Feta is such a strong cheese that we only need 100 grams of it to make this dip soar. This brings the fat content way down from the usual artichoke dip which will often contain cheese, cream cheese and mayonnaise. And yet it is the tastiest artichoke dip I have ever made.
Don't you love it when that happens?
I use a cute small Lodge skillet for this, but you could use any small glass dish or pan.
You will get enough dip for 2 people to really pig out on it, or 4 to snack. Scale up for parties!
We snacked on it for a while, and then I made Mr. Veggie some lunch wraps by spreading it on tortilla wraps and adding some chickpeas, lettuce and tomato. It worked awesome for that too. Try using it in pinwheels!