Smoky Cheese & Caramelized Onion Panini
I set out to make the perfect vegetarian cheese panini filling and this is the result! Packed with flavor and lots of melty, smoky, cheesy filling, it's a panini recipe that everyone can enjoy.
Hands up if you've ever been served a disappointing vegetarian panini?
I find that the packaged bread sold as panini bread in the UK and the US can be rather bland, so if you don't cram it full of intensely tasty filling, the overall effect will just be blandness. And for some reason, it seems a common mistake to put as much filling into a panini as you would a regular sandwich, which is not enough.
This does not apply in Italy, where the bread is totally different and every panino is absolute perfection. Oh, Italy. Always winning at food.
When dealing with our reality of packaged panini bread, when it comes to fillings, we just need more, more, more.
It can be an easier thing for meat eaters with their salami or bacon, because those things pack a lot of taste into a small package and can be mixed with cheese to double up on flavor. But for vegetarians, we need our cheese and vegetables to work a lot harder.
So here is my offering. Bread? Coated in dijon mustard. Cheese? Smoked. Onions? Caramelized.
Result? A rich filling which is nicely offset by the thick, crispy bread, without being drowned out. Just try drowning out this crazy, gooey mix of All Things Umami.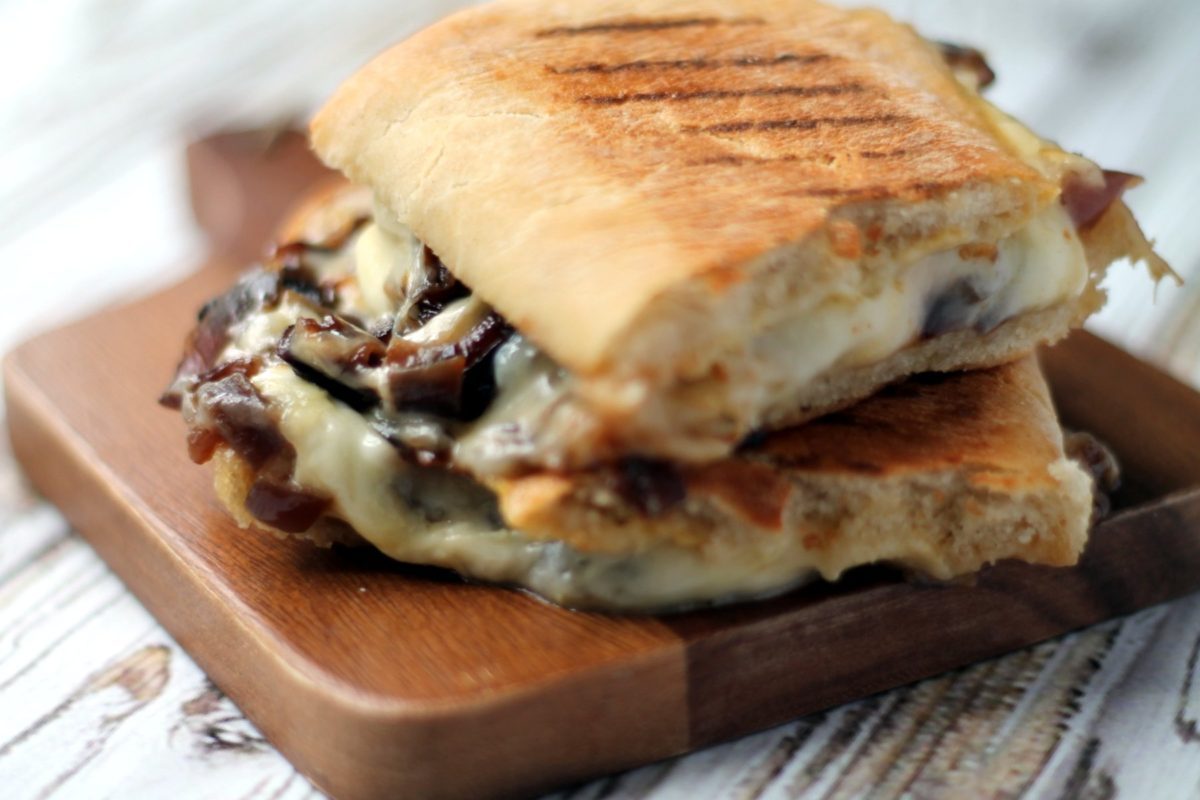 By the way- isn't it weird that we say "panini" when we refer to a singular, when it's actually the Italian pluralized version of "panino"? Why can't we say "panino" too? That's a way cooler word.
If your panini is not messy- you aren't doing it right. There is nothing more disappointing than a well contained panini, a sure sign that you've skimped on filling. The panini in these photos? I don't even know what's going on.
There is going to be melted cheese and stray bits of onion dripping out the sides, and you may stare quizzically at it for a few moments, wondering what your best move is going to be.
So don't think. Grab it and tuck in!