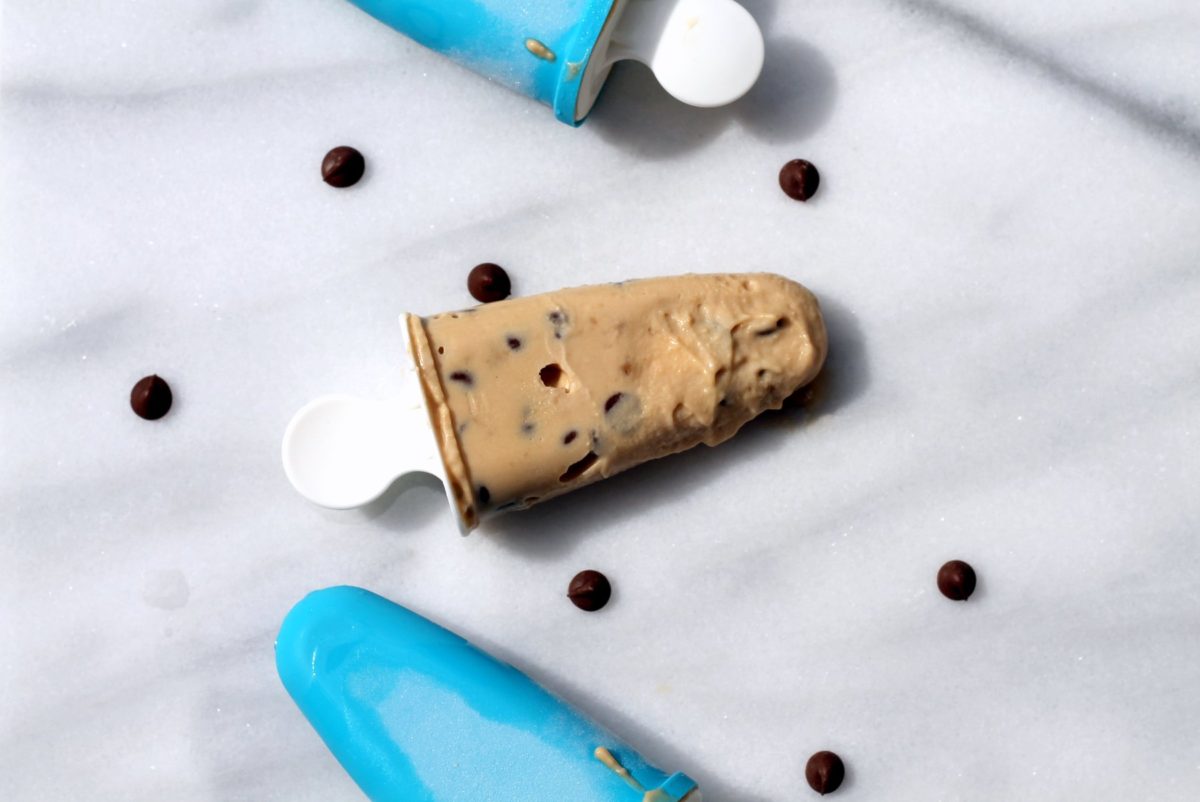 Uh oh. What have I gone and done this time?
Why, I've frozen big bars of cookie dough and yogurt into popsicles.
If you thought vegetarians were, like, healthy and stuff – may I refer you to my archives of green stuff, salads and avocados, for mitigation?
Everyone else, allow me to explain the concept of the cookie dough frozen yogurt bar.
There aren't chunks of cookie dough in this. It just is dough. Eggless cookie dough and yogurt. That is the base. Then you freeze it in your molds. Then you eat it. Just like that.
The yogurt provides the texture needed to turn dough into a creamy and melty popsicle. But it's tanginess also stops it from being sickly and over the top.
It's a more, shall I say, sophisticated flavor than you might expect.
Maybe sophisticated is a stretch here.
I was going to say something about the health benefits of yogurt here but… no.
Lets not start pretending that this is anything other than very, very naughty. It is creamy, melty cookie dough on a stick.
But hey! It turns out that creamy, melty cookie dough on a stick is very, very tasty. So you weigh these things up, and today the dough wins.
For the sake of moderation, I like my small little popsicle molds from Ikea. But when plastic molds, it can be best to run them under hot water before pulling the popsicle out. There is sometimes a knack required to getting them out of the mold in tact. You can avoid this with silicone molds. I have my eye on these for my next popsicle project (which will hopefully be a little on the healthier side!).
Print
chocolate chip cookie dough frozen yogurt bars
Yield 8 -10 popsicles
Ingredients
115g or 1/2 cup butter
90g or 1/2 cup light brown sugar
50g or 1/4 cup caster sugar
2 Tsps vanilla extract
Pinch salt
120g or 1 cup plain white flour
1/3 cup or 5-6 Tblsps chocolate chips
240ml or 1 cup full fat plain yogurt
Instructions
First, beat the butter with the brown and white sugar until you get it all nicely creamed. Add the vanilla extract and beat that in too. Then add the flour and salt, and mix it in until you have a dough.
Throw in the chocolate chips.
Last, mix in the yogurt until you have a smooth, creamy base.
Pour into your popsicle molds and freeze overnight.
This frozen yogurt recipe originates from Crunchy Creamy Sweet, and I just made the small change of using plain yogurt instead of vanilla flavored yogurt to reduce the overall sweetness.