Come and make cookie dough popsicles with me! These frozen yogurt popsicles are totally decadent, featuring the most delicious cookie dough frozen yogurt! A sweet treat for the summer which is a real pleasure to eat, thanks to tangy greek yogurt balancing out the sweetness.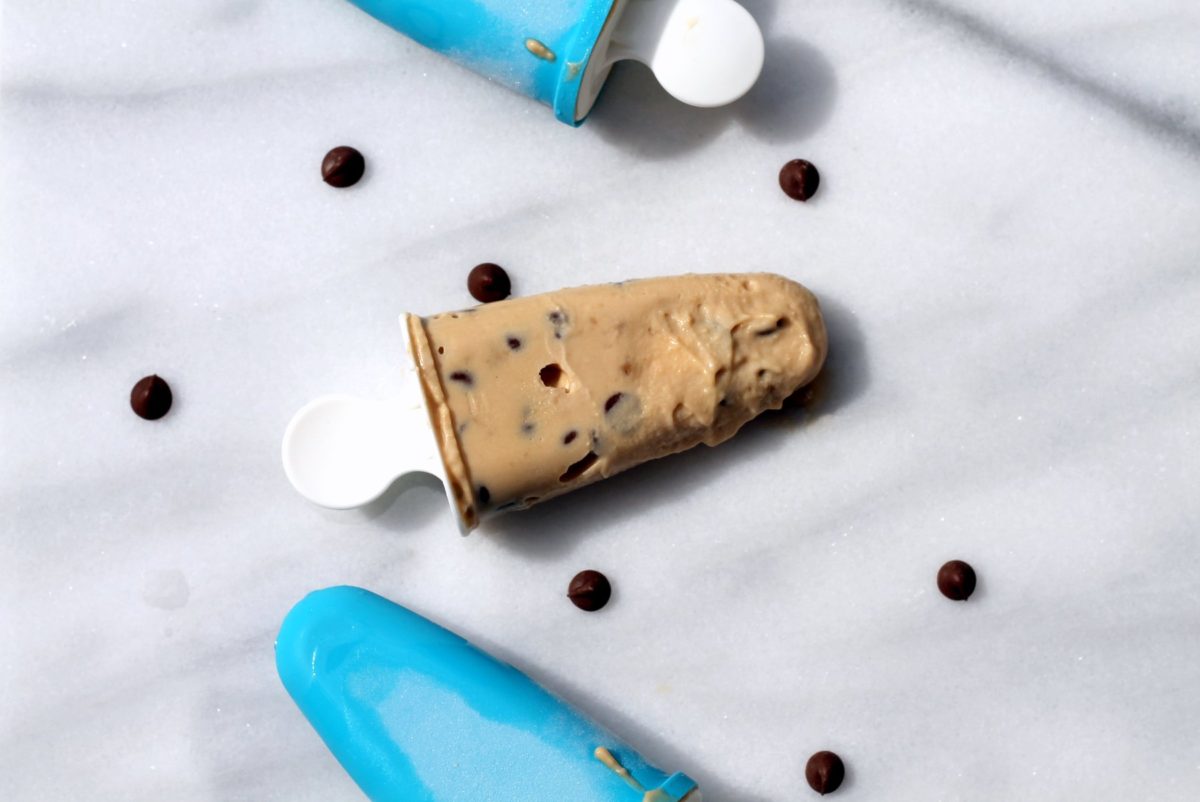 Uh oh. What have I gone and done this time?
Why, I've frozen big bars of cookie dough and yogurt into popsicles.
If you thought vegetarians were, like, healthy and stuff – may I refer you to my archives of green stuff, salads and avocados, for mitigation?
Everyone else, allow me to explain the concept of the cookie dough frozen yogurt popsicle bar.
How to make these epic cookie dough popsicles
There aren't chunks of cookie dough in this. It just is dough. Eggless cookie dough and yogurt. That is the base. Then you freeze it in your molds.
Then you eat it. Just like that.
Why I use greek yogurt in these popsicles
The yogurt provides the texture needed to turn dough into a creamy and melty popsicle. But it's tanginess also stops it from being sickly and over the top.
It's a more, shall I say, sophisticated flavor than you might expect.
Maybe sophisticated is a stretch here.
I was going to say something about the health benefits of yogurt here but… nah. There's a nutritional label on the recipe if you want to console yourself with how much protein there is or whatnot. And yep, I think using yogurt makes the overall result lighter and healthier.
Buuuut not start pretending that this is anything other than creamy, melty cookie dough on a stick.
For the sake of moderation, I like my small little popsicle molds from Ikea. But with plastic molds, it can be best to run them under hot water before pulling the popsicle out. There is sometimes a knack required to getting them out of the mold in tact. You can avoid this with silicone molds. I have my eye on these for my next popsicle project (which will hopefully be a little on the healthier side!).
This frozen yogurt recipe originates from Crunchy Creamy Sweet, and I just made the small change of using plain yogurt instead of vanilla flavored yogurt to reduce the overall sweetness.