You can't go wrong with a big bowl of pesto pasta with roasted cherry tomatoes. This recipe uses roasted garlic pesto which is creamy, tasty and naturally vegan. The cherry tomatoes are blistered and intensely flavorful. You'll be hooked on this simple vegetarian pasta dinner. Best served with a glass of wine!
We can not stop eating this summery spaghetti! We are pasta addicts at the best of time but this has gotten ridiculous. I am adding cherry tomatoes by the bucketload to every grocery order, and blistering them like there is no tomorrow.
Blistering? Is this a weird food blogger term? It's basically roasting them, but on reeeeally high heat so that they burst open and, well, blister.
I have had roasted cherry tomatoes in plenty of dishes in the past but until you are getting them this hot, and this caramelized, you are probably not experiencing their true potential.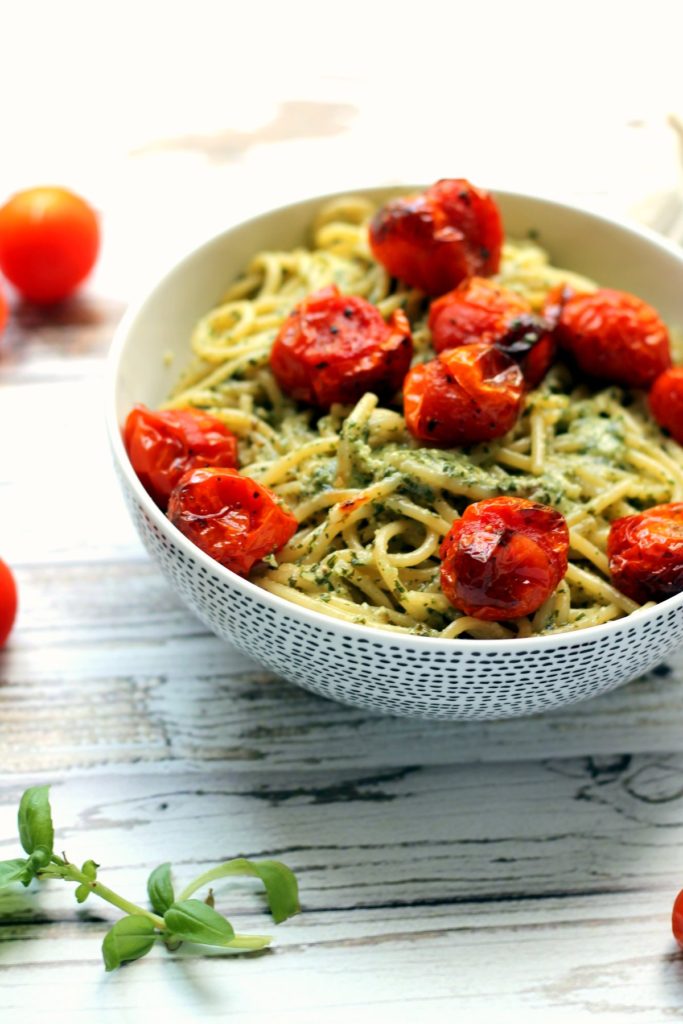 They go really, really sweet, and kind of sticky, and even jammy. With some crisp smoky tasting charred bits.
The flavor is seriously intense, and I didn't even use particularly amazing cherry tomatoes. These are just Waitrose Essentials brand. (OK, Waitrose Essentials isn't the worst, but what I mean is that they aren't organic / expensive / home grown and yet they taste incredible.)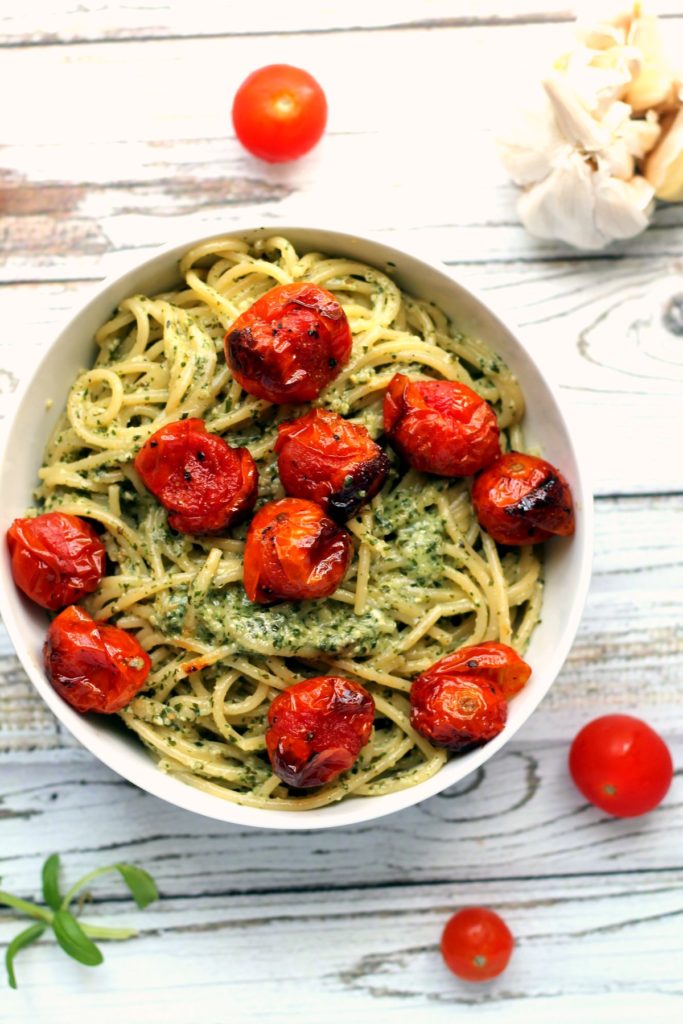 And those little bites of cherry tomato goodness are the perfect topping for a big bowl of pesto pasta. Turning a straightforward spaghetti pesto combo into something magical.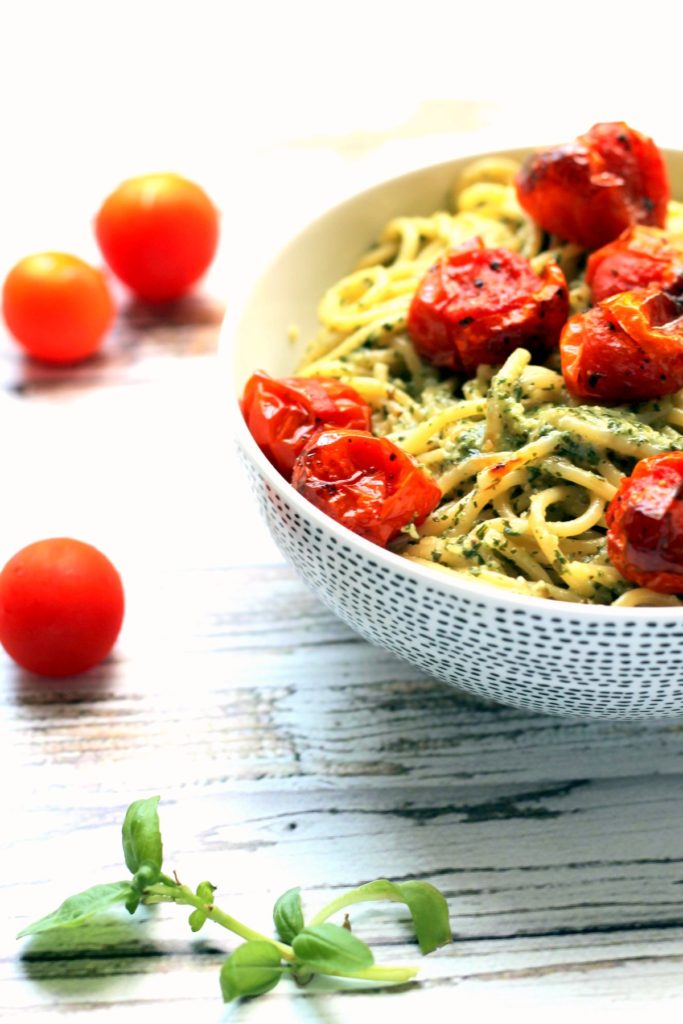 If you're like Mr. Veggie, you would at this point mix the tomatoes in and chop up them all up with the spaghetti. Not gonna lie. This makes me wince.
If you're like me, you would leave the tomatoes perfectly distinct and just twirl some spaghetti, then add add half a tomato to the end of the fork before taking a bite. Friends, we are the civilized eaters.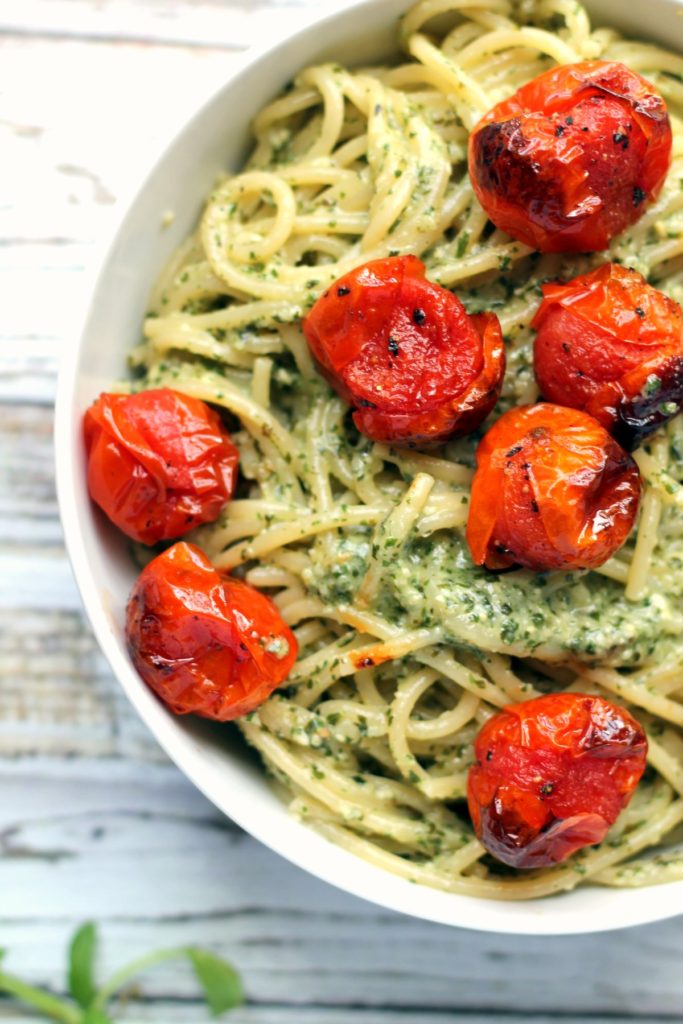 So, anyway, much has been said about these cherry tomatoes but let's talk now about the spaghetti with it's delicious coating of roasted garlic pesto.
How to make roasted garlic pesto
The pesto is vegan, so we're taking out the cheese and adding extra garlic in it's place.
We have both raw garlic and two whole heads of roasted garlic. That's a lotta garlic.
But the roasted garlic goes really mellow so don't worry, this is not going to kill you. It's just got a little more depth to it.
Two layers of wondrous garlic in your pasta. Ideal.
How to make this a 30 minute dinner
The process of roasting the garlic means this meal does take a while from start to finish, although much of it is inactive time while the garlic roasts, which you can spend sitting on the couch revelling in how yummy your house spells. But you may just not have that much time.
If you have roasted the garlic in advance, this pasta will come together in about 1/2 an hour. So maybe you're making something in the oven the night before you plan to make this? In which case, you can just throw the garlic in alongside whatever it is. Don't worry too much if it's a lower temperature, just leave it in longer if that's the case.
If you own an instant pot or electric pressure cooker, my friend Sarah will show you how to roast garlic in 10 minutes. It will be ready before the cherry tomatoes. Mind blowing stuff.
Inspired by How Sweet Eats.