An easy, tasty vegetarian homemade eggplant meatball recipe! Eggplant (aubergine) pairs with feta cheese for an amazing flavor. Even people who don't usually like eggplant will devour these healthy veggie balls!
Eggplant is the rising star of the Happy Veggie kitchen. After the opening words of my last eggplant-related post, you'd have been forgiven for thinking you'd never see it around here again. That the baba ghanouj love was a fluke.
Not so. The eggplant and I, we met again. And we agreed upon his participation in a vegetarian meatballs recipe. And we freakin' loved it.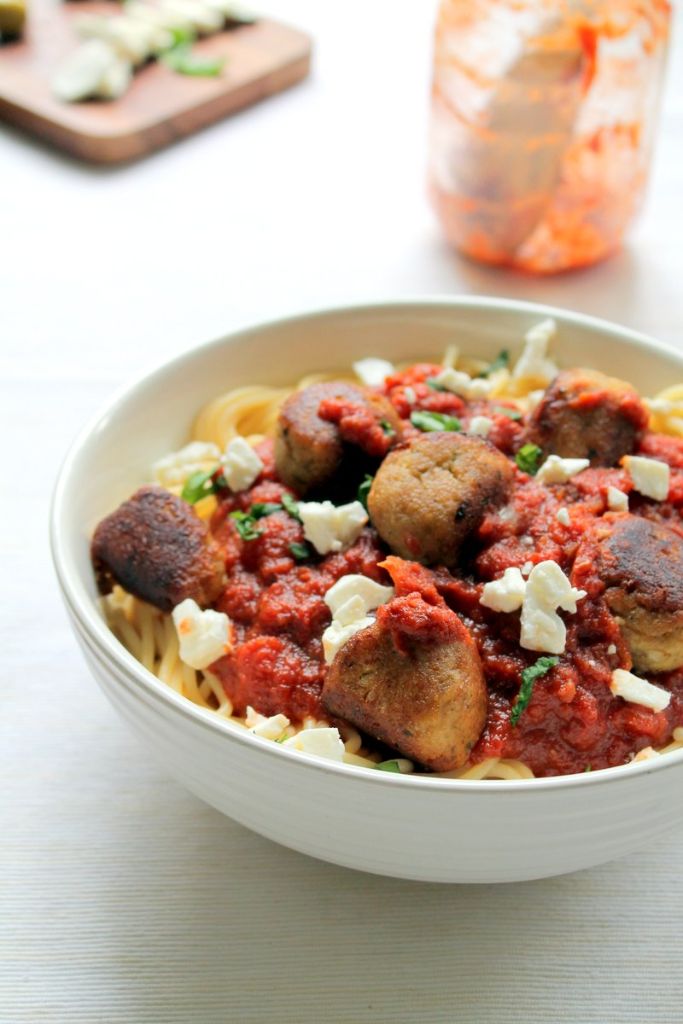 Make no mistake. The eggplant hater in your life WILL enjoy this recipe. You don't even have to tell them it's there. This is recommended if feeding picky children. You can tell them later. Or not.
Let's talk about the evolution of this eggplant meatball recipe.
One day, I decided to take a chance on an eggplant meatball recipe that came with my veggie subscription box. Albiet, begrudgingly, because I totally hate eggplant, but the only thing stronger than that was my need to try every vegetarian meatball recipe I could get my hands on. Meatballs are one of the few meat dishes I miss. I have no recollection of how they taste, I think I just like the idea of them and the way they make spaghetti and tomato sauce an even more awesome dinner.
A whole lot of veggie meatball eating later, not only am I obsessed with that recipe, I have even branched out to my own eggplant meatball experiments.
And then… a star is born.
This is the one that blew me away. It is a breadcrumb-based meatball (extra carbs woo hoo!) which gets a savoury, meaty vibe from the eggplant- and then they go off and sit in the background while green olives, feta cheese, garlic and basil sit on top. Together, all of these bold components are greater than the sum of their parts.
For added fun, I sometimes use pimento stuffed green olives in this. It is perfection. You don't have to do this (if you want a little spice kick, an easy alternative is to fry up some chili flakes alongside the eggplant) but you do have to ensure your green olives are really yummy and flavorful. Do not substitute plain black olives. They won't be able to cut through in the same way.
OK, sorry to be nitpicky. I just really want you to love this recipe like we do!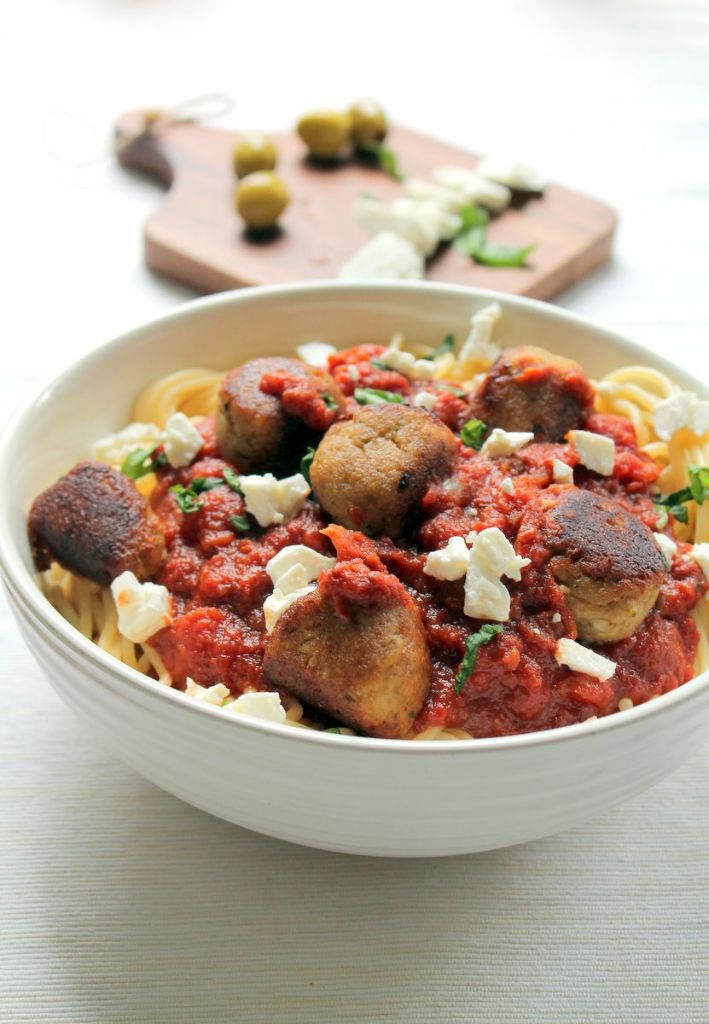 The meatballs are pan-fried which is always kind of weird and awkward, because they go a little deformed and flat at the sides. If you know how to keep them perfectly round, do tell. I suspect it involves deeper oil?
OK. I think that's enough with the formalities. Lets get cooking!
Feta and Eggplant Vegetarian Meatballs
An easy, tasty vegetarian homemade eggplant meatball recipe! Eggplant (aubergine) pairs with feta cheese for an amazing flavor. Even people who don't usually like eggplant will devour these healthy veggie balls! 
Ingredients
1 small eggplant, peeled and chopped into small cubes
3 garlic cloves, crushed
½ a small red onion, minced
1 Tbsp lemon juice
½ cup (67.5 g) green olives, I used pimento stuffed olives for extra flavor
1 cup (110 g) plain breadcrumbs, see notes
3.5 oz (100 g) feta cheese, crumbled
1 Tbsp fresh basil
1 Tbsp balsamic vinegar
Instructions
On medium to high heat, fry your eggplant cubes, onion and garlic until the eggplant is soft and starting to brown- around 5 minutes. Add the lemon juice to the pan and cook for another minute before taking off the heat.

Pour the cooked eggplant, onion and garlic mixture into a food processor and add the olives, feta, balsamic vinegar and basil. Pulse until pureed, but a little bit chunky.

Remove from the food processor and pour into a bowl. Add 1/2 of the breadcrumbs to the bowl and stir to combine.

Put the mixture in the fridge for at least 1 hour to cool and firm up.

When you remove it from the fridge, you want it to be firm enough to shape into meatballs without being too dry. If your mixture is too wet to be able to shape them into meatballs, add some extra breadcrumbs. If it's feeling dry, add some extra feta and lemon juice.

Once you're satisfied with the texture, roll into meatballs – walnut sized is about right but you can go bigger if you like.

Coat the bottom of your frying pan with olive oil and heat to a medium-high heat. Try throwing a pinch of breadcrumbs in- it's ready when they sizzle.

Pan fry the meatballs, turning regularly, until they are browned on all sides. It will take about 7-10 minutes.
Notes
Breadcrumb measurements – this will vary a lot depending on how soft your breadcrumbs are so pay more attention to the texture than the quantity, you may use less or more than the recipe calls for.
Calories: 229kcal, Carbohydrates: 30.5g, Protein: 8.8g, Fat: 8.6g