A veggie packed butter bean bake bursting with Tuscan flavors! This is a simple and flexible recipe for a vegetarian dinner, packed with nutritious ingredients. The addition of red pesto and spices makes this bake even tastier than you expected!
Oh, hi!
I am a butter bean bake recipe that wants to swallow up your garden haul, obliterate the contents of your fridge and generally turn a mound of vegetables and a bowl of beans into a healthy and delicious dinner.
Will you allow me this honor?
I will just take a moment to clarify that when I call this dish "Tuscan" I am in no way saying it originates from Tuscany. I did not discover it on a life changing trip to Italy. That would have been fun, but nope. I am just saying it has Tuscan inspired flavors and ingredients going on.
I am trying to convey a feeling rather than its actual origins.
This dinner is part of my growing collection of casseroles and one pot dinners, and it's one that really stands out for versatility.
It's a nice and easy process where you just cook a bunch of vegetables, drop them into a casserole dish, add beans, stir the pesto through, add cheese, in the oven and DONE.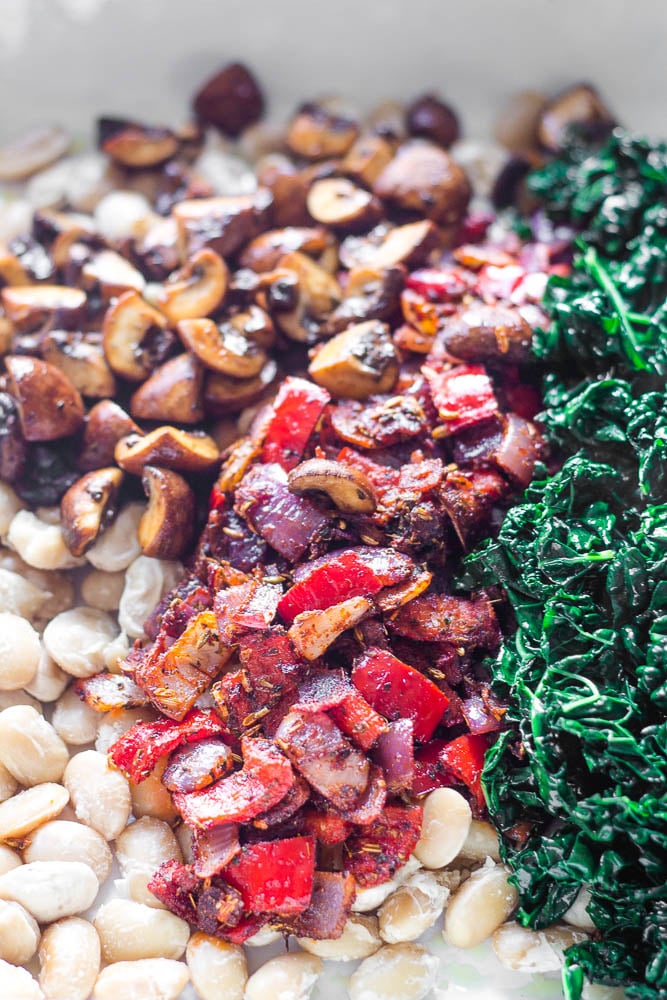 What veggies to use
It's whatever you like best! There are some guidelines but no rules. So for me, this is the magic veggie combo:
Onions and peppers. These are cooked in all the spices so they are the carriers of yum.
Mushrooms! They add texture and umami so are always welcome around here. We precook them to get excess moisture out, and we add some drops of balsamic while we're at it.
Kale! Preferably Tuscan kale / cavolo nero – that's my fave – but curly kale works great too. We lightly sauté it with a drop of wine or lemon juice, to make it its best self.
Cherry tomatoes! Because of course. We halve them, we don't precook, just throw them on in. They make the dish nice and juicy.
Other Ideas:
The casserole can handle a little extra in addition to all of that, so there's room for you to increase some of these quantities or to sneak your favourite veg in. Your pan will just be fuller. No bad thing.
If you're adding in veggies with high water content (like zucchini, some squashes) you should be precooking them in the pan to get the liquid out (like we're going to do with the mushrooms). Otherwise you're going to have a watery layer at the bottom.
The one ingredient I wouldn't increase is the cherry tomatoes. They're the only veggie we don't precook because we like their juices to be released into the casserole, but more than the amount stated will leave things watery.
Honestly if you're playing around with this casserole you may sometimes end up with excess liquid at the bottom and it's fine. You just have to mop it up with some extra bread and be on your way.
And this is how we make a meal out of that veggie haul
To make those veggies into a complete meal we have to bring these guys to the party:
Butter beans! You could sub cannelinis or any other white beans but those big creamy butter beans (aka large lima beans, gigante beans) will always be top of my white bean list. I make mine from dried using an instant pot, but if cans are your preference, you want two cans.
Spices. We cook a few spices into the onions and peppers, just to keep the flavor profile more interesting. Lots of dried Italian herb mix, smoked paprika and fennel seeds. The latter two add almost a sausage-y vibe to the dish which is another way the "Tuscan" vibe comes through. When I say this recipe is flexible, I mean it for everything except the spices. Don't skip them! They make it so perfect.
Red pesto. I am using jarred, but you could make your own if you want to keep things super duper fresh here. (Need a recipe? Try Erren's red pesto.) I've never tried it with green pesto and I don't think I'd want to. With the spices we're using, red pesto is a match made in heaven.
Cheese! I add a hard, dry parmesan style cheese into the casserole itself, and this will soak up some juices and keep things thicker. Something like manchego would work great too. I then add a dry mozzarella to the top. Fresh mozzarella can be used, but you will get a little extra moisture into the casserole that way. Your choice.
It's a big big batch you're getting here. The leftovers will go down a treat for lunch the next day and it can be frozen and eaten within 6 months.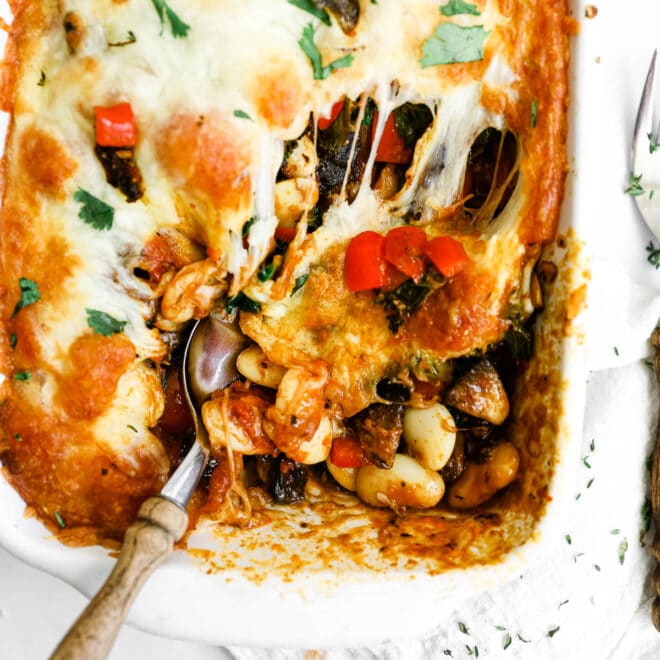 Tuscan Butter Bean Bake
A veggie packed butter bean bake bursting with Tuscan flavors! This is a simple and flexible recipe for a vegetarian dinner, packed with nutritious ingredients. The addition of red pesto and spices makes this bake even tastier than you expected!
Ingredients
3 cups (3 cups) cooked butter beans, or 2 cans, rinsed and drained
1 red onion, minced
1 red bell pepper, chopped
2 tsp fennel seeds
1 Tbsp smoked paprika
1 Tbsp mixed Italian seasoning
500 g (1 lb) Mushrooms, quartered
200 g (7 oz) Kale, thinly sliced
1 Tbsp white wine or fresh lemon juice
400 g (14 oz) Cherry tomatoes, halved
6 Tbsp red pesto
100 g (3.5 oz) grated parmesan
200 g (2 cups) grated mozzarella
Instructions
Preheat oven to 200c / 400f

Prepare your casserole dish. Lightly oil the bottom and sides and add the butter beans.

Heat a glug of oil in a saute pan and cook the onions and peppers until they are soft. Add the fennel seeds and cook for a few moments until the fragrance pops, then quickly mix the smoked paprika and mixed Italian herbs through.

Transfer the onion and pepper mix into the casserole dish with the beans and mix through.

Return the saute pan to the heat, add a little extra oil and cook the mushrooms until they have reduced and browned, and the liquid has evaporated from them.

Transfer the mushrooms to the pan and mix through.

Return the saute pan to the heat and stir fry the kale very briefly until it turns bright green. Add a splash of white wine or lemon juice, cook until that has evaporated a little.

Transfer the kale to the casserole dish and mix through.

Now mix the cherry tomatoes, pesto and parmesan cheese through the casserole dish. Make sure everything is nicely coated and mixed up.

Add the mozzarella to the top of the dish and place in the oven for 25 minutes, or until the cheese is bubbling and brown.
Notes
The casserole can handle more than the amount of veggies written, so feel free to add or swap around. If you're adding in veggies with high water content (like zucchini, some squashes) be sure to precook them. (More customization ideas and tips can be found in the blog post.)
Serving: 1g, Calories: 353kcal, Carbohydrates: 26g, Protein: 19g, Fat: 20g, Saturated Fat: 7g, Polyunsaturated Fat: 11g, Cholesterol: 35mg, Sodium: 497mg, Fiber: 8g, Sugar: 6g