Roasted Paneer & Pineapple Teriyaki
As easy and delicious vegetarian traybake / sheet pan meal with teriyaki paneer and caramelized pineapple. It comes together easily in one pan with very few ingredients, just put it in the oven and let the magic happen! Pair with coconut rice for an incredibly tasty fusion dinner.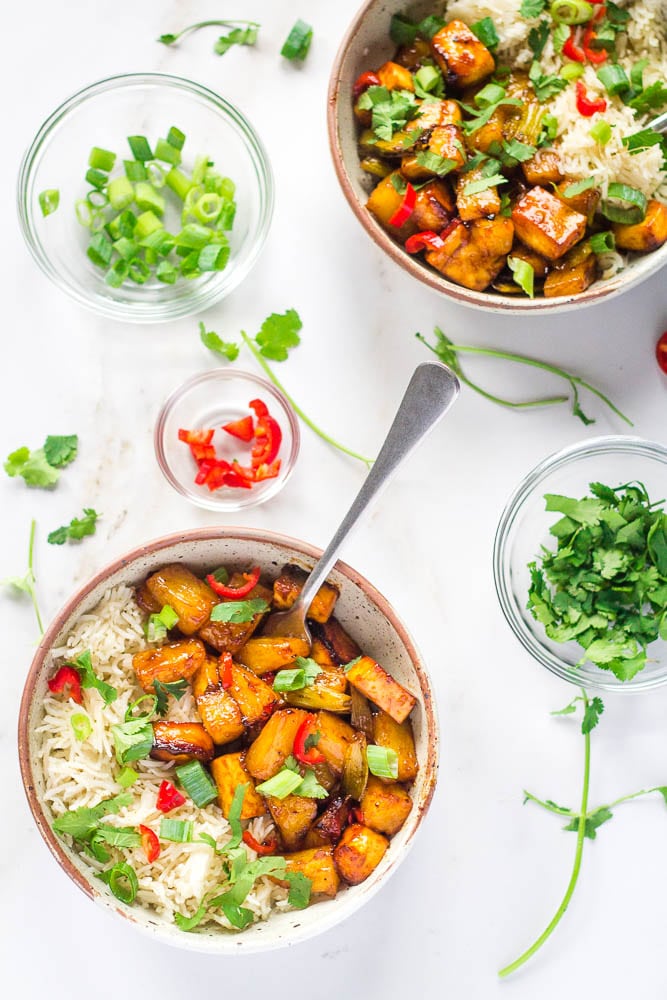 So what to we have here? A simple dinner! Yay! Very few ingredients. Not even a lot of chopping. One pan that you put in the oven and walk away from. It's not fast, but it's simple.
It's for those days where it's OK for dinner to take an hour, but you have minimal energy to put to the task. You know those days?
Like many of my recipes, I was inspired by another blogger's meaty recipe which showed up on my Instagram. I decided this idea needed to be taken over to the veggie side and paneer was the way to go.
Asian Paneer Though?
Yes! While we typically think of paneer as an ingredient in curries, Indo Chinese cuisine introduced me to the idea of using it with Eastern Asian flavors (have you seen my chili paneer lettuce wraps?) and that is mighty tasty too.
Roasting Paneer
For me, the ideal method for this dish is to just coat all the ingredients in sauce, toss them in a dish and oven roast it, a slower process but so effortless. Roasted paneer turns nicely brown with no oil spitting to contend with!
Roasted pineapple reduces and caramelizes in such a beautiful way, and the paneer gets to absorb lots of flavors from the sauce and the pineapple juices.
See that? The end result is deliciously juicy. Deliciously sweet. Just so good.
We have some green onions and chilis floating around in there too, and then we drizzle in some toasted sesame oil (if you have it, no worries if you don't) and top it all off with green onion tops and coriander (cilantro) on top and life is pretty great.
But we're flexible too – you can leave bits out, add bits in, it's an easy template.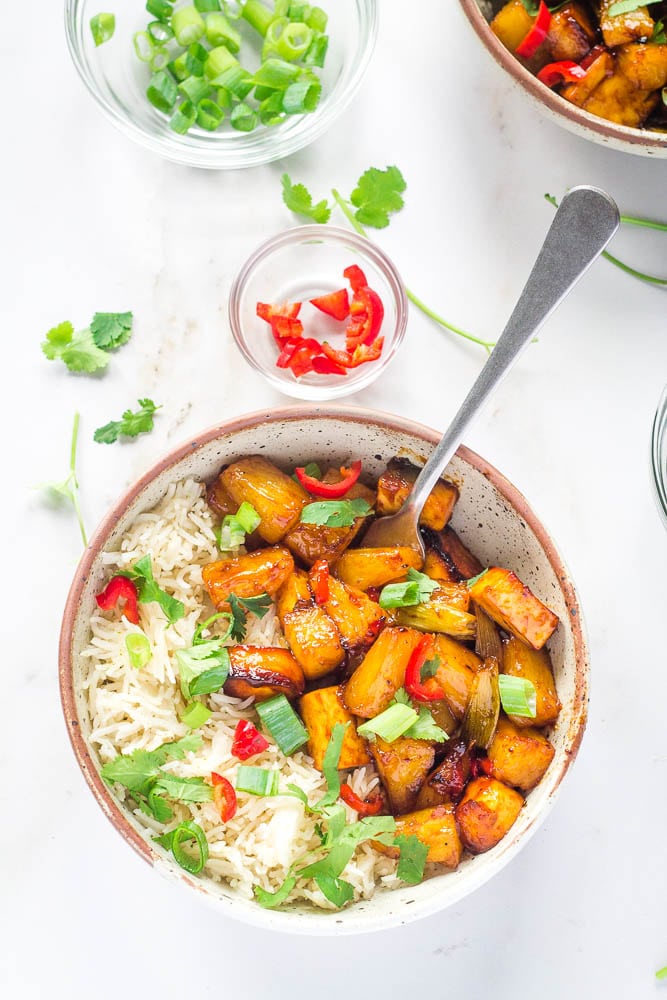 Ingredient Notes
See this little collection here? That's all you need! And check me out, rocking the store brands because they're plenty good enough.
Store bought paneer can vary from brand to brand. I've tried this with both Apetina (a drier, crumblier fresh paneer) and the Tesco store brand as pictured (a more firm, rubbery paneer). It works well with both types. I generally don't recommend the Tesco paneer because it's quite bland, but I found it suits this recipe just fine.
Canned pineapple is what I've used here, though I don't see any reason not to use fresh. You want around 260g (9oz). In terms of quantities, I wouldn't worry if you have a little less than that, but I wouldn't go over the amount. The pineapple to paneer ratio in this recipe is fairly generous already.
I used one red chili in this, but this part is up to you. More chili, no chili, green chili, all of this is fine. (I used another one for a garnish, which is also optional.)
If you want to add extra veggies, feel free! Throw them in and just up the teriyaki sauce.
How to Serve
While this dish packs a lot of moisture and juicy goodness, it's not super saucy. I would therefore suggest serving this with coconut rice for a little extra moisture factor. I give a recipe in the Recipe Card but there's no reason not to use a pouch of ready made coconut rice. The Tilda brand is pretty great.
An alternative would be to toss it into some noodles, but you'll want to add some extra teriyaki sauce and possibly thin the whole dish out with some veggie broth.
This recipe serves two – but you can double it!
The amount you see in these photos? That is the whole batch! I've made this recipe for two because in a normal casserole dish it cooks better with these quantities. See the Recipe Notes for tips on how to double it.