Halloumi cheese is about to become your new favorite breakfast item! Old school diner meets trendy brunch spot in this delicious vegetarian breakfast plate where fried halloumi tops a potato and pepper hash. A flexible recipe that can be adapted to include all your favorite brunch items.
I've been asked by lots of readers for more breakfast ideas and yep, we are very very short on them. Because eating sugar bomb cereal masquerading as granola is what I get out of bed for these days. Long gone are our lazy Sunday mornings where making a slow brunch was a possibility.
I had to channel my early thirtysomething self to come up with this one, and I only ever had it for dinner, not breakfast, but hey! I did it! A darn good vegetarian breakfast recipe for those of you with the lifestyle for it, and a darn good vegetarian dinner for the rest of us.
This is a sort of hybrid of old school cafe / diner food (a mess of fried taters!) and trendy brunch place food (avocado and halloumi!) so I feel like everyone can get involved here.
Why Halloumi for Breakfast is a Great Idea
Halloumi is a super filling protein source which stands in nicely where meat or sausages might have been. One of my fave cafes in London served slabs of halloumi with its otherwise very traditional English breakfast and it just made sense. It's a great option to get that chunk of protein on your plate without the use of faux meats.
Get your frying pans out – we are making a hash!
Ever made a hash before? Traditionally a hash would include meat, but there is zero need, especially when halloumi is coming to play. Essentially a hash is just a frying pan full of things that you chop up into tiny pieces and fry together and it all ends up greater than the sum of its parts.
It's a great way to use up leftovers, but you can make them with "on purpose" ingredients too, particularly the sorts of things you always have hanging around and may need to use up. For this recipe, I've opted for both white and sweet potatoes, red pepper and onion. Super basic, cheap staples which I always have a few extra of in the fridge from buying multi-packs.
We don't add the halloumi into the hash itself, instead we just plate it all up and then quickly fry the halloumi in the same pan. The halloumi goes on top. Ta da!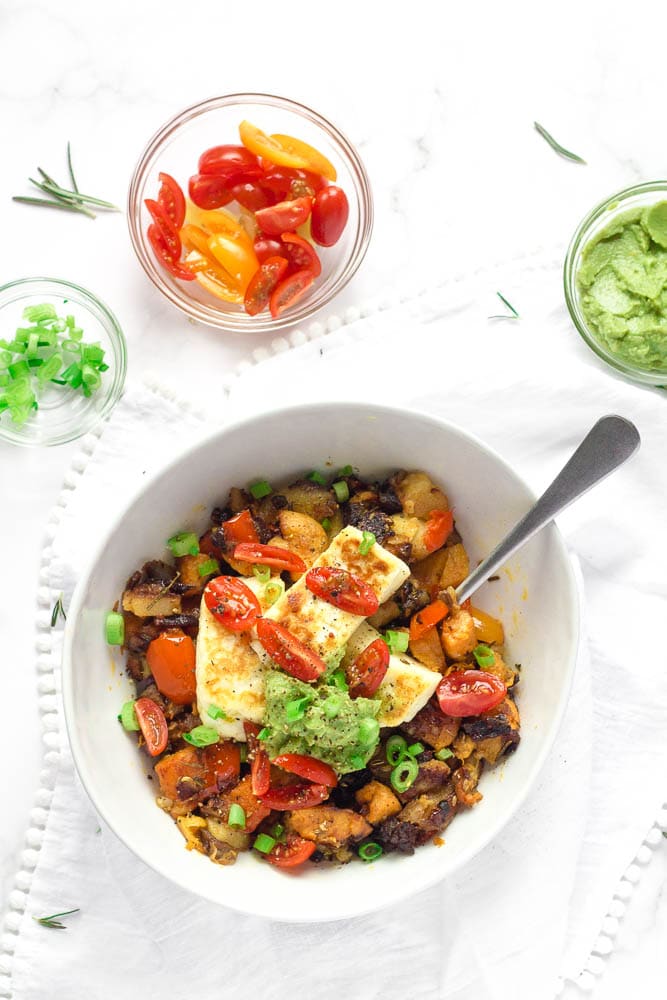 This is a versatile breakfast recipe
You can change up all sorts of things! Different veggies, just one type of potato, all OK. Just remember it needs to cook for long enough for the potatoes to soften, so some veggies will overcook in there, which is good in some cases (crispy onions) but may not work in other cases (soggy zucchini or other veggies which leach moisture).
You can add eggs – is it weird that I didn't? I just didn't want to use up another pan or try to manage the timings of the hash, halloumi and eggs being ready around the same time. You can choose differently!
Toppings! I use cherry tomatoes and avocado to give a little freshness, but you can go more traditional if you like. Ketchup? Baked beans? All good. You gotta do what you gotta do.