This delicious spiced, baked apple puree with the addition of nutritious oats is homemade baby food at its best. A silky smooth, deliciously flavorful first taste of apples for your baby. (Suitable from 6 months plus.)
Apples are a popular first food for babies, and for good reason. They're a deliciously sweet fruit that babies are likely to love!
For this homemade apple puree, I opt to bake my apples with a little smidge of butter and some delicious spices: cinnamon, nutmeg and ginger.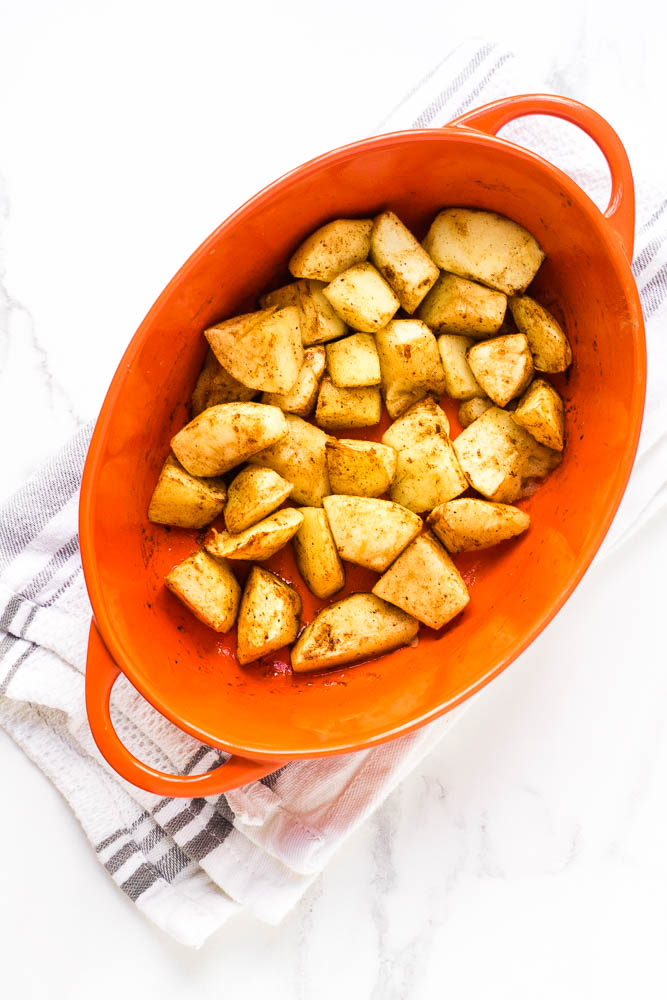 Baking apples makes sure that all the nutrients stay put, and concentrates the flavor a little. Your house will smell amazing.
Applesauce is a popular first food for babies, but it's not the most calorie dense offering. As your baby gets older and you want to fill them up more, you may be looking for something more substantial than plain apples.
So, we're going to add some oats to this puree to make it a more rounded meal or snack.
Adding Oats to Your Baby Food
Oats are amazing for babies, giving slow release energy, fiber and lots of vitamins and minerals to boot.
Oat flour (which is just made from very finely ground oats) is an easy mix-in to baby purees which preserves the smooth, creamy consistency they may prefer in the early days.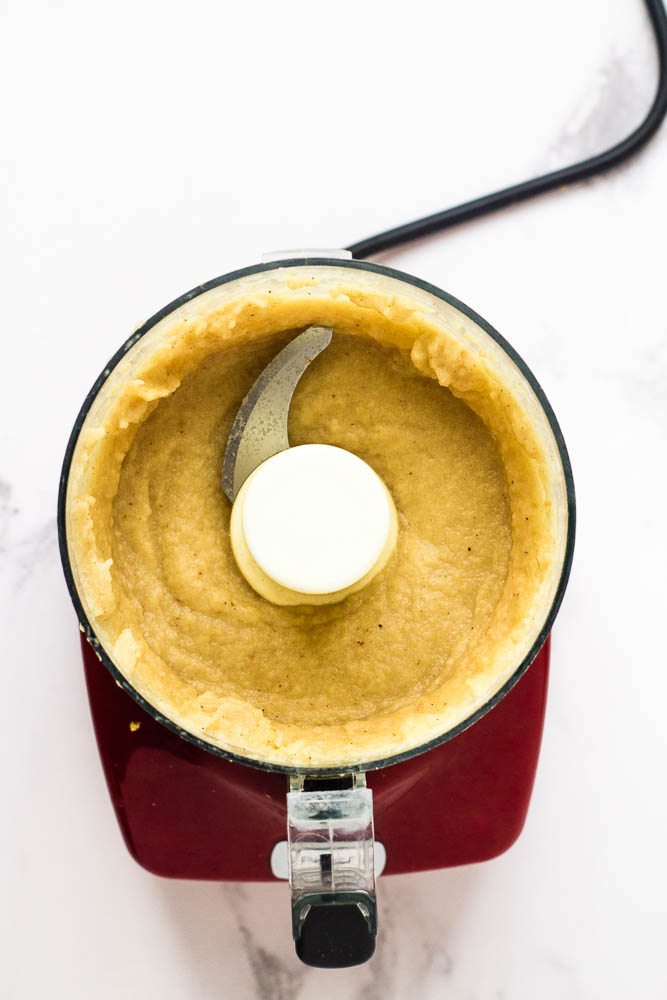 This is especially helpful if your baby food blender or mini food processor isn't quite high powered enough to turn everything it meets silky smooth.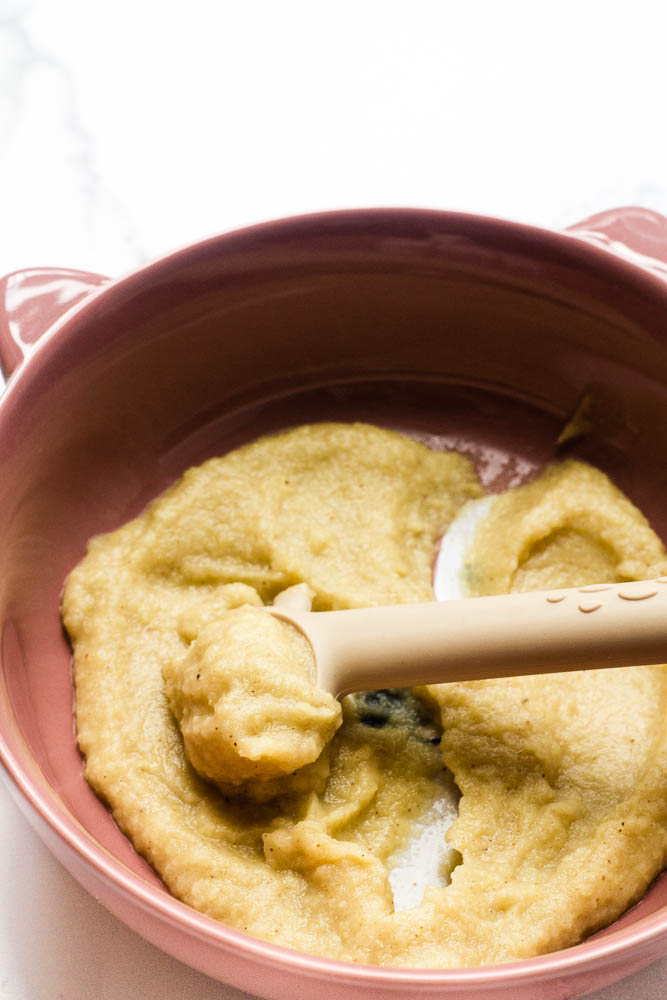 Once babies are eating textured, chunkier foods, you could swap regular rolled oats into the apple puree instead and leave them to soak overnight (overnight oats style!)
Everyone will want a bite!
After baking your apples in butter and spices, you just know this puree tastes fantastic. It's like apple crumble for babies!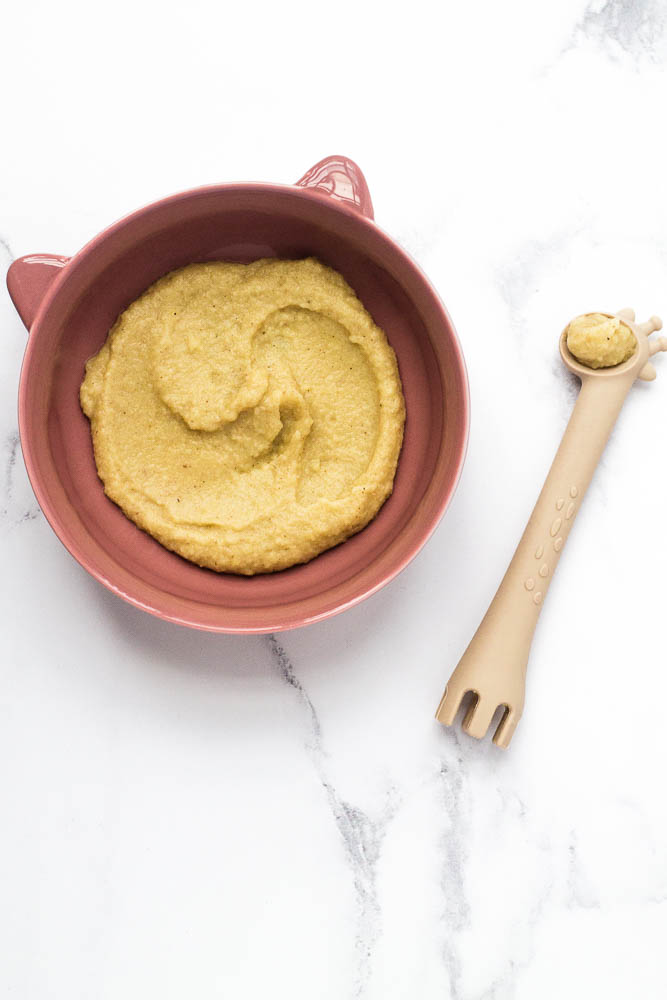 So the whole family might want to get on board with this one. If you have more than one child, I recommend scaling up the recipe and saving larger portions for your older kiddos as well as the little portions for the baby.
Just be warned – if you let your toddler share this, they may not be willing to go back to store bought applesauce!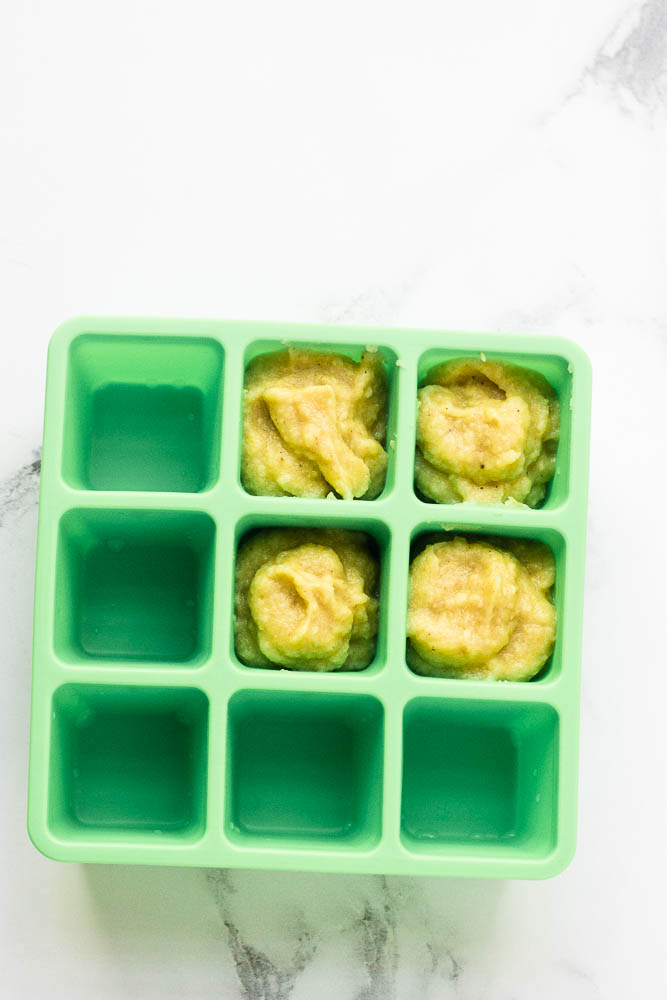 This is suitable for 6 months plus.
This is a smooth puree which can be made thicker or runnier depending on how much water or milk you use to thin it out.
It is only suitable from 6 months. While apples are fine before 6 months, oats and other grains are not recommended at that point.
If you are introducing solids to a baby between 4 and 6 months, you can still make the baked apple puree and just leave out the oats. Or spoon half out before adding the oats, and freeze some with oats to save for later.