A rich and filling pan of vegan rigatoni with flavorful "spicy sausage" inspired lentils. This is a balanced plate full of comforting carbs and spices, but with fresh vegetables to keep it fresh and light at the same time.
This pasta was inspired by the spicy sausage and broccoli rabe combo that's so popular in Italian cuisine, but it's fully vegan and full of easy to find ingredients.
The spiced sausage lentils are kind of my obsession right now. We dabbled in this concept in the recent Tortellini Soup recipe I posted, and it just involved sautéing some cooked green lentils in a generous sprinkling of fennel seeds and smoked paprika to capture those flavors within the lentils and make them almost like sausage crumbles. No, it's not going to fool anyone, but it's tasty and it's healthy so I say we run with it.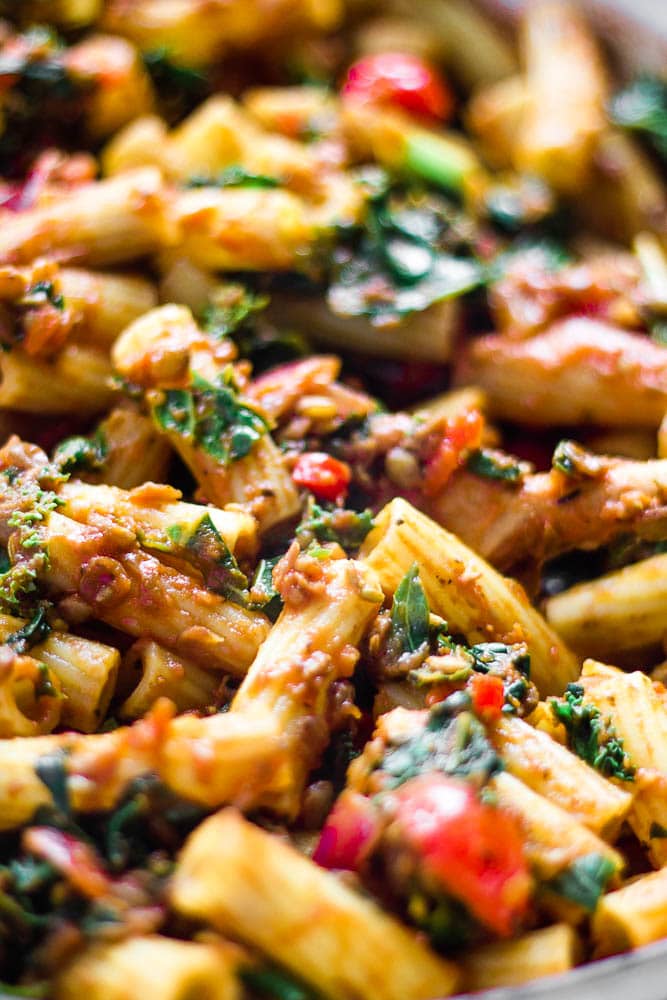 I originally intended to make this dish a cheap and cheerful pantry staple job, with the one exception of kale. But it never really shined until I threw in the cherry tomatoes and the sweet pepper, and it keeps the dish feeling vibrant and varied where my trials with tinned tomatoes fell short.
So our cast of characters here features lots of fresh, summery stuff and it was a good way to pivot.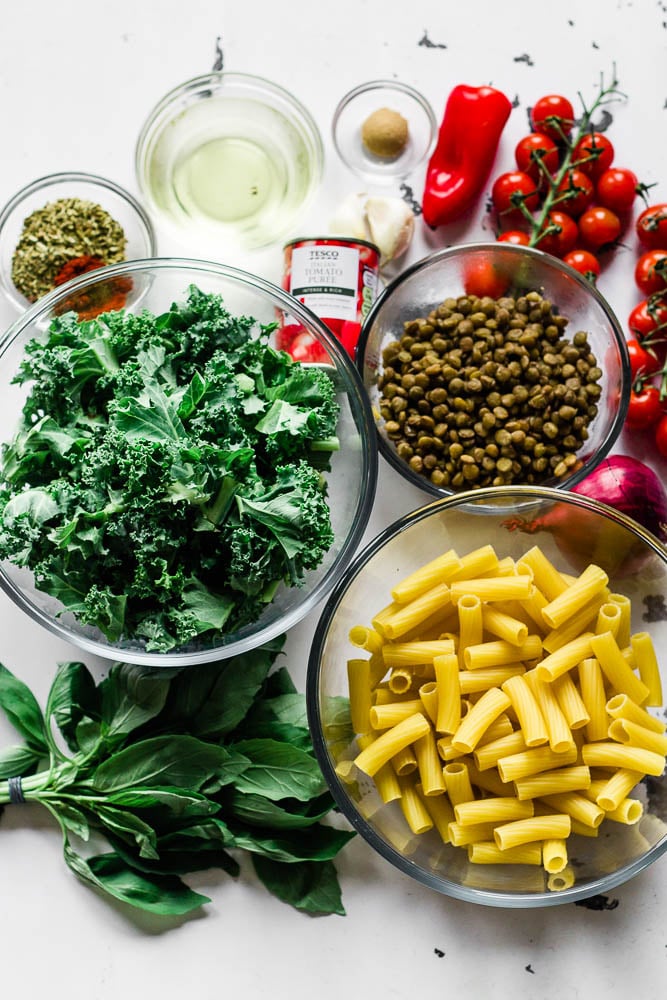 Let's take a look at how it all comes together, shall we? The "spicy sausage" lentils are formed by sauteeing onions, garlic and lots of spices with lentils and tomato paste. This makes a thick, rich mix of yumminess to build upon.
We add wine, kale, cherry tomatoes and basil and get that all reduced. When the kale first goes in, it frankly looks concerning, but don't worry. It reduces and blends in just fine. You can chop it teeny tiny to keep it even less conspicuous if you wish.
The magic ingredient here? Pasta cooking water to thin it out and making it smoother and saucier, ready for the pasta to go in. That starchy goodness adds a silky and cohesive texture to the sauce and helps it hold onto the rigatoni.
And here she is! You've got protein, carbs and veggies, so you've got yourself a meal, my friend.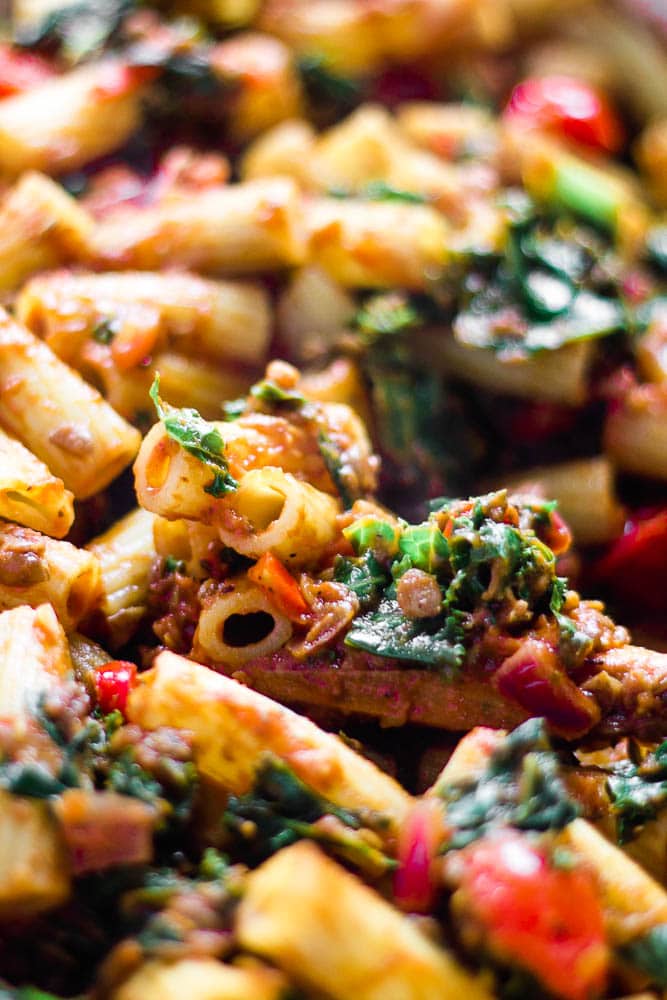 Variations and Additions:
Adding extra veggies is never a bad idea here. A few mushrooms, some zucchini, eggplant, all good ideas. It's also really good with cavolo nero (Tuscan kale, black kale) in place of curly kale.
Adding some red chilli or chilli flakes will give it a spicy edge.
One thing you might think is missing from this dish is the excess of oil that you'd get with a meaty sausage based pasta. You can of course drizzle a bit more olive oil into the dish while you're cooking the lentils in the spices to give it more of a fatty, oily finish.
I do my best to make vegan pasta dishes tasty and varied enough not to need cheese, because not everyone has a brand of non dairy cheese they like, but if you do – pile it high! Similarly, a little dash of vegan cream would add a little extra luxury for you.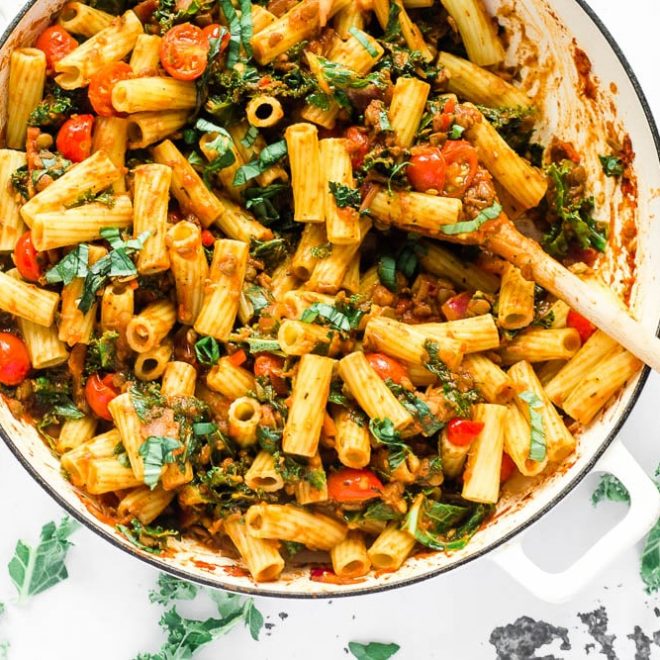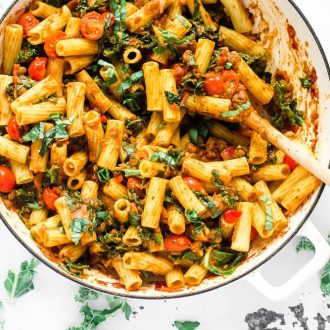 Vegan Rigatoni with Spicy Sausage Lentils
A rich and filling pan of vegan rigatoni with flavorful "spicy sausage" inspired lentils. This is a balanced plate full of comforting carbs and spices, but with fresh vegetables to keep it fresh and light at the same time.
Ingredients
1 red onion, minced
6 garlic cloves, crushed
1 small sweet pepper, thinly sliced
1 tbsp fennel seeds, lightly crushed in a pestle and mortar*
1 Tbsp smoked paprika
1 Tbsp mixed Italian seasoning mix or dried herb mix
A few pinches of red pepper or chilli flakes, optional, if you want a bit more heat
½ cup (8 tbsp) tomato paste
1 tsp sugar
1.5 cups (300 g) cooked lentils**
½ cup (120 ml) white wine
9 oz (250 g) cherry tomatoes, sliced
2 handfuls finely chopped kale, about half of a supermarket bag – 80g or 3oz
12 oz (340 g) dried rigatoni
2 cups (475 ml) pasta cooking water , you won't use all of this but it's worth setting aside a little more than you think you will need
2 handfuls fresh basil
Instructions
Heat a little olive oil in a large pot. Saute your onions and peppers until soft. Add your garlic and cook for just a couple minutes until it is also soft.

Add your spices (fennel seeds, Italian seasoning mix, red pepper flakes and smoked paprika) and cook until the fragrance releases, before quickly adding your tomato paste, sugar and lentils. Turn the heat down and continue to cook, stirring continuously, until you have a thick mix of sticky spiced lentils.

Add the white wine and simmer until the liquid has reduced a little. Leave on a very low heat and stir regularly while you cook your pasta.

Set pasta cooking according to package instructions.

Just before the pasta is ready to drain, add the kale and cherry tomatoes to the pot and mix through until the tomatoes are warm and the kale is slightly wilted and bright green.

Reserve 2 cups of the cooking liquid and then drain the pasta.

Mix the pasta through the lentil sauce and add cooking liquid, a little at a time, until you have a thick and silky, creamy sauce.

Add the basil and mix through.

Serve.
Notes
*You can skip the pestle and mortar if needs be. It's a nice touch, but not a deal breaker. ** If you're cooking the lentils from dried especially for this recipe, you need 1/2 cup dried lentils. You can also use a can of lentils. It's a little less than the recipe calls for, but it doesn't make a big difference.
Serving: 1g, Calories: 387kcal, Carbohydrates: 71g, Protein: 18g, Fat: 3g, Polyunsaturated Fat: 2g, Sodium: 41mg, Fiber: 14g, Sugar: 11g