A really easy way to prepare a vegan taco "meat" from plant based ingredients! You will love the simplicity of this method and how it can slot into any of your favorite meal kits or recipes that call for ground beef. This vegan taco meat is made with no soy, tofu or nuts.
Do you need a really simple way to hack together a ground meat style taco? I know I usually push lentils in these situations, and they're a really nutritious way of doing things, but I do have another trick up my sleeve that is better if you want to recreate taco meat in a more intentional way. This is richer, fattier and more able to swallow up tasty flavors quickly.
Curious?
Minced roasted mushrooms and chickpeas make the "meat"
Oh I know, it seems so not revolutionary for a vegetarian to use mushrooms and chickpeas in place of meat, but bear with me! You haven't seen anything quite like this before.
We roast them, then mince in the food processor to make a "meat". We saute that with onions, and add a lot of taco spice. It's really easy but just works.
This is a tried and tested approach. I used it for my Roasted Chickpea and Mushroom Bolognese which has won over the meat eating partners and family members of some of my readers. So it was time to change genres and see what else we could do with the minced chickpea and mushroom magic.
I really have tried a lot of different approaches to vegetarian "ground meat" and this is hands down my favorite. And I love that the ingredients are straightforward and not likely to scare people who are new to vegetarian or vegan eating. The ingredients are familiar and "safe"; you just haven't tried them prepared this way before.
Why this works so well as a meatless taco meat
Texture : The ground up mushrooms are surprisingly meaty, the ground up chickpeas add more texture and sturdiness. As you can see, some of the roasted chickpeas are still whole but they're so crispy I promise you don't get any real hint of bean flavor from them, it's all just dripping in taco goodness.
Fat : Where things like lentils and straight beans fail, this recipe succeeds a little more, because both the mushrooms and chickpeas absorb lots of oil when they roast. So there's a richness and a fattiness all the way through this "meat", which is more in line with what you might have expected from actual meat.
Flavor : This is the hard part, because while mushrooms bring a little of umami to the table, we need a lot more flavor injected into this, and we need that to be quick. In my testing, this was much much better with a prepared taco seasoning packet, because that extra saltiness is just needed. If you go with a homemade taco seasoning, pleeeease up the salt levels and also use more than you might have expected to.
Serving Suggestions
This recipe really suits American Tex Mex style tacos! Hard or soft shells work. It can slot into a pre-packaged taco kit perfectly in place of beef. I serve with the toppings you can see in the photos: shredded lettuce, sliced red onion, cherry tomatoes, avocado, cilantro (fresh coriander) and a squeeze of lime. If you don't need this vegan, some shredded cheese and sour cream always fits in well.
For a lighter option, make lettuce wraps instead of using taco shells or tortillas, or even a taco salad.
There are also many appetizers that call for taco meat – nachos or potato skins spring to mind – which you can now go forth and veganize.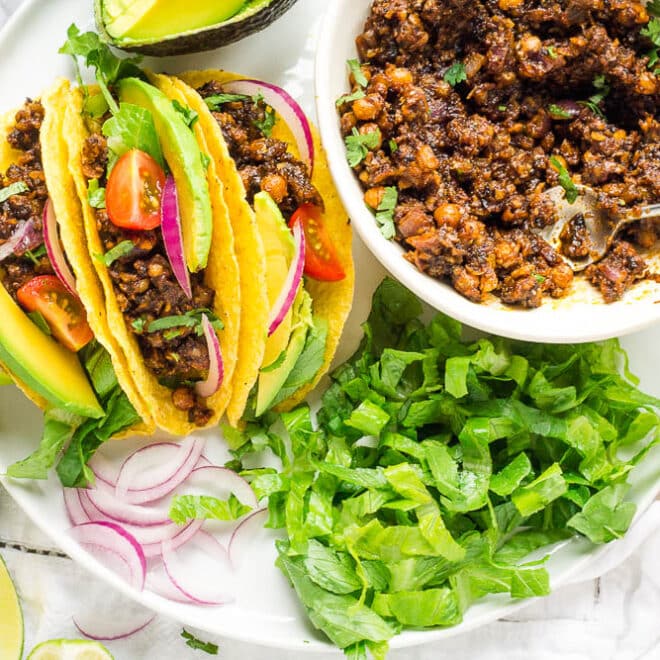 Easy Vegan Taco Meat
A really easy way to prepare a vegan taco "meat" from plant based ingredients! You will love the simplicity of this method and how it can slot into any of your favorite meal kits or recipes that call for ground beef. This vegan taco meat is made with no soy, tofu or nuts.
Ingredients
Olive oil, for cooking
3 portobello mushrooms*, sliced
1 can chickpeas, drained, rinsed and patted dry
1 packet taco seasoning, see notes
½ medium red onion, diced
Instructions
Preheat the oven to 200C / 400F.

Prepare the mushrooms and chickpeas. Arrange the sliced mushrooms and chickpeas on a baking tray and drizzle with olive oil, using a spatula to mix it all around and ensure that everything is coated with the oil. You don't want to skimp on oil here since you want the chickpeas to be crispy! So you will need a few glugs. Then add a nice sprinkling of salt.

Roast in the oven for 20-25 minutes, until the chickpeas are crispy. Set aside to cool for about 5 minutes.

Pulse in a food processor. Once they've cooled down a little, add to a food processor (using the smallest inner bowl you have) and pulse several times to get the mushrooms and chickpeas "minced". You want the mushrooms broken down into tiny pieces but be careful not to go any further than that as you don't want them pureed! Some of the chickpeas will break up, with some remaining whole, but your focus is on the mushrooms – you don't want to over-do the mushrooms while trying to get more chickpeas broken up. While you pulse your food processor, make sure that it is churning the mixture evenly – you don't want the bottom to puree while the top stay whole for example. Some do a better job of this than others, and the size of your bowl will also play a part. I use the smallest bowl available for my food processor, and have also made it with a mini chopper.

Fry the mince. In a frying pan or saute pan, heat a tablespoon or two of olive oil and add the mushroom chickpea mixture alongside the minced onions, until the onions are slightly softened up.

Add the taco seasoning. Use the whole packet! Mix through and assess the texture. If the mixture feels dry, add a spoonful or two of water to loosen it up and let a sauce form. If there is moisture coming out from the mushrooms, continue to cook until it's reduced down.

Serve! Spoon into tacos with all your favorite toppings.
Notes
Nutritional information is for one taco, excluding the shell or toppings. It is based on using 4 tablespoons of olive throughout the recipe. *Mushrooms – feel free to swap portobellos for another type of mushroom such as chestnut or button. Roast them halved or whole, depending on the size. 
Calories: 123kcal, Carbohydrates: 12g, Protein: 3g, Fat: 8g, Saturated Fat: 1g, Polyunsaturated Fat: 1g, Monounsaturated Fat: 5g, Trans Fat: 0.001g, Sodium: 358mg, Potassium: 202mg, Fiber: 3g, Sugar: 3g, Vitamin A: 418IU, Vitamin C: 3mg, Calcium: 16mg, Iron: 1mg