How to Make Pesto in Every Color: The Ultimate Collection of Veggie Pesto Recipes
A collection of 65 unique and colorful homemade pesto recipes featuring different vegetables and herbs! These healthy veggie pesto pasta recipes will delight your family at dinner time.
Well this is a subject so close to my heart, because making easy homemade pasta dinners is kiiiiind of my obsession. And homemade pesto, with it's herby, nutty, lemony vibes, is one of my faves. EVER.
And pesto is a template that you can so easily adapt and have fun with, boosting the nutritional content while you're at it, by adding different herbs, nuts, cheese and veggies. You can have pesto in pretty much all the colors.
(But not blue. Sorry! I tried.)
How to Make Classic Pesto
The ingredients for a classic pesto are Basil + Pine Nuts + Lemon Juice + Parmesan Cheese + Olive Oil. Just throw them into a mini food processor and pulse. That's it. Your classic pesto sauce is ready!
What Equipment do you need to Make Pesto?
I recommend an inexpensive mini food processor like the Magimix Le Micro (UK) or KitchenAid Mini (US).
You could go old school and use a pestle and mortar. But you're probably not going to do that.
If you only have a larger food processor, just make sure you're making a large enough batch for it to blend properly. Vegetable pestos work well here because they can be extra bulky.
How to Make Legit Vegetarian Pesto
No, there is no meat in pesto, so you'd be forgiven for thinking it's a default vegetarian ingredient. However, genuine parmesan cheese does contain animal rennet (this is an ingredient made from the stomach lining of cows) and therefore is not classified as a vegetarian friendly ingredient.
In fact, animal rennet has to be used or the cheese can not be labelled as parmesan (the name is protected and can only be used when various guidelines are adhered to including the use of cow rennet).
The good new is that vegetarian friendly alternatives are widely available and might go by the names "Pasta cheese", "Vegetarian hard cheese", etc. Another reason that homemade pesto is the best.
… And how to Make Vegan Pesto
Vegan pesto won't contain any cheese, but nutritional yeast flakes are a great substitution.
Now let's add a twist…
Pesto is incredibly versatile (if you're not overly concerned with authenticity) and this classic format has been adapted time and time again to change up the nuts, herbs, and cheese. My favorite thing to do is add vegetables to pesto, transforming the texture of the sauce, making it healthier, and bulking it out to make or a more substantial bowl of pasta. Below I have compiled the ultimate list of veggie pesto recipes – homemade pesto in every color!
How to Make Green Pesto
Many of the best twists on pesto keep the end result green! Adding in avocado for a creamy texture, using spinach or kale alongside the basil for a barely detectable nutritional upgrade, changing the flavor with arugula, wild garlic or chives, or making a big chunky pesto full of green vegetables. You can also try different nuts in your basil pesto for subtle flavor differences (and usually cost savings – pine nuts are expensive!)
Green Pestos with Added Fruits & Vegetables
Green Pestos with a Twist on Herbs and/or Nuts
Green Pestos with a Twist on the Cheese
Green Pestos with a Twist on the Garlic
How to Make Red Pesto
Red pesto often utilizes roasted red peppers and/or sundried tomatoes, for an added sweetness and umami kick.
How to Make Pink Pesto
It's all about the beets here! Beet pesto has a beautiful bright hue that is sure to charm anyone you serve it to. Also, adding lots of creaminess to a red pesto leaves you with a beautiful light pink color. Who could resist a plate of gorgeous pink pasta?
How to Make Yellow Pesto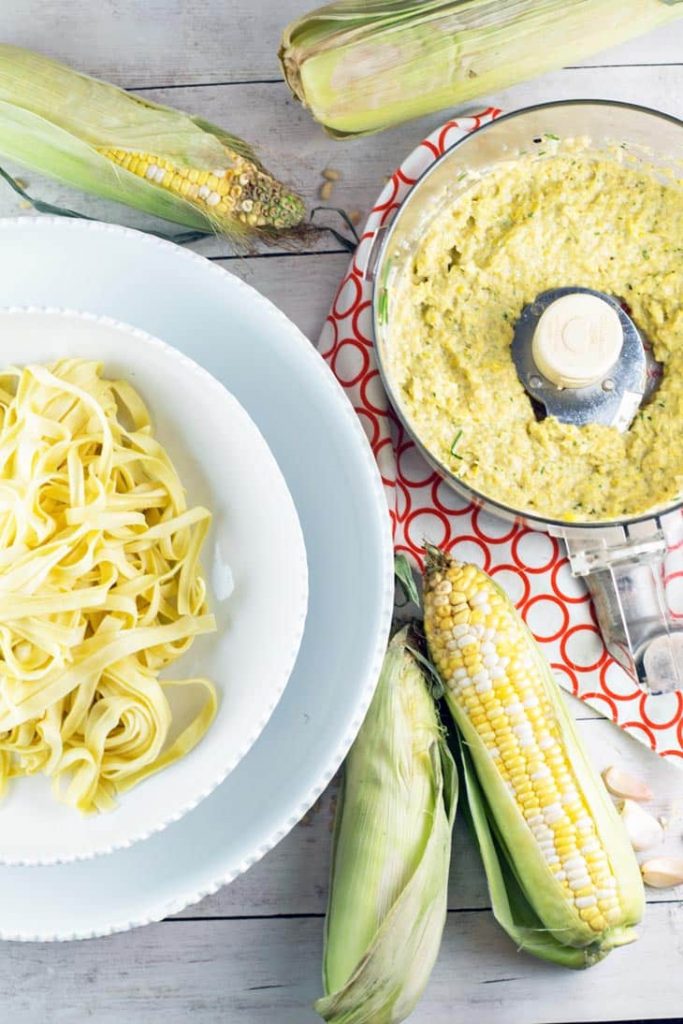 Yellow vegetables such as corn, peppers and squash will lend a yellow hue to your pesto!
How to Make Purple Pesto
Red cabbage (which is, in fact, decidedly purple in color) has been pesto'd by many a chef and blogger. Crunchy cabbage will lend a hearty texture and a good amount of bulk to your pesto, not to mention all those nutrients. Red basil is another simple way to bring the color purple to your pesto!
Ideas for What to do with Pesto
Well, mixing it into pasta is the obvious choice here but if you have some leftover or just feel like something different, here are some other ideas.
Make a salad dressing
Use it in a potato salad
Use it as a pizza base, the base or topping for a puff pastry tart
Mix with roasted veggies
Mix into plain rice or mashed potatoes
What's your favorite pesto? Did I miss a great recipe in this collection that you'd like me to add in? Can you help me find a blue pesto? Share in the comments below!