Learn how to make a perfect vegetarian pesto without parmesan (using rennet free cheeses!) Plus, a collection of over 50 unique and colorful homemade pesto recipes featuring different vegetables and herbs! If your family love pesto pasta recipes, you will want to bookmark this post and come back to it again and again.
Well this is a subject so close to my heart, because making easy homemade pasta dinners is kiiiiind of my obsession. And homemade pesto, with its herby, nutty, lemony vibes, is one of my faves. EVER.
Pesto is a template that you can so easily adapt and have fun with, boosting the nutritional content while you're at it, by adding different herbs, nuts, cheese and veggies.
Is Pesto Vegetarian?
Sometimes it is, sometimes it isn't, and it all comes down to the cheese used. Traditional pesto is made with parmesan cheese, which is not vegetarian due to the use of animal rennet in the processing. In the EU, anything labelled parmesan has to be made with animal rennet because it's a protected name. Though outside the EU it's possible to call a locally made cheese "parmesan" even if it uses vegetarian rennet.
To make our homemade pesto vegetarian, we just need to seek out a replacement for parmesan. There are cheeses on the market which are made to mimic parmesan, but with vegetarian rennet. These have names such as "Italian hard cheese" or "Pasta cheese". In the UK, all larger supermarkets have a version of this which you'll find sitting alongside the parmesan in the cheese aisle.
Are these cheeses exactly the same? No, they generally aren't as deeply flavored. To make up for this, it's worth adding a few grinds of salt to our pesto.
With that said, sometimes ready made pesto IS vegetarian and has been made with one of these vegetarian friendly cheeses. After all, they are often cheaper, and using a vegetarian cheese expands their market, so I am seeing this more and more.
Making Vegetarian Basil Pesto
Below you will find my favorite recipe for basil pesto! This recipe is saucy, a little bit textured, and bursting with bright flavors. This is a true SAUCE, and I like to use it in generous quantities, not just an oily coating on your pasta.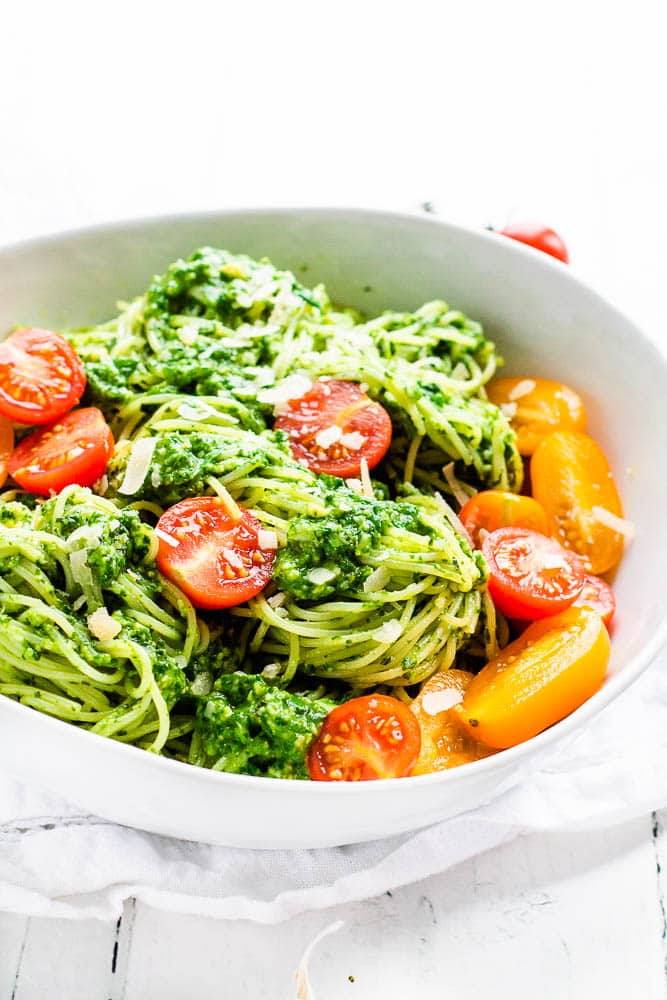 TOP TIP: The sauciness of this pesto relies on using a LOT of basil. If I don't have an abundance of basil, I like to swap in some baby spinach to make up the shortfall! This keeps the soft texture and bright green color in tact, and gives it a nutritional boost too. Of course, the more spinach you use, the more you start to dilute the basil flavor, but play around and see what works for you – it is still a better solution than just reducing the basil and compromising the texture as well.
What Equipment do you need to Make Pesto?
I recommend an inexpensive mini food processor like the Magimix Le Micro (UK) or KitchenAid Mini (US). My recipe shows you how to use a mini food processor to get a great texture for your pesto.
If you only have a larger food processor, just use the smallest bowl available and make sure you're making a large enough batch for it to blend properly in there. Doubling the recipe might help if you don't have a small enough bowl.
You could go old school and use a pestle and mortar. But you're probably not going to do that.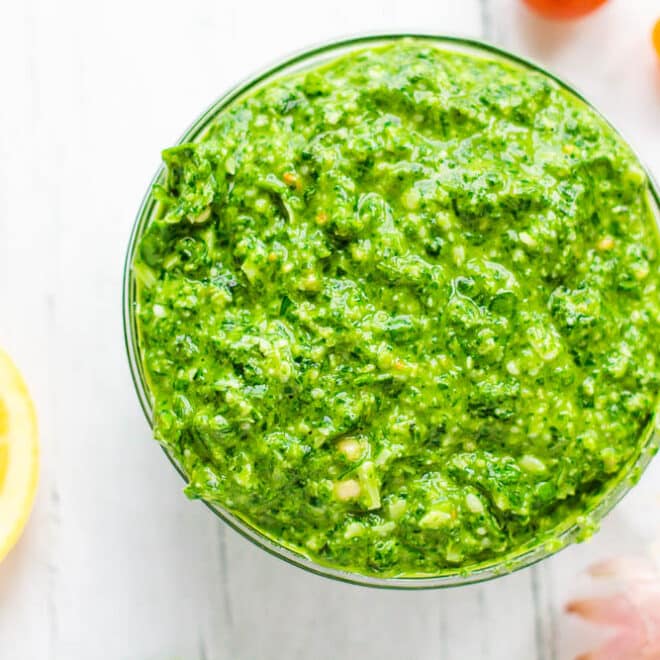 Vegetarian Pesto Recipe
Freshly prepared fresh basil pesto made with vegetarian cheese – the texture of this pesto sauce is absolutely dreamy. A staple recipe worth mastering!
Ingredients
3 Tbsp pine nuts
4-5 cups (75-100 g) basil leaves, or a combination of basil leaves and baby spinach, see notes
⅓ cup (45 g) parmesan or Italian hard cheese, grated
2 cloves garlic
1 lemon, juiced
⅓ cup (80 ml) olive oil, you may want more, up to 1/2 cup
Instructions
Toast your pine nuts. Heat a frying pan on a low heat, without any oil, and add the pine nuts for a minute or two, mixing regularly, until they're lightly browned and smelling toasty.

Add the garlic, spinach and MOST (about 2/3rds) of the basil, pine nuts and cheese to your food processor or mini chopper. Add a few grinds of salt. Blend until finely chopped.

Add the lemon juice and blend, slowly adding the oil to the mixture, until smooth.

Now add the reserved basil, pine nuts and cheese into the food processor with the remaining oil. Pulse gently until these ingredients are incorporated into the pesto but in larger pieces. Add more oil if you think it needs it.

Serve, tossed into pasta (don't add any heat – it will cook away the fresh basil taste!) If storing, add a small layer of olive oil to the top of the jar to preserve it in the fridge.
Calories: 258kcal, Carbohydrates: 5g, Protein: 5g, Fat: 26g, Saturated Fat: 4g, Polyunsaturated Fat: 5g, Monounsaturated Fat: 15g, Cholesterol: 6mg, Sodium: 136mg, Potassium: 167mg, Fiber: 1g, Sugar: 1g, Vitamin A: 1339IU, Vitamin C: 19mg, Calcium: 152mg, Iron: 2mg
Lots of other ways to make pesto!
So that's what we usually think of when we think of pesto; however ….. Pesto is incredibly versatile if you're not overly concerned with authenticity. The classic format has been adapted time and time again to change up the nuts, herbs, and cheese.
We can even add vegetables to pesto, transforming the texture of the sauce, making it healthier, and bulking it out to make a more substantial bowl of pasta.
Below I have compiled the ultimate list of vegetarian pesto recipes to take inspiration from – homemade pesto in every color! (But not blue. Sorry! I tried.)
Not all of these recipes come from vegetarian websites, so some may call for parmesan. Swap another cheese into these recipes + a little extra salt, and away you go.
Green Pesto Recipes
Many of the best twists on pesto keep the end result green! Adding in avocado for a creamy texture, changing the flavor with arugula, wild garlic or chives, or making a big chunky pesto full of green vegetables. You can also try different nuts in your basil pesto for subtle flavor differences (and usually cost savings – pine nuts are expensive!)
Red Pesto Recipes
Red pesto often utilizes roasted red peppers and/or sundried tomatoes, for an added sweetness and umami kick.
Pink Pesto Recipes
Yellow Pesto Recipes
Purple Pesto Recipes
TELL ME… What's your favorite pesto? Did I miss a great recipe in this collection that you'd like me to add in? Can you help me find a blue pesto? Share in the comments below!