Lightly stir fried cavolo nero is the base for this substantial warm salad full of Italian flavors! Fresh and full of texture, this is a vegan recipe that can fit into a larger meal or be the base of a simple dinner with the addition of some protein.
Warm salads! Where do you stand on this concept? Once you accept the notion of a warm salad, so many possibilities open up for how you can put a meal together.
It's hard to say what sets a warm salad apart from a side dish. I guess it's the use of salad-like dressing? The attempt to balance your ingredient mix in a certain way so that it can be most of your meal and not just a small part? I'm not 100% sure here. But I'm just going with it.
So in this case, our base is very lightly sauteed cavolo nero (aka Tuscan kale, black kale, my fave green) and cook it just to where it softens and turns bright green.
There are cavolo nero salads out there which massage and serve it raw, but I've always preferred to cook kale and its cousins even just a tiny bit. I guess this is another reason I like to embrace the warm salad concept.
We then build a slightly Italian themed salad with it. A vegan herby lemony Italian style dressing, fresh tomatoes, peppers, baby potatoes, spring onions and pine nuts. So much good stuff!
There is room for more at this party of course, you can try adding corn, artichokes, avocado, any other veggies you enjoy. Vegetarian or vegan parmesan style cheeses are a nice topping to finish things off.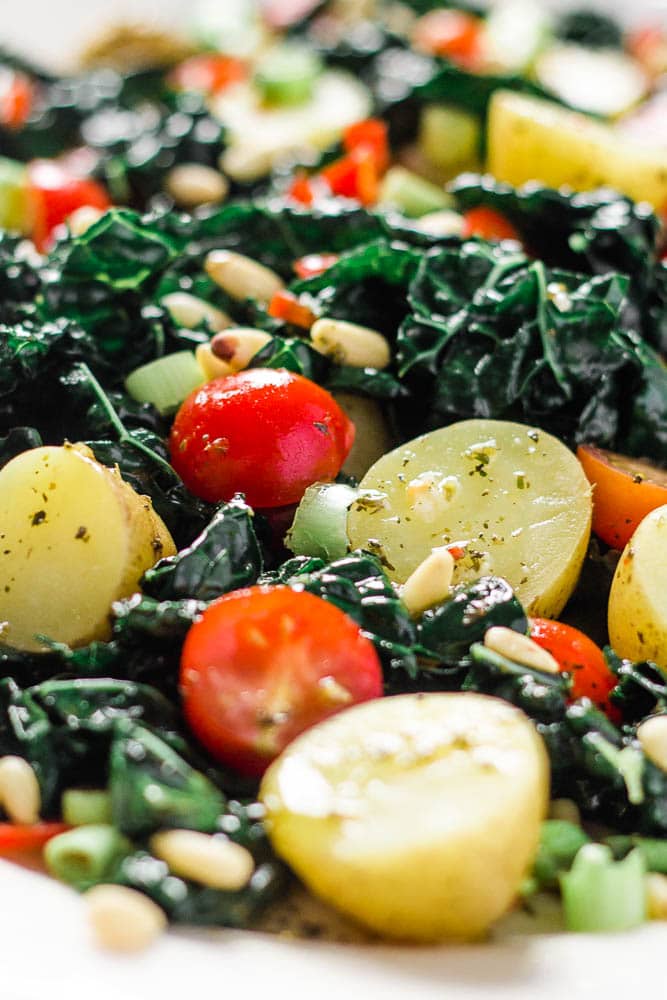 My favorite way to eat this is heaped in a bowl with some vegan sausages for an easy peasy dinner. Other vegetarian and vegan proteins (halloumi? tofu? veggie burgers?) would pair nicely here too.
It would fit in well at a barbecue table or a potluck type situation but since you want it served warm, it's better if you're the host and bring it out fresh. The cold leftovers are fine and edible, you just wouldn't plan to serve it cold.
And finally, if this wins you over on the warm salad idea, you can also take a look at the Roasted Kale Caesar and its spin-off Warm Broccoli Caesar Salad (these recipes are not vegan but could be adapted with this caesar dressing).