These bean and cheese burritos are simple to make and cook in your air fryer. No pre cooking required – we assemble the burrito filling cold, then warm it up already rolled. These can be frozen, giving you an easy way to build a burrito stash!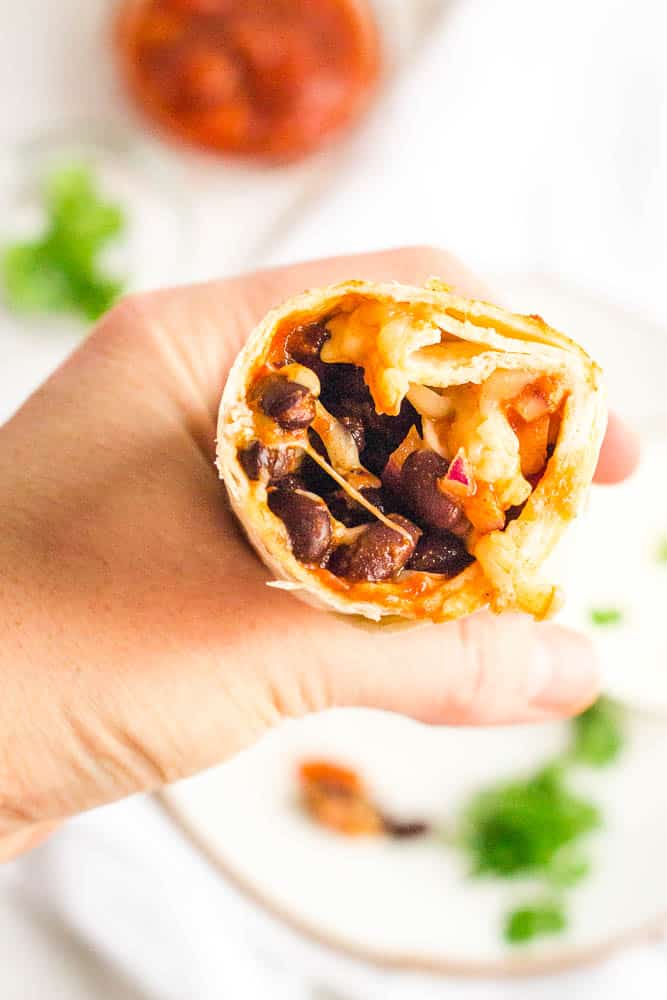 As an American vegetarian kid in the 90's, a freezer full of microwavable bean and cheese burritos was a must. It was one of the ways we trailblazing veggies survived. I will always have a fondness for the frozen burrito aisle, but since we don't get much of a selection of frozen burritos where I live now, homemade is the way to go these days.
So here it is. My version of those gooey, cheesy, comforting little burritos I grew up with. The best part is they are incredibly fast, easy and cheap to make with the help of your trusty air fryer!
The burritos can be assembled in 5 minutes with the ingredients cold, and then it all just cooks in the air fryer. This makes life so easy.
You can make 4-6 burritos with this recipe so you'll have one for the the whole family, or you'll have spares for the freezer.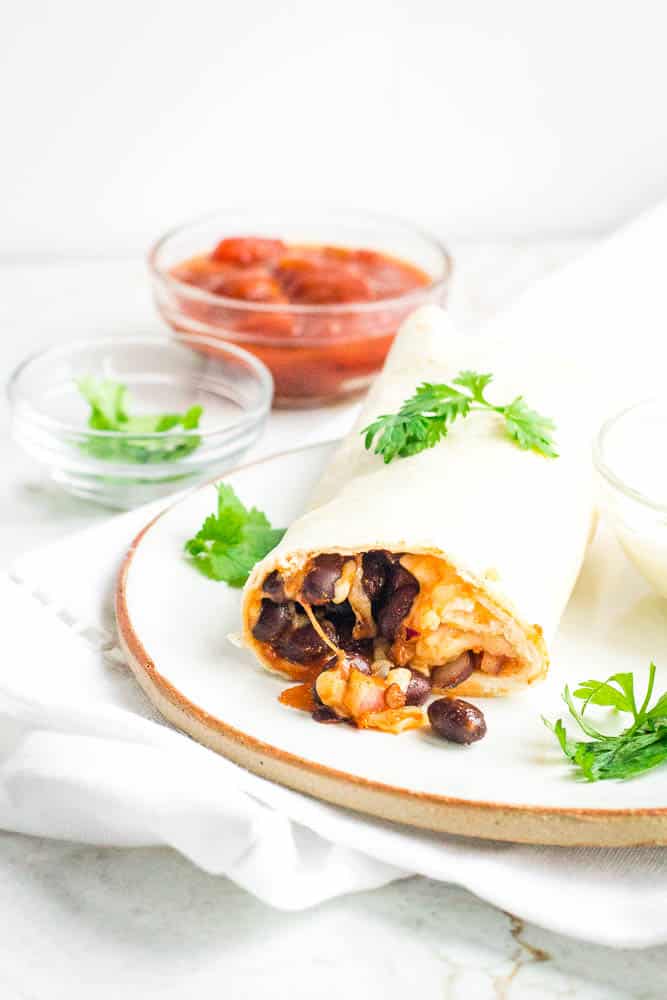 Why make these in the air fryer and not the microwave
So, you CAN take this recipe and make the burritos in the microwave, for sure. The benefits of the air fryer as opposed to the microwave: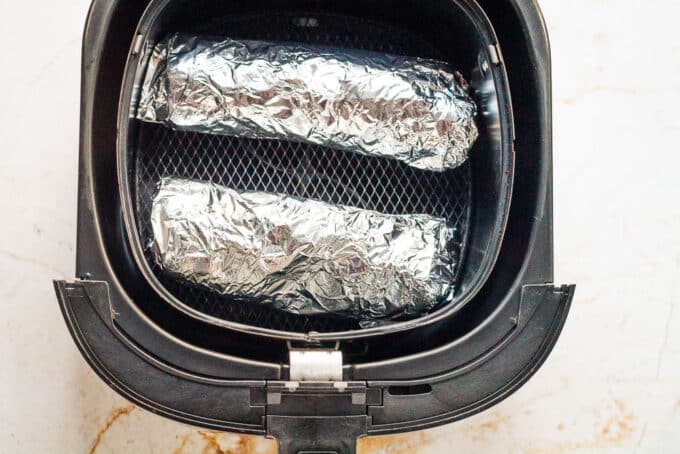 More evenly cooked filling. Microwaves can have heat spots, and I've always found a solid burrito tricky to microwave – you'd get some bits scalding and other bits still cold. Air fryers are a more even way to cook.
You can cook them in foil, helping secure your burritos even if they aren't perfectly wrapped. (Side note: Why is burrito wrapping so hard for me?!)
You can get some crisping around the tortilla instead of it being soggy. This is something you can control, depending on whether you leave the foil on or take it off; you can even go full chimichanga and cook these in oil if you wish.
Ingredients & Substitutions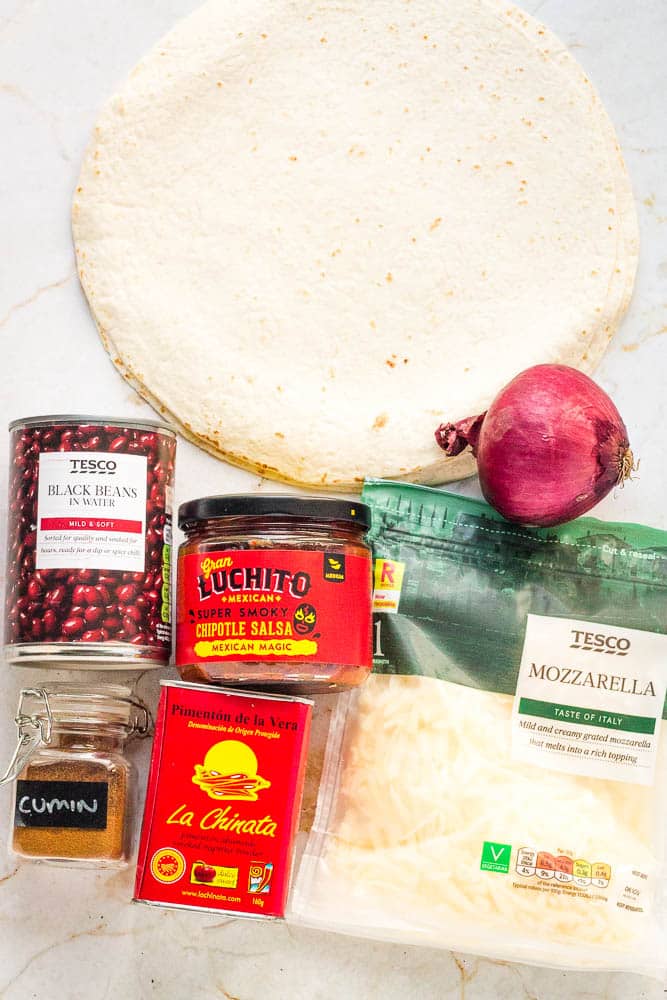 Can of black beans. These can easily be swapped for pinto beans or kidney beans, no stress.
Salsa. We rely on salsa to infuse all the Mexican style flavors into the burritos so it's an important one. I like to use a smoother, jarred salsa because you want it to behave like a sauce and infuse flavor all around. You definitely don't want a fresh tomato salsa or a pico de gallo, or something too chunky that won't spread much. You should choose the salsa that matches your heat tolerance best. Mild for me.
Cheese. I use a pre-grated mozzarella mix for these. It's easy, and I like the creamy neutral flavor of mozzarella here. You can of course use whatever cheese you wish.
Spices. Cumin and smoked paprika are the right duo for me. Sweet smoked paprika adds smoky flavor but no heat – if you want to swap in your favorite chili powder, feel free.
Salt and Pepper. It makes a difference to season the filling with salt and pepper, especially if you're using pinto or kidney beans which are a little chunkier and drier than black beans.
Onions. Finely minced onion is a must here for the extra punch of flavor. Red, brown or white – doesn't make much difference. Green onions would be ok too but not my preference.
Tortilla wraps. Obviously, the size of your wraps dictates the size of your burritos. A smaller fajita sized wrap will make little burritos similar to the ones you can buy pre-made and frozen, and you'll get 5-6 burritos. I go a little larger than those and aim for four burritos.
Adding Rice to the Recipe
My recipe is for a pure bean and cheese burrito, because that fits the easy workflow so well, but if you really need to see some rice in your burrito, I understand. Let's do this. You can either :
Mix a bit of cooked rice in with the bean filling (be sure to increase your salsa, spices, onions and cheese if you do this – making sure the rice doesn't just dilute the flavors of the burrito).
Add flavored rice to the burrito alongside a smaller scoop of the bean filling.
The easiest way to prepare rice for these burritos would be if you had some precooked rice in the fridge, but failing that, open a packet of microwave rice. No need to heat up the rice in either scenario – add it to the burritos cold. Just go with the longest suggested cook time if you're adding pre-cooked cold rice and make sure it's piping hot.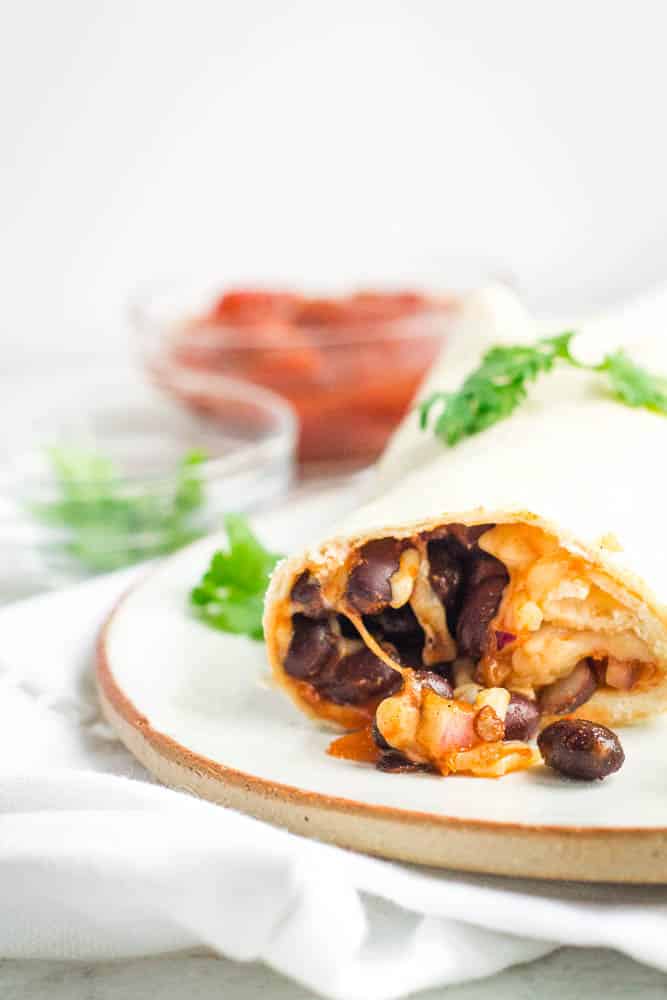 Other Modifications and Additions:
I am delighted with how quick, simple and delicious this recipe is all on its own, but it's very much a BASE recipe. The bare minimum for a tasty result. You can do so much more with it! We've discussed adding rice, but these are all good additions too:
Sliced jalapenos or chilis for a spicy kick
A little frozen corn
Avocado chunks, if you are good with cooked avocado
Fresh cilantro / coriander if it's available
Just remember, if you're adding anything bulky you will want to throw in extra cheese and salsa.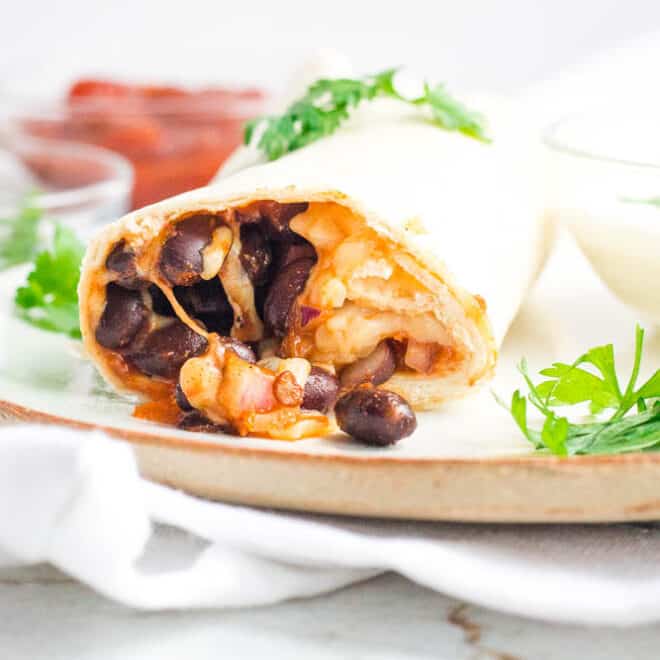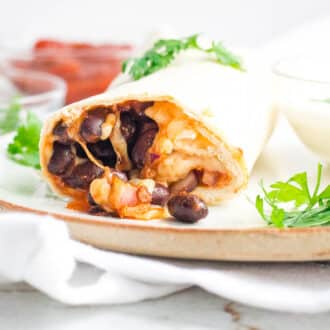 Air Fryer Bean & Cheese Burritos
These bean and cheese burritos are simple to make and cook in your air fryer. No pre cooking required – we assemble the burrito filling cold, then warm it up already rolled. These can be frozen, giving you an easy way to build a burrito stash!
Ingredients
Burrito Filling
15 oz can of black beans, rinsed and drained
3 Tbsp salsa, + more to top the burritos with
4 Tbsp mozzarella cheese mix, + more to top the burritos with
3 Tbsp onions, minced
½ tsp cumin
½ tsp smoked paprika
salt and pepper
Instructions
Heat your air fryer to 360F / 180C.

Add all of the burrito filling ingredients to a bowl. Mix until well combined.

Scoop some filling onto each tortilla. Fold the sides in, then roll the burrito to secure the filling inside.

Wrap in foil (this is optional but stops the tortilla becoming too crispy if you don't want it to).

Cook for 5-8mins (depending on size) until the filling is warmed through.
Serving: 1burrito, Calories: 268kcal, Carbohydrates: 36g, Protein: 14g, Fat: 8g, Saturated Fat: 4g, Polyunsaturated Fat: 1g, Monounsaturated Fat: 2g, Cholesterol: 18mg, Sodium: 966mg, Potassium: 480mg, Fiber: 9g, Sugar: 3g, Vitamin A: 425IU, Vitamin C: 4mg, Calcium: 206mg, Iron: 4mg