Smoky, sweet vegetable fajitas cook like a dream in the air fryer! With portobello mushrooms, peppers and onions in a smoky sweet chili sauce, these fajitas make a substantial meatless dinner. Vegetarian or even vegan depending on your choice of toppings.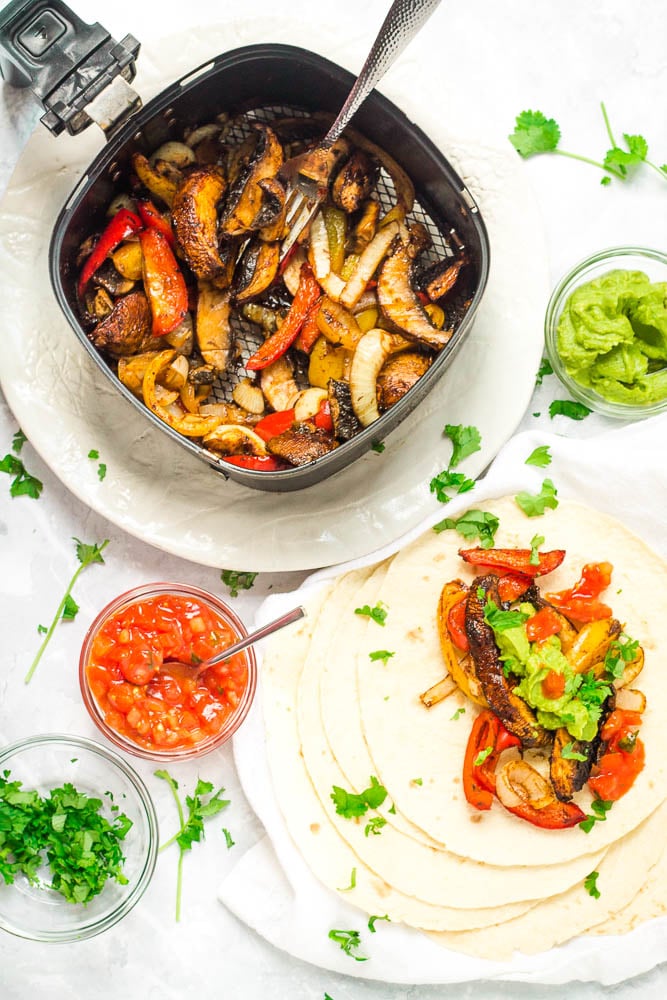 Air fryers are not just for fries or appetizers! Take note, appliances: if you're going to earn a place on my kitchen counter, you're going to need to help me cook actual dinners.
These air fryer fajitas fit the bill and you get a full dinner for two at the end of it (more if you have a large air fryer).
No hot oil spitting back at you from a grill pan, no preheating your oven, just you and your air fryer working together to make fajita magic happen.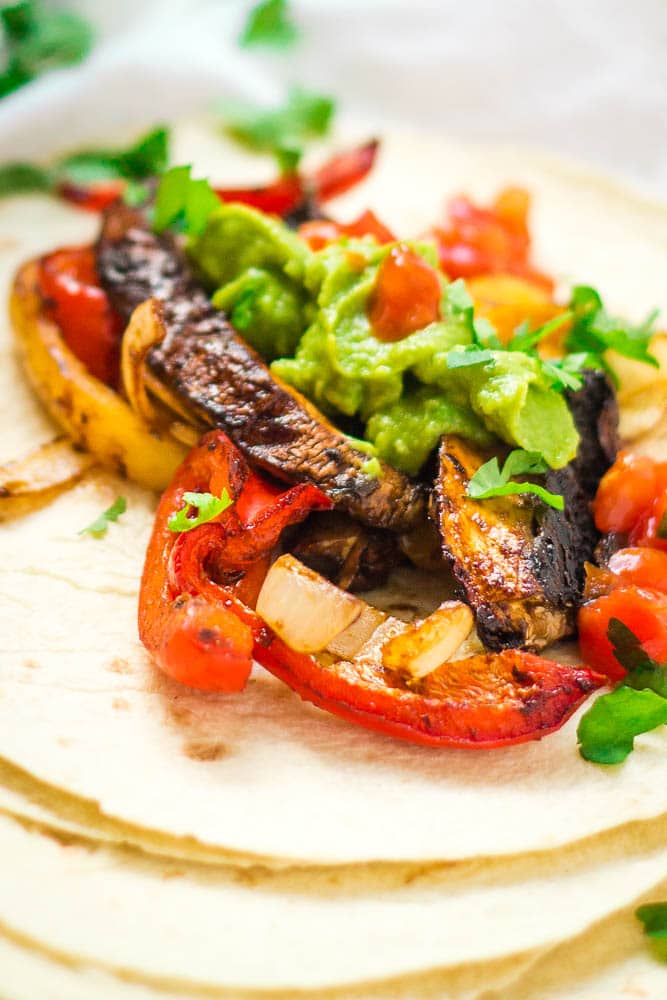 The air fryer is perfect for cooking fajitas because you get the super hot air crisping up those vegetables in a totally hands off way. It's similar to sheet pan fajitas but the air fryer preheats and cooks much faster than the oven. Cooking the vegetables takes around 15 minutes.
It's still a longer cook time than if you used a grill pan, but since it's hands off, you can use that 15 minutes to prepare your toppings and set the table.
I love recipes that give me a little bit of down time, and even when the cooking technically takes longer, it just feels easier to me and can end up faster.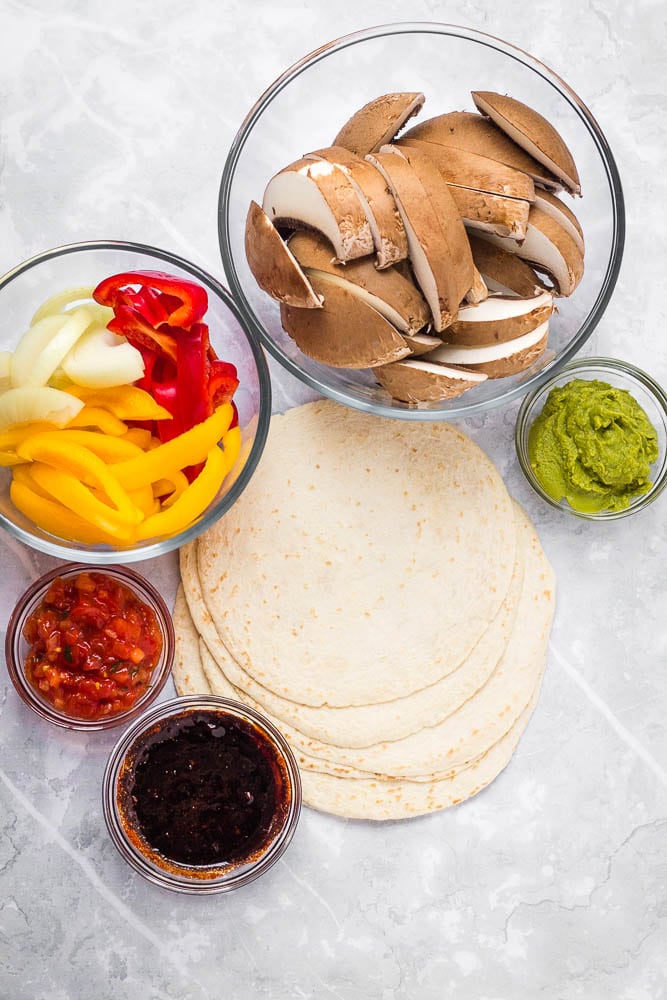 Which veggies to use in your fajitas?
I've used portobello mushrooms, peppers and onion, which are my go-to fajita vegetables. The perfect trio. Mushrooms give the substantial "meaty" element, while the peppers and onions get sweet and charred.
You could swap veggies around, but anything you do could impact the cooking time, so just check in on the veggies while they're cooking.
Be mindful of cooking times of individual veggies too. Something quick cooking like zucchini or cauliflower would slot into this recipe fine, but something more dense like sweet potato or squash should be chopped up pretty small to get the cooking time on par with the peppers and onions.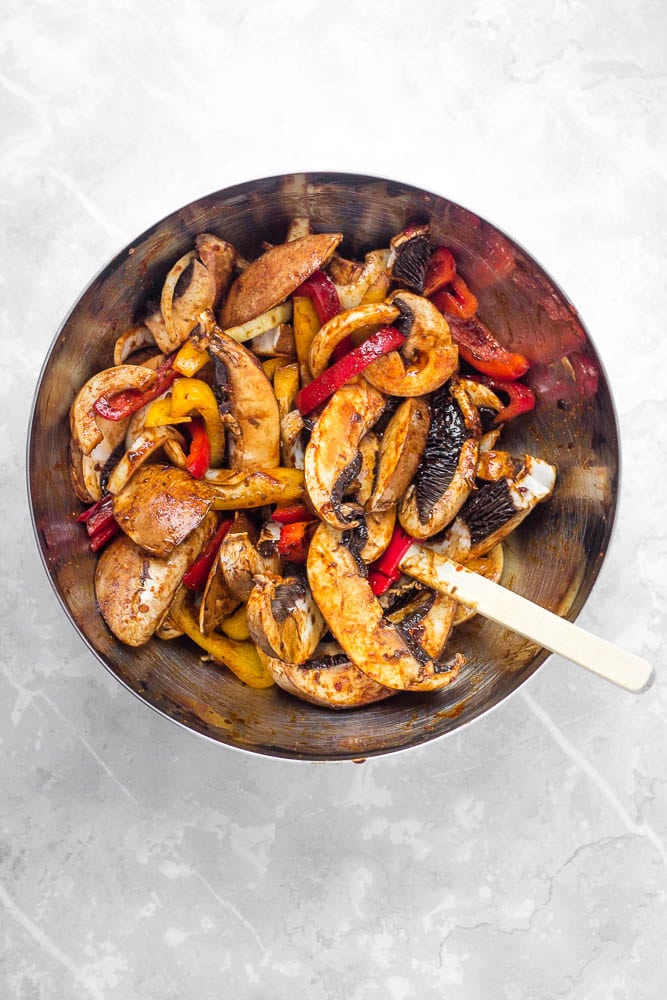 The fajita sauce
You want your veggies coated in a nice wet fajita sauce. Don't just use a seasoning packet or the air fryer will dry it all out.
I've provided a recipe here for a simple sweet chili fajita sauce which I absolutely love. If you have a packet of seasoning mix you're keen to use, try coating your veggies in BBQ sauce before adding the packet mix (I use this technique in my chickpea fajita recipe and it would work here too.)
You may have a bottle of fajita sauce already that you love. Just use 1/4 cup (60ml) of that. Easy.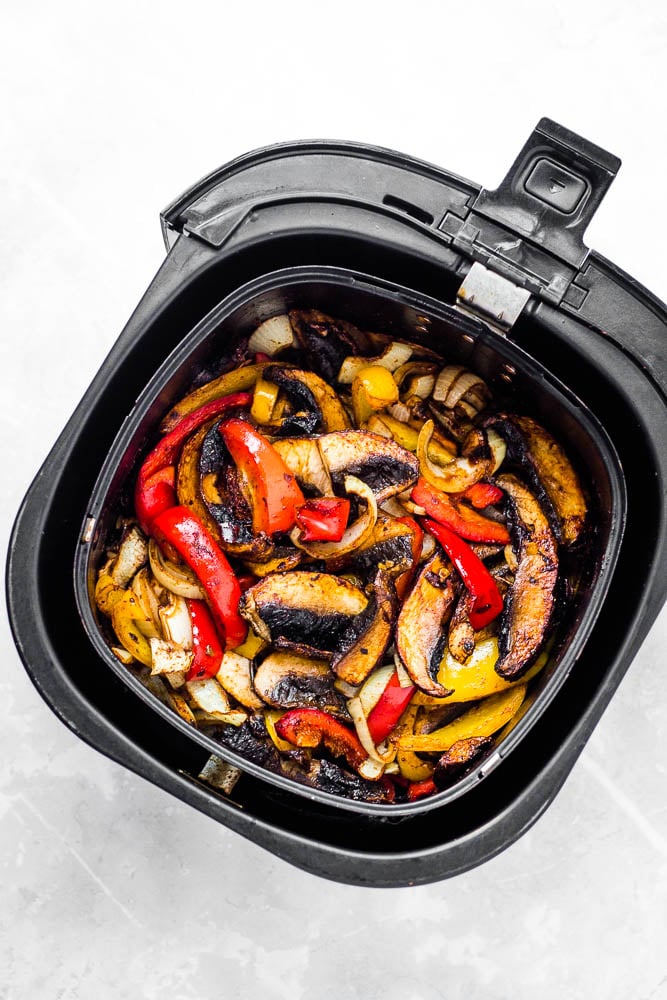 How many fajitas can you make in the air fryer?
This recipe makes 6-8 fajitas, assuming that you're using one of the standard sized air fryers (28oz / 800g capacity). The fry basket starts out totally full but the veggies reduce while cooking.
If you want it to serve just two people with no leftovers, ditch one of the peppers. You'll get six nicely packed fajitas. Three each.
If you want it to stretch to feed four people, that will be two fajitas per person so just put out a lot of toppings and a side dish to make that work as a dinner.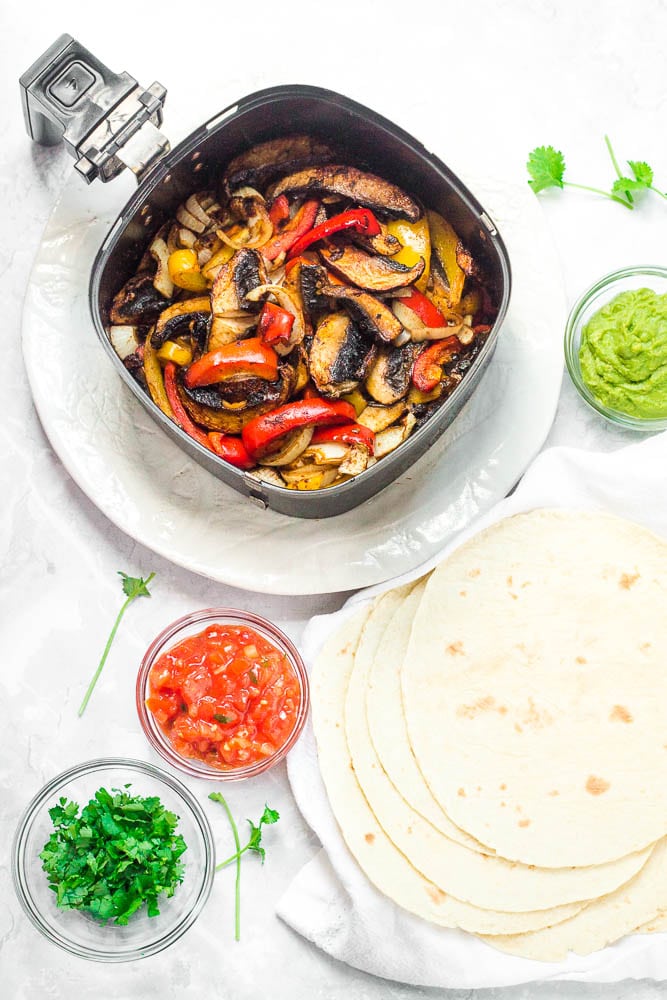 Do you have an XL or family sized air fryer?
The larger sizes of air fryer could handle 1.5-2x times the amount, so you can just scale the recipe up as needed.
Just bear in mind that a larger batch may need a larger cooking time, so check in after 15 minutes and see where you're at.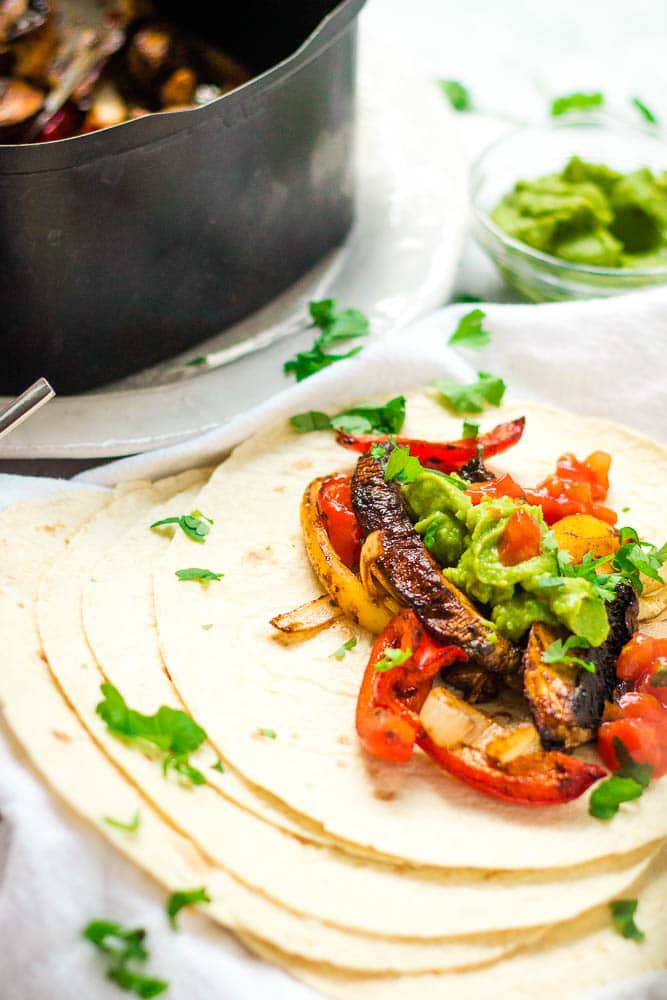 Leftover Fajita Filling?
Lucky you! Store it in the fridge and make some tasty quesadillas tomorrow.