A delicious and simple one pot pasta with a parma rosa sauce from scratch. This comes together quickly with fresh ingredients and minimal effort – the pasta cooks in the same pot as the sauce! Everyone loves a creamy tomato pasta sauce, so this is an easy win for dinner time.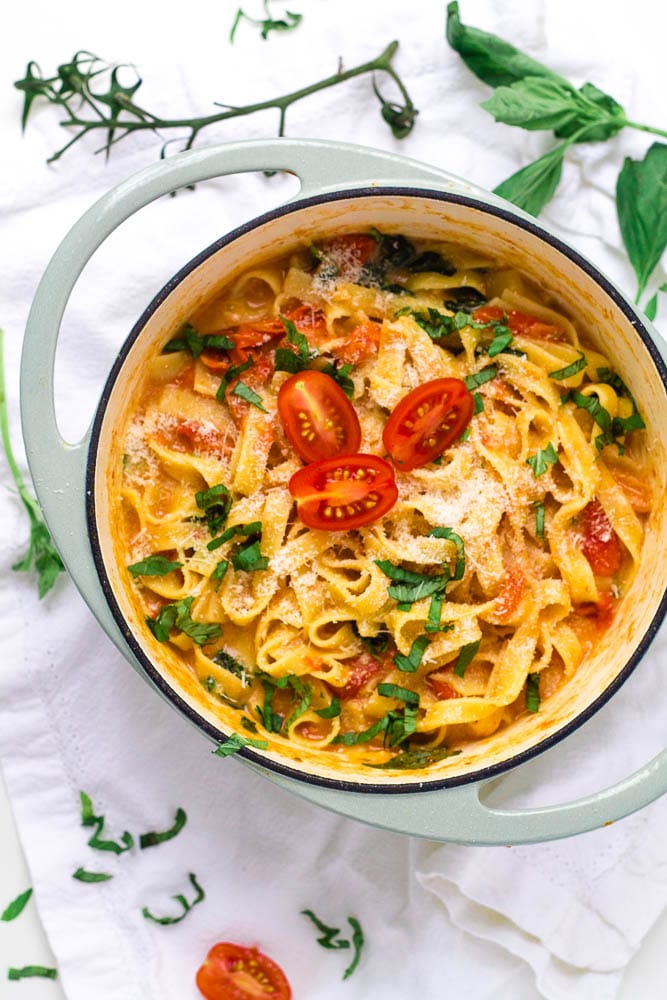 We are going super simple and basic today with this parma rosa pasta recipe. It's nothing revolutionary, but it's a nice one to have up your sleeve.
I've got a few other one pot pasta recipes (where the pasta cooks in the same pan as the sauce) on this blog, but so far they've all used canned tomatoes. Lately I was tempted to try the concept with fresh tomatoes instead, and that turned into this parma rosa sauce version.
I always wondered if this would be weird and watery with fresh tomatoes, but I am here to say nope. It is not weird or watery, it actually works really well if you have some decent quality tomatoes. The tomatoes leach their juices into the pan and that helps cook the pasta.
It's rather brilliant.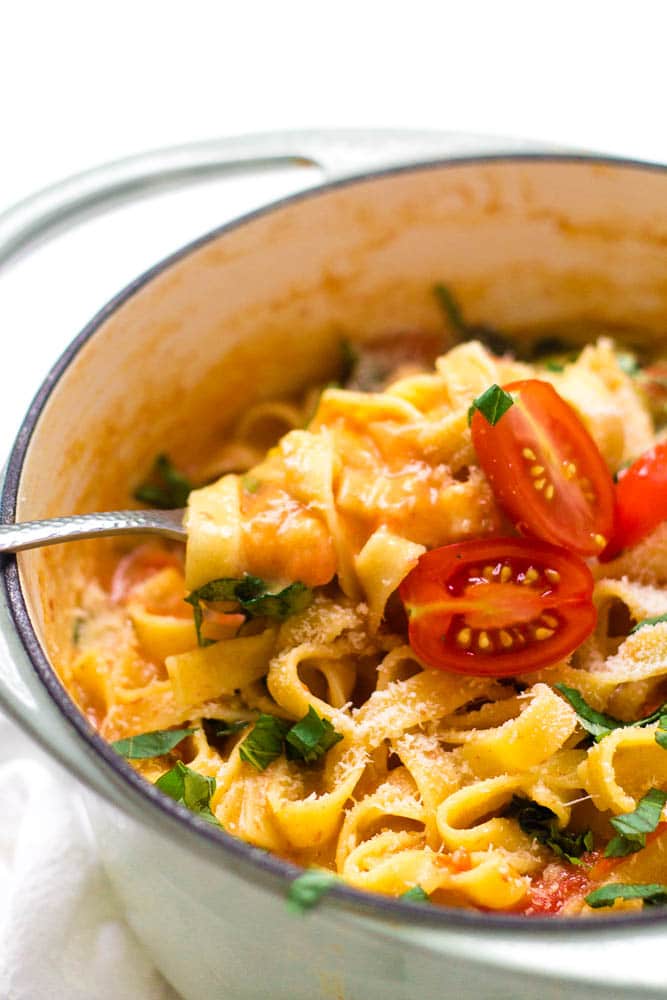 With one pot pastas, you get the starch in the cooking water that emulsifies and makes a creamy sauce out of whatever else is cooking in there.
So here we get a creamy tomato sauce as our base, and I'm going ahead and adding an entire wedge (eek) of parmesan style cheese to form a parma rosa sauce.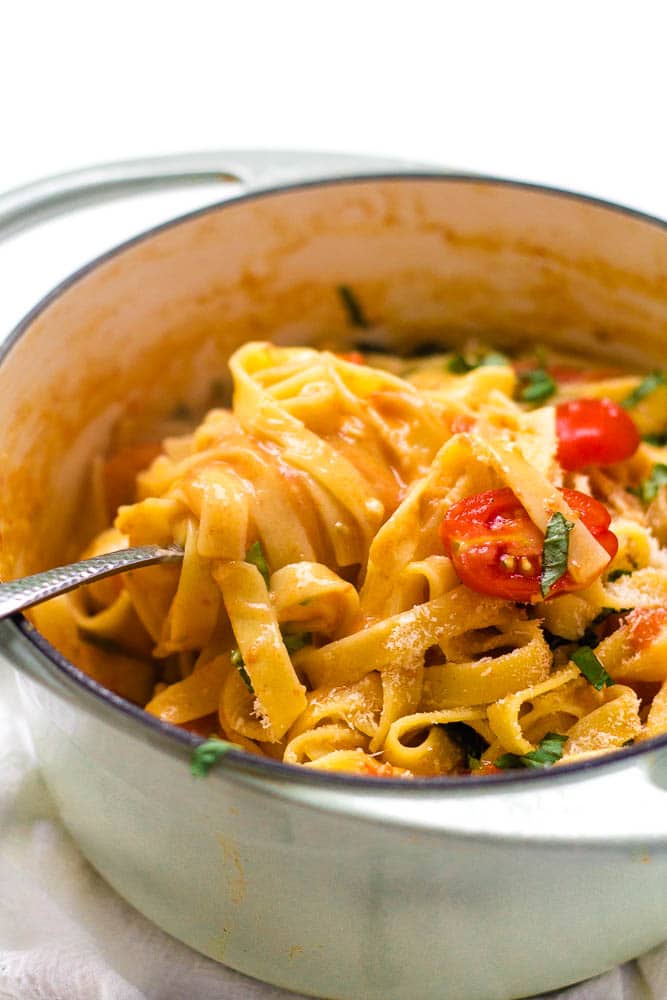 See how creamy? This is just the tomatoes, cooking water and cheese at play. No actual cream, in fact.
It's an Easy Parma Rosa Sauce From Scratch
Parma rosa, for the uninitiated, is just a pink creamy tomato "rosa" sauce with the addition of parmesan. Absolute crowd pleaser.
Find me one person who doesn't like creamy tomato sauces, and doesn't also acknowledge that they can be improved by cheese.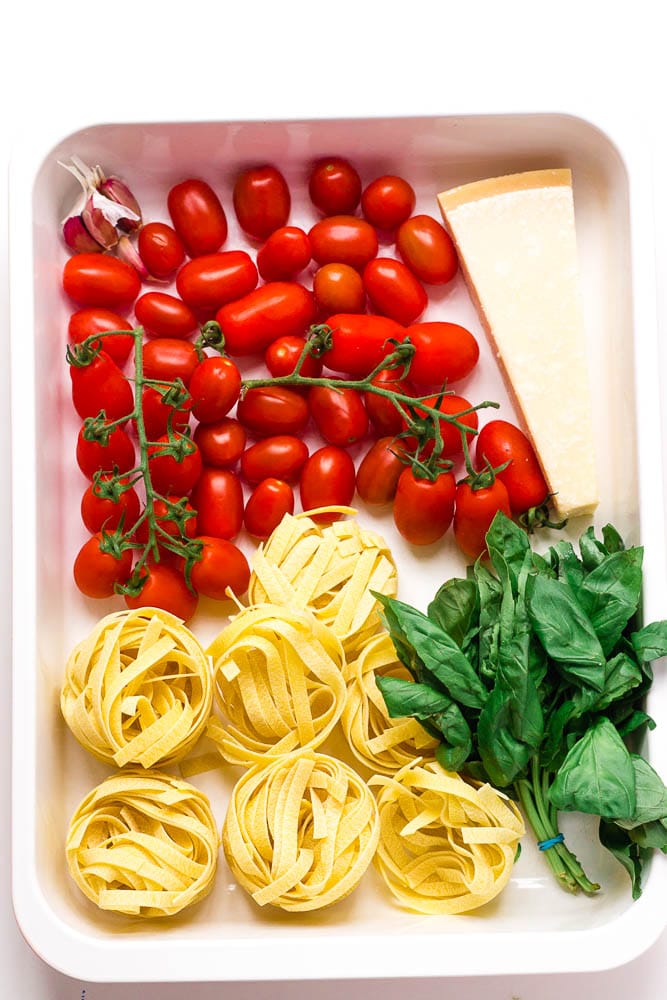 Parma Rosa sauce is commonly found in those powdered mixes, or in the jarred section, and while I can't pretend this recipe is equally easy, it really isn't far off.
I think it's the easiest way you can make it from scratch, and the ingredients list is teeny tiny: cherry tomatoes, garlic, parmesan, basil and pasta.
How to make it – in Pictures
As ever, a full printable recipe card is coming your way, but here's the visual run through so that you can see how this all works: