A quick and easy stovetop mac and cheese recipe, using blue brie (cambozola), which makes a creamy, deliciously flavorful sauce. This is a fantastic vegetarian recipe, just 20 minutes and 6 ingredients, and such a treat for fancy cheese lovers! It can also be made with a mix of normal brie + any blue cheese.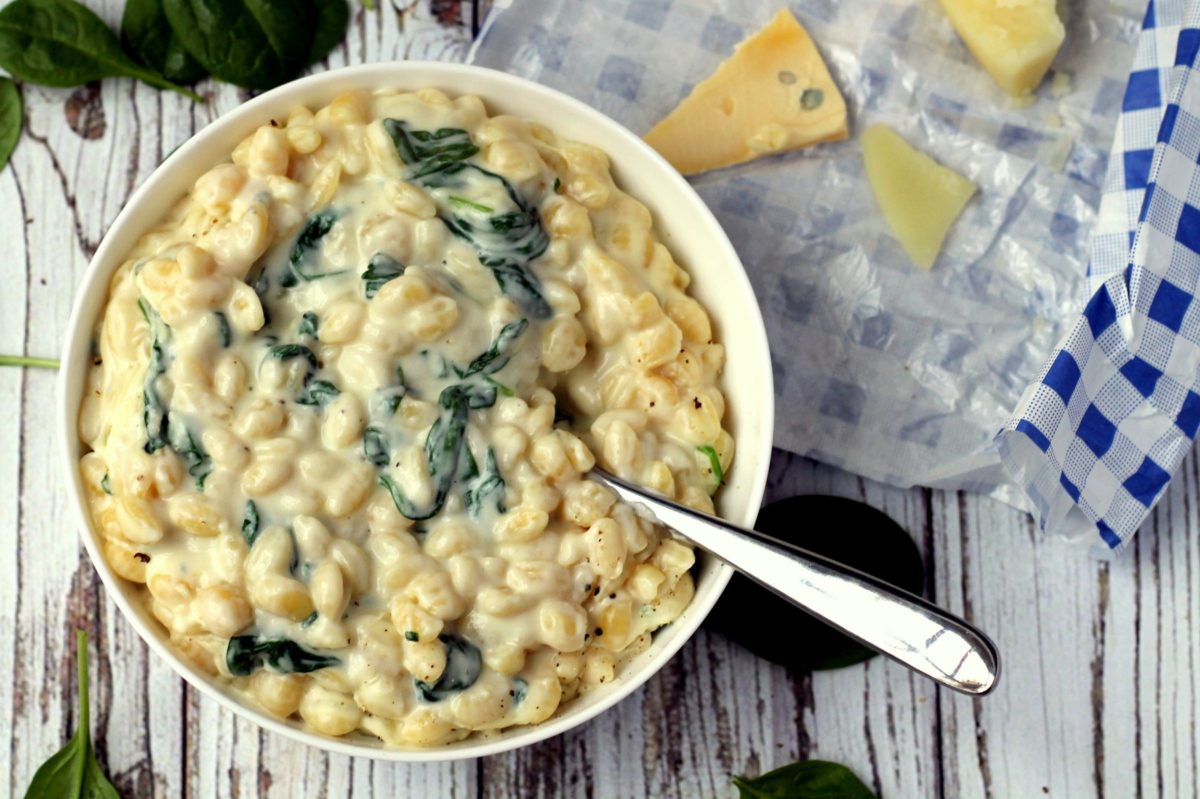 Blue brie! Have you tried it?
It also goes by the name cambozola. There are probably other variations too. Cambozola is the one I buy because, well, it's £1.94. Thank you, Waitrose Essentials. Don't mind if I do.
Blue brie is obviously a MUST for an efficient cheeseboard (you've got your something soft and your something blue right there in one!).
But it also melts like a dream, and makes this simple, one-pan mac and cheese a little bit fancy.
The taste is mellow and creamy, with just a little bite of blue. Pecorino or parmesean ramp up the flavor a little,  but I leave it fairly mild.
The cheese amounts given in the recipe are a starting point, but it's really is up to you and how much richness you're in the mood for.
If you live in a cambozola wasteland, you could try using plain brie and then throw in a little bit of gorgonzola for a similar effect.
The method is crazy simple- I use the same method as I did in my one-pot avocado green goddess mac and cheese, cooking the macaroni in milk to thicken it and form the base of the sauce before adding the cheese and some butter.
Truthfully, I rarely make mac and cheese the old fashioned way (cooking the cheese sauce and pasta separately) anymore.
It doesn't turn out exactly the same. While a bechamel based sauce has it's thick, stodgy charms, the one pot technique yields something a little lighter, stickier, and messier. Both have something to offer… but often, easy wins out!
Adding spinach is a smart move to ease the guilt, but I don't just do it for the health benefits.
It also tastes great with the cheese sauce and creates a more interesting texture so that this feels like more of a complete meal. You could also try some lightly sauteed kale, but that would be less lazy.
I used these cute mini shells from the Jamie range  (though according to the reviews, I missed the memo where these shells were intended for kids!) It's important to note that different shapes and thickness of pasta will alter the amount of milk you need, so just keep a close eye on things.
Love Cambozola Recipes? Here are some more tempting ideas I've seen around the web: