A smoky, creamy, cheesy enchilada casserole that is full of flavor and easy to make! Packed with four different cheeses, cilantro and optional chili to make a super tasty meatless enchilada bake. Includes an easy homemade enchilada sauce recipe but you can use your own!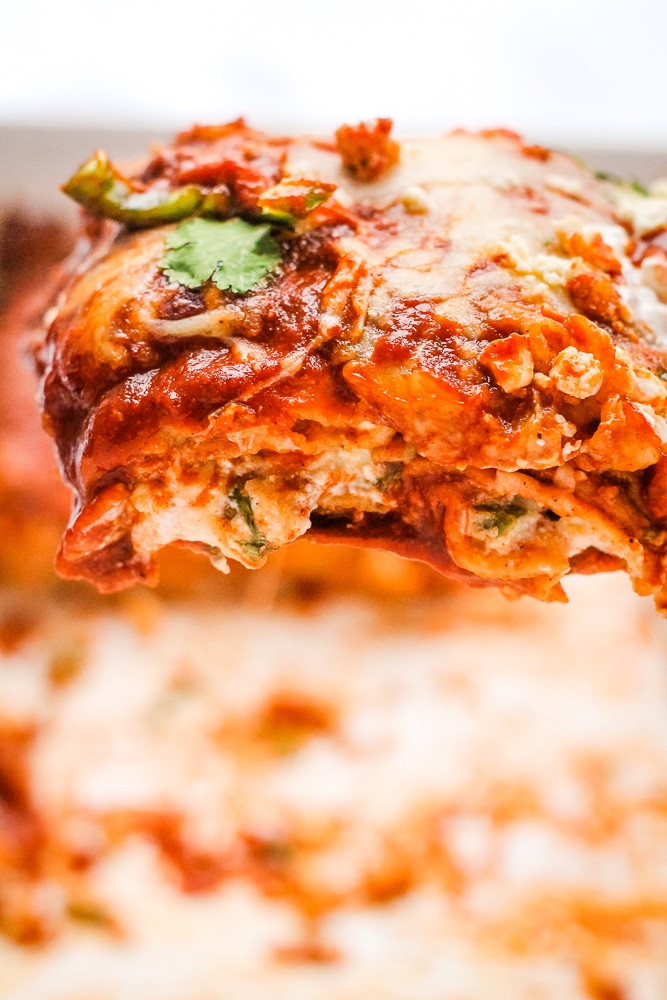 Enchiladas without the rolling are always a winner! Sometimes referred to as an enchilada casserole, this is sort of a lasagna style bake with layers of cheesy goodness, enchilada sauce and corn tortillas.
What sets this recipe apart is the four cheese filling! Much like my cheese lover's quesadilla, I combine a few different types of cheese here to get a light, creamy, cheesy filling that isn't too heavy or oily. It's quite different from the cheese enchiladas made with the likes of Monterey Jack, which is more melty and stringy, though you do get some melt and stretch from the mozzarella.
You can also bring in the fresh tastes of cilantro (fresh coriander) and green chili to make the filling pop if you wish.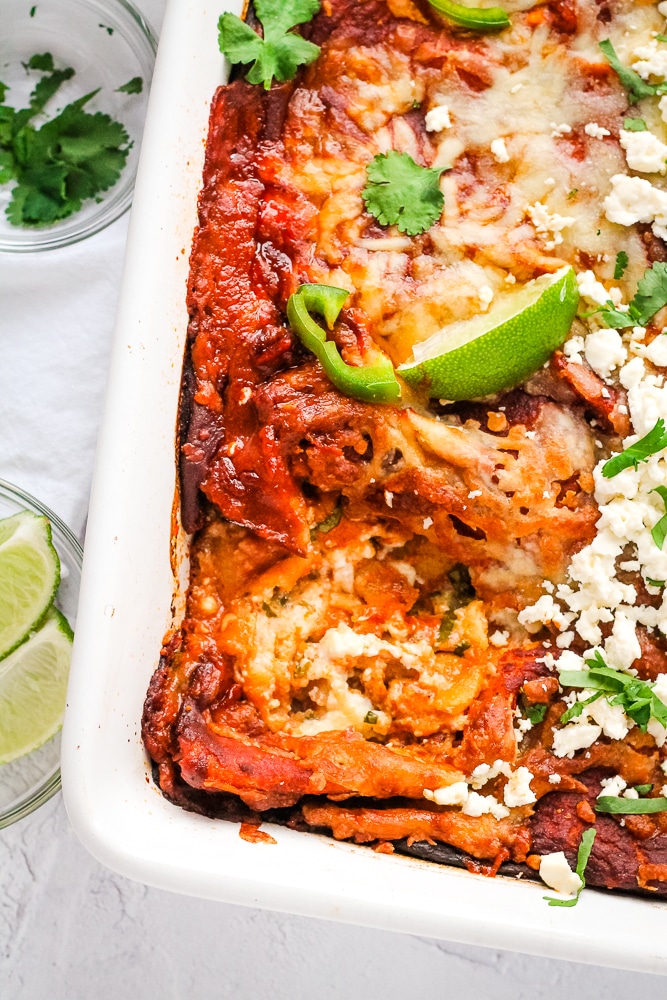 Let's talk sauce!
I am including a recipe for a smoky but mild red enchilada sauce, which uses a roux base, a mix of spices, and tomato passata. This isn't an authentic red sauce at all (true enchilada sauces would use nothing but chili) but it is a simple and tasty option which works if you're somewhere in the world where it's hard to track down really authentic enchilada sauce or Mexican chilis.
You can use your own favorite recipe or premade sauce if you wish. Doing so would make this come together incredibly fast, since the filling requires no cooking.
Ingredient Notes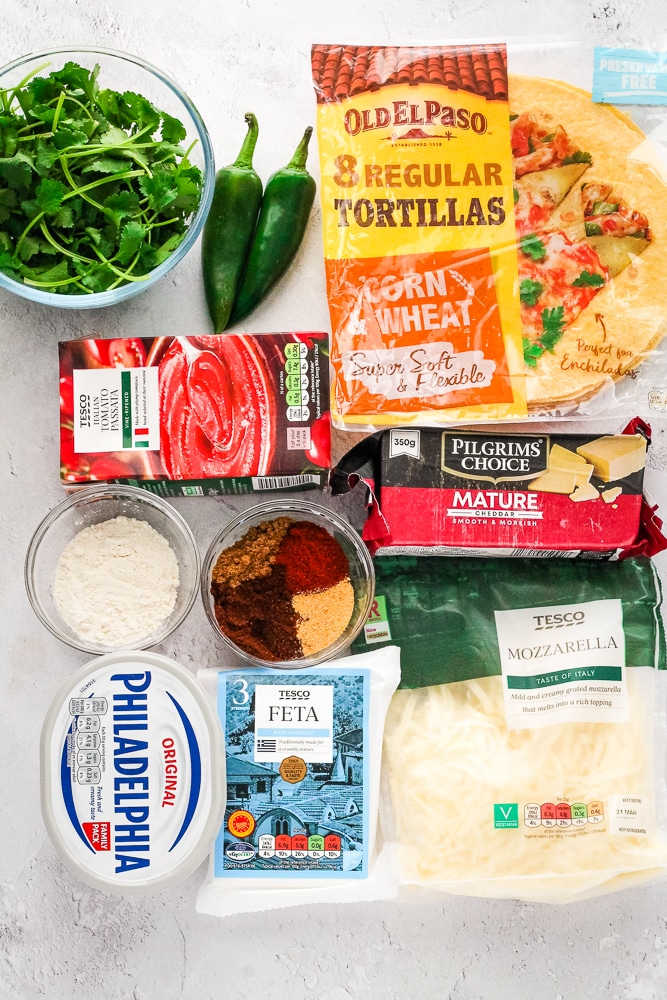 Corn tortillas – really gotta be corn! The flavor and texture are simply not right with flour tortillas. That said, while freshly made Mexican corn tortillas are the dream, the easy to find Old El Paso ones will do perfectly well here and keep this supermarket friendly.
The Cheese Filling:
Cheddar cheese – a sharp or mature cheddar cheese will give that nice cheesy umami flavor.
Mozzarella – this is mostly for the topping but we add some to the filling too, to give it a little bit of stretchiness. The bagged pre grated stuff works fine here. Feel free to swap in Monterey Jack or any other mild white stretchy cheese.
Feta, cotija, queso fresco or other crumbly white cheese – Your choice may depend on where you live and what is easily available / affordable there.
Cream cheese – this gives a nice creamy edge to the filling. I used full fat but I see no reason light wouldn't work. Ricotta would also be an optional – it would come out a little differently but still delicious.
Cilantro (fresh coriander) – I like to have chopped cilantro in with the cheese filling to add a fresh taste, but this is optional.
Chili – a couple of chopped green chilis are also really tasty flavor boosts in the cheese filling. You could use mild green chili like I did, or jalapenos, or anything else you like.
The Sauce:
Flour and butter – to make a roux base. The roux base is what gives enchilada sauce a lovely thick, smooth texture.
Chili powder – I use ancho, because I like things mild, but you can use whatever you have.
Smoked paprika – this gives extra smokiness without extra heat which is helpful for those who like milder sauces. Feel free to just use more chili powder if you wish.
Cumin and garlic powder – add the remaining flavor.
Tomato passata – I like to use this over canned tomatoes to keep the texture perfectly smooth. (In the US, this is often called tomato puree.)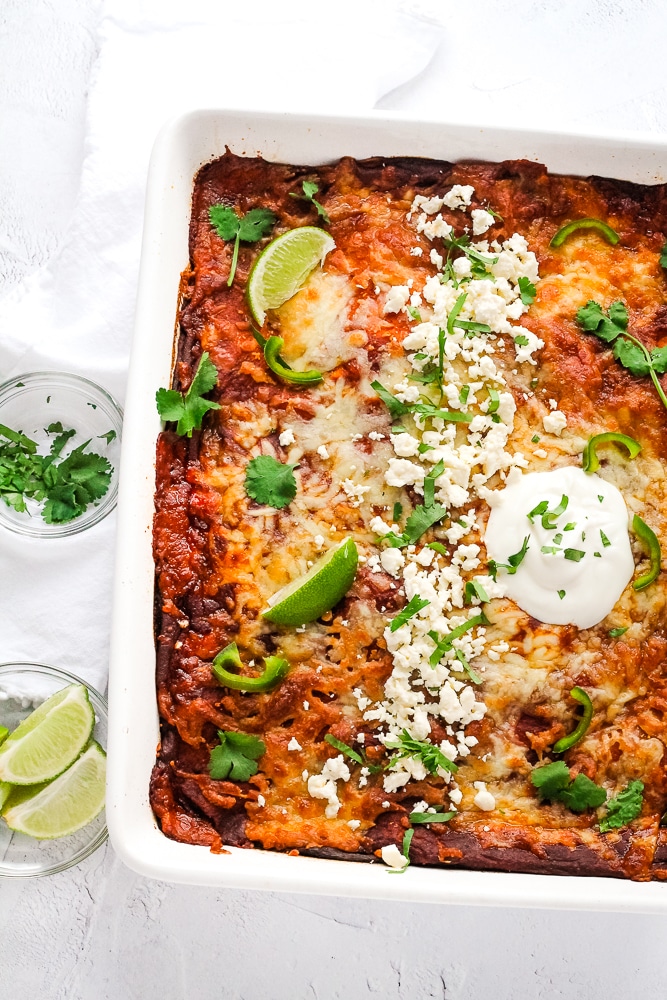 Make Ahead & Storage
You can make and fully assemble this casserole, then store it for a day or two in the fridge before baking.
Freeze portions for up to 6 months, then reheat in the oven or microwave.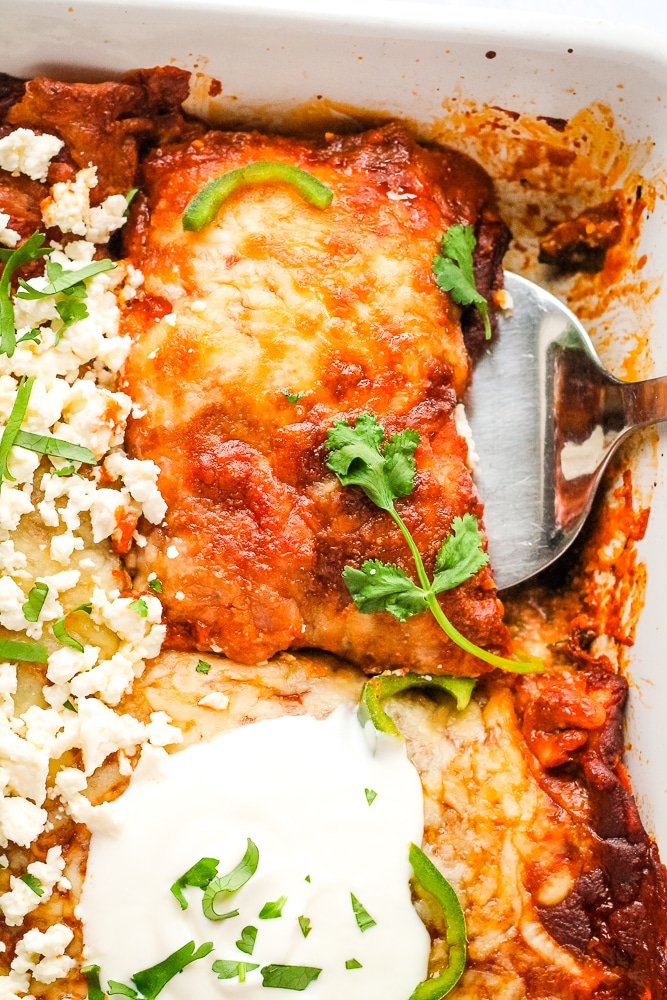 More Vegetarian Enchilada Goodness
Four Cheese Enchilada Casserole
A smoky, creamy, cheesy enchilada casserole that is full of flavor and easy to make! Packed with four different cheeses, cilantro and optional chili to make a super tasty meatless enchilada bake.
Ingredients
7 oz (200 g) block of feta, crumbled
1.5 cups (150 g) cheddar, grated
7 oz (7 oz) mozzarella, half for filling, half for topping
¼ cup (60 g) cream cheese
1 bunch cilantro (fresh coriander), chopped
2 green chilis, chopped
6-8 corn tortillas
Sauce
2 Tbsp flour
1 Tbsp chili powder
1 Tbsp smoked paprika
1 Tbsp cumin
2 tsp garlic powder
2 Tbsp butter
2.25 cups (500 g) passata
2 cups water
Instructions
Start by making the sauce. In a large saucepan or deep frying pan, melt the butter and add the flour and spices, whisking constantly, until it comes together to form a paste. Cook for about a minute – it will smell a little toasted by the end.

Add the passata in very small amounts, whisking constantly. It will turn from a paste into more of a sauce as you add more passata. It's important to add it very slowly, little by little, to avoid lumps forming.

Add 2 cup of hot water, whisking through slowly, until the sauce is bubbling. Remove from the heat and allow to sit, covered, while you prepare the filling.

Prepare the filling. In a large bowl, combined the grated cheddar, crumbled feta, cream cheese and 1/3rd of the mozzarella (reserving the remaining mozzarella for the topping). Mix together and then add the cilantro and chili, if using.

Now you can start to assemble the casserole. Spread a layer of sauce over the bottom of the casserole dish, top with a layer of corn tortillas (you'll need to break them up to make them cover the surface of the pan), another thin layer of sauce over the top of the tortillas, and then a layer of cheese.

Repeat until you have 2 or 3 layers of cheese (depending on how many tortillas you have, or how thick you want the cheese layers to be – the casserole pictured had 3 layers but I often make it with 2 layers). After the final layer of cheese, add tortillas to the top and then pour a thick layer of sauce over the top.

Add the remaining mozzarella cheese to the top of the dish. Cover and bake at 180C / 360F for 20 minutes, then remove the cover and bake for 10-15 more minutes, until the cheese is browned.

Serve with your choice of toppings! Sour cream, lime, additional herbs or avocado are all excellent choices here.
Calories: 488kcal, Carbohydrates: 29g, Protein: 23g, Fat: 33g, Saturated Fat: 19g, Polyunsaturated Fat: 2g, Monounsaturated Fat: 8g, Trans Fat: 0.2g, Cholesterol: 103mg, Sodium: 946mg, Potassium: 626mg, Fiber: 5g, Sugar: 6g, Vitamin A: 2351IU, Vitamin C: 12mg, Calcium: 598mg, Iron: 4mg