These are not your average cheese and onion enchiladas! Three different cheeses and caramelized sweet onions make for one tasty vegetarian enchilada filling that everyone will love! Easy to put together at home for a family dinner or a potluck.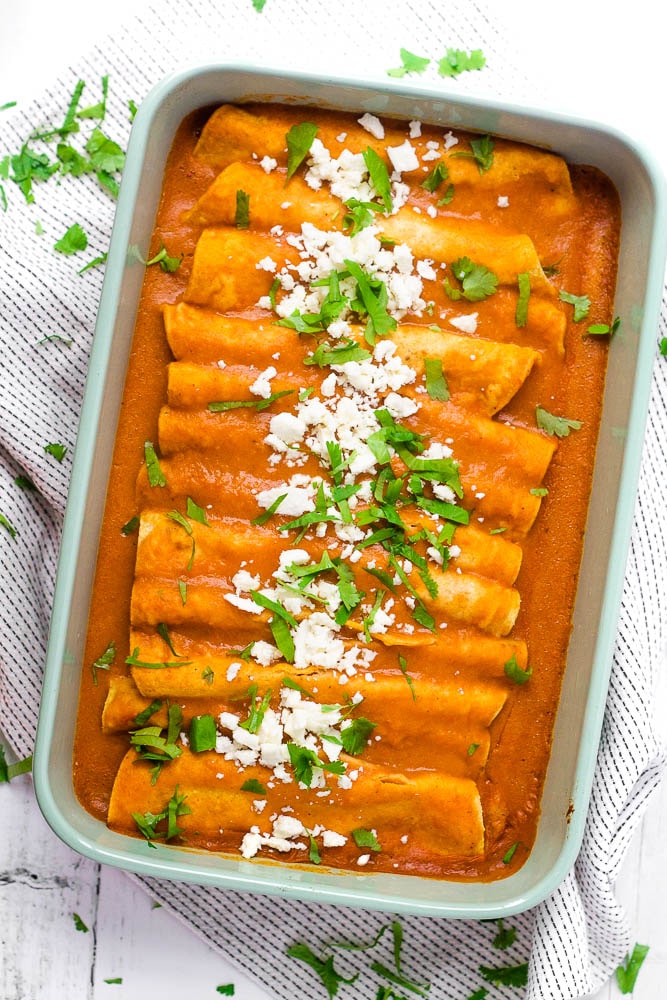 Cheese enchiladas have always been my first choice order from a Tex Mex restaurant menu. There is something magic about the simple combo of melted cheese, red enchilada sauce and soft corn tortillas.
Today we're making them at home, and we're making them better by using a three cheese mix and caramelized sweet onions! Yessss.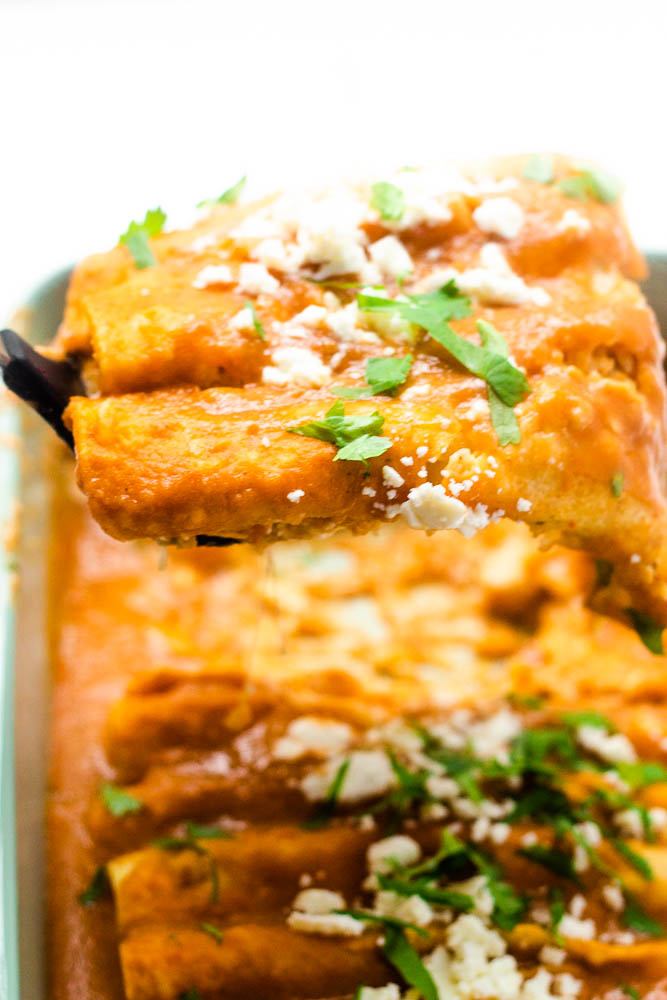 How to Make these Cheese & Onion Enchiladas
Let's face it, caramelizing the onions is going to add time to this recipe that all the other cheese enchilada recipes out there would avoid. And if you're pushed for time and looking for a quick and easy dinner, then this is one to save for another day.
Caramelizing the onions is so worth it when you have the time. It just adds a nice sweet touch and an extra depth of flavor. If you don't have the time, you could add very finely minced raw onion to the filling instead, which is the more usual approach to cheese and onion enchiladas.
If you do decide to caramelize your onions, you can use this extra time to prepare a homemade enchilada sauce and some slaw for serving the enchiladas with. Then, once the onions are ready, you will add them to a bowl with your cheeses and that is the filling done.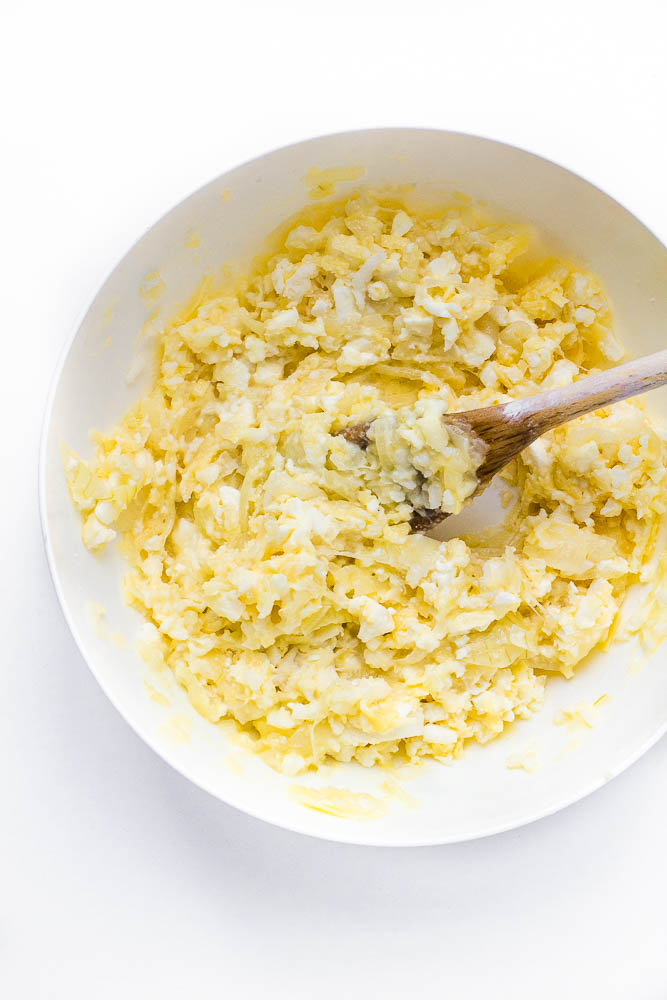 Roll the filling into the corn tortillas…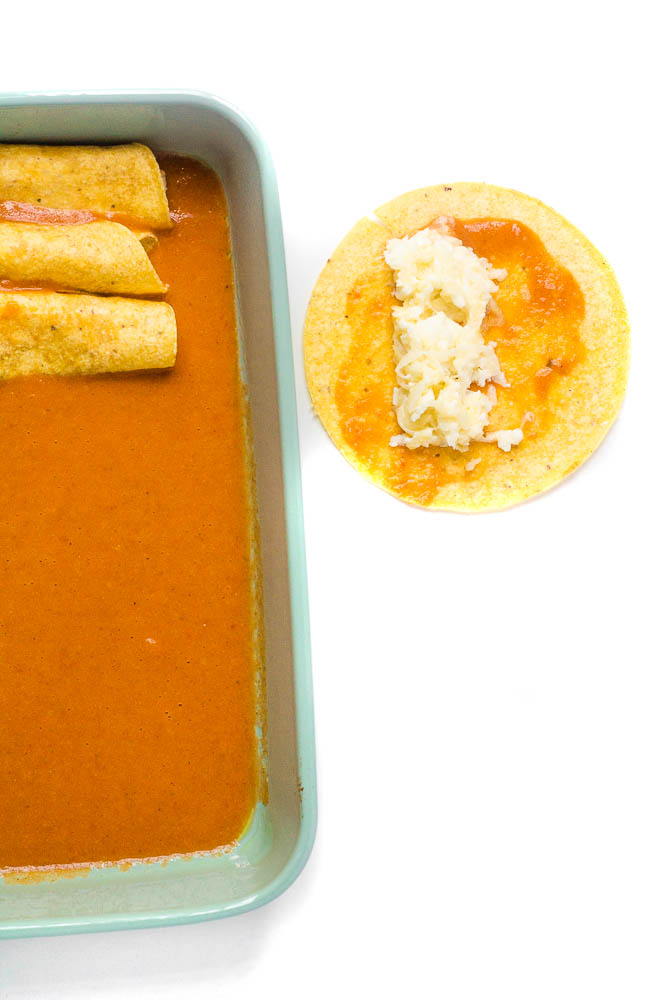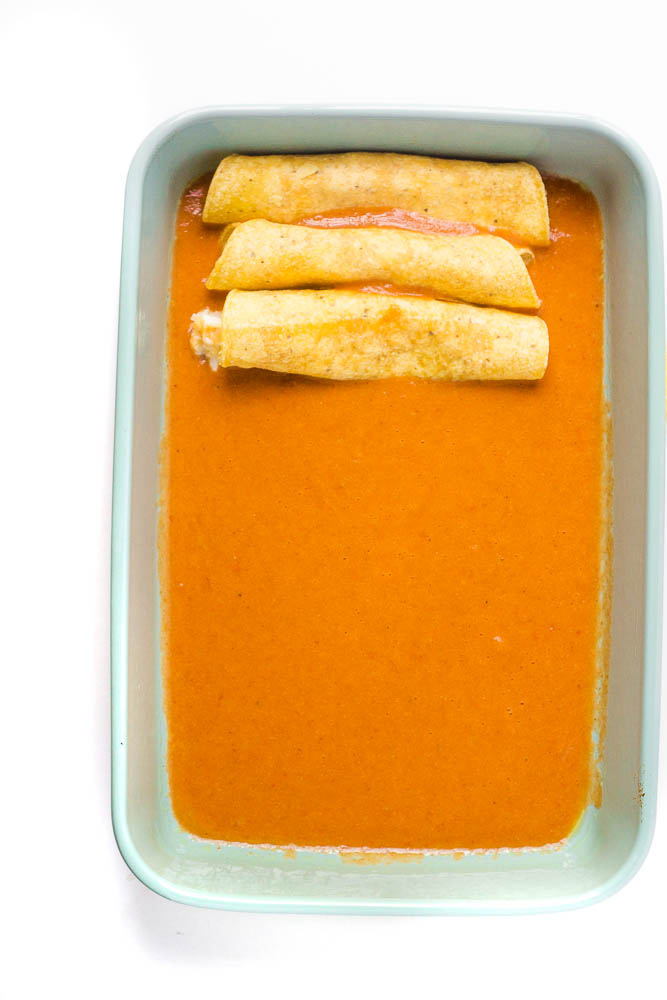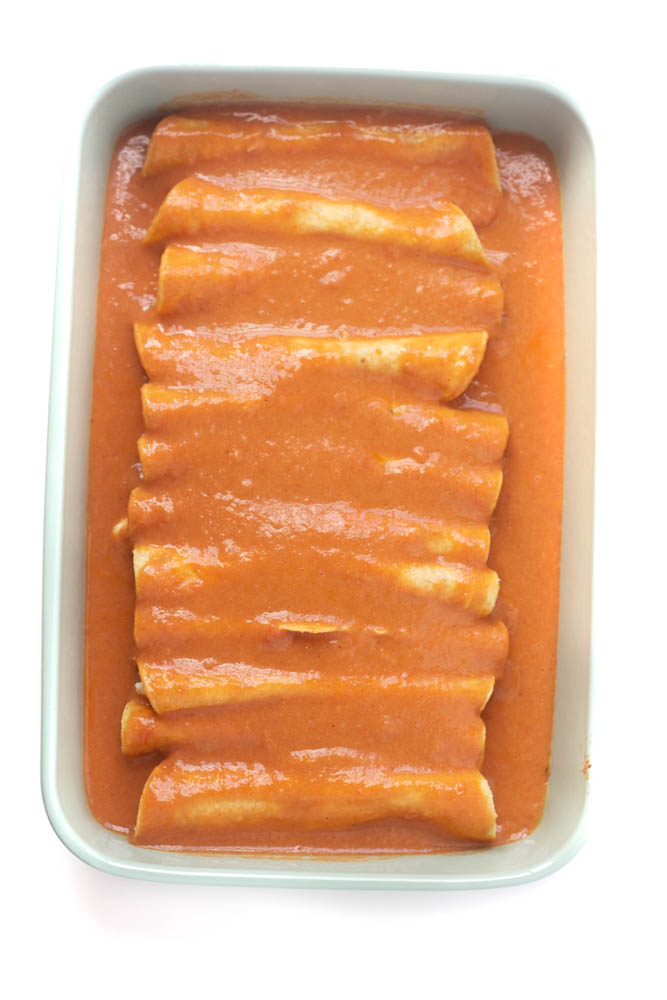 And they're ready after 20 minutes in the oven!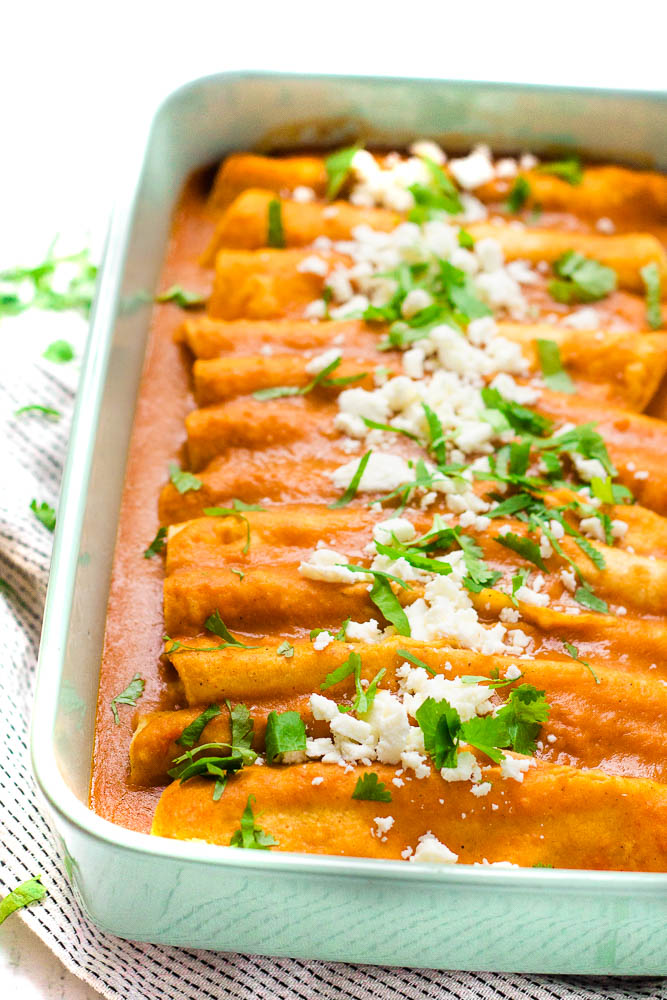 How to Make Them More Quickly
If you use ready made or frozen enchilada sauce and batch cook some caramelized onions ahead of time, it could easily be ready in a little over half an hour.
Meal Planning These Enchiladas
If you're a superstar organized meal planner, try making caramelized onions in your slow cooker or even in your instant pot at the weekend and then planning this meal + a few others which use them in the week.
A few of my faves would be Coconut Lentils with Caramelized Onions, Caramelized Onion & Gruyere Mashed Potatoes and Smoky Cheese & Caramelized Onion Panini. The latter two call for red onions but vidalias could be swapped in, or red onions could be swapped into this recipe no problem.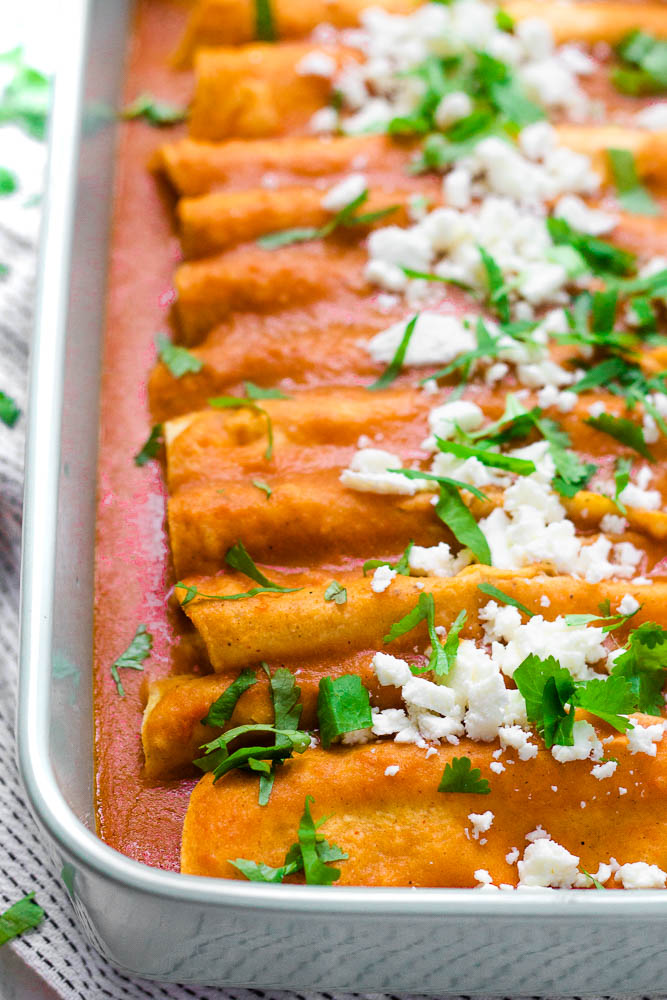 Which Cheeses to use in Your Enchiladas
This recipe calls for feta, cheddar and mozzarella and the resulting filling is creamy, a bit melty and super tasty.
You really want the feta in there to stop the filling from being too oily, which can happen if you're only using super melty cheeses. If you don't have feta, try cojita or even some ricotta (add salt if you use ricotta since it is much less flavorful than feta).
Which Enchilada Sauce to Use
For me, red enchilada sauce is a must for cheese enchiladas. If you have a canned or jarred sauce that you love, go for it, but I love to make my own and it's not too hard!
I first made this recipe while pregnant and heartburn was my constant companion so this Mild Enchilada Sauce Recipe from What Lisa Cooks was a lifesaver, and it's the one used in the photos.
I also love a good blender enchilada sauce, which is a super easy way to go about things, though I think the roux based sauces will always taste the most authentic and luxurious.
How to Serve Your Cheese & Onion Enchiladas
This dish comes out creamy, rich, dense and soft. To balance that out, I love to serve it with a crunchy cabbage slaw. Just some cabbage + sliced red onions + cilantro (coriander) leaves + lime juice.
You can also go with rice and beans as a side dish, which I know is more traditional, but this makes a much heavier meal… so I'd always throw some slaw or a fresh crispy salad on the plate.
I don't personally grill extra cheese on top of the enchiladas, I just leave them soft and moist and sprinkle some fresh feta on afterwards with the cilantro for a garnish. You could certainly add some more of your cheese blend to the top and broil to get a crispy finish if that's your preference.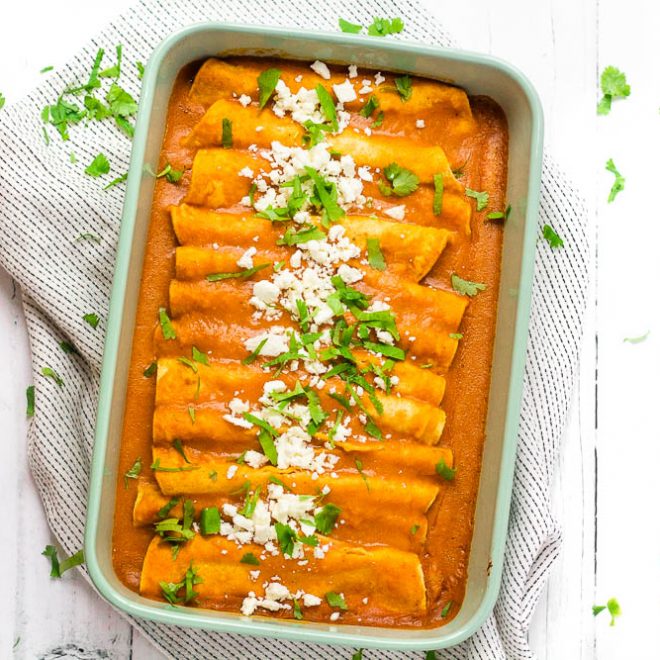 Cheese & Caramelized Onion Enchiladas
These are not your average cheese and onion enchiladas! Three different cheeses and caramelized sweet onions make for one tasty vegetarian enchilada filling that everyone will love! Easy to put together at home for a family dinner or a potluck.
Ingredients
2 large sweet vidalia onions, thinly sliced
1 Tbsp (15 g) butter
¾ cup (100 g) crumbled feta
1 cup (110 g) grated mozzarella
1 cup (85 g) grated cheddar cheese
1 batch of enchilada sauce
12 corn tortillas, 6 inch / 15cm size
To serve & garnish
Fresh coriander for garnish
A little more crumbled feta
Sour cream
Guacamole
Slaw or salad
Instructions
The first step is to get those onions caramelizing! Melt the butter in a small saucepan, and then add the thinly sliced onions. Mix to coat them all with butter. Place the lid on the saucepan, and cook for about 45 minutes on the lowest possible heat. Open up and stir frequently to stop them from overcooking at the bottom or sticking to the pan.

Meanwhile, you can prepare a homemade enchilada sauce if that's what you've decided to do, grate all of your cheese, and prepare any side dishes and toppings for your meal. (Some suggestions and recipe links are in the blog post!)

Once the onions are soft, sticky and sweet, transfer them to a bowl and leave them to cool for a few minutes.

Add the feta cheese to the onions and mix through, followed by the mozzarella and cheddar, to complete your filling.

Heat the oven to 200C / 400F while you assemble your enchiladas.

Grease a medium casserole dish and then pour a layer of enchilada sauce over the bottom.

Grab a tortilla, smear some enchilada sauce over the inside, spoon in your filling, and roll. Place in the dish on top of the sauce.

You will get around 12 enchiladas if using 6 inch (15cm) tortillas, less if yours are larger.

Once your enchiladas are all assembled, pour more sauce over the top to completely cover them.

Cover the pan and place in the oven for 20 minutes.

Bake for 20 mins at 200C

Remove from the oven and top with some additional crumbled fresh feta and fresh, chopped cilantro (coriander).

Serve.
Serving: 1g, Calories: 403kcal, Carbohydrates: 25g, Protein: 20g, Fat: 26g, Saturated Fat: 15g, Polyunsaturated Fat: 8g, Cholesterol: 83mg, Sodium: 789mg, Fiber: 3g, Sugar: 5g